Delmont, PA
Steel City Raceway
Lucas Oil AMA Pro Motocross Championship
After he finished the second moto over the weekend at Steel City, Ryan Villopoto said he considered this race his Salt Lake City of the outdoors. Indeed, he helped ice a supercross championship by winning the next-to-last round of the year in a tremendous battle. He did the same at Steel City, passing Ryan Dungey in the final corner of moto one to steal the win, and then rolling to a big victory in moto two. Now he holds a 14-point lead heading into the final Lucas Oil AMA Pro Motocross Championship race of the year this weekend at Pala in California.
After the race, the Monster Energy Kawasaki rider shared his thoughts in the post-race press conference.
Racer X Online: First, you crushed it in qualifying to click off a lap three seconds faster than anyone else.
Ryan Villopoto: Yeah, before that practice I made a small fork change, but it really was just lines. I chose some better lines and I was able to carry more momentum. I think that's where I gained that speed.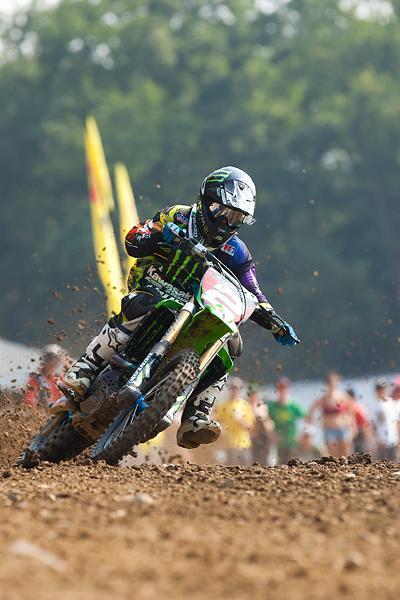 Villopoto outlasted Dungey in moto one, and then ran away from the field in moto two for the overall.
Photo: Andrew Fredrickson
You obviously had a great first moto battle with Ryan Dungey.
Yeah. I had a great start in that moto. Both motos, actually. The first one, Justin kind of rode me a little wide in that off camber, but that's kind of the way you end up going there, anyways. It wasn't anything bad, you just kind of fade to the outside in that corner anyway, especially off the start. Ryan got around me there, and then I got around Justin pretty quick. After that, me and Ryan just kind of went back and forth. It was cat and mouse. I would make up some ground and then he would pull away a little. It was tough, the track was a little one lined, so it was hard to really get out of that line and try to make up a whole bunch of time. I was just eating roost and maybe hoping for a mistake. And if that didn't happen, I would just have to maybe making something happen.
It was a close race. Like he said, it was by far, for me and him racing together, it was the closest race we've ever had. When you're in that situation, you're always told to guard the inside, and that's what he did. It didn't really work out for him and I was able to ride around the outside.
It's got to be a special feeling coming into Pala with a little lead.
Yeah. The last couple of years haven't been the greatest, so it's nice to get a full season. We're almost done, hopefully we'll get in a good weekend at Pala and then we'll wrap it up. Then it's off to Motocross of Nations. That will be fun. Like I've said before, it's a team race and we'll all be working together. Hopefully we won't let you guys down.
In that first moto, were you pushing to get Dungey the whole time, or were you waiting? What was the strategy there?
I was trying to get around him the whole time, but like I said it was cat and mouse. Maybe I would make a mistake or not do one of my turns right and I would lose some time. The track was really hard to ride aggressively, because the base was so hard. You had to be careful to ride it as hard as you could without making mistakes, which was hard to do.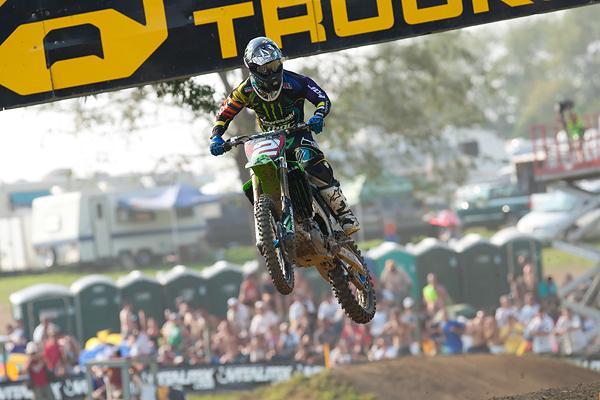 Villopoto holds a 14-point edge over Dugney with one race to go.
Photo: Andrew Fredrickson
This makes a huge difference on points for Pala.
Yeah I definitely knew that getting a win either first moto or second moto was crucial for me going into Pala. I was going for it in the first moto, and I was thinking if it didn't happen, I was going to have to really push for one in the second moto. I knew if the day went the opposite of what it did, then the situation would be a lot different, and we'd basically be in the situation where whoever won the race won the title. It's nice to have a little cushion, but I'm still going to have to show up and race just like everyone else.
When you had some problems at the beginning of the year, people were saying you had lost too much weight, Aldon Baker was overtraining you, and something was wrong. But you seem to actually be getting better as the summer has worn on. How do you respond to those criticisms?
Ah, I don't know. The people that say that kind of stuff have no idea what's really going on. They can sit behind a laptop and type that stuff in. If you're here and you know what's going on, like most of you guys here at the races, you know what's going on. I don't think that's what it was. I think we came in pretty behind, with my bike and myself, I think. We kind of got the ball rolling a little bit, but it didn't really come around until Unadilla. That was a real turning point when we were able to go to the 2012. We were really struggling with the other bike on weekends. So that really helped, and as always in racing, each weekend you just keep getting better and better.