Steel City Raceway
Delmont

,

PA
Steel City Raceway
Lucas Oil AMA Pro Motocross Championship
What was once an ultra close battle for the Lucas Oil AMA Pro Motocross Championship changed as soon as Dean Wilson delivered a 1-1 overall win at round nine at Unadilla. Dean seemed like a different rider at that race, and soon extended his points lead until he had a shot at wrapping up the crown a week early. And then, he did. Another 1-1 score at Steel City gave him enough points to clinch over the weekend. The Monster Energy Pro Circuit Kawasaki rider then shared his thoughts at the post race press conference.
Racer X: First, congratulations. There have only been three international riders to win this title—you, Grant Langston, and technically Jeff Ward was also born in Scotland like you.
Dean Wilson: Yeah, and I know Steve Matthes is over there getting emotional because of the Canada thing. It was good today; I had two good starts and won both motos. The first moto I didn't get the greatest start, but there was a hole, and I used it to go up the inside and pass a few riders and get into the lead. It was really nice to go 1-1 again. It was just the greatest feeling. That second moto seemed to go on so long. I saw that Tyla was in fourth, and then I saw on the pit board that I had won it. The best was when I went past the mechanic's area, and everyone was cheering. Not even just my mechanics, a lot of them! I just got goose bumps. I couldn't even ride; I almost crashed on the last lap I was thinking about it so much!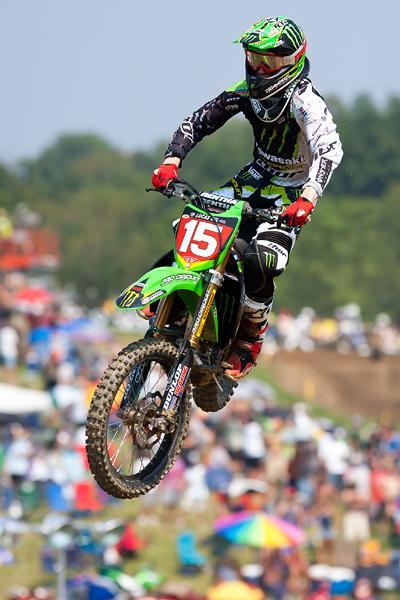 Dean Wilson went 1-1 at Steel City to wrap up his first career title.
Photo: Andrew Fredrickson
What was the conversation in the trailer before the race? Was it all about points and the championship, or did you just want to win?
No, I wasn't even talking about it. I was out there just riding like I know how to, and I wasn't even thinking about the championship, and to be honest, I didn't even want to win it here. I know that sounds weird, but my parents aren't here, and I really wanted to win it at Pala because they would be there to celebrate it with me. It's kind of too bad that this is my first ever championship and they're not here. But it would be nice to go out and maybe win the race at Pala. The pressure will be off.
What was it like when you made the phone call to you parents?
I'm not an emotional guy, but I was so sad that they weren't here. But when I called them, it was just the greatest feeling winning this championship and I wanted to celebrate it with them. But as soon as my mom picked up, and I told her, she started getting all emotional, and I started getting all emotional, and then I actually decided I needed to just hang up the phone before I started crying! I didn't want people standing around taking pictures of me crying! (Laughs) They're in Texas right now, driving the motor home from Chad Reed's place in Florida to get to California. They have just supported me all the way. I'm really fortunate to have great parents. They let me do what I want and what I like, and that's race dirt bikes.
You sticking with the number 15 or taking a single digit?
I'm sticking with the 15. I've obviously had pretty good luck with it. I actually wanted to stick with the 108 this year, but they didn't let me, and they kept asking me to take the 15. I didn't want to at first, but now it's been good to me and I'm going to stick with it.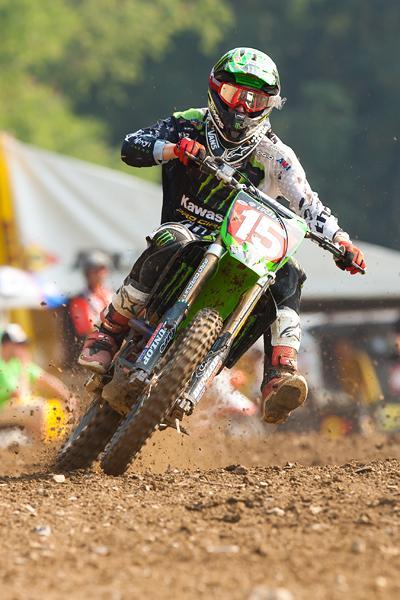 "It was unbelievable," said Wilson when asked about getting the number-one plate.
Photo: Andrew Fredrickson
Whose idea was it to go to Chad's house? Yours? His? Your team?
It was totally my idea. And Chad is a Pro Circuit rider so that was good. But to be honest, Mitch isn't the biggest fan of going to Florida. For some reason people's bikes seem to blow up there, things don't go right, and he doesn't think that it helps. But Chad has lots of experience, and I was looking for something fresh. It was at RedBud, and Blake (Baggett) killed me that day, I didn't have anything for him. I was just looking for a little bit more. So at RedBud, I went up to Chad at the end of the day and asked if I could come down and train with him. He was very nice and welcoming, and said to bring the motor home down. And the thing is, I hadn't even asked Mitch about it yet. I went to Chad first, and then he went to Mitch before me! So then by the time I went to Mitch, he was like, "So you're going to Florida?" But he was okay with it. It is great there. We train and ride hard, but when we're not training we're having fun, going to the lake, whatever. It really keeps it fun. I think that's when I do good. It's easy to get burnt out in this sport, and we have to do fun stuff to make us want to go back on our dirt bike.
What was that whole experience like getting that number-one plate?
It was unbelievable. Just because, as a kid, I would literally go to sleep and dream about winning a championship. I was getting goose bumps going past the mechanics area, like I said. And when I put the number one jersey on, it was just like I had dreamed of. It was a lot of hard work to get that number one plate, and it feels so good to get it.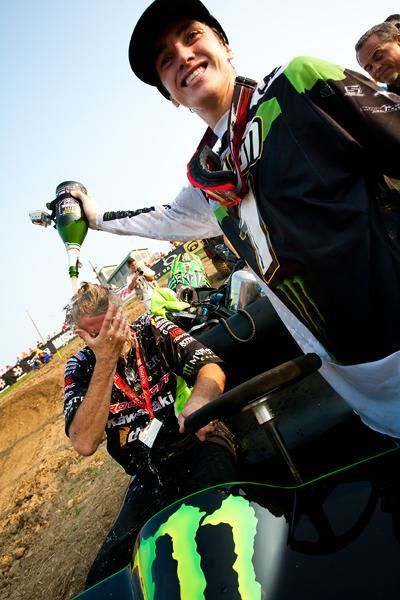 Another title for Pro Circuit and Mitch Payton.
Photo: Andrew Fredrickson
You only turned pro two years ago, which I don't think a lot of people even realize. For a lot of guys, that transition to pros doesn't go well. What did you do right?
I don't know. That's a tricky question. I came out of amateurs in 2009, but I didn't race any pro races until 2010. I think one thing was getting on the Pro Circuit team, you know? They've won more championships than just about anyone, and being on that team, all the mechanics work so hard, so if you don't put in your time, they're not going to be happy. So that keeps you going. I've surrounded myself with good people, people who don't let me get in too much trouble. I mean, a little bit of trouble, that's okay, you can always get into a little bit of trouble. But you know, I like to have fun. I think when a lot of kids come into the sport and turn pro, they think you need to do five 45-minute motos a day. You don't have to train like that; you just need to enjoy it. When you enjoy yourself that's when you're at your best. I feel like these last three or four races, I've had the most fun. I've been talking to my friends down at the starting line, eating some popsicles and having fun. And that's when I seem to ride my best.
Going into Pala, you have the number-one plate, but the pressure is on to win one in front of mom and dad.
Oh yeah, I would definitely like to win there, the championship isn't going to change anything next weekend. I would love to get a win for them.