Steel City Raceway
Delmont

,

PA
Steel City Raceway
Lucas Oil AMA Pro Motocross Championship
It took a long time for all of this to finally unfold.
One could easily argue that this year's Lucas Oil AMA Pro Motocross Championship has been the most competitive, dynamic and exciting in the history of the sport, and that long stretch of battles and drama culminated at the Steel City National in Delmont, Pennsylvania. For Dean Wilson, the Steel City run actually ended up as the culmination of a life long dream, as his 1-1 performance led to his clinching of the 2011 250 National Championship. In the 450 class, the race represented what the series had been building toward for years--a championship showdown between Ryan Villopoto and Ryan Dungey on 450s.
In the first 450 moto, run in hot and humid weather on the always tricky Steel City track, Villopoto grabbed the holeshot on his Monster Energy Kawasaki, but was quickly passed by Justin Barcia on a Honda. Barcia slowed Villopoto just a touch, allowing Dungey to knife past. He quickly got around Barcia, too, and Villopoto quickly followed him through. From there, the championship intensity pushed the Ryans far ahead of the field--nearly a full minute clear of anyone else. This is the new rivalry for supermacy at the top of this sport, and the duo made it clear why as they pushed the pace harder and harder every lap, making mistakes, overcoming them, and finding a way to push even faster.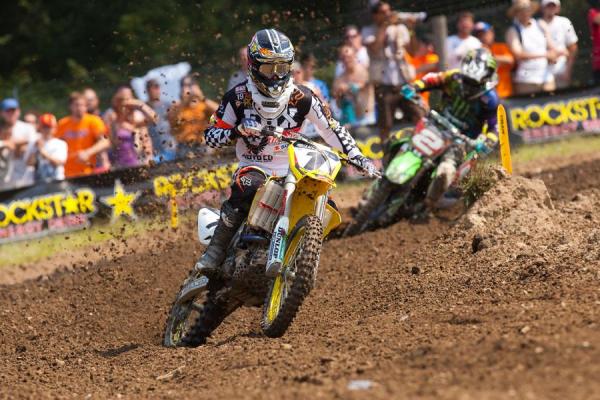 RD lead 99 percent of moto 1. Then Villopoto pulled off a series-altering pass.
Photo: Andrew Fredrickson
Meanwhile, Dungey's Rockstar Makita Suzuki teammate Brett Metcalfe moved past Barcia into third, and Barcia led TwoTwo Motorsports Bel-Ray Racing's Chad Reed home. And the battle between the Ryans raged. All the way until the last lap, the last turn, when Villopoto went wide in a corner, gassed it hard, and pulled even with Dungey. Then Dungey bobbled slightly, allowing Villopoto to pull ahead and take the lead immediately before heading through the finish. Villopoto stole the lead in the last corner, and possibly closed the door on the championship.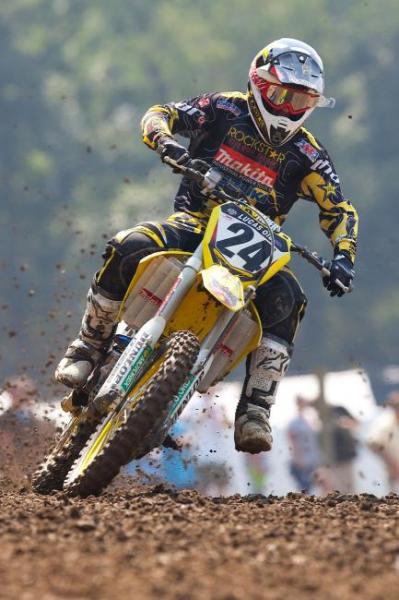 Brett Metcalfe was  third.
Photo: Andrew Fredrickson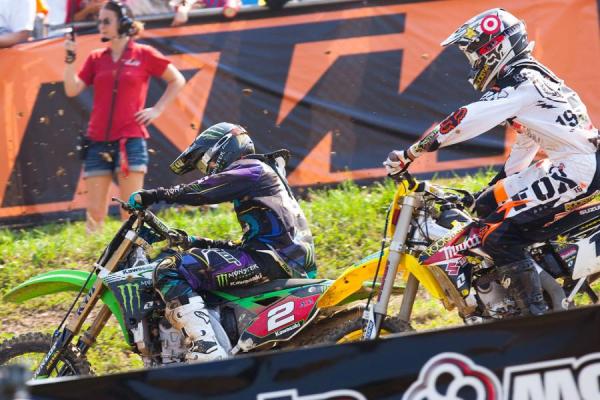 Last corner pass... Boyakashaa.
Photo: Andrew Fredrickson
That pass changed everything. Dungey came within a few feet of closing to within five points of Villopoto, but instead fell 11 points back, while RV reestablished himself in a series where he, Dungey and Reed swapped momentum every week.
But Villopoto left no doubts in moto two. Dungey grabbed the holeshot, but Villopoto passed him on the first lap and took off from there. Dungey had made bike changes that he said did not work, and he crashed while trying to maintain the pace. Reed briefly slid past into second, but Dungey picked the pace back up to retake the spot. He would not, however, challenge Villopoto, who extended the lead to 14 points with the win, his third of the year. Dungey went 2-2 for second, and Metcalfe's 3-4 edged Reed's 5-3 for third. Barcia didn't finish the second moto after getting sick during the race.
"You had to ride the track as hard as you could without making mistakes, which was really tough," said Villopoto. "Getting a win in one of the motos was crucial heading into Pala I have a little breathing room which is nice, but I'm still going to have to go out there and race, just like everyone else. The last couple years haven't been the greatest, but it's nice to get in a full season. Now, we're almost done. Hopefully we have a good weekend at Pala, and wrap it up."
"It was a pretty tough and technical track, but good overall," said Dungey. "I just have to put the Suzuki up front next weekend. To go 1-1 would be great, but all I can ask for is the most from myself. It's a long series at 24 motos. Consistency is the key, and there is a lot of hard work that goes into it. You've got to make the most of your bad days and keep your head up. It's not over until it's over. You've got to have faith in that."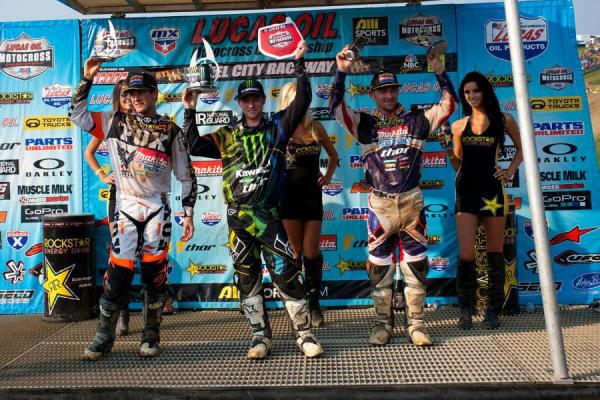 The 450 Podium.
Photo: Andrew Fredrickson
There were times when the 250 championship fight was just as dramatic and close as the 450 division's, until Dean Wilson finally grabbed his first overall win of the year a few weeks ago at Unadilla. Starting at that race, Wilson has gone to another level, and he delivered another 1-1 to score maximum points. Combined with tough races by his Monster Energy Pro Circuit Kawasaki teammates Tyla Rattray and Blake Baggett, and the title was his.
"This is the greatest day to me," said Wilson after an emotional championship ceremony. "I went to sleep when I was young dreaming about winning an outdoor championship. Now, it's a dream come true. I was feeling really good today. In the first moto, I got the holeshot, and in the second moto, I didn't get a good start, but I got lucky and found a hole that helped me pass a lot of people. It's just the greatest feeling. I went by the pits and saw on my pit board that I was the 2011 MX Champion, and it gave me goose bumps. I just went out there and rode the way I know how to. I actually didn't want to win it this weekend, because my parents aren't here to share it with me."
Unfortunately for Wilson, his parents were busy driving his motorhome from Reed's house in Florida to California so they can attend next weekend's race. Wilson didn't expect to wrap up the title early!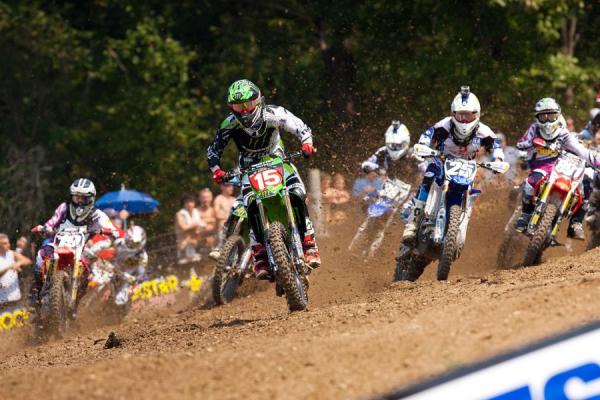 Wilson nailed two starts and then nailed another number-one plate to the Pro Circuit truck's door.
Photo: Andrew Fredrickson
Wilson's win came after overcoming an early challenge from a pair of GEICO Honda riders. In the first moto, rookie Justin Bogle challenged Wilson early before eventually losing the pace, and his teammate Eli Tomac took over second. In moto two, Tomac started right behind Wilson and actually took over the lead from him for several laps, but then Wilson came back to make the pass and hold on for the win. Tomac and Red Bull KTM's Marvin Musquin rounded out the podium, with Musquin getting good starts in both motos and going 3-3. Both Tomac and Musquin pointed to long-awaited good starts as a key reason for their improvements on the weekend.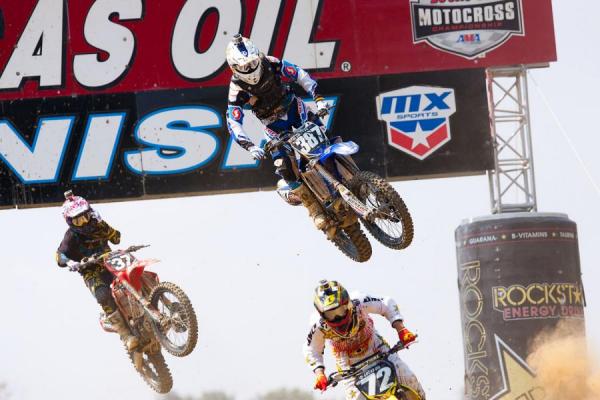 As always, the 250 pack put on some great racing.
Photo: Andrew Fredrickson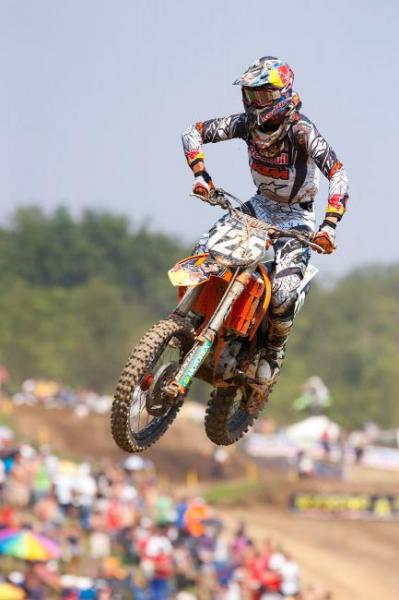 Marvin Musquin grabbed his first U.S. podium with 3-3 finishes.
Photo: Andrew Fredrickson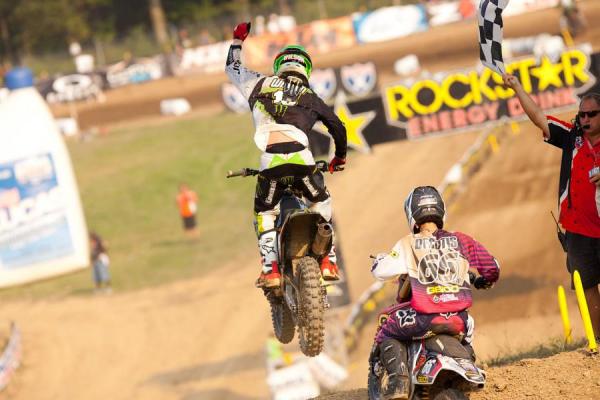 Wilson credits Chad Reed for helping his championship run. After he trained at Reed's house in Florida, he seemed to relax, have fun, and start winning races.
Photo: Andrew Fredrickson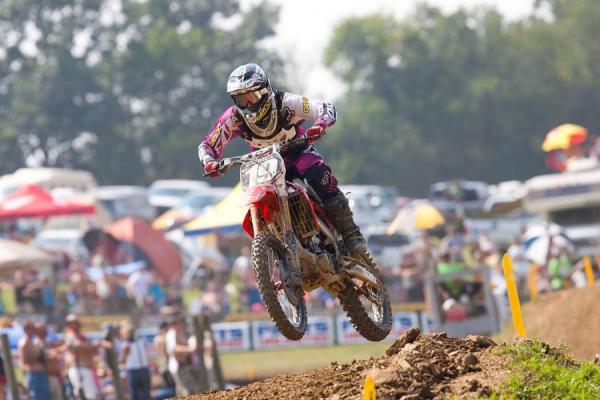 Eli Tomac rode his best race of the year, passing and leading Wilson for awhile before ending up second.
Photo: Andrew Fredrickson
As for Wilson's teammates, bad starts hurt them in each race, and Baggett also endured a crash early in moto two. They ended up fourth and sixth overall, with last weeks' first moto winner Gareth Swanepoel logging a quiet but silent ride in fifth.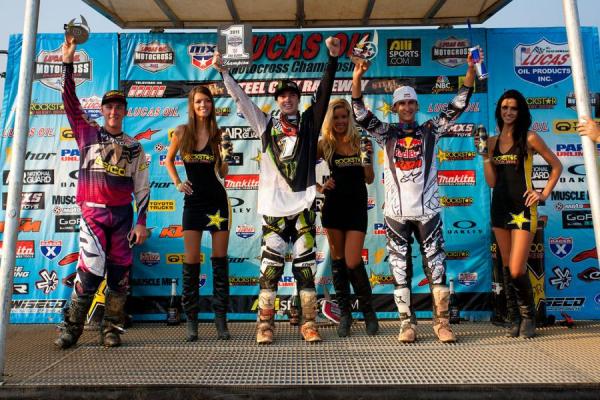 The 250 podium
Photo: Andrew Fredrickson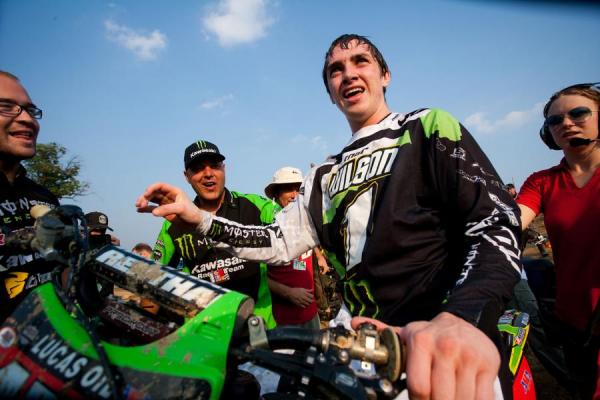 Wilson joins a long line of Pro Circuit champions.
Photo: Andrew Fredrickson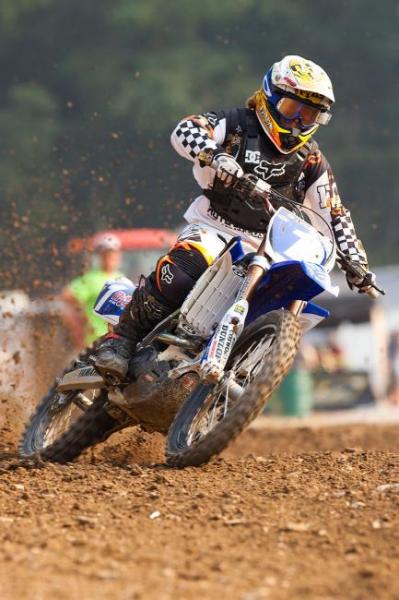 JP$ handled the Women's class, but she still needs to make up a ton of points next weekend at Pala to keep her number-one plate.
Photo: Andrew Fredrickson
In the Motorcycle-Superstore.com Women's Motocross Championship, DNA Shred Stix/Star Racing Yamaha's
Jessica Patterson
took both motos for her fourth overall win of the season. It's clear American Honda's
Ashley Fiolek
knows what she's doing, though, as she held a 30-point lead coming into the weekend and rode smart for 3-2 scores and second overall.   Troy Lee Designs/Lucas Oil Honda's
Tarah Gieger
rode her best race of the year, challenging Patterson and Fiolek all day and finishing  third with 2-3 finishes. Fiolek's lead over Patterson sits at 22 points heading into the season finale.
The Lucas Oil AMA Pro Motocross Championship concludes next weekend, on Saturday, September 10, from
Pala
, Calif.
Pala
Raceway, located just outside San Diego, will host the 2011 season finale, beginning at 4 p.m. EST.
Lucas Oil AMA Pro Motocross Championship
Steel City Motocross National
Steel City Raceway - Delmont, Pa.
September 3, 2011
Round 11 of 12

450 Class (Moto Finish)
1.    Ryan Villopoto, Poulsbo, Wash., Kawasaki (1-1)
2.    Ryan Dungey, Belle Plaine, Minn., Suzuki (2-2)
3.    Brett Metcalfe, Mannum, Australia, Suzuki (3-4)
4.    Chad Reed, Kurri Kurri, Australia, Honda (5-3)
5.    Jake Weimer, Rupert, Idaho, Kawasaki (6-6)
6.    Mike Alessi, Victorville, Calif., KTM (8-5)
7.    Justin Brayton, Fort Dodge, Iowa, Yamaha (7-7)
8.    Kyle Regal, Howell, Mich., Suzuki (9-8)
9.    Nick Wey, Dewitt, Mich., Yamaha (11-10)
10.    Michael Byrne, Rockhampton, Australia, Suzuki (13-9)

450 Class Championship Standings
1.    Ryan Villopoto, Poulsbo, Wash., Kawasaki - 481
2.    Ryan Dungey, Belle Plaine, Minn., Suzuki - 467
3.    Chad Reed, Kurri Kurri, Australia, Honda - 402
4.    Brett Metcalfe, Mannum, Australia, Suzuki - 342
5.    Mike Alessi, Victorville, Calif., KTM - 272
6.    Jake Weimer, Rupert, Idaho, Kawasaki - 251
7.    Andrew Short, Colorado Springs, Colo., KTM - 196
8.    Kevin Windham, Baton Rouge, La., Honda - 193
9.    Justin Brayton, Fort Dodge, Iowa, Yamaha - 191
10.    Davi Millsaps, Murrieta, Calif., Yamaha - 173
250 Class (Moto Finish) -
1.    Dean Wilson, Glasgow, Scotland, Kawasaki (1-1)
2.    Eli Tomac, Cortez, Colo., Honda (2-2)
3.    Marvin Musquin, La Reole, France, KTM (3-3)
4.    Tyla Rattray, Durban, South Africa, Kawasaki (4-4)
5.    Gareth Swanepoel, Johannesburg, South Africa, Yamaha (7-6)
6.    Blake Baggett, Grand Terrace, Calif., Kawasaki (5-8)
7.    Justin Bogle, Cushing, Okla., Honda (6-10)
8.    Alex Martin, Millville, Minn., Honda (10-7)
9.    Martin Davalos, Quito, Ecuador, Suzuki (11-9)
10.    Malcolm Stewart, Haines City, Fla., Suzuki (8-14)
250 Class Championship Standings
1.    Dean Wilson, Glasgow, Scotland, Kawasaki - 488
2.    Tyla Rattray, Durban, South Africa, Kawasaki - 436
3.    Blake Baggett, Grand Terrace, Calif., Kawasaki - 427
4.    Eli Tomac, Cortez, Colo., Honda - 290
5.    Kyle Cunningham, Aledo, Texas, Yamaha - 283
6.    Gareth Swanepoel, Johannesburg, South Africa, Yamaha - 270
7.    Broc Tickle, Holly, Mich., Kawasaki - 236
8.    Martin Davalos, Quito, Ecuador, Suzuki - 197
9.    Alex Martin, Millville, Minn., Honda - 195
10.    Darryn Durham, Butler, Pa., Honda - 181
WMX Class (Moto Finish) -
1.    Jessica Patterson, Tallahassee, Fla., Yamaha (1-1)
2.    Ashley Fiolek, St. Augustine, Fla., Honda (3-2)
3.    Tarah Gieger, Aguadilla, Puerto Rico., Honda (2-3)
4.    Mariana Balbi, Belo Horizonte, Brazil, Yamaha (5-4)
5.    Jacqueline Strong, Cottonwood, Ariz., KTM (4-6)
6.    Vicki Golden, El Cajon, Calif., Kawasaki (6-5)
7.    Kasie Creson, Vallejo, Calif., Honda (8-7)
8.    Sayaka Kaneshiro, Osaka, Japan, Suzuki (7-8)
9.    Alexah Pearson, Sacramento, Calif., KTM (9-9)
10.    Sarah Whitmore, Cheboygan, Mich., KTM (10-10)
WMX Class Standings
1.    Ashley Fiolek, St. Augustine, Fla., Honda - 321
2.    Jessica Patterson, Tallahassee, Fla., Yamaha - 299
3.    Tarah Gieger, Aguadilla, Puerto Rico., Honda - 268
4.    Jacqueline Strong, Cottonwood, Ariz., KTM - 195
5.    Kasie Creson, Vallejo, Calif., Honda - 180
6.    Vicki Golden, El Cajon, Calif., Kawasaki - 171
7.    Marissa Markelon, Bridgeport, Conn., Yamaha - 168
8.    Alexah Pearson, Sacramento, Calif., KTM - 161
9.    Sayaka Kaneshiro, Osaka, Japan, Suzuki - 140
10.    Lindsey Palmer, Albuquerque, N.M., Honda - 137