Delmont, PA
Steel City Raceway
Lucas Oil AMA Pro Motocross Championship
Hello, everyone, and welcome to the Rev Up. Time is perhaps the most pure, yet relentless aspect of life. Hard to believe it is going to be September as you read this. I try to remember a lot of the things my older/smarter friends told me, but if one thing stuck it was, "the older you get the faster the time goes by." I stay very busy through a tornado of so many different things that...well, it's a damn blur. I suppose it hits close when I see someone tell me and/or celebrate their 30th birthday. I'm like, "Hey I'm 30 too, er, wait, that was four years ago." It's getting faster every year and for someone that personally never wants to grow up, time is running out on that notion.
Such is the case with the 2011 Lucas Oil AMA Pro Motocross Championship.
It seems like just a moment ago I was getting text pictures of the preseason press conference in front of the capital building in Sacramento, CA. The flash bulbs of Chad Reed and Blake Baggett ripping off the opening salvo, like it was in last week's Cycle News. On through Texas, High Point, and all of the charges of Ryan Villopoto, the return of Dungey, and unfortunate demise of "The Thunder" at Millville...The long-awaited return of Trey Canard brought fresh, but brief, life to the series. I'm still really bummed out about the road Canard has had to face. It should be easier for the man. But his season is long over and after that comes a burst of white light that lands us here.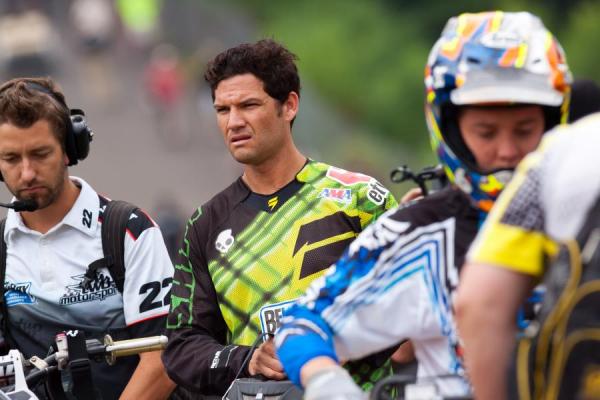 After two DNF's at Southwick, Reed's championship hopes are over.
Photo: Andrew Fredrickson
With four motos to go to see who is going to hold the title belt, the only thing that's for certain is his name won't be Chad Reed, but it will definitely be Ryan.
The charge is headed to historic Steel City.
Historic? Well, from the top of my head I remember the USGP in 1987, the sound of Ron Lechien's KX500 panic revving as he went over the bars in 1989, Robbie Reynard winning his first overall in 1993, Ryan Hughes and Doug Henry throwing punches in 1994, Ryno pushing across the line in 1995, Jeff Emig winning the last two motos of the season, and the championship in 1996, the same year a certain #768 was straight-legging it around the corners for the first time. In 2001 the same man rode a KX125 with black number plates with #4 to pass Mark Barnett as the most-winning tiddler pilot of all-time. Mike Brown won the title that year in an all-out "donnybrook" with Grant Langston. Zulu broke a wheel. One of the only two perfect seasons in history took place at Steel City thanks to James "Bubba" Stewart.
I remember Tommy Hahn earning a big moto win here. I remember what remains the best outdoor battle I've ever seen between Kevin Windham, Grant Langston, and Mike Alessi in 2008. And not to be completely goofy, but the last trophy I earned was the Plus 25 Pro plaque on amateur day there in 2010.
When I was a kid, Steel City was always one of my favorite tracks before I ever laid eyes on the infamous uphill start stretch. One of the coolest aspects of Steel City is her history. The off-cambers, the up and down hills, and diverse layout makes for some of the best racing—and spectating—in the world. At least I think so.
Going back to Southwick, there are times when our sport doesn't get its due diligence, like the women's EnduroX. The boys weren't floundering last weekend in the wet-sandy-gnarlboro-country course at Motocross 338, but what they were doing didn't get justice on the boob tube. The track was straight jacked up at the cross flags of any moto that ran. What else could produce four different moto winners, two first timers, deliver the sweetest of dreams (Metcalfe and Barcia) and the most soul-crushing defeat (Reed). I like to puff my chest when I make good on predictions (Barcia winning a moto) then epic fail with wanting Chad Reed to have a chance. No tears for one of the best (and richest) riders to ever throw a leg over, but from a racer's pride it was a 100 percent flat tire, cold weather bummer.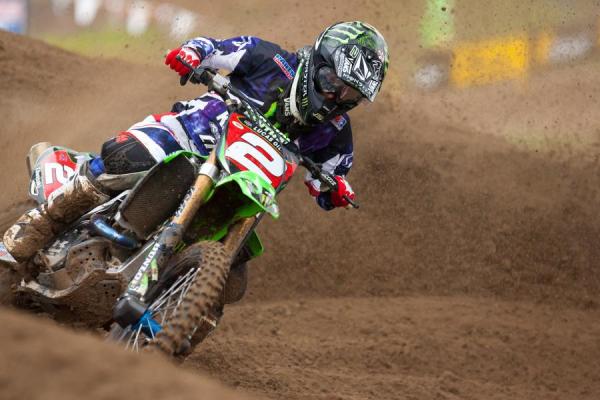 Can Villopoto stretch his points lead at Steel City?
Photo: Andrew Fredrickson
Chad rode his ass off in 2011 and while he is going to go home sans #1 plate, he made a lot of fans in in my mind. #22 isn't done riding motorcycles for #1 plates yet.
So, what reason do we have to show up for a race and swing our t-shirts? Ho, ho. The heavyweight championship of the world. The right and the reason to say, "I am the undisputed alpha male of kicking ass on a dirt bike. I am the 2011 450 Lucas Oil Outdoor National Champion, and if anyone has a problem with it, push your ass to my starting line. Because it is MY starting line." Only the hard and the strong can ever talk that noise.
It's time to see who is going to be the man. I have to say, it has been Ryan Villopoto's year since the gate fell at Anaheim 1. He's stumbled this way and that all year, but he's come back with a vengeance that can't be denied. What I think is cool is that the alpha of 2010 is going to head into the last four motos of 2011 with one last chance to walk the pits as the man. It's always that way with motocross. Someone is simply un-equivalently the man.
Time to see the show, son. You cannot win the title at the penultimate race of the season, but you can no doubt lose it. It's a good reason to take it to the track this Saturday afternoon. It's time to see what Steel City has in store for us in 2011.
I'll be there and can't wait to see it again. Follow me @Hattica77 if you want to.
Thanks for reading, see you next week.