Delmont, PA
Steel City Raceway
Lucas Oil AMA Pro Motocross Championship
By Allison Kennedy
It's been quite the week for Colton Facciotti. After wrapping up the Canadian National MX1 title with the Blackfoot Red Bull Yamaha Fox Racing Team, Facciotti packed up his van and headed to Southwick to try and turn some heads in the AMA series. His fifth place finish in the opening moto did just that, and with an early morning injury to the team's rider, Christian Craig, Facciotti got the call to fill in on the Troy Lee Designs Lucas Oil Honda squad for the last two nationals of the season. We caught up with the young Canadian who had just finished his first day testing with the TLD crew.
Racer X: There's been a lot of buzz about you racing for the TLD Lucas Oil Honda team for both Steel City and Pala. Yesterday an official press release confirmed things. Give us the scoop?
Colton Facciotti: I've been trying to get on a U.S. team for the last while now. I just got a good finish in the first moto at Southwick and, unfortunately Christian Craig got hurt, and I got a call from the boys at Troy Lee Designs, asking if I might want to race their bike for the last two rounds. So I pretty much jumped on that offer. It's where I've wanted to be for a long time.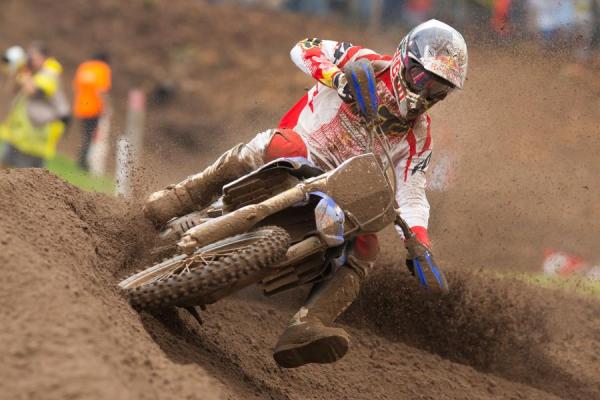 Facciotti finished fifth in moto one at Southwick.
Photo: Andrew Fredrickson
And where are you now?
I just got down here yesterday to Steel City and I met all the mechanics and the team. Everyone seems like really cool guys and we went out testing today. We tested the bike and the bike is awesome, so I am pretty stoked for the weekend.
So when did you actually get the call then?
I guess it was the day after the race.
After your fifth place finish, did you think you might have some interest?
I guess I knew I had impressed a few people. I didn't really know I'd hear something so soon but I am pretty excited.
What have the logistics been like so far? I take it you had to get clearance from the Blackfoot Yamaha team to make it happen?
It was definitely a busy few days after I got the call. I had to get the okay from Blackfoot. They were all very happy for me so that's good and I can't thank them enough for letting me take this opportunity. They pretty much paved the road for me to this point so I can't thank them enough. It was just a matter of getting on the bike as soon as possible. I pretty much drove straight down here so that I could get comfortable on the bike and get everything sorted out.
There are a few people wondering how the switch will be from Yamaha to Honda so late in the season, but others think you'd be crazy to turn down an opportunity like this. How do you feel about making the switch?
I think if Troy Lee called pretty much any rider, I'm pretty sure they'd take this shot no matter what. I was a little nervous about the switch at first, but I know all the bikes are pretty good these days and I know the Troy Lee bikes are top notch in the States. I tried not to think about it too much and now that I've ridden the bike, that's pretty much put all my worries away.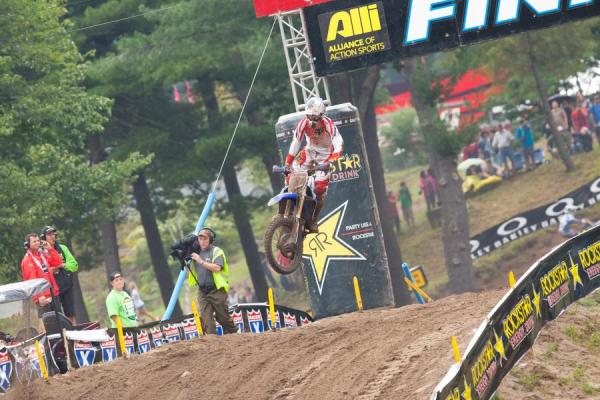 Facciotti's impressive ride at Southwick landed him a spot on the TLD Honda Team.
Photo: Andrew Fredrickson
In Canada, you spent the early part of your pro career on a Kawasaki and recent years on Yamaha. But we've never seen you on a Honda.
I rode a Honda when I was on 80s for one year and that was about it. It's definitely a switch but it's kind of nice to make a switch every now and again. It kind of lets you learn new things on the bike.
So will you get in some more testing on Thursday?
Yes, we are going out again today at a track near Steel City. It's pretty similar to Steel City so it will be good practice. We have a couple of things to try on the bike and get it even better for the weekend.
Tell us a bit about your race day at Southwick?
Well the day started out pretty well and I thought the weather might hold off. I got a few good laps in, early in practice, before the rain started so I qualified okay. I think I was 13th or 14th. I was happy with that. I just nailed the start in the first moto. I was right up there with Villopoto. I knew he'd be right up there so I tried to follow him into the first corner. I put my head down and charged the whole moto. It was raining and nasty conditions, but that's racing. I was coming up on Alessi at the end of the moto but I didn't quite have enough to get him. That would have been nice but there will be other races for that.
Second moto, I got another good start, pretty much from the same spot. I was riding well I felt, especially after all the mud motos in Canada this year, but then I washed out the front end and I broke my shifter off. That was pretty much the end of my moto. I tried to pull into the mechanics area and get it fixed but we couldn't. It was an up and down day. I would have liked to at least get a top ten in the second moto but that's how it goes.
In that first moto, you were closing in on Alessi in the final laps. How did it feel to be running in the top five that race?
During the race I was just doing my usual thing and trying to get to the front of the pack. I knew I could definitely be top-ten, maybe not top-five, but for sure top-ten. There were a few guys who went down ahead of me and maybe I got a bit lucky on that but I also had a few problems on the track, I think my fuel was boiling a bit. I am excited to see what I can do this weekend.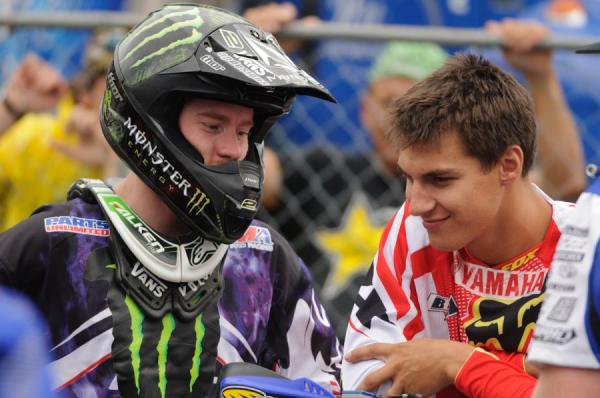 Facciotti will make his debut with TLD Honda this weekend at Steel City.
Photo: James Lissimore / DMX
I spoke to your mom at the final round of the Canadian series at Walton. She said she had never seen you more focused or training harder than for Southwick and Steel City. You've had a very impressive career in Canada so far, why were these rounds so key for you?
The year up there was awesome for sure. I had a lot of good motos and not too many bad ones. It was nice to wrap the championship up the week before at Sand Del Lee so I could train a little bit harder and not really have to worry about getting hurt. I was really focused on the US races at that point with the goal of getting some good results down here. Ever since I knew what racing was, I've thought about getting a ride down here. When I was little, it was pretty much all for fun but once I realized I could make a career out of it, that was my goal. I wanted to be down in the states with Ricky Carmichael and all the guys I grew up watching.
You've spent a bit of time racing in the states before at both the supercross series and select outdoor nationals. Tell us a bit about where and when you've raced down south and how you've done?
I haven't raced too much down in the states. I did the World Minis when I was little. I was usually in the top-five and I had some good battles with Alessi back then. I did a lot of racing in Washington when I was younger, because that was pretty much where all the fast kids were. I definitely got faster from racing down there. I did supercross when I was 18, and I did fairly decent at that. I qualified for most of the night shows and I think my best result was a 12th. I raced Hangtown once when I first turned pro, and Steel City twice so I have a bit of time on this track so hopefully I'll do well there this weekend.
This two-weekend deal is an awesome opportunity. Is the goal to find a full-time ride in the U.S.?
That's definitely the plan. I am just going to try to put in some solid motos and build some results. All the guys at Troy Lee seem really cool. It's pretty much like Blackfoot, it's a family team atmosphere and I am really looking forward to it.
Who would you like to thank for making this all possible?
Pretty much everybody—there are a million sponsors but I want to thank the Blackfoot Red Bull Yamaha Fox Racing Team and my mechanic Jeff for getting me to this point, my family, my wife, and the guys at Troy Lee Designs/Lucas Oil/Honda team for giving me the chance to come down here and show what I've got.
Thanks for your time and good luck this weekend at Steel City.
Thanks. I'm looking forward to it.