In stick and ball sports, an odd scenario breaks out every time a new coach or manager takes the helm. The team always wins the first game! In motocross this year, that worked out as well. The DNA Shred Stix Star Racing Yamaha team installed a new team manager starting at
Southwick
, and in his very first moto on the job, the team won a Lucas Oil AMA Pro Motocross Championship moto for the first time.
Out with previous Team Manager Allan Brown and in with Doug Schopinsky, who is best known as the man who ran Bridgestone's very successful tire program until the brand decided to pull out of racing for 2010.
"We have absolutely nothing bad to say about Allan Brown," stressed Team Owner Bobby Reagan on Friday before the race. "We are just moving in a different direction. Allan did a great job. We're glad to have Doug with us now, who like Alan he has a lot of experience. But I think Doug is quickly learning how hard this job is. A team manager really has a lot of stuff to manage!"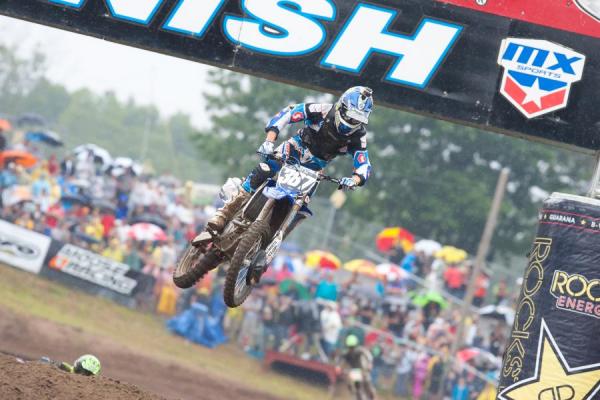 Will Swanepoel be back on the team for 2012?
Photo: Andrew Fredrickson
Jumping in late in the season means the manager has to not only handle this year's crop of riders, but also keep an eye toward next year. Reagan stated that the team has already resigned Ryan Sipes and Kyle Cunningham, and it looks like a deal with Loretta's 250 A Champion Kyle Peters is coming. That leaves one spot left for 2012, and the team is looking. Current riders Gareth Swanepoel and Gannon Audette are certainly included among the list of riders the team could use for that spot in 2012, so there's extra motivation—or pressure—for those riders to get on the podium and snag another contract.
It must be working. Not only did Swanepoel win the first moto and take third overall, but Audette turned in his best ride as a pro with a fourth in that same moto. An early crash ruined Audette's chance for a follow up in moto two, but he rode well from nearly last to 16th. Between a new manager and competition among its own riders, it appears nothing is better than a little inter-squad motivation to get the boys going!