The Wick 338
Southwick

,

MA
Moto-X 338
Lucas Oil AMA Pro Motocross Championship
Author: Steve Matthes and Jason Weigandt
Tales of heartbreak—or just broken bikes—gobble the headlines often from Southwick, but the track also builds great days for some. No doubt Gareth Swanepoel was pumped on his first moto win in the U.S. and Brett Metcalfe his first-ever overall. They were not the only ones experiencing career days. Alex Martin led laps and took third in the second 250 moto. Justin Brayton had his best moto of the year with a third in 450 moto two. Colton Facciotti took fifth in the first 450 moto. Jason Anderson's seventh in 250 moto two was his best yet as a pro. As was Gannon Audette's fourth in 250 moto one. Justin Barcia snagged his first 450 moto win. Overall it was a day packed with drama, but it wasn't a tragedy.
Well, it was pretty bad for a few people. The Lucas Oil Troy Lee Honda team had a rough go of it, with Christian Craig crashing and breaking his navicular, which will end his season. And Travis Baker had a nasty practice crash that resulted in a broken collarbone, and that will end his summer as well.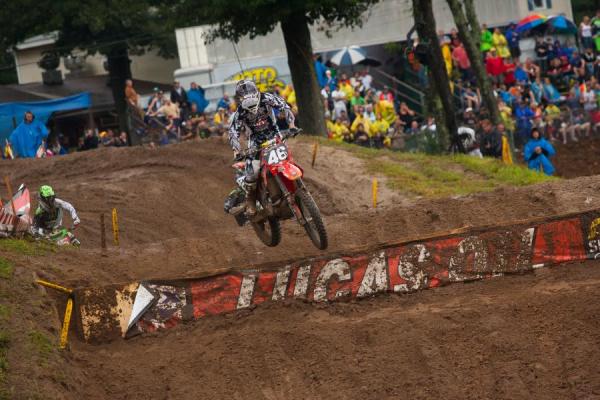 Martin finished a career best third in moto two at Southwick.
Photo: Andrew Fredrickson
The TLD Honda team has moved quickly to replace Craig as they have signed up three-time Canadian MX1 champion Colton Facciotti to ride the last two nationals on the Honda CRF450. Facciotti showed up at Southwick with some help from his Blackfoot Yamaha team up in Canada but basically a full privateer. He acquitted himself well though with a strong fifth in the first moto. It was the third best finish for a Canadian rider ever in a US National. Second moto, Colton was up there on the first lap before crashing and being forced to pull out with a shifter problem.
The MX2 champion Tyler Medaglia was on much the same program as Facciotti and did pretty well in the 250 class with a thirteenth overall. His brother Jeremy, riding for the Dragon Fuels KTM team was inside the top twenty as well.
Rumors of Broc Tickle have been confirmed: he has pointed out of Lites SX, and the old, "you get one year to defend your title" rule no longer applies. Tickle has a two-year deal with Kawasaki so technically he has a ride for next year, but he's not sure yet how it will work. Ride a 450 indoors for his current Monster Energy Pro Circuit team? Move to the factory squad? Tickle said he was basically looking at Southwick, Steel City and Pala as a three-round series to prove himself, but unfortunately the day didn't go well, with bad starts holding him to 5-12 scores. "My whole issue is these first three turns," explained Tickle. "If I could get good starts and get through there well, I think everything would be different."
Tickle's championship rival from supercross, Eli Tomac, has had similar issues this year with bad starts. But he finally got a good start at Unadilla and logged his best ride of the year. At Southwick, he mentioned that he's made several bike changes throughout the season to improve his starts, including some changes to the clutch. He also worked with Jeremy McGrath to get some starting tips. He prepared for Southwick by riding in sand dunes in New Mexico, and logged the fastest time in qualifying. And how did the race go? He got bad starts and went 14-32 for 19th overall.
Justin Bogle's second pro race didn't look as good as his first--at first--with 18th in moto one. Truth is that the rookie came from way, way back in that moto, crashing in the first turn and ending the first lap in 32nd. With a better start in moto two, he nearly ran down Alex Martin for third. Bogle is working with fellow Oklahoman Robbie Reynard, and no doubt RR, who used to fly at this track, lended some good advice.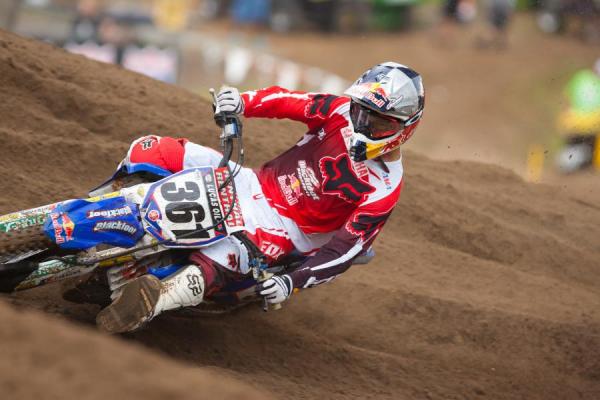 Facciotti has been picked up by the TLD team after an impressive ride at Southwick.
Photo: Andrew Fredrickson
When GEICO Honda loaned Justin Barcia out to American Honda Racing, the story was that Barcia hopped on a bike prepared for Trey Canard and said, "Don't change a thing." It worked at Unadilla. And even after getting a race under his belt, Barcia still hasn't changed anything. He's just running what the team gives him and going for it.
Meanwhile, Honda Team Manager Erik Kehoe confirmed that Josh Grant did have ACL reconstruction on his other knee (opposite of what he tore in supercross) and will be out for at least four months. When Grant first went out with the injury, he considered continuing to tough it out.
Southwick marked the first race on the job for new DNA Shred Stix Star Racing Team Manager Doug Shopinsky, who has replaced Allan Brown. Then Gareth Swanepoel went out and won the first moto, in Doug's first race! The team also welcomed Ryan Sipes back into action, Sipes pulled out of Washougal with some sort if illness, which he later discovered to be low blood sugar. A month after changing his diet, Sipes was back, and he rode strong for sixth in moto one. But in moto two, he pulled out with stomach problems, which you may have (nearly) seen proven on TV during his interview in the pits.
Yes, Marlborough, Massachuetts' Michael Sotille logged the fastest qualifying time in the 450 class. His timing was perfect, as the B practice went out before the A group, which meant they had a smoother track. And since Sotille has logged plenty of laps at Southwick, he knew the track well and was able to pin it immediately. He logged his fast lap, and then moments later, the skies opened up and the rain came down, slowing everyone's pace. No doubt the privateer thought it was cool to get the first gate pick ahead of such luminaries as Reed, Villopoto and Dungey. Sotille also had good rides going in the motos, but crashes held him to 25th overall.
Alex Martin's mid-season surge has powered him into the top 10 in 250 points, and he is actually now 1 point ahead of his teammate Darryn Durham for 10th in the series. Durham has had some rough luck lately, including a blown shock that ended his day two weeks ago at Unadilla.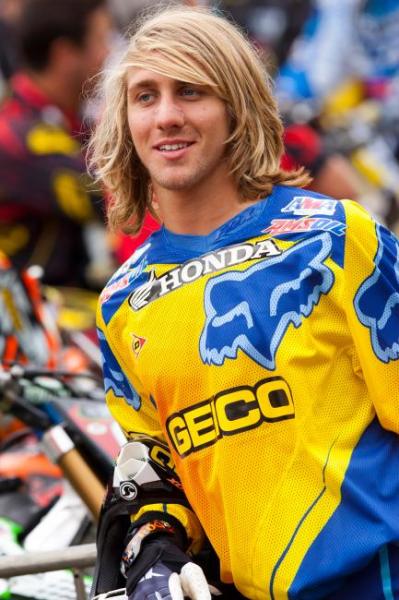 Barcia won his first career 450 moto at Southwick.
Photo: Andrew Fredrickson
John Dowd needed some good results to keep his permanent number and the Junkyard Dog did just that, going 9-8 for 8th overall. The forty-six year old Dowd is just riding for fun these days but at the 'Wick, some of the old magic came back once again. Dowd's mechanic for the last few years is Kenny Germain who is back in the Northeast running his own shop and some of you may recognize as the former Pro Circuit, Yamaha of Troy and Factory Honda wrench.
Brett Metcalfe's overall win at Southwick was his first win since coming to America and joins him in a club with fellow Aussie's Craig Anderson who's only national win also came at Southwick and Michael Byrne who's only moto win also came at Southwick. The Aussie's seem to like using Southwick to collect their maiden wins!
Lots of bike problems this weekend as the heavy rains and the equally heavy sand taxed motors heavily. Left and right riders were pulling off with problems. The Rockstar Suzuki team lost three motors alone! Factory Honda also lost three. Kawasaki changed theirs in between motos and there were also a ton of eyewashes also going on with riders tossing their goggles and needing to be cleaned out. Tough day!