The Wick 338
Southwick

,

MA
Moto-X 338
Lucas Oil AMA Pro Motocross Championship
The riders, teams and media are all part of this traveling circus that meets up on twenty-nine weekends for the races. We all get to know each other, some people get to be buddies, and some don't, but one thing that is there is a sense of camaraderie. I tell you this little anecdote because this weekend at Southwick, there probably aren't too many members of the circus who weren't happy to see Rockstar/Makita Suzuki's Brett Metcalfe take home his first pro win since coming over here from Australia in 2003.
It was nice to see Metty get his revenge on the track that bit him last year when he ran out of fuel on the last lap while leading. A good guy, always friendly and hard working, his ship finally came in. I caught up to Brett after the press conference to talk about his monumental day.
Racer X: Congratulations, Brett. It must feel pretty good to come back here and avenge what might have been your toughest heartbreak last year.
Brett Metcalfe: Yeah, it's nice to come back from what happened last year. To overcome that and win here is pretty cool. It's big for me. It's my first one and there are a lot of people who helped me get here and they're all a part of it. The conditions in the second moto were crazy. You had no idea if your bike was going to make it or if your clutch was going to last. You had to ride fast but somehow also ride cautiously.
It was a little about saving your bike as well, and I think I did a good job of that—even with not getting that good of a start that second moto. The track was one of those that was hard to pass on and you had one good line and if you got out of it, it was really a swamp. You had to be patient and really execute your passes.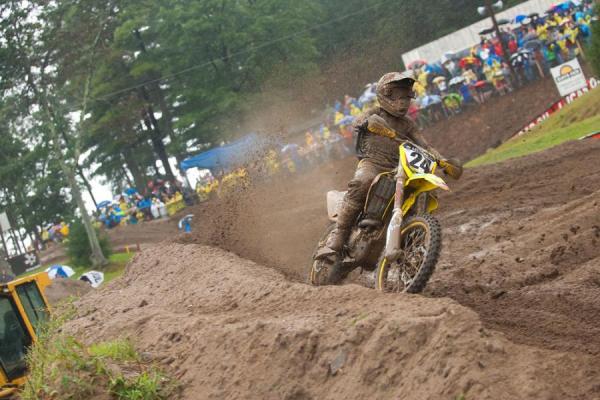 Metcalfe went 3-2 for his first career overall.
Photo: Andrew Fredrickson
I was expecting you to be great here, but in the practice times you were pretty far down. What happened?
The first practice I went out and had a big crash. It was the second green lap, I think. I put the hammer down and I went down. It was a pretty good crash and I hit my head a bit. My shoulder and hip were also sore. The lap times all came from that first practice and I had only one lap to go off of. After the crash, the bike and me were all bent up. The second practice, the track was rougher and I just went out there and rode around. No point in pushing it really, and I'm happy that in the end it didn't matter.
Second moto, you knew that [Ryan] Dungey had some bike problems and it was down to you and [Ryan] Villopoto for the overall, so it was impressive to see you pass him and take off.
Yeah, exactly. I knew who was a player and who wasn't. Unfortunately, Ryan [Dungey] was out and I knew who was in contention. RV started out in front of me and early on he was really attacking the track. That surprised me because the track was so rough. So I was just thinking that I had to keep in touch with him and then I was able to close in, make some moves and get him. At that point I just wanted to ride some consistent laps. And it actually got better when I threw my goggles off because sand had got in the roll-offs and they quit working on the third lap. So I was window wiping, and around twenty minutes in I just tossed them and I was like, 'Wow, I can see all these lines,' and I started riding better. It was a key point in the race.
How bad was the track?
I didn't think it was that bad, really.
John Dowd told me it was one of the worst ever.
[Laughs] He just wants big sand whoops everywhere. But in 2009, it was very similar to today. Today was a bit more choppier. Some of those braking bumps were so bad. Once we got the track burnt in and the lines developed, it had a good line. There were some spots that were really bad, some big holes where your feet were off and you were skiing out there.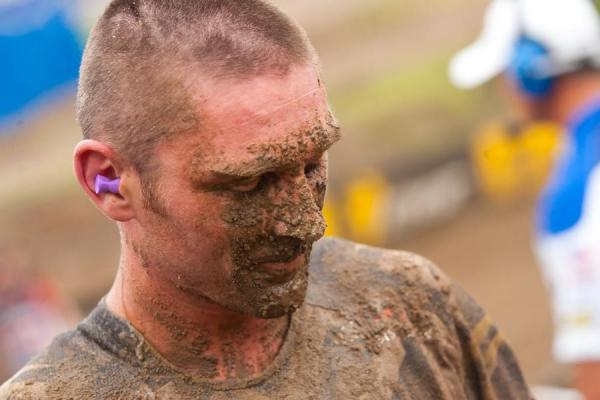 After a heartbreaking finish at Southwick in '10, Metcalfe got his redemption on Saturday.
Photo: Andrew Fredrickson
What does this mean to you? Has it sunk in that you won a 450 national?
If you can pick a race that you want to win in, it's the premier class. I'm a believer that everything happens for a reason and if you work hard, you can be a winner. Having said that, it's just a win and we have to move on from here. It feels great and tonight will be awesome, but tomorrow it's back to work for
Steel City
.
And for the first time in a long time, your dad Steve is here to see a race and it's an unforgettable one for him.
His last race was three years ago at Glen Helen, so it was great for him to see me here and come out. It's huge for him and me as well. I'm pumped that he's here to see this happen.
Last question: Ando (Craig Anderson) won his only race here, (Michael) Byrne won his only moto here, Reed's fast here, and so are you. What's the deal with the Aussies and the sand? Lots of laps at Manjimup?
[Laughs] I know, right? No, this guy here, [motioning towards dad] made me ride a lot of laps at this sand track behind this local track when I was growing up. And I remember to this day some of the things he would tell us. Other than that, I don't know. I love to ride sand, I'm comfortable in it and I guess it worked out.