The Wick 338
Southwick

,

MA
Moto-X 338
Lucas Oil AMA Pro Motocross Championship
Tyla Rattray owns Southwick in the 250 class. The Monster Energy Pro Circuit Kawasaki rider went 2-1 on Saturday to win the overall for the second-straight year--he also took the second-moto win here in 2009. The win was a good birthday present for his daughter, Brooke, who was born the morning of the race last year. Papa Rattray talked about his win during the post-race press conference at Southwick.
Racer X: You must have some great memories of this place, taking wins and also that your daughter was born at this time last year.
Tyla Rattray: It's good. Obviously I've been riding sand for a long time through my racing career, like tracks in Belgium. So I like the sand tracks and I'm comfortable here. And I'm always happy to get a win on any track, that always feels great. The first moto, I got into the lead and was feeling pretty good, but I had a problem with my bike, I stalled it and I couldn't get it fired up right away, and Gareth got away from me. Once I finally got it going, I had some water under my goggles. So I knew I wasn't going to pass him--it's really hard riding a sand track when you have problems with your goggles. So congrats to him. He's a good friend and I know he's been working hard.
Second moto, I knew it was really coming down and it was going to be slushy. I put a lot of pressure on myself to get a good start, and I did that. I was second, then I put a pass on Martin. I was able to get the moto win and overall win, so it was a good day.
This track is really hard on bikes. Did your experience help in knowing when to push it and when to conserve?
Oh yeah definitely. I knew all the stuff that can happen in this championship, so you have to stay consistent. Anything can happen, so I just have to keep my head down and keep giving it my best. I'm not going to give up until it's over.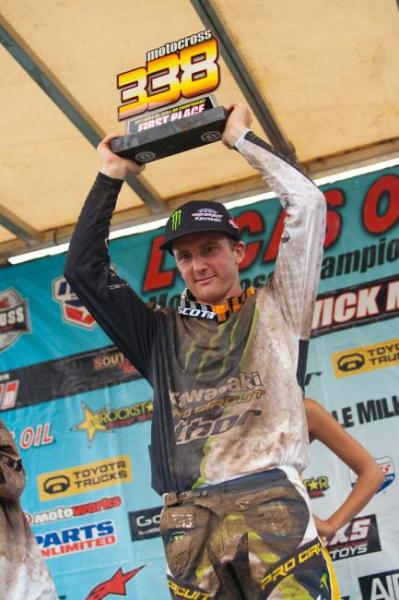 Rattray won the overall at Southwick for the second consecutive year.
Photo: Andrew Fredrickson
What happened last week at Unadilla when you crashed out? Do you even remember?
Oh yeah I remember. I had a big crash early in the moto. I got up and I didn't feel quite right. I was struggling a little with my balance. You don't want to take a chance with your head. It was a concussion. So I pulled off. I didn't want to just ride around slow in the back, that's risky. I knew that was going to make a big difference in the championship, but I know I made the right decision, when it comes to a head injury you don't push it.
What about your training? Did you miss some time?
I did take a few days off, but I wasn't worried. I felt fine this week and I was okay for the race. Luckily I have ridden a lot of sand before so I knew I would be okay even if I didn't get to practice or train for it much.
This week we heard your teammate Broc Tickle is going to have to move up to a 450 next year in supercross. What's going on for you next year? We hear you may be looking for a 450 ride outdoors?
Yeah, I am. What I'd like to do next year is ride the 450 outdoors, but stay on the 250 for supercross. This year was only my first year racing supercross, so I'd like to get another year of experience. But yeah, I definitely want to race a 450 outdoors. We have some things we are working on, I'm talking to some people about it. I don't know if maybe we would do a 450 deal outdoors with Mitch. I'm not sure what's going on with Broc, but I'm hearing he may have to ride a 450 in supercross. I definitely would like to stay with this team, the Monster Energy Pro Circuit Kawasaki team has been great to work with. But I don't know right now. Hopefully we'll have something done soon, maybe as soon as Steel City we might know, or maybe by Pala. We should know something soon.