The Wick 338
Southwick

,

MA
Moto-X 338
Lucas Oil AMA Pro Motocross Championship
Southwick's Moto-X338 facility has generated quite a reputation for breaking bikes and breaking hearts, but for once the track giveth what it taketh away. A day of terrible racing luck for a variety of riders--Ryan Dungey, Justin Barcia, Chad Reed and others--ended up adding up to an overall win for a rider who had similar misfortune unfold at this track a year ago. Rockstar Makita Suzuki's Brett Metcalfe scored an emotional first-ever AMA win with solid 3-2 scores, erasing the bad memories of last year, when he ran out of gas within a few turns of winning the first moto.
"I'm a winner now," exclaimed Metcalfe. "This career has been a roller coaster. After everything I've been through, to finally get a win after eight years just feels good. The first moto was the worst I've ever rode at Southwick, but I still got third. We prepared my bike for the mud in the second moto and it rode like butter. It was perfect. I knew I had to beat Villopoto for the overall. I saw him ahead of me, dug deep, and passed him."
And even though others had trouble, make no mistake, Metcalfe earned this one. After his third-place finish in the first moto, he needed to beat Monster Energy Kawasaki's Ryan Villopoto in moto two to win the overall, and he indeed passed the series' leader to score the points needed to snag the race win.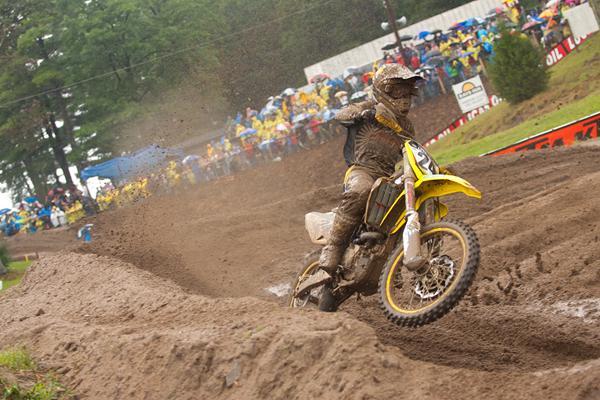 Finally, Metty.
Photo: Andrew Fredrickson
Now a word on this year's receptors of the bad luck. Metcalfe's teammate Ryan Dungey won the first moto after taking the holeshot and opening up an early lead. Villopoto started about fourth, quickly passed Metcalfe and Honda's Justin Barcia and set out after Dungey. Late in the moto he closed up, but Dungey held on to end Villopoto's two-moto win streak from the previous round of the series.
Barcia was riding well in his second-ever 450 outdoor race, but his engine let go while he was running third. Moments later, TwoTwo Motorsports Bel-Ray Racing Honda's Chad Reed came to a hault on the track with engine problems, as well, while running fifth. Metcalfe hung in there for third, which would loom large for the second moto.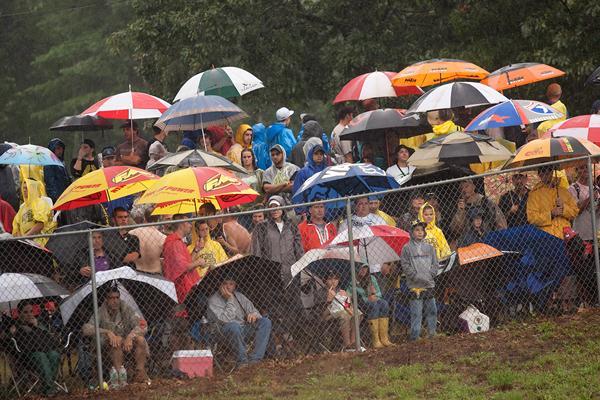 With Hurricane Irene about to make an impact, the fans simply put their umbrellas up and enjoyed the action. They're tough up here in New England!
Photo: Andrew Fredrickson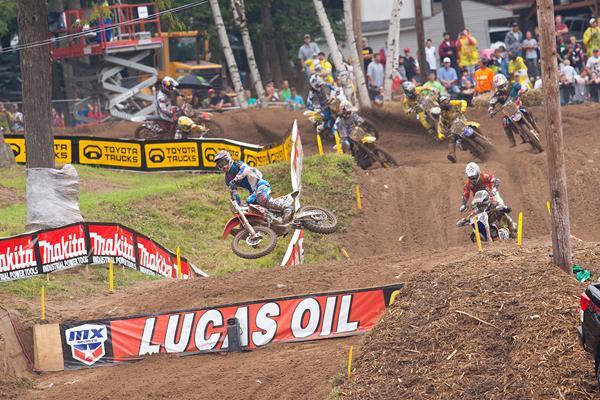 Local boy Mike Sotille logged a fast lap on a smooth track in practice, just moments before it started to rain. As a result, he was the fastest 450 qualifier. Yes, faster than Villopoto, Dungey, Reed and the rest!
Photo: Andrew Fredrickson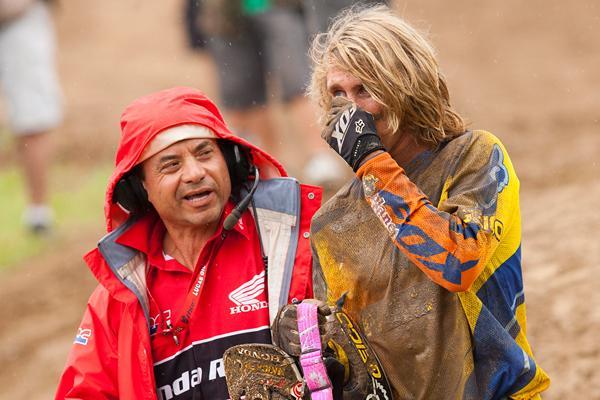 Barcia had a solid race going in moto one, hanging with Villopoto for a few laps and holding strong in third before his bike stopped running.
Photo: Andrew Fredrickson
The second-moto drama unfolded before the race even began. Dungey's bike quit running before he could make it to the starting line, and his team had to scramble. He lost his first-gate pick, and then looked to have lost everything when the moto started without him. Then his bike showed up, finally, and he raced onto the track about three-quarters of a lap behind the field. In fact, he was almost immediately in danger of being lapped by Barcia, who had somehow taken the holeshot from a bad gate pick of his own.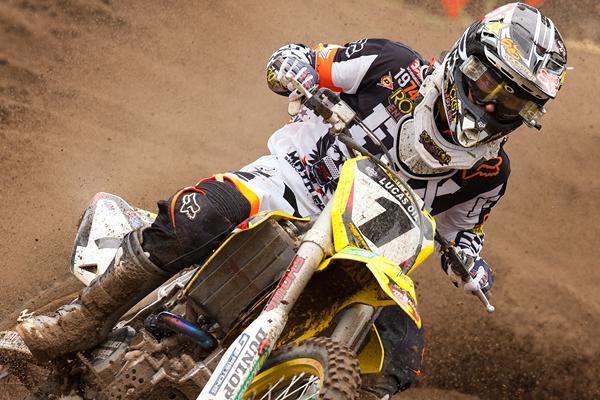 Mega moto two drama for Dungey.
Photo: Andrew Fredrickson
Barcia rode a superb race out front, holding on to win in just his fourth-ever 450 moto. And he's left to think of what might have been, because if his bike had not broken while he was running third in the first moto....
Ah, no reason to think that way. Metcalfe knows the heartbreak of Southwick in similar fashion, and he started fourth and knew he had a shot at the overall since Dungey was way back. He caught and passed Villopoto for third--Villopoto appeared to be riding conservatively perhaps making sure he didn't run into trouble and lose points like Dungey and Reed did. Then Metcalfe passed second-place rider Justin Brayton for good measure. Brayton took a strong third in the moto on his Muscle Milk Toyota JGR bike, and Villopoto took fourth. He made up huge points on Dungey, right?
No! Dungey stayed in front of Barcia the whole way and ended up an astonishing seventh, which means he only lost one point to Villopoto on the day. He even finished third overall behind Villopoto and Metcalfe.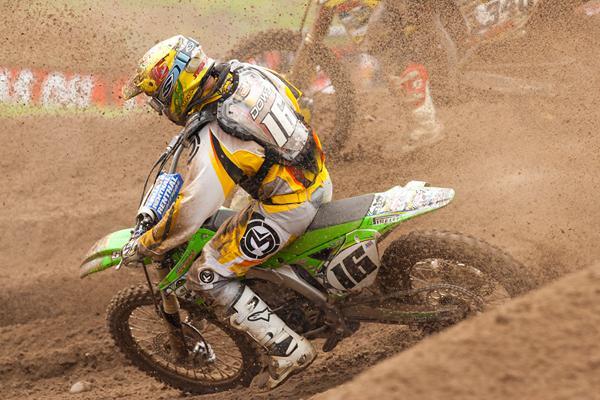 John Dowd needed 22 points to keep his national number, and he scored 25.
Photo: Andrew Fredrickson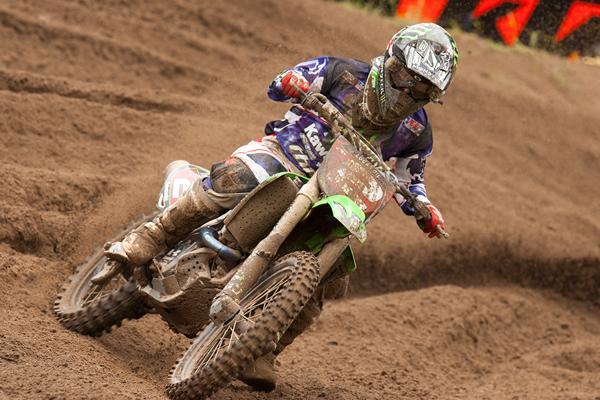 Villopoto stayed out of trouble in moto two and gained a point on Dungey on the weekend with 2-4 finishes.
Photo: Andrew Fredrickson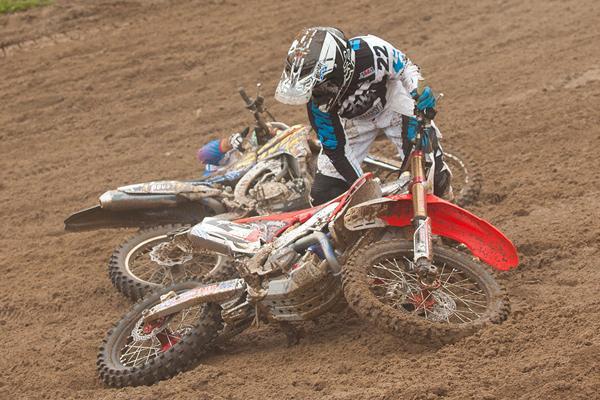 An absolutely horrible day for Chad Reed, who had bike problems in both motos and failed to finish either race. He also had a first turn crash thrown in for good measure.
Photo: Andrew Fredrickson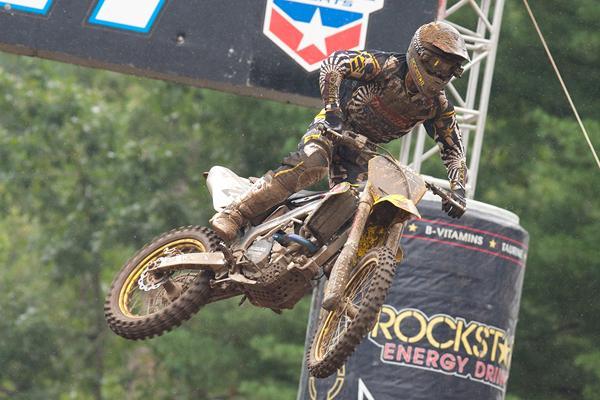 Metcalfe's long journey now includes a race win.
Photo: Andrew Fredrickson
The 250 class was comparatively drama-free, with Tyla Rattray delivering his second-straight Southwick win, this time with 2-1 scores. But, the first moto win went to DNA Shred Stix Star Racing Yamaha's Gareth Swanepoel, Rattray's fellow South African. Swanepoel led early, then Rattray made a pass, but then stalled, allowing Swanepoel to get him back. From there, the Yamaha rider actually pulled away a bit to the end to snag his first win in the U.S., and also the first win this year to not go to a Monster Energy Pro Circuit Kawasaki rider.
Behind Rattray came his teammate Dean Wilson, who maintained a solid series' lead. In moto two, Alex Martin grabbed the start on his Eleven10 Mods Honda and actually pulled away from Rattray and Wilson early. But eventually Rattray got him, and then Wilson. Martin was more than happy to hang on for his first ever moto podium, but he nearly got back into second when Wilson's bike started to steam. His team told him to back it down, so Wilson cruised the last few laps just nursing his bike home. It held on and he finished second.
Swanepoel had a brief fall and couldn't replicate his first-moto ride, he took fifth, which was good enough for third overall. Wilson's teammate Blake Baggett struggled in the sand and mud, going 9-6 in his motos and losing more points in the series.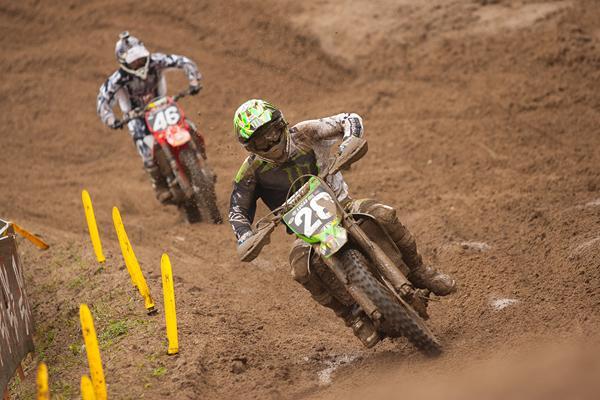 Ratters ruled Southwick again.
Photo: Andrew Fredrickson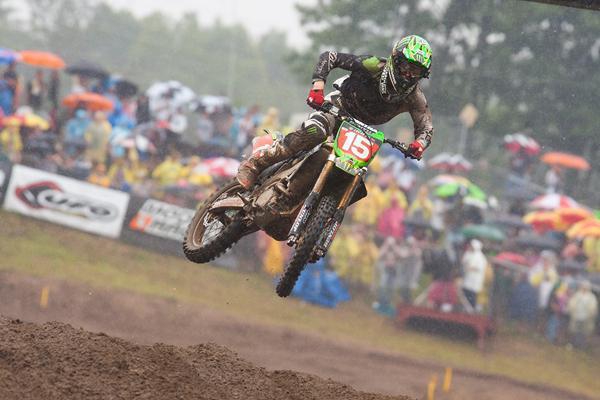 Wilson admits he's not a sand master, and was happy to finish second overall.
Photo: Andrew Fredrickson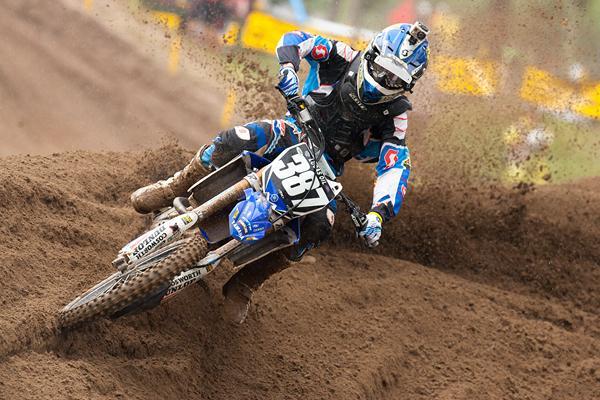 Swanepoel scored a big first moto win.
Photo: Andrew Fredrickson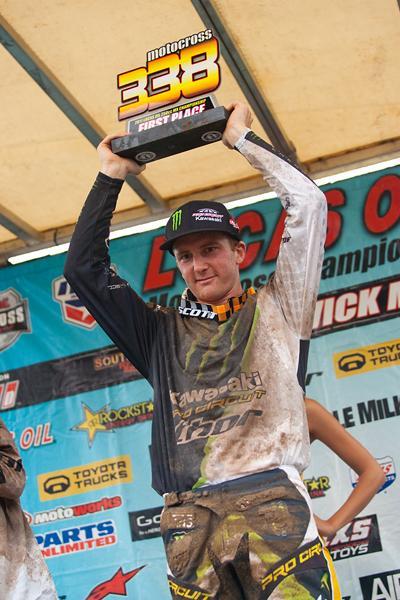 Rattray had a crash ruin his second moto at the previous race at Unadilla, and that has prevented his Southwick win from making a big impact in the championship standings.
Photo: Andrew Fredrickson
In the WMX class, Honda's Ashley Fiolek scored a key overall win with 2-1 scores in the rain and mud. He cheif championship rival, Jessica Patterson, crashed a few times in the first moto on her DNA Shred Stix Star Racing Yamaha and finished out of the points, allowing Fiolek to further extend her series' advantage. Patterson returned to win moto two, but the damage to her title hopes had been done. Tarah Gieger put her Lucas Oil Troy Lee Honda into second overall and KTM rider Alexah Pearson snagged her first career podium with third.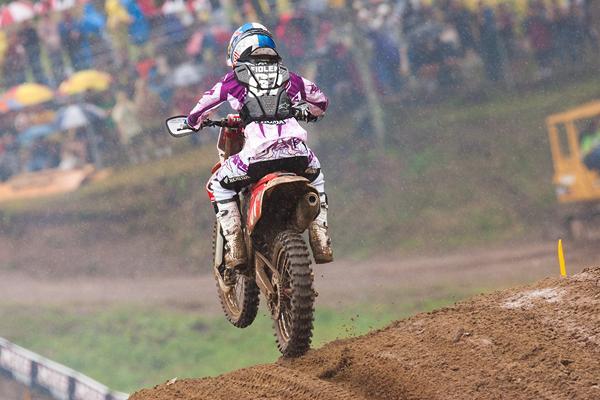 Ashley Fiolek not only took the win, but she extended her points lead thanks to a crash by Jessica Patterson.
Photo: Andrew Fredrickson
The Lucas Oil AMA Pro Motocross Championship continues next weekend, on Saturday, September 3, from Delmont, Pa. Steel City Raceway will host the 11th of 12 rounds this summer, beginning at 1 p.m. EST.

Lucas Oil AMA Pro Motocross Championship
Rockstar Energy Southwick National
Moto-X 338 - Southwick, Mass.
August 27, 2011
Round 10 of 12

450 Class (Moto Finish)
1.    Brett Metcalfe, Mannum, Australia, Suzuki (3-2)
2.    Ryan Villopoto, Poulsbo, Wash., Kawasaki (2-4)
3.    Ryan Dungey, Belle Plaine, Minn., Suzuki (1-7)
4.    Justin Brayton, Fort Dodge, Iowa, Yamaha (7-3)
5.    Mike Alessi, Victorville, Calif., KTM (4-6)
6.    Jake Weimer, Rupert, Idaho, Kawasaki (6-5)
7.    Justin Barcia, Monroe, N.Y., Honda (36-1)
8.    John Dowd, Holyoke, Mass., Kawasaki (9-8)
9.    Les Smith, York, S.C., Yamaha (8-9)
10.    Kyle Chisholm, Clearwater, Fla., Yamaha (11-10)
450 Class Championship Standings
1.    Ryan Villopoto, Poulsbo, Wash., Kawasaki - 431
2.    Ryan Dungey, Belle Plaine, Minn., Suzuki - 423
3.    Chad Reed, Kurri Kurri, Australia, Honda - 366
4.    Brett Metcalfe, Mannum, Australia, Suzuki - 304
5.    Mike Alessi, Victorville, Calif., KTM - 243
6.    Jake Weimer, Rupert, Idaho, Kawasaki - 221
7.    Andrew Short, Colorado Springs, Colo., KTM - 196
8.    Kevin Windham, Baton Rouge, La., Honda - 193
9.    Davi Millsaps, Murrieta, Calif., Yamaha - 173
10.    Justin Brayton, Fort Dodge, Iowa, Yamaha - 163
250 Class (Moto Finish)
1.    Tyla Rattray, Durban, South Africa, Kawasaki (2-1)
2.    Dean Wilson, Glasgow, Scotland, Kawasaki (3-2)
3.    Gareth Swanepoel, Johannesburg, South Africa, Yamaha (1-5)
4.    Alex Martin, Millville, Minn., Honda (10-3)
5.    Blake Baggett, Grand Terrace, Calif., Kawasaki (9-6)
6.    Marvin Musquin, La Reole, France, KTM (7-8)
7.    Broc Tickle, Holly, Mich., Kawasaki (5-12)
8.    Gannon Audette, Minneapolis, Minn., Yamaha (4-16)
9.    Justin Bogle, Cushing, Okla., Honda (18-4)
10.    Darryn Durham, Butler, Pa., Honda (8-13)
250 Class Championship Standings
1.    Dean Wilson, Glasgow, Scotland, Kawasaki - 438
2.    Tyla Rattray, Durban, South Africa, Kawasaki - 400
3.    Blake Baggett, Grand Terrace, Calif., Kawasaki - 398
4.    Kyle Cunningham, Aledo, Texas, Yamaha - 264
5.    Eli Tomac, Cortez, Colo., Honda - 246
6.    Gareth Swanepoel, Johannesburg, South Africa, Yamaha - 241
7.    Broc Tickle, Holly, Mich., Kawasaki - 220
8.    Justin Barcia, Monroe, N.Y., Honda - 181
9.    Martin Davalos, Quito, Ecuador, Suzuki - 175
10.    Alex Martin, Millville, Minn., Honda - 170
WMX Class (Moto Finish)
1.    Ashley Fiolek, St. Augustine, Fla., Honda (1-2)
2.    Tarah Gieger, Aguadilla, Puerto Rico., Honda (2-5)
3.    Alexah Pearson, Sacramento, Calif., KTM (7-3)
4.    Sarah Whitmore, Cheboygan, Mich., Yamaha (5-4)
5.    Julie Parizek, Manchester, Conn., Kawasaki (8-7)
6.    Jessica Patterson, Tallahassee, Fla., Yamaha (27-1)
7.    Kasie Creson, Vallejo, Calif., Honda (11-6)
8.    Lindsey Palmer, Albuquerque, N.M., Honda (9-8)
9.    Jacqueline Strong, Cottonwood, Ariz., KTM (4-15)
10.    Sade Allender, Sanford, Maine, Kawasaki (10-9)

WMX Class Standings
1.    Ashley Fiolek, St. Augustine, Fla., Honda - 279
2.    Jessica Patterson, Tallahassee, Fla., Yamaha - 249
3.    Tarah Gieger, Aguadilla, Puerto Rico., Honda - 226
4.    Jacqueline Strong, Cottonwood, Ariz., KTM - 162
5.    Kasie Creson, Vallejo, Calif., Honda - 153
6.    Marissa Markelon, Bridgeport, Conn., Yamaha - 148
7.    Vicki Golden, El Cajon, Calif., Kawasaki - 140
8.    Alexah Pearson, Sacramento, Calif., KTM - 137
9.    Lindsey Palmer, Albuquerque, N.M., Honda - 132
10.    Sayaka Kaneshiro, Osaka, Japan, Suzuki - 113