The Wick 338
Southwick

,

MA
Moto-X 338
Lucas Oil AMA Pro Motocross Championship
Welcome back to Racerhead, coming to you from the dark end of the rainbow, otherwise known as the expected touchdown point for this big storm sometime on Sunday afternoon. Tomorrow should be fine, and here's hoping Southwick gets a good crowd, even if the governor of the state already called a state of emergency—even though it's downright beautiful here right now!
After another weekend off, it's finally time for the stretch run in the 40th Annual Lucas Oil AMA Pro Motocross Championship. We begin in Southwick, at the legendary Moto-X 338, home of such heroes over the years as Jim Meenan, Jo Jo Keller, John Dowd, Doug Henry, and more.
But this time it's not going to be about the local heroes (though you just know someone is going to pop up in there and do some real impressive riding) but rather the title contenders. The 250 Class is a three-way battle between teammate Dean Wilson, Blake Baggett, and Tyla Rattray, the latter of whom had a bad day at Unadilla and fell back a little ways in points. All three of these Monster Energy/Pro Circuit Kawasaki riders have won some races now.... Actually, they're the only ones who have won races!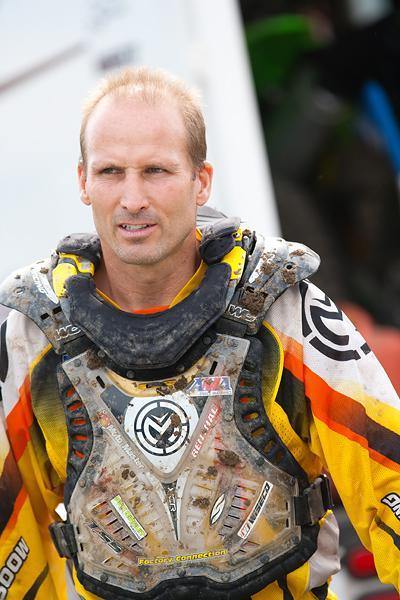 Local hero John Dowd is back to race Southwick this weekend.
Photo: Andrew Fredrickson
In the 450 Class, Chad Reed has lost some ground on the two Ryans, but he loves the 'Wick, so it could be a three-way tilt here between Reedy, Dungey, and points leader Villopoto. And don't count out guys like Brett Metcalfe, who should have won here twice over the years, and Justin Barcia, who in a word is simply fearless.
So yeah, there's a hurricane coming, and not the kind motocross fans know and love. Rather than Bob Hannah, it's Hurricane Irene, and it's already cost us the Racer X Ride Day on Sunday. Yes, we decided to postpone and try again in a few weeks rather than go against Sunday's National Weather Travelers' Advisory.
You can watch tomorrow's Southwick Classic live on FUEL TV beginning at 1 p.m., as well as the streaming show beginning at the same time on www.allisports.com. The second motos will air Saturday evening on SPEED with a primetime doubleheader!
Here is a lap around Southwick Moto-X 338, courtesy of Broc Tickle and Tyla Rattray of the Monster Energy/Pro Circuit Kawasaki team, and Vital MX's GuyB.
One of the many really cool things about Southwick is how riders have to prepare specifically for the sand before this race, seeking out sand tracks all over the country in order to get used to the terrain. At Dade City MX in Florida on Monday, for instance, Chad Reed, Dean Wilson, Michael Byrne, Kyle Chisholm, and Kyle Keylon were all making laps on the popular sand track. And Dade City MX posted a video of their session right here.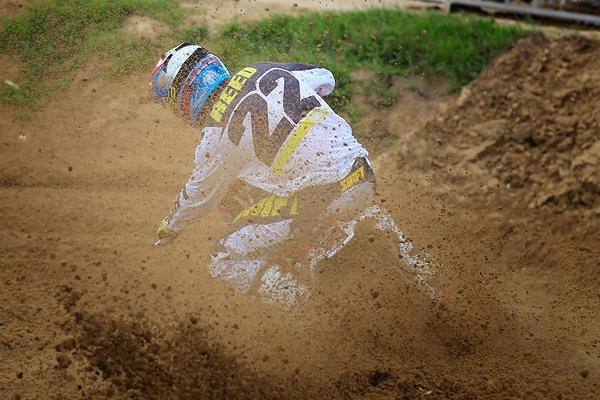 Reed trained down at Dade City MX this week to prepare for Southwick.
Photo: Randy Yoho
The man who is not having the year I thought he would is KTM's Marvin Musquin. He started out with injuries of course, so he's never really been able to show his full potential for American Motocross fans. That might change in a hurry. The last three rounds are all fairly dynamic tracks, and anything can happen. If someone is to put together the kind of race it will take to beat all those Monster Energy/Pro Circuit Kawasakis, it just might be Marvin, though I have no idea how good he goes in the sand. Here's a cool video of Marvin where he talks about coming to America, the competition, and the series.
Of course everyone is bracing for the hurricane and guessing where and when it might actually hit. From what the National Weather Service told us Friday morning, "Irene will race through New England Sunday and Sunday night, and could still bring some hurricane conditions."
An interesting press release came out this week from Europe:
"Rumours have been flying, saying that Antonio Cairoli will participate in the AMA National series next year with KTM, but after talking with the concerned parties, it's necessary to inform that these are only allegations and don't reflect the reality; Antonio Cairoli has signed a contract with KTM to race the FIM Motocross World Championship next year and for the future. Now is the time to celebrate Antonio's marvellous 2011 season.Youthstream thanks Antonio Cairoli and KTM for their loyalty and partnership in the FIM Motocross World Championship."
I honestly never heard that rumor, and would not have believed it anyway. AC222 has a great reign going on over in Europe and has a shot at setting some major records. Supercross is not his thing, and it's tough to learn when you're no longer a teenager. He would be risking a lot to move here now.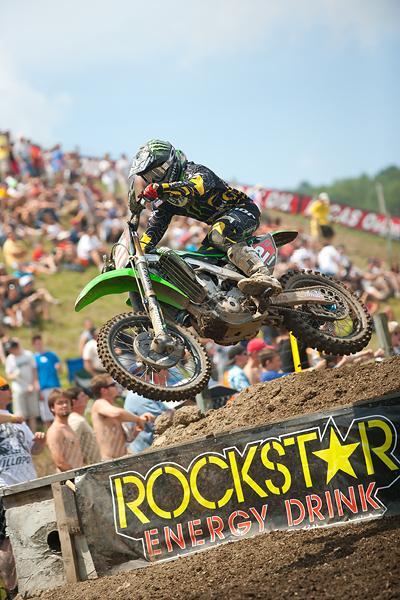 Villopoto leads the field into Southwick.
Photo: Andrew Fredrickson
I am curious, however, to see where Christophe Pourcel ends up. He finally got himself back in the winner's circle by taking a moto at the British GP, and he did it with relative ease (helped along by Steve Frossard's mistake while leading). I still think CP377 would be in the lead mix in AMA Supercross, and he's heading back to Florida where he lives now as soon as the last GP is over (the French team at the MXoN was already chosen before he regained his form, and he did not make the cut). Someone is going to call Pourcel and make him an offer, just watch.
We told you last week about Team USA winning the FIM Junior World Cup. Here's more on the event from Team Green.
How's this for a perk of your job: When I called the AMA's Kevin Crowther yesterday to discuss some travel plans for the Motocross of Nations in France, he was in the middle of driving a sports car around the MotoGP track at Indianapolis Motor Speedway! Kevin was helping to inspect the track for the big road race this weekend and was just enjoying the heck out of his day.... I would inspect the track like that every 15 minutes if I had the chance to! Crowther is the AMA's point man for Team USA, as well as the FIM liaison.
Be sure to check out10 Things to Watch for at Southwick before the action begins tomorrow. Also be sure to take a look at the ILap from Southwick thanks to MX Sports' Courtney Zollinger.
I mentioned Marvin Musquin before. I would also like to point out that this could be a breakthrough race for Justin Barcia, albeit in the 450 Class—and he already had a near-breakout race at Unadilla! He's won here before, he loves the sand, and you know he's going to get some great starts.
"I've raced at Southwick many times and it's one of my favorite places on the circuit," Barcia said. "There are some good sand tracks down in Florida where I've been able to practice up at. The 450 will definitely pull through in the sand. I'm used to holding the 250 wide open. It's going to be a different experience and a lot of fun."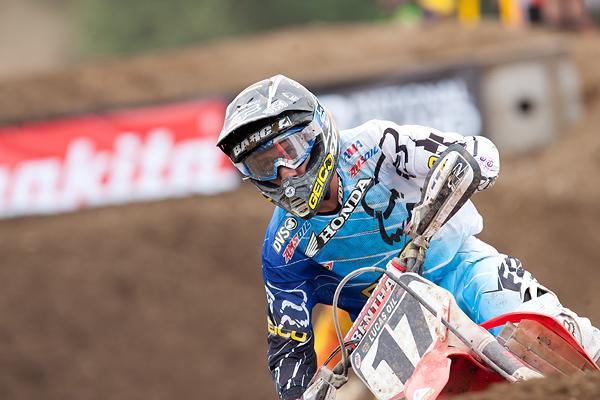 Can Barcia pull off a win at Southwick?
Photo: Andrew Fredrickson
Okay, here's WEEGE:
One of the most bizarre silly-season scenarios has broken out around Broc Tickle, who ordinarily shouldn't have any issues at all finding a ride for next year. He won the West Region SX title for his team, right? Well, he did, but the old you-get-one-year-to-defend-your-title rule no longer applies. There have been some revisions to the SX Lites eligibility rules, and now if any rider has collected a set number of points in three different seasons, they're out of the class. That's the case for Tickle. For a few weeks now, Tickle and the Monster Energy/Pro Circuit Kawasaki team have been trying to get to the bottom of the issue, but I've heard that this week the AMA confirmed that is indeed the rule, and based on it, Broc has to race a 450 next year in supercross.
Ironically, he's the only rider on that star-packed team with a title right now, yet he's struggled to keep up with the other three guys—Baggett, Wilson, and Rattray—outdoors. The strange part is Broc has a deal on the table with the team for next year. And they only ride 250s. Will the team put a quick 450 effort together? (This has been rumored about 100 times in the past, especially when either Christophe Pourcel or Ben Townley are mentioned.) Will Broc slot into the factory Monster Energy Kawasaki 450 team? Will he go somewhere else? Hard to believe, but a rider who won the SX title a few months back may be in need of some results through these last six motos to help his cause for next year! In the meantime, I'll try to get the latest on this story this weekend.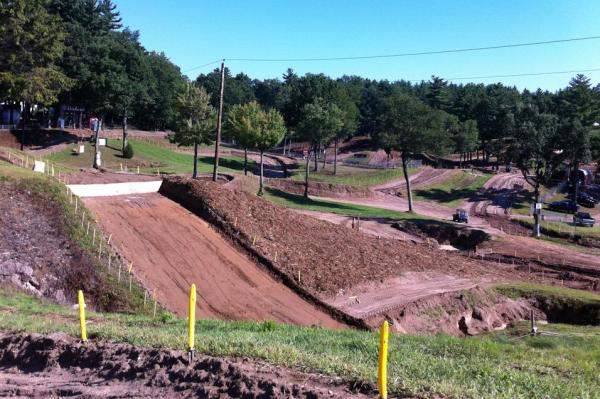 Southwick looks in pristine condition for tomorrow's racing.
Photo: Courtney Zollinger
So far the weather here is holding up—in fact, after some rain late last night, things look great right now. There's a 50 percent chance of rain tomorrow, typical summertime stuff, but Hurricane Irene isn't scheduled to hit until later, as DC mentioned above. This could jack with some travel plans, but the race should be fine. For anyone living in an area that could take a real hit, though, like the North Carolina coast, we wish you the best, because this could be gnarly.
I'm heading to the track to shoot today's Racer X Motocross Show on Allisports.com I'll check in later if we get any updates. Or I may just stop at a variety of team trucks and try to score some free lunches instead of actually working.
Now on to Steve "Remedial" Matthes:
Well, we're going racing! Three weeks, three races, and at the end we're gonna see who our champs are. Southwick, Steel City, and Pala to wrap this up and all three tracks are pretty different from each other.
Of course Dean Wilson, Blake Baggett, Ryan Villopoto, Ryan Dungey, and Chad Reed are all going to be right up there, but I'd look for Tyla Rattray (who's won this race before) and Justin Barcia (ditto) to be right up in the mix. Not that those predictions are earth-shattering or anything, but I think those two riders could in between any of those riders listed above and try to take some points away from someone.
I chatted with Reed earlier this week and asked him if he was fine, if it was no-go time, and what we're going to see this weekend: Reed pre-Millville-flight or Reed of the last two races. All he said was "I love the sand and it's go time." So he appears ready to go. It was always a bit of a bummer for Reed when he rode nationals in the Yamaha days, because he does fly in the sand, but unfortunately for him, Ricky Carmichael really flew in the sand. RC would go 1-1 and Reed would 2-2 and that would be it.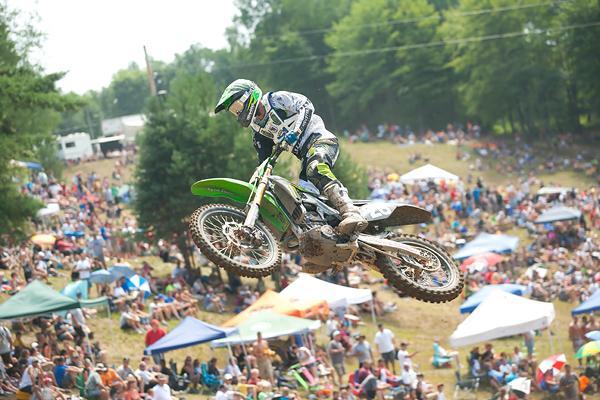 Rattray needs help if he wants to get back in the title hunt.
Photo: Andrew Fredrickson
We talked a little bit of Southwick, a little bit of Monster Energy Cup, and a lot of silly-season stuff. Reed's just like any of us and wants to know what I've been hearing out there, so we traded information. The Larry Brooks Honda team seems to be chugging along with LB talking to Justin Brayton, Andrew Short, and Mike Alessi; KTM is rumored to be trying to bring Shorty back as well.
As far as James Stewart, well, there's everything from riding for factory Suzuki, staying with his current setup, or moving to another team to ride Yamahas. I'm not sure what the deal is (James isn't talking), but know this: there is stuff going on with Stewart and his team. We'll see where it all ends up in the next two weeks is what I was told by someone who would know.
Hey, did you know the Bercy Supercross is coming up? That's right, the annual European SX classic that's been going on since the mid-'80s is right around the corner. Usually the race has been held in late November, but this year it's the last week of October. Americans rumored to be going include last year's champion, Justin Barcia, 2009 champion Justin Brayton, Eli Tomac, plus a few others. Always a good time in the Palaisport Omni or whatever—even if you're just sitting there watching the grass grow on the walls.
Big contingent of Canadians coming down to the 'Wick this weekend. The two champions in the 250 and 450 Classes, Tyler Medaglia and Colton Facciotti, respectively, will be there as well as the second-place guy in the 250s, Kaven Benoit, and national winner (and Tyler's younger brother) Jeremy Medaglia. The Medaglias ride sand very, very well and a few years ago Jeremy ran top-ten for most of the moto on a Yamaha of Troy machine before fading back a bit. So fantasy moto geeks beware: the Canadians are coming!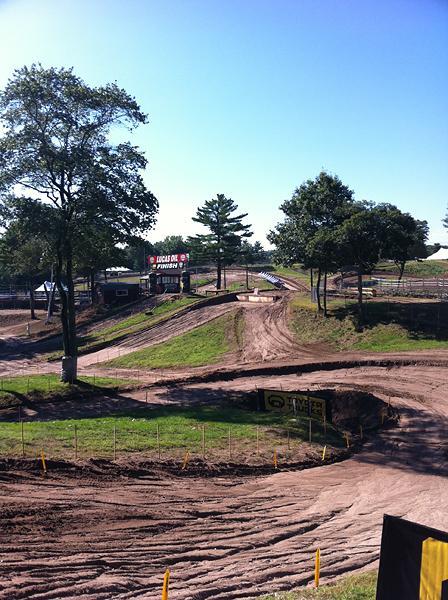 Tune in to FUEL TV tomorrow at 1pm EST to catch all first motos LIVE from Southwick.
Photo: Courtney Zollinger
I'm very interested to see how Facciotti is going to do. He's very fast and is a multi-time champion in Canada. He wants to race in America next year, so this is a bit of a pressure-filled deal for him. He has to do something to catch the eye of an American team manager. How do I think he can do? If everything goes okay for him, I could see him right around tenth place.
Don't forget to check out Pulpmx.com when you've read everything on Racer X. And there's a Monday night internet show with myself and Kenny Watson this week so stick around for that.
And now on to David Pingree:
I got an email from a reader who was riding with one of his buddies who crashed. Sadly, his injuries were pretty serious and he is going to need some help. Please check out this website for all the information.
If you've heard rumors that Starwest Motocross Park is closing down, you can rest assured that they are only rumors. Starwest is under new management, but it will be open for business as usual. Now if I could just find out what's going on with the Lake Elsinore Motocross Facility I would be all set. I've been hearing for months that Jeremy McGrath is taking over and opening the track up again. That sounds like a rumor to me, but I couldn't get MC on the phone to clarify. I'll see what I can dig up.
I just received this note from Stephen Heighton:
Ping,
Stephen here from Race SoCal motocross vacations, just reading your article in Racerhead and would like to fill you in on some Lake Elsinore info.  I was out there today and given a tour by the new owner Gio who is in the earth moving business, he has taken on the lease, committed to spending over half a million dollars, hired Marc Peters to build the tracks like he did there in the hay day of 1999-2002 and is planning on being open by late September.  He is inviting the industry out for a ride day as soon as the tracks are ready to ride.

There is an article about it here.
What I saw was very positive, new entrance, $100,000 in fencing around the exterior, new hard standing entrance road, very tidy landscaping, new camping area, vet track half built and a very excited Marc Peters.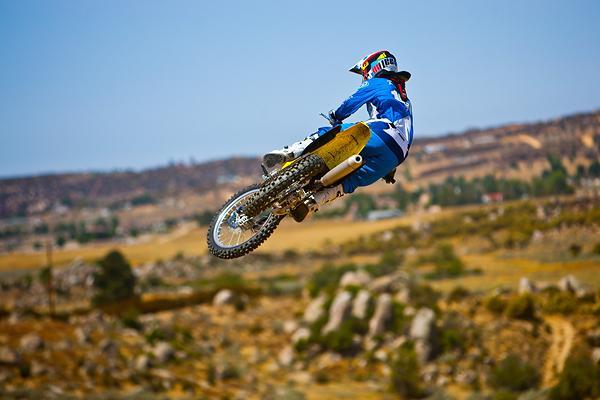 Ping testing the new Suzuki.
Photo: Matty Fran
As for those strange whispers that the Pala National is being canceled, you can forget about that too. It's on, as DC and promoter Ryan Ouellette explained in this Racer X interview.
Suzuki invited us out this week to ride the 2012 RM-Z models. The changes for this year are minimal, but the graphics are both new AND bold. So, you know, there's that too. But I'm not sure a lot of people knew about some of the features those bikes had from last year. For instance, I had no idea that each 2011/2012 RM-Z comes with an additional coupler that plugs in easily to the bikes ECU and provides a 3 percent leaner mapping across the board. That's a really cool feature, especially if you ride at altitude or in extreme temperatures. It was a balmy 100 degrees during our test ride and the leaner mapping made a noticeable difference.
In Racer X's shootouts from last year the Suzuki's scored very well; they were selected as the best bikes by several of the staff, myself included, so despite the limited changes for 2012 the yellow machines will still be competitive. Matt Francis documented our testing and you can check out that video right here.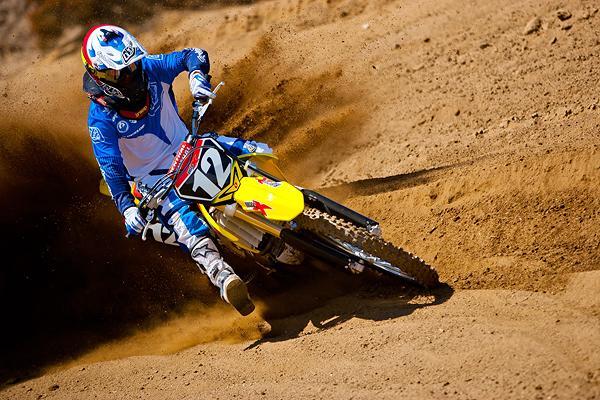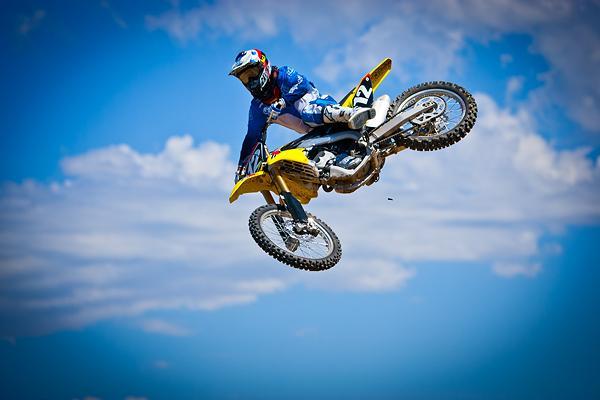 Photos: Matty Fran
If you live here in Southern California, you may have noticed some of the Racer X staff frequenting the local tracks. If you see one of the Racer X trucks or EZ-Ups, be sure to stop by and say hi. We may even have some free mags, stickers, or swag for you.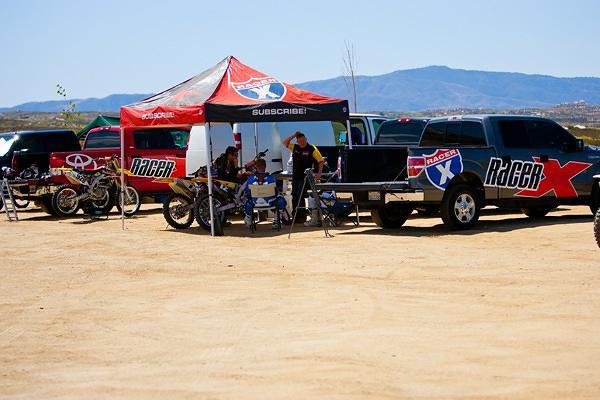 Photo: Matty Fran
If you happened to read my weekly column, Ask Ping, earlier today then you saw the comment about the need for a national in the Southeast. Earlier today I got this photo from a guy in Chicago who did some wintertime riding at Monster Mountain MX in Alabama. The only things I relate to Alabama are an old-school country band and the movie My Cousin Vinnie. Until now, that is. This place looks insane!
Thanks, Ping.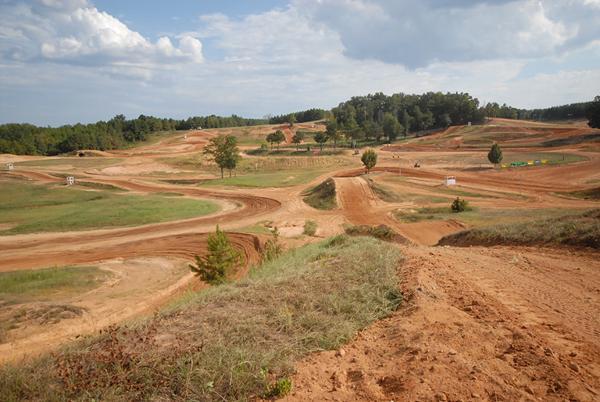 Here's some random notes to close out this week's column....
The color guard employed for opening ceremonies at Southwick this weekend are real heroes. The team of twenty-three Security Forces members took part in transformation missions while in Iraq. They were responsible for educating and training Iraqi soldiers to better defend their country. They provided air-base defense at Sather Air Base as well as provided area security for the English Language Training program in and around Baghdad and Kirkuk.
104th Fighter Wing Barnes Air National Guard Base
Judd Palmer sent us this message:
"I am buildng a new track in St George Ut and I am trying to get the word out to all of the racers in the Vegas area. It has been about 10 years since we have had a track here so everyone is really excited. The track is called St George Mx and the web site is stgeorgemx.com. We have a fall schedule posted with a Doug Dubach school on October 3rd and our grand opening race on October 21st. The race will be put on by the Rmx series from Slc and is one of the biggest promoters in Utah. Thanks for taking the time to read this and we would greatly appreciate any help that you may be able to provide."
Looking for another great way to waste time online? Check out this free online game from ESPN.com called TG Motocross 4.
Here's a press release that came our way this week:
"After an almost three year court battle in Berkeley County, WV, the lawsuit filed by a few of the neighbors surrounding the facility which sought to close down the Tomahawk MX motocross track has been resolved and the facility will remain open and in operation. The lawsuit alleged that the motocross facility was a nuisance to the surrounding neighborhood. Last week, the parties to the suit resolved their differences thus putting an end to the litigation that had been pending since November, 2008."
From Bill McClurg:
"My son and I ride at Thundercross MX Park Okeechobee FL., which is often frequented by many of the top riders. I'm an amateur photographer and when I'm not riding I'm usually found somewhere out on the track taking pictures. This past weekend Adam Cianciarulo was at the track on his 125. He looked very comfortable on the larger bike and was fast as usual. These are some of the shots I took; I just wanted to share them with all your readers."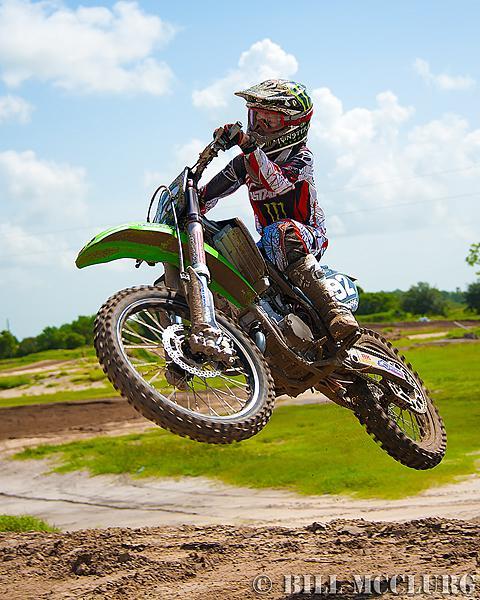 Carly Rauba is the daughter of longtime industry man Nate Rauba. She is also an aspiring journalist (her dad worked at Cycle News) and a lifelong moto enthusiast. Her most recent blog is about the end of the Lead Law and what it means to our sport. Check it out.
Tommy Weeck had an amazing race at Washougal, running toward the front as a full-on privateer in his one and only AMA Motocross race this summer. He was hoping something would pan out for the rest of the nationals, but the phone never rang. But he did get a call from Europe, more specifically from France and the BUD Kawasaki team. So Tommy has packed his points and is heading to Germany for the next round of the MX2 Grand Prix series at Gaildorf. He's never been to Europe before, so he's in for quite an adventure. The MX Addicts caught up with Tommy for this interview.
Here's a little video gem Eric Johnson spotted: It's a BMX film on the history of the iconic Mongoose brand, featuring a very young Johnny O'Mara at a Yamaha Gold Cup BMX race. He's right around the 45-second mark, wearing #268.
Boise's newest KTM dealer, Carl's Cycle Sales, and Damon "The Beast From the East" Bradshaw are teaming up this weekend at Owyhee Motorcycle Club for the Vet National. Bradshaw will be aboard a new KTM 350 SX-F from Carl's Cycle. He's only had a few days on the KTM but has been spotted at the local tracks blowin' rocks all over the local pros!
"The new KTM is awesome in its stock form and I can't wait to get out there and mix it up again," said Bradshaw. He will be racing the Over 30 Pro Class this weekend at Owyhee Motorcycle Club. Bradshaw's debut is all the local motocross community can talk about, and Carl's is excited to see him on the new KTM and back racing.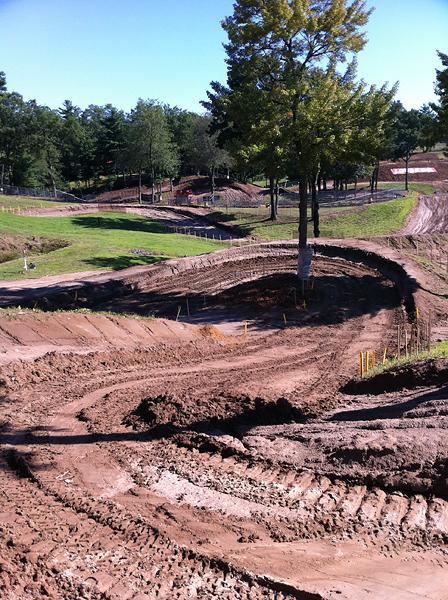 Photo: Courtney Zollinger
And here's what Nick Wey and friends were doing up in Michigan: riding at Bulldogs for what they call their Southwick Primer. Video by Wil Hufton.
And here are
a few press day clips
from Matt Wozney of MXPTV.
Okay, that's it for now from Southwick. Wish us luck with the rain and all, and make sure you tune in to FUEL TV tomorrow at 1 p.m. Eastern for live coverage, or watch the free live stream on www.allisports.com. The second motos will air tomorrow night on SPEED TV from 9 p.m. And if no one can get out of here because flights are canceled Sunday, we're going to have the world's biggest in-land hurricane party in my hotel room on Sunday. Stay tuned!
And thanks for reading Racerhead. See you at the races.