We are two weeks away from the end of the 2011 American Motocross tour, and the final round at
Pala
Raceway above San Diego is shaping up as a dramatic finale, as all three titles—450, 250 and Women's MX—could go down to the wire. We checked in with Ryan Ouellette, one of the organizers of
Pala
Raceway, to see how the big race is shaping up.
Racer X: Ryan, everyone is worried about the hurricane at Southwick—you guys have a national in two weeks and I imagine you have much different weather in Southern California!
Ryan Ouellette: Yeah, we're not worried about hurricanes, and it appears that we have less to worry about earthquakes as well out here—that's an East Coast thing now!
How is the preparation coming out there for the 2nd Annual Pala National?
We're not going to have a sophomore slump. We're honored to host the final round of this championship, and we are going to provide some of the best racing of the year at Pala Raceway. Chase Ballard and his team have done an excellent job working on the racetrack. The track has actually been built for three weeks and there is some minor widening and some depth we're going to add to it to make it a little more challenging for good, competitive, and safe racing.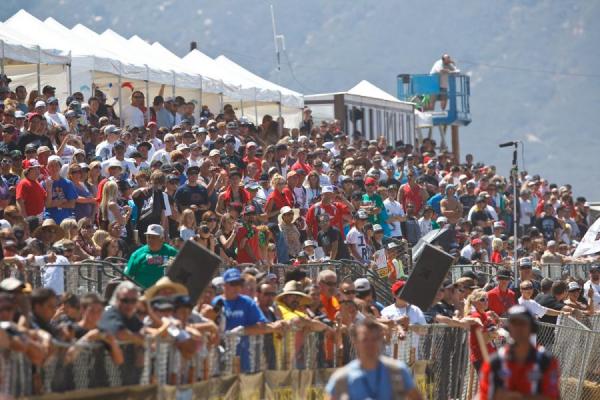 Massive crowds turned out for the first national held at Pala Raceway last year.
Photo: Simon Cudby
Last year we had one of the classes go down to the wire. This year if things continue to go the way they're going we could have all three titles get resolved at Pala.
Yeah, we were on the phone this morning at One Industries and Spy and talking about this, and it's just really exciting for everyone. I think the industry as a whole is hoping that it comes down to the wire at Pala, because that is going to make for a tremendous day for the fans and for the TV audience.
The work started on the second Pala National literally the morning after last year's initial race. Have you let off the throttle at all?
Last year, with the help of everyone involved in the series and the Pala Band of Mission Indians, we were able to do what we didn't know was possible in ninety days. This time we have the advantage of hindsight and one full year to prepare. For all the fans that had a hard time coming in, we have addressed the problems directly and the press releases are about to come out regarding the new traffic flow, which has been a big study of ours. The track part of it was easy, thanks to John Ayers and Chase Ballard, so my efforts have been focused solely on the fan experience. So we're here to reassure the fans that there is going to be easy ingress and egress through the help of all the law enforcement we have coming out to help. We have had the California Highway Patrol, Sheriff's Department, and private firms that have been working on a traffic plan for the past four months. And it is extremely comprehensive to ensure that our guests have a good time, as well as the racers.
I've always thought that having too many people trying to get into your business is a good problem to have, but last year was quite unexpected—it was a massive crowd and they all seemed to have a great time, with the exception of the traffic problems. I think that was a good sign for the future of professional motocross in Southern California.
Well, I've always thought that Southern California is the mecca of our sport, and having Pala Raceway as a facility that the Lucas Oil AMA Motocross tour can utilize for its premier racing is an honor. It's our goal is to prove to the industry as a whole and to the Pala Band of Missions Indians that we can make a flawless show. With their support we are looking forward to putting on a great race this year on September 10.
Are you going to have the swimming pools in again?
[Laughs] The pools are in! As a matter of fact, as we speak today they are being filtered and cleaned. We've taken our VIP clients up to the top to one of the pool areas this year because it was so popular. We contemplated putting more in, but we think too much of a good thing can be a bad thing.
Yeah, I spent a little bit of time around the DC Shoes and Rockstar pools and it looked like everyone was having a good time!
I had to go fix a broken water line and it was amazing to see that everyone was having such a great time, and we're looking forward to entertaining our fans again this year. We have re-laid out the entire site, not so much the track, but the VIP and spectator areas so that it is much more user friendly. And again this goes from parking on down to just viewing the show.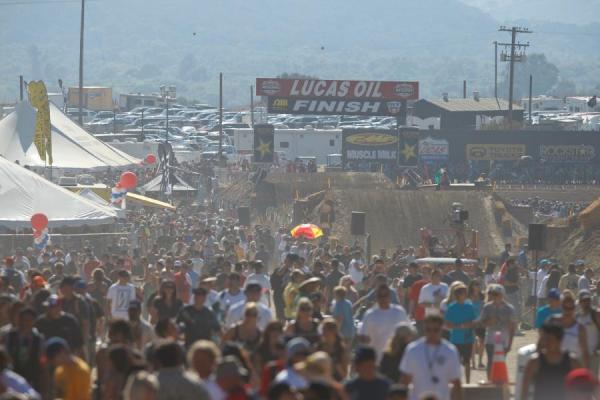 Pala will once again host the series finale on September 10th.
Photo: Simon Cudby
Back to the traffic thing. One of the things I know you realized right away last year was selling tickets to people in their cars was not the way to go. Have you changed the parking system?
Yes. You come in and go directly to your parking spot. That was a rookie mistake last year, we now know. There was some other mitigating factors last year; we were trying to do some off-site parking but that didn't happen. We were also given some extra land for parking to our east, which compensated for the off-site. So for this year everything is right there at the site, and again with all the cooperation of all the ground crew they have created acres and acres of new parking that is free of charge for the customers.
Well I hope this year goes off without a hitch and that we can start planning the 3rd Annual Pala National for 2012.
We're looking forward to the third one already! And I can tell you, similar to this year, we'll begin working it right after the race. We'll stand back and look if there were any weak points that we had. I don't think anybody can expect a perfect event—though I'm sure that they have happened—but I grade myself pretty tough, and I gave myself a D last year. I'm shooting for a B+ this year and an A in year three.