Wait,
Christophe Pourcel
won a moto over the weekend?
This sure didn't seem likely. The Frenchman kept falling further and further into the career abyss over the last year, to the point where all signs pointed down, or to the exit. Riders usually don't pull out of scenarios like this mid season. It often takes a long time off, a long period of soul searching to overcome the types of issues Pourcel seemed to be dealing with. You know how this goes. Once you pull out of a moto, it becomes very easy to pull out of the next one. And the next. And that's what happened with Pourcel until he finally parted ways with the Motoconcepts Yamaha team.
Then he found a ride back in Europe, taking over for the injured Ben Townley on CLS Kawasaki. But the story wasn't much different. Pulled out of some motos. Skipped a race altogether to get more testing time. More of the same?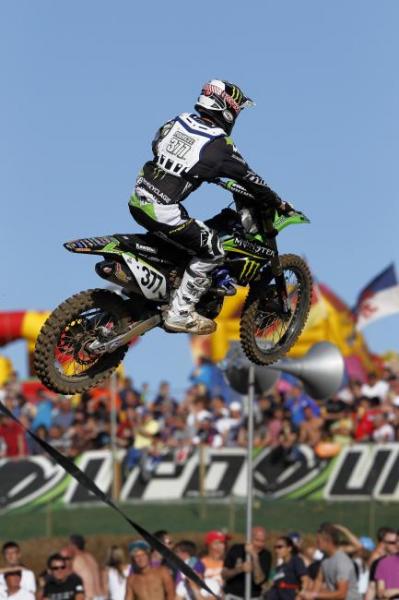 Pourcel went 1-3 for second overall at Matterley Basin.
Photo: Ray Archer
Pourcel showed a sign of life—and staying power—a few weeks back in the Czech Republic, where he finished ninth overall--with a fifth in moto one. Then came this weekend's race at Matterley Basin, in Great Britain, where CP delivered the first-moto win, his first triumph since winning the second moto at Unadilla exactly a year ago.
He nearly crashed out of moto two, casing a tabletop, going down and bending up his bike. But he caught a break when the race was red flagged. A frustrated Pourcel had already changed into street clothes when he found out there would be a restart and he could get back into the event. Pourcel could have called it a day, again. But instead, he scrambled back into his gear, raced to the starting line and scored a third. That was a solid effort, and his 1-3 scores gave him second overall. The word was out: Pourcel is a contender again.
Yes, the MX1 class has been decimated with injuries as of late, but Pourcel showed he had the speed to match his old MX2 rival Antonio Cairolli. That's impressive. Just two GPs remain this year, and if CP377 can log a few more good finishes, everything could change. In the new landscape of American Motocross, there are more teams that expect to win than riders that can help them do it. Once Ryan Dungey finally makes his move, and the rest of the pieces fall into place, could one of the teams that didn't land a contender throw yet another Hail Mary pass and go for Pourcel? Now the Frenchman can finally say that if he's on a bike he likes and an environment that works, he can, indeed, win again.