Welcome back to Racerhead and another off-weekend for the American Motocross tour. Last weekend's Rockstar Energy
Unadilla
National was epic, with a huge crowd watching series points leader
Ryan Villopoto
and
Dean Wilson
re-asserting their positions at the top of the rankings. For Wilson, it was somehow only his first win of the series, but he looked rock-solid in both motos. As for RV2, he was armed with that 2012 Kawasaki KX450F, and he's never looked better on a bike. That spells trouble for not only his title rivals
Ryan Dungey
and
Chad Reed
, but the rest of the world come the Motocross of Nations in France this September.
But I want to start by talking about Justin Barcia. The wild child (at least on the track) of motocross right now, he was allowed to step up from the GEICO Powersports Honda team to fill in for all of Team Honda in the 450 Class. He immediately introduced himself to the big boys with a holeshot and a subsequent blitz around his native New York track. Was I impressed? Absolutely. Shocked? Absolutely not. What Barcia did reasserted my belief that motocross is in a constant state of evolvement, and the kids are all right. I don't think we will ever see an athlete as dominant as Jeremy McGrath or a Ricky Carmichael once were. Instead, I think we will see a broader group of frontrunners, including this kid, plus Wilson, Blake Baggett and more. Dungey and Trey Canard are already proof of this growing group of frontrunners who have the ability to immediately compete in the 450 Class.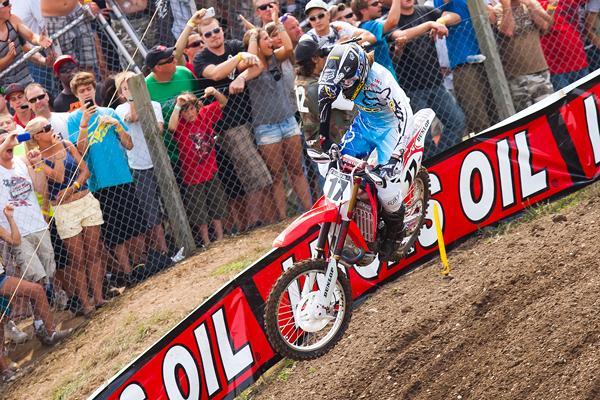 Barcia was impressive in his 450 debut at Unadilla.
Photo: Andrew Fredrickson
Of course Barcia took some heat for racing so hard with Dungey, who is still only seven points behind RV after 'Dilla, and Chad Reed fans who thought he should have slowed for the other series contender. I disagree, and I am glad Honda didn't put anything like "Let Reed Bye" on the pit board. Had this been the last round, well, that's different. But Barcia was there to race for Team Honda and the fans, and he rode really well. And I imagine he will ride even better at Southwick! I can understand Dungey being pissed off, but I think he needs to put his anger into going after RV2, not Bam Bam.
And then there's Justin Bogle, who was also impressive in his pro debut. After seeing the boards talk about how weak the Loretta Lynn's graduates were this year, I was happy to see this kid from Oklahoma jump right into the mix and battle for the lead in both 250 motos. It was one of the best outdoor debuts I have seen, and it was also cool to see his friend Dean Wilson, the race winner, come over and give him props on his impressive debut.
Not so fortunate was Joey Peters, a super-fast kid from New Jersey who was a podium threat in the A classes at Loretta Lynn's all week long. He just barely missed out on qualifying at Unadilla, racking up the 41st fastest time in the 450 Class. He then had to wait, in full gear, in the staging area and hope that someone dropped out before the start, but that unfortunately did not happen. I am sure the Yamaha privateer will get his shots in the very near future.
Everything about Unadilla seemed better this year. The crowd was huge, the track was exceptional and the racing was entertaining. After the race, however, some fans didn't get all of the messages about staying behind the fences, off the track, and leaving the banners alone. Stealing banners is never a good idea, especially at Unadilla, where security came under scrutiny when two bikes were stolen (and later recovered) right out of the pro pits. Now some are questioning how they treated fans who were stealing banners after repeated warnings not to do it... Can't win them all, but I prefer apologizing for great security than apologizing to privateers for having their bikes stolen.
Weege and Emig have actually been way ahead of a creature that's become trendy, as our friend "Bad" Bill Savino spotted out with this gem online: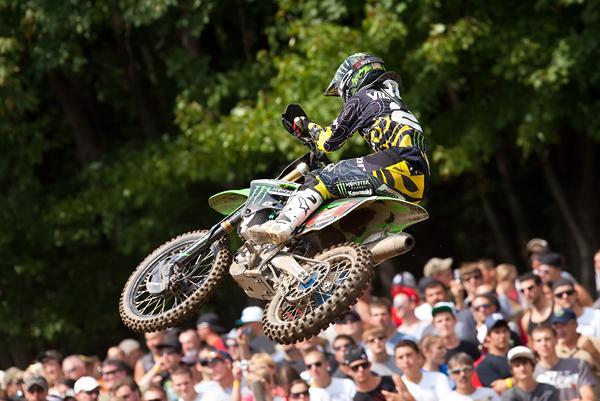 Will Villopoto ride the MX1 class at the MXoN?
Photo: Andrew Fredrickson
Looking ahead to the Motocross of Nations, Team USA will be shooting for its seventh straight win at the team event come September 17-18th in St. Jean D'Angely, France. America will be sending
Ryan Villopoto
,
Ryan Dungey
and
Blake Baggett
, which is a formidable trio. Their chances got even better when first Italy lost veteran David Philippaerts with an injury, then this past weekend Belgium lost its best rider when Clement Desalle was landed on by Evgeny Bobryshev right after the start of a Belgian National. Both of those riders have race-winning speed, and their respective teams are really hurting with them on the sidelines.
MXMatti on Vital just posted this thread of the crash and the whole race involving Desalle and Bobryshev.
A small tempest is still brewing with Team USA. The team has been selected, but the MX1 assignment has not been decided. Ryan Dungey was the MX1 rider in each of the last two years, and he led Team USA to wins both times. Ryan Villopoto is the new AMA Supercross #1, and he's leading the outdoors. He also won the MXoN three times as the MX2 rider. So what to do?
Villopoto's team mentioned it often last week at Unadilla, and then in an interview with Eric Johnson this week, RV said, "I thought it's always been just points leaders..." When asked if he cared, Villopoto said, "I do because in years past it's always been obviously the points leader coming in and normally the points leader is the guy that's better than most. This year we are closer. It's a close race for sure. But it's always been, from what I can remember, I don't know if there's an actual rule about it, but it's always been the so-called points leader at the time of the announcement, I'm pretty sure."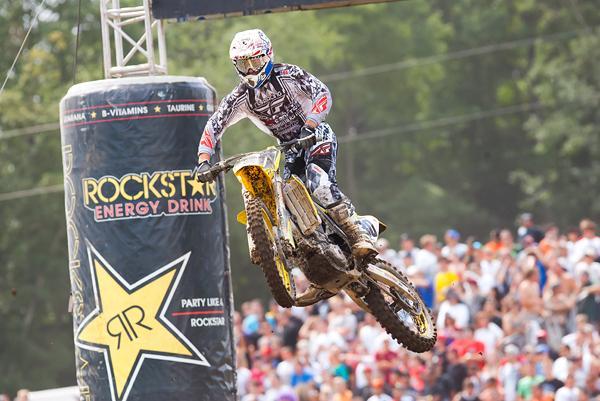 Kyle Regal made his return to the Lucas Oil AMA Pro Motocross Championship at Unadilla and finished eighth overall.
Photo: Andrew Fredrickson
Not sure how this will turn out, but I do know that no matter who wears the #1 plate for Team USA, the rest of the world will have its hands full in both MX1 and MX3. And Blake Baggett is no slouch in MX2 either!
I have a concert to attend, so I'll turn it over to Weege:
My first live TV broadcast took place at the 2009 Lucas Oil AMA Pro Motocross Championship opener at Glen Helen. I was in the booth alongside David Bailey, and I knew that day presented my one shot at the big time. From what I was hearing, the SPEED folks were basically going to give the new kid one chance to not screw up a big broadcast, so everything I had worked for was coming down to that day. Mess it up and go back to the minors. Handle the job, and stay to play another day. I was pretty nervous. But in the first moto of that day, Justin Barcia blew everyone's mind by immediately jumping into the lead on the first lap of his first pro race. We had a story, Bailey and I went with it, and it all turned out well.
Most of that day and that show is a blur to me now, but I do remember Barcia leading late into the second 250 moto, with Ryan Dungey in pursuit. At times, Barcia was fast enough to hold the more experienced Dungey off. At other times, though, Barcia was just crossing the track and cutting Dungey off to maintain the lead. Barcia crossed lines in front of Dungey one last time coming down through a really fast valley in the back of the track. Bailey, who was pumped on Barcia's riding most of the day, finally said, "Okay, now Barcia is making Dungey mad." Moments later, Dungey finally made the pass stick, and took off for the win.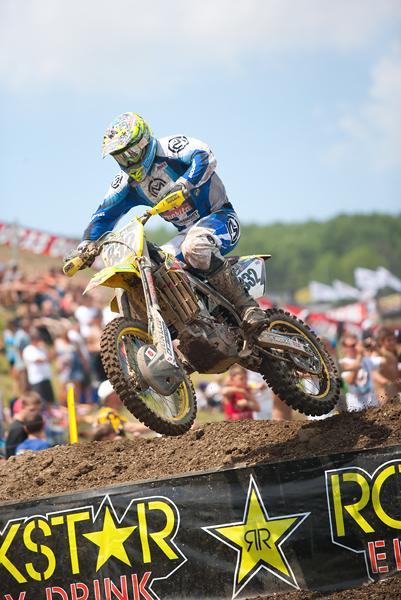 Current GNCC points leader Josh Strang finished 24th overall at Unadilla.
Photo: Andrew Fredrickson
I had forgotten about all of that until we started running through the archives this week for The List: Notable Debuts, which we posted yesterday. That's when I started recounting Barcia's impressive first day on the job, and I remembered that Barcia and Dungey have a history that goes back before Unadilla last Saturday. And perhaps that leaves some clues to why Dungey was so mad!
By the way, The List always sparks some good bench racing, but there are a few facts we can set straight. Marty Smith did win the first 125 National ever, but that was not his first pro race—he even won a race at Hangtown the year before, although it was not part of the AMA National Series. Our Publisher Scott Wallenberg remembers this well because Smith was on a Monark, and Scott loves those old Swedish machines. So this means Eli Tomac remains the first and only rider to win his first pro race when that first race was an AMA National. I'm sure somewhere around the country, someone once moved up to the pro ranks locally and probably won the first race they competed in. But Tomac did it at the Hangtown National!
Here's a pretty cool Marty Smith bio from the AMA Hall of Fame if you're interested in more.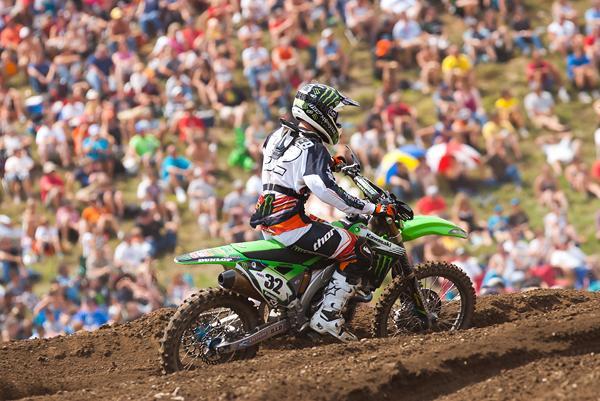 Weimer looked comfortable on the new KX450F at Unadilla.
Photo: Andrew Fredrickson
I'll do anything to prove there is such a thing as a free lunch. Last week I wrote about my potential big meal at the Broadway Diner in Binghamton, New York. I went on a 48-hour fast to prepare myself for a feast once I showed up on Friday afternoon. But it turns out I had miscalculated, and while my new friend Anthony does indeed work there, his dad Tony does not own the place. Tony doesn't even work there. So I was nervous that I may not get a free meal out of this. Anthony did introduce me to the owner of the place, and the owner was very excited to hear I was hosting a live NBC show on Saturday. "Great, you can give us a big plug when they're doing all the flips and tricks on the show," he said. Isn't it funny how most people who don't know motocross that well think it's just freestyle?
Anyway, I was really getting nervous because I don't think diner plugs on the NBC show were going to fly. Luckily, the waitress then informed me that Anthony was indeed picking up the check. Whew!
Two things you should know: Broadway Diner was great, and I recommend the Gyro Platter because it's a Greek Diner so they know their gyros. Second, when I'm on the road on a Friday I could probably expense a lunch, so there was no reason to make this poor kid who works at a diner pay for my meal. But old habits die hard—I'll never pass up a freebie. Just ask the JGR guys, who can see me show up at their shop every Monday just in time for a free catered lunch.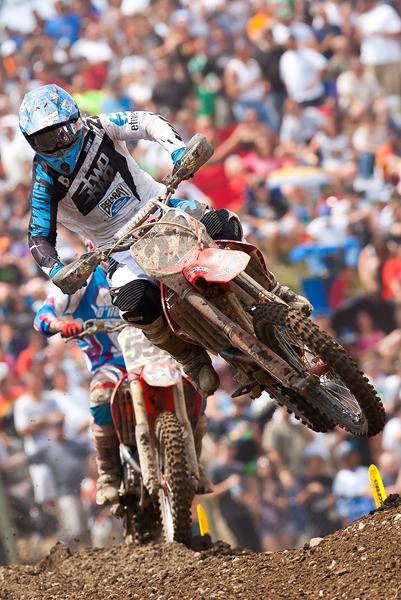 Can Reed still make a run at the championship?
Photo: Andrew Fredrickson
Here's Steve Matthes:
With no race this weekend, I find myself in the very odd position of having to do things with my wife. You know, like normal people. So after I'm done writing this little Racerhead piece, it's off to Home Depot to get some stuff for our spare bedroom and then Bed, Bath and Beyond to complete the inexplicable redesigning of one of our spare rooms.... Help me MX Sports!
Oh well, next weekend we'll be at Southwick to kick off the last three races in a row and then the Motocross des Nations right after that. It's a four-week stretch of races that conclude in the middle of September and then I'll probably be at the Montreal SX the first week of October and then the Monster Energy Cup right here in my hometown of Vegas two weeks after that. Then finally, that will be time to exhale and the off-season for me starts.
As DC eluded, the MX1/MX3 designation is kind of a big deal behind the scenes. Villopoto wants to be MX1 and I'm sure that Dungey also wants to be the MX1 guy at the MXoN. RV's got a point in that he's leading the outdoor series and won the SX title, but I like the comeback for Dungey in that he's gone the last two years and is the defending MX1 winner. I see both sides and I'm glad I don't have to pick!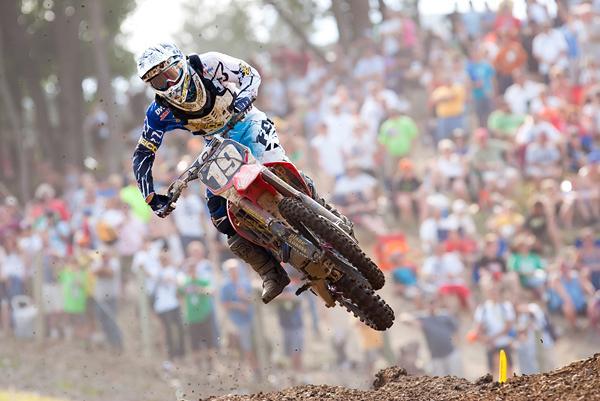 Tomac finally put all the pieces together at Unadilla.
Photo: Andrew Fredrickson
What's the difference you ask? Well, the MX1 guy, generally speaking, gets the better starting position in both of their motos and gets to wear the number-one plate. So you don't have to come through the pack and your life is easier. In addition, the MX1 rider does not have to go back-to-back in their motos like the other two guys. That definitely helps, but both Dungey and Villopoto are machines out there so I'm not sure if that is THAT big of a deal. Now you know what's at stake for the MX1 guy, so let's see what happens.
There's some stuff brewing behind-the-scenes in silly season that I've been sworn to secrecy on. But if it happens, it will be right out of left field and very surprising. Last year we didn't get much action when it came to riders switching teams, but this year it seems that everyone outside of Ryan Villopoto and Jake Weimer are rumored to be doing something different.
Allan Brown is out at DNA Shred Stix/Star Racing as the manager and former Bridgestone tire guru Doug Schopinsky is in. I have more on that and other topics over on Pulpmx.com, so click right HERE.
As people who follow me on Twitter know all too well through my constant complaining on there, my trip to Unadilla could not have gone any worse. I flew from Vegas to Wilkes-Barre, PA, because it was about three hundo cheaper. On my way out to the race I was sitting there waiting on my flight in Newark, NJ, to W-B when I noticed that there was no one else around me and we were thirty minutes away from departure. They cancelled my flight!
This was the last flight out Friday night and I was effed. So that was it, I was driving from Newark to New Berlin, NY on Friday night, which is about four hours. I had to get a one-way rental as well, as I was still departing out of W-B. That was a nice hit. So I hit the road about 10:00 p.m. on Friday, drove through the night and got to the base of Hwy 8 south of the track before I got really tired. There I found a small motel (notice I said MO-tel) where the owner was fast asleep when I rang the bell. A few minutes later an old guy in his boxers checked me in, told me how the Italian team stayed there in '87 for the MXDN, and I was asleep by about 2 a.m. The 5:30 a.m. wake-up call came not much later and I was off to the track for a long day of watching.
Smash cut to Sunday and my flight out of Wilkes-Barre going to Newark was getting pushed back more and more. I got to the airport and they said I should make my connection in Newark to get home, but to be absolutely 100 percent sure I should take this bus they had gotten for a bunch of other poor saps. It would get into Newark an hour before my flight or I could cross my fingers, wait for my flight in W-B and I'd get there an hour and a half before the connection. I hated to do it, but I took the bus. I wanted the sure thing, right? And it was a right choice as later on I checked and the flight out of W-B never got out.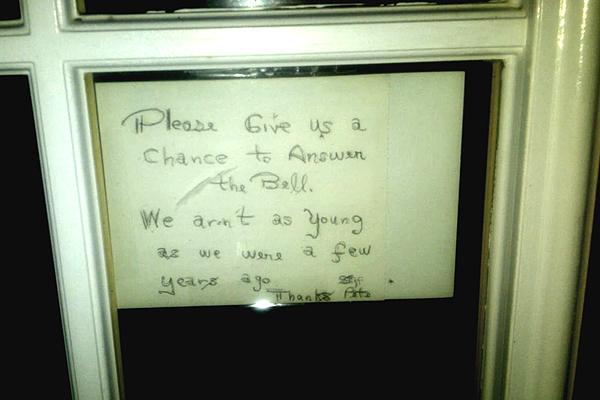 Here's the notice on my MO-tel door at 1am on Saturday somewhere south of Unadilla.
So there I was on the bus, the wheels going round and round when all off a sudden the driver stopped and got out on the middle of the freeway. This wasn't good. It was a flat tire and we had to detour to the depot to get another bus. Once there we all loaded onto the new bus, the driver got the bags switched and we were on our way after a 30-minute delay. Then he stopped the bus ten minutes later and got out again to adjust his mirrors. And when we hit traffic in Newark, things were real close for me to make my flight.
Then when the driver pulled into the wrong terminal at Newark airport, things got real tense. We all knew he wasn't at the right one and in a 60-foot bus, things weren't easy at an airport.
After talking to some dudes on the sidewalk, he was back in and we got to the right terminal. Only the driver wasn't letting us out; he was waiting for a massive parking spot to open up for his bus. That was it for me, I led a revolt of the passengers by saying, "Let's get off, he's not going to find a spot to park this thing…" and we piled off. The driver protested that he wasn't parked yet but when I flipped open the hatch door and started pulling bags out, he seemed to realize that we were indeed parked. I grabbed my bag, elbowed an old lady out of the way, stepped on a little child and rushed to the counter. I made my flight with eight minutes to spare!
What a weekend of travel for me. Not very many times does it happen, but sometimes this job sucks.
And tons of get-well thoughts go out to Red Bull KTM's Andrew Short as he crashed while testing SX this past week in California and at last count it was a broken wrist to go along with two (!!) broken elbows. Short was sixth in the points and having a tough summer when he went down. Major bummer for Short and for the team, no doubt about it, and the pits will be a little less happy for the rest of the nationals.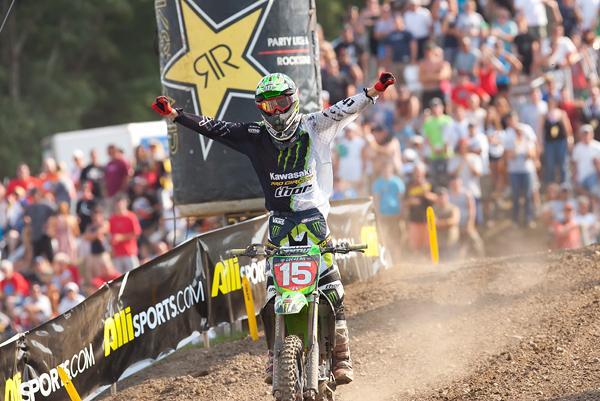 Wilson was finally able to break through and capture his first overall of the season at Unadilla.
Photo: Andrew Fredrickson
Our thoughts also go out to twitter's @CLmoser as he's a major Short super-fan and has now vowed to go 29 days without tweeting, in what I think is the ultimate show of solidarity.
Here's Ping:
The guys at Braaap Energy Bars just released their second flavor this week, Chocolate Chip. If you haven't seen or tried these things yet, you should. They taste like a candy bar, but the ingredients are shockingly clean. They are gluten free, soy free and made with all-natural ingredients. Check them out at www.braaapbar.com and ask your local dealer to carry them.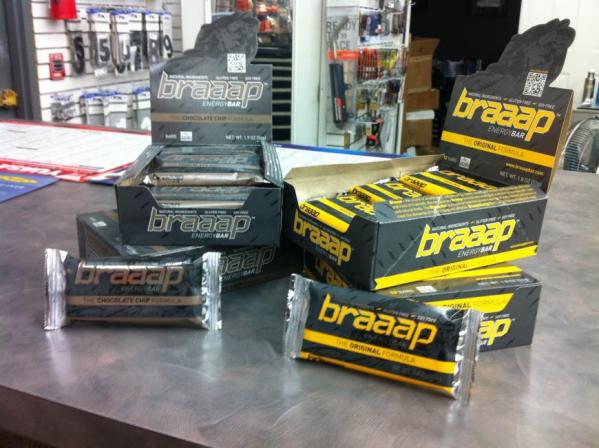 I got an update from the guys at www.firepolicemx.com and they are ramping up for a big event. If you live near the city you should check this out:
The World Police Fire Games, an Olympic-style event that will host athletes from 70 different countries, is set to begin August 26 in New York City. The games are held bi-annually and hosted by numerous countries. The worlds best Police & Fire athletes gather together to represent their countries and departments in 69 different events from angling to wrestling and, yes, even motocross. This event will respectfully coincide with the ten-year anniversary of September 11, 2001. The World Police Fire Games will be empowered by two themes: Remembrance-–we will always remember those who lost their lives on 9/11--and gratitude-– an opportunity for all New Yorkers to thank the world for the support that flooded in after the attacks. Everyone involved with the games is excited to integrate the multifaceted cultural, entertainment, and historical experiences that New York City has to offer. The concept of the games is to promote sport and fraternity within the police/fire community.
The west coast racing series, FirePoliceMX.com Nationals, has been running motocross races in California since 1989. With all the excitement surrounding the games in New York, they decided to put together a team of riders from the west. What started as a small group of core riders has become a forty-man team with riders from five different states. Our team riders include the Chief of Police for LAPD Charlie Beck, San Bernardino County Fire Battalion Chief Dennis Moon, as well as members from Los Angeles County Fire Dept., Las Vegas Fire Dept., and many other agencies. The ten-day event begins with a grand opening ceremony held at the beautiful Prospect Park in Brooklyn on August 26th.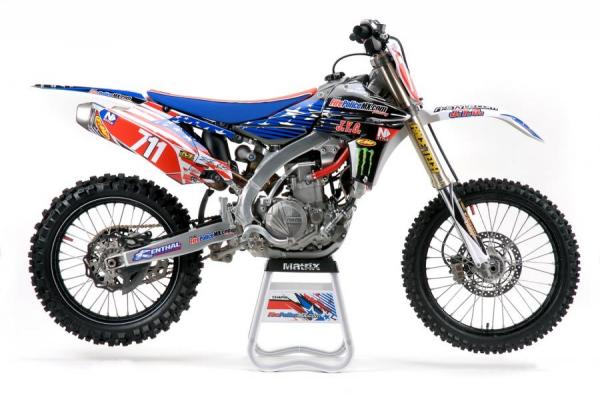 The 2011 World Police/Fire Games in New York City are a week away and Team J.Y.G / FirePoliceMX.com / U.S.A. are putting the final touches on our forty man team. Riders will compete for the title of world champion in sixteen different age and motor displacement categories. Our team will be pitting out of two semis, racing with a ton of help from our sponsors and racer families. It is our goal to have multiple riders entered in every class competing to win every medal that is up for grabs in the 2011 World Police & Fire Games.
The Jacob Javits Convention Center will serve as host headquarters for the games and the motocross event will be just outside the city at Long Island MX. Pole Position Raceway will host a pre-party on the 29th, we practice the 30th, and racing for the medals will take place the 31st. After taking as many golds as possible, our JYG FirePoliceMX.com USA team will celebrate at our Monster Energy after-party. Big thanks go out to all the sponsors helping get the World Games! For more information visit www.firepolicemx.com.

Here are some miscellaneous items:
Psssst. Do you know what Jeff Emig, John Dowd, and Doug Henry are doing on Sunday, August 28th—the day after the Southwick National? They're joining all of YOU at Racer X Ride Day!
Current Racer X subscribers ride for FREE! Just bring the cover of your September or October issue with the mailing label attached and a form of identification. It's that easy.
New subscribers can sign up on-site for $20. Once you have your wristband you can ride the same historic track that all the pros battled on the previous day.
All riders and guests will pay a $5 gate fee.
For more details go to www.racerxonline.com/rideday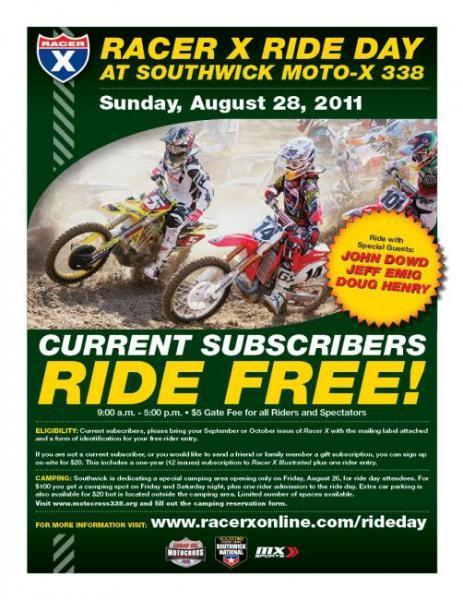 And, for those who are already attending the Racer X Ride Day and Saturday's National, bring your camper and set up home base in Pit Area #3 starting Friday afternoon. This special, limited-space camping area is only for those staying for Ride Day on Sunday. The price for two nights of camping and one rider admission for Sunday is $100.
Click here for more details and to download the camping registration form.
See you in the sand!
Our good friends over at ONE Industries have released their 2012 product line, and put together this cool video showcasing their new products. Check it out HERE.
This last Saturday the WORCS racing semi was lost in a catastrophic fire while en route to Washougal, WA. The race semi was an iconic symbol for WORCS and carried the very lifeblood of the program. Every tool, computer, trophy, banner and wood stake was lost in the fire. Over the last two days the WORCS troops have rallied and pulled together all the essential things to make sure this weekend's event will happen. Sponsors have stepped up and the Huffman family at Washougal MX Park have been very gracious in lending their hand. Lastly, the racers have been there offering whatever they can. The road ahead is going to be a slow rebuild, but it will happen over the next couple of months. On behalf of the WORCS staff I want to thank everyone for the calls and support. When you come this weekend just say hi and enjoy the best off road racing in the world at the epic Washougal motocross park. Having our racing family around us this weekend is the best step forward. WORCS will rise from the ashes and it begins this weekend. See you at the races.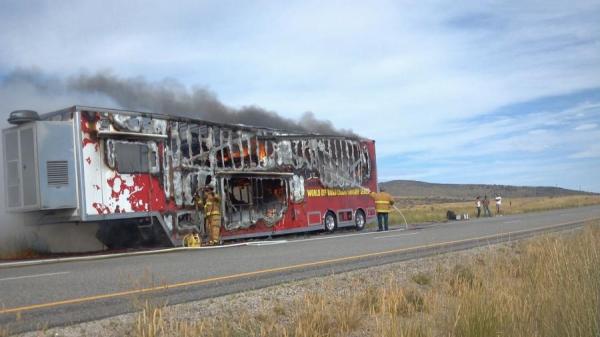 Check out Simon Cudby's "Re-Mix" film, which includes a whole bunch of his friends play-riding and testing over the last couple of years: Villopoto, Reed, Dungey, Roczen, Fiolek, Tedesco, Short -- even glimpses of the King (McGrath) and the GOAT (RC).
Last week a huge segment of the moto business industry traveled up to Boise, Idaho, for the annual WPS/Fly Racing rep convention. With all these industry folks in town it seemed appropriate for Racer X to do the right thing.... throw a party!
With the help of several industry companies, a bash was held at the famous Knitting Factory concert club. Ace photographer Allen Picard was on hand to document the action and a concert was held as well by the Blues Addicts and recorded on the house soundboard. Here is a video that combines the two. Enjoy!


Earlier today we heard that new Racer X cover boy Darryn Durham was headed North of the border to compete in the last Canadian National. Good luck, DD.
Finally, just as we were going to hit send with this version of Racerhead, we got this incredibly sad news from the Powder Mountain MX involving a participant and a terrible crash.
Dylan Perkins was 16 years. Godspeed.
Thanks for reading Racerhead. See you at the races.