New Berlin, NY
Unadilla Motocross
Lucas Oil AMA Pro Motocross Championship
10. Someone got a face lift: And it's the
Unadilla
track. The course sported some fresh dirt and two new towers. The overall vibe of this old track, which has racing roots all the way back to the earliest days of American Motocross back in the late 1960s, is really stepping up. The most historic track on the Lucas Oil AMA Pro Motocross Schedule is changing with the times.
9. Tomac's Back: After winning his first-ever pro motocross race at last year's Hangtown season opener, the world has been waiting for Eli Tomac to back that up with another win. He was strong in supercross but has struggled outdoors so far. His second-place finish in the second 250 moto, where he kept Dean Wilson honest for much of the race, was an encouraging sign.
8. Baggett Can't Do It Every Time: Blake Baggett has shown crazy speed most of the year, as five overall wins through the first eight races will attest. But he didn't quite have the magic at Unadilla. A few small crashes and a bad start in the second moto hurt him, but if El Chupacbra had his typical attack in him, that might not have mattered. With three rounds to go, he'll need all that speed in every round to catch Dean Wilson in the standings.
7. Rattray Is Not Immune: Expectations were that Tyla Rattray would be Mr. Consistency during this year's 250 Championship run. He's been pretty darned solid so far, but a second moto crash at Unadilla led to his undoing. Said Rattray: "It was hard to pull in because I knew it was pretty much going to cost me the championship, but I didn't feel like I was good enough to keep going. I hit my head pretty good, but I'm doing better. All I can do now is go back out there in the final three races, do what I can to win, and get as many points as possible to give myself a chance. I won't give up until the end."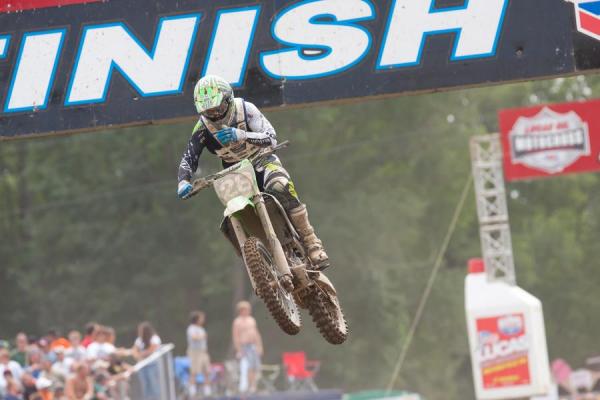 Tyla Rattray became an unlikely Unadilla victim.
Andrew Fredrickson photo
6. Motocross Can Still Get Crazy: It's late in the year, and everyone has to be worn down from a long season. But there were some awesome motos to watch at Unadilla, such as a four-way 450 battle for fifth in moto two, where Justin Brayton, Chad Reed, Jake Weimer and Brett Metcalfe all had crashes. The second 250 moto also hosted about a seven-rider pack dueling for podium spots. Nine rounds in, and surely everyone is feeling the grind. But that's not stopping these riders from giving it everything they have on the track.
5. Mind Bogle-ing: In our "10 Things to Watch for at Loretta Lynn's" a couple weeks back, we wondered if Justin Bogle would live up to the hype. We said, "Here's how the next few weeks should play out for the soon-to-be GEICO Powersports Honda factory rider. Win all six motos in Tennessee, collect the AMA Horizon Award, then head to Unadilla and finish in the top ten. No pressure, Justin."
Well, unfortunately, the pressure did get to him -- he only won four of six motos at Loretta's. Okay, that's not a disaster. All kidding aside, his 6-6 this past weekend was pretty impressive for the rookie.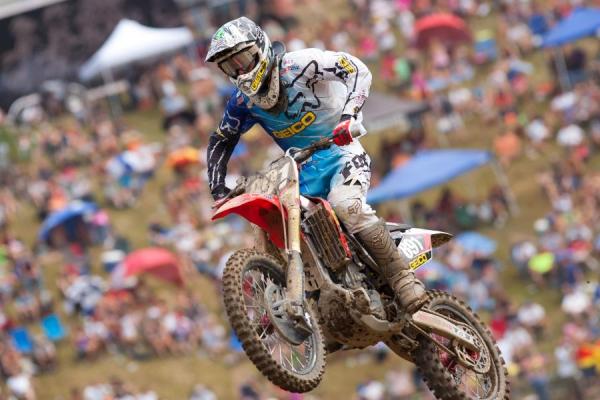 Justin Bogle lived up to the hype. And more.
Andrew Fredrickson
4. Barcia Barcia Barcia!: As one Justin B moves into the GEICO Honda 250 Team, one moves up—Justin Bogle is in and Justin Barcia is now riding the American Honda Racing 450 in place of the injured Trey Canard and Josh Grant. And what a ride he put in! Barcia is the first rider this year to show the ability to really mix it up with the Ryan's and Reed, and he very nearly took second overall from Dungey.
3. This One's Gonna' Leave a Mark: It's clear now, unfortunately, that Chad Reed's big crash at Millville had a bigger impact that it first looked. Yes, he rode (and walked) away from that crash without a major injury. He limped through Washougal, understandably. But he couldn't deliver a podium at Unadilla, and admitted he's just gun shy after that big crash.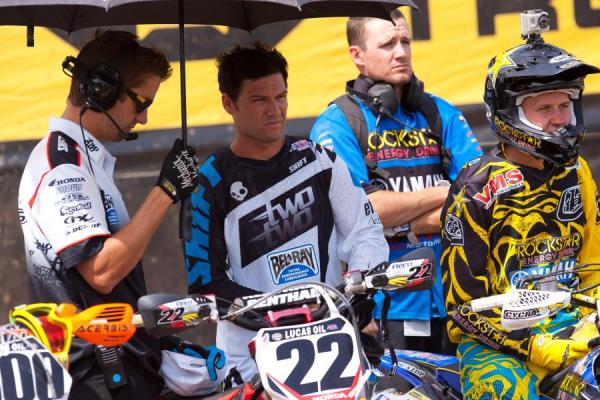 Reed needs the early season vibes again.
Andrew Fredrickson
2. Wilson Can Win: Here's how you get your long-overdue first overall win of the season: win both motos in a romp. All that consistency (and those points) that Dean Wilson has been banking this year is starting to look like a really good investment now. A full moto lead in the standings with three rounds remaining? An unpredictable chase just found a clear-cut advantage.
1. Welcome to the Future: Ryan Villopoto has been struggling to close the deal in the second motos this year, and credit began to go to Ryan Dungey's fitness. Turns out maybe RV needed different equipment. With the new 2012 KX450F underneath him, RV was able to ride stronger, later, and suddenly there may not be a fitness issue after all. His teammate Jake Weimer looked a lot better, too. Could the new bike be all RV needs to get this title?