Unadilla MX
New Berlin

,

NY
Unadilla Motocross
Lucas Oil AMA Pro Motocross Championship
This year, the legendary Unadilla Valley Sports Center track in New Berlin, NY wasn't covered in its trademark green grass. The track owners instead covered the track with loads of topsoil, all of it dug out of the ravines and valleys around the track. It brought some traction back to the track, as well as a distinct look of its own.
But by the end of the day, the track was all green again.
Ryan Villopoto and Dean Wilson dominated the proceedings on their Kawasakis, sweeping their motos in the 450 and 250 classes, respectively, and extending their series' points leads. The series now takes another weekend off, and the riders looking to knock Villopoto and Wilson off for a championship are going to have to put in some work.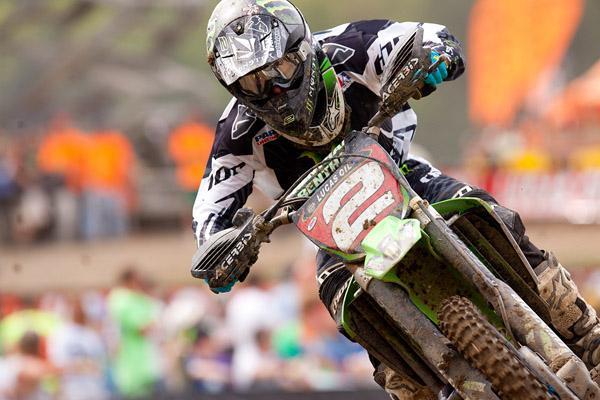 RV is a boss. He guided his new 2012 KX450F to 1-1 finishes.
Photo: Andrew Fredrickson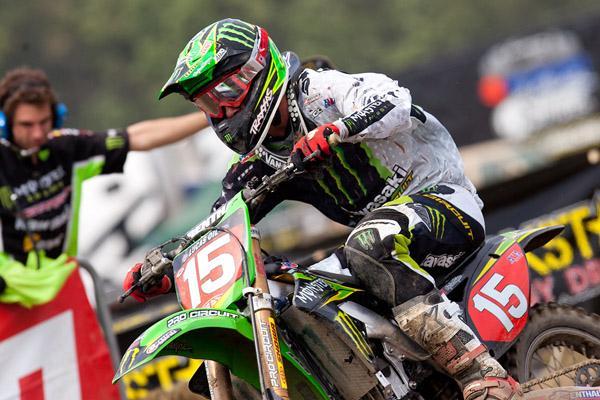 Dean Wilson picked up his first overall victory of the season via a dominant 1-1 performance.
Photo: Andrew Fredrickson
For Villopoto, the win marked a successful debut of the 2012 KX450F, which the Monster Energy Kawasaki team had only begun testing the Monday after the previous round of the tour at Washougal, Washington. After a week, Villopoto and his teammate Jake Weimer already felt the bike was better than the 2011 model, and Villopoto's victory proves there wasn't much risk to that decision. Weimer, also, logged his best rides of the year.
The new bike wasn't the only debut in the 450 class. GEICO Honda 250-class rider Justin Barcia got the call up to the 450 divsion by American Honda Racing, which needed a substitute for the injured Josh Grant and Trey Canard. Barcia's debut was nearly as good as Villopoto's bike, as he ran up front in both motos and ended up third overall via 3-3 moto scores. Rockstar Makita Suzuki's Ryan Dungey, winner of the previous two series' rounds, went 2-2 for second, but definitely had his problems fighting past Barcia. Barcia also finished in front of TwoTwo Motorsports Bel-Ray Racing's Chad Reed, who struggled compared to his usual standards, finishing fourth with 4-5 scores.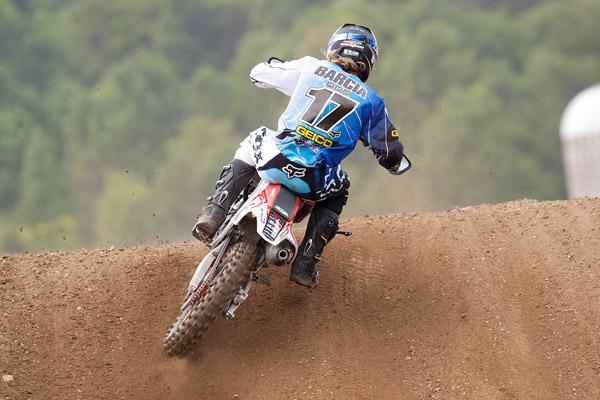 Barcia's 450 debut was impressive.
Photo: Andrew Fredrickson
Barcia holeshot the first 450 moto and led for six impressive laps. Lucas Oil Troy Lee Honda's Christian Craig also started well and ran second. Villopoto started about fifth, but made short work of everyone around him, making passes immediately to get to second, while Craig ended up dropping back to ninth.
Villopoto then slowly reeled in Barcia, who had built a four-second lead, and made a pass for the lead. RV took off from there. Dungey, meanwhile, had some work to do, making passes at a slower clip than Villopoto, and only catching Barcia near the 20-minute mark. He made the move late, securing second, and by then Barcia had a big lead over the rest of the field, taking third in his first-ever 450 MX race. Reed overcame a bad start to finish fourth, winning a race-long battle with Weimer, who took fifth.
In the second moto, Red Bull KTM's Mike Alessi nailed the holeshot and led early, with Barcia and Weimer close. Again, Villopoto blitzed the field early and quickly passed his way into second, then worked his way up to Alessi and snagged the lead. Barcia and Dungey were able to clear Alessi as well, but Alessi rode solid and maintained his spot from there to take fourth.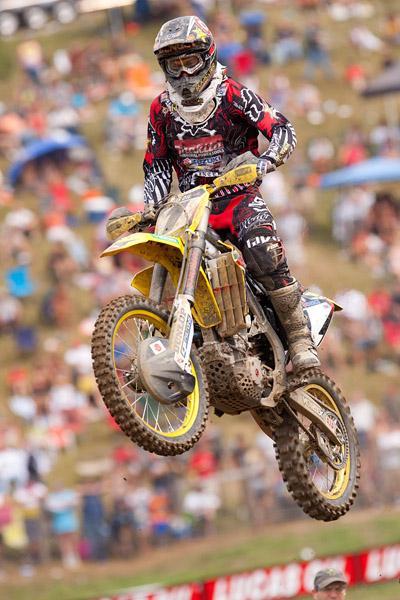 Dungey's two-race win streak came to an end, but his 2-2 scores keep him within seven points of Villopoto in the standings.
Photo: Andrew Fredrickson
Behind Alessi, everything went crazy. Reed passed Weimer for fifth but then lost his back end in a rut and crashed moments later. Justin Brayton powered his way past Weimer on his Muscle Milk Toyota JGR bike, but then crashed in the same spot as Reed. This left Weimer and Rockstar Makita Suzuki's Brett Metcalfe battling for fifth, but they collided and crashed into each other! Through it all, Reed was able to cruise past to finish fifth.
Meanwhile, it seemed inevitable that Dungey would eventually run down Barcia for second, but the Honda kid was not making it easy, rebuffing each Dungey charge. It came down to the last lap. Barcia went off the track but recovered, then bobbled again while dealing with a lapped rider heading to a table top. He got a little sideways on the jump and he and Dungey collided as they landed from the jump. Dungey hung on, but Barcia crashed hard. He managed to get up and salvage third. Dungey was not happy with Barcia's move after the race.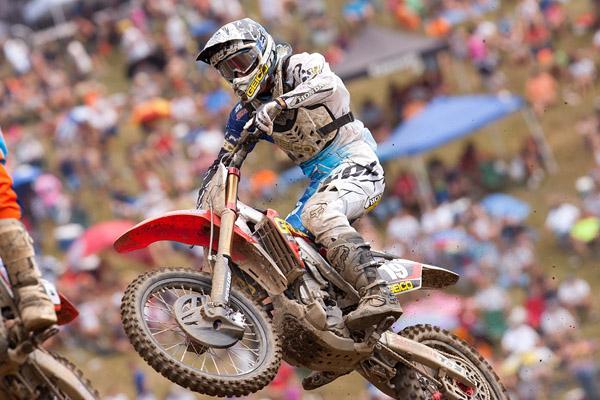 Eli Tomac found his old form and and snagged a podium in the 250 class.
Photo: Andrew Fredrickson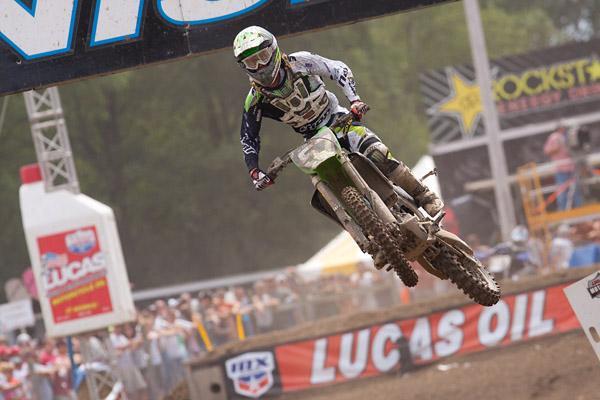 Blake Baggett couldn't pull his El Chupacabra tricks on this day, and settled for second overall.
Photo: Andrew Fredrickson
Wilson was clearly the man this day on the 250s. The first-moto holeshot went to DNA Shred Stix Star Racing Yamaha's Gareth Swanepoel, who led early. Wilson and Baggett were battling hard on the first lap, then Wilson squirted away, and Baggett washed out in a corner, dropping him out of the top five. On the next lap, his teammate Rattray fell in the exact same corner! Both title contenders were going to have to mount a charge to get back to the front.
Wilson made a move on Swanepoel to get the lead. Meanwhile, new kid on the block Justin Bogle was up front in his debut pro race, running third behind Swanepoel until Baggett came back through, dropping him to fourth. Bogle showed impressive speed, but he came unraveled around the 20-minute mark, and lost another spot to his teammate Eli Tomac. Bogle held on from there to take sixth in his first race.
Baggett passed Swanepoel to take second, then Rattray unleashed a hard charge late, moving to third and the nearly running down Baggett with two laps to go. He ran out of time. Wilson took the win with a solid gap over Baggett, with Rattray third, Swanepoel and Tomac rounding out the top five.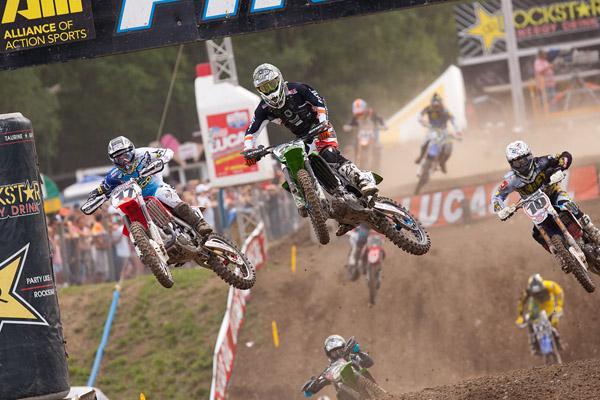 Jake Weimer was in the battle all day in he 450s.
Photo: Andrew Fredrickson
In the second moto, GEICO Honda's Jimmy Decotis snagged the holeshot, with his teammates Tomac and Bogle up there with him. But soon Wilson had sliced his way to second, then passed Decotis for the lead. Soon Tomac moved to second and held Wilson honest for the first twenty minutes of the moto. The gap between Wilson and Tomac never grew past five seconds, until Tomac made a few mistakes late in traffic and Wilson extended things further. From there, there was nothing stopping Wilson from going 1-1.
Tomac held on for second, while Baggett worked his way up to third, winning a battle with Kyle Cunningham. Cunningham capped another solid outing with 8-4 scores for fourth overall.
The worst news came for Rattray, who crashed out of the moto early and scored zero points.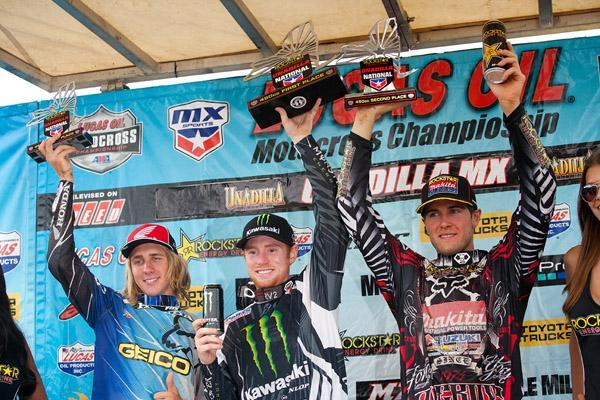 The 450 podium.
Photo: Andrew Fredrickson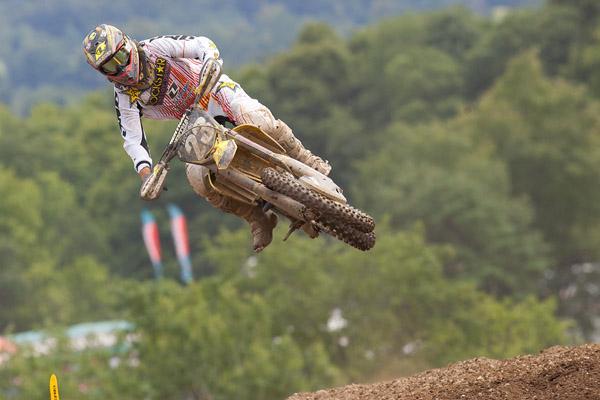 Martin Davalos stayed in the battle the whole way in 250 moto 2 and took a fifth, good enough for seventh overall.
Photo: Andrew Fredrickson
In other news, Team USA for the Motocross of Nations was announced, with Ryan Dungey, Ryan Villopoto and Blake Baggett taking the three spots for the team race coming up this September in France.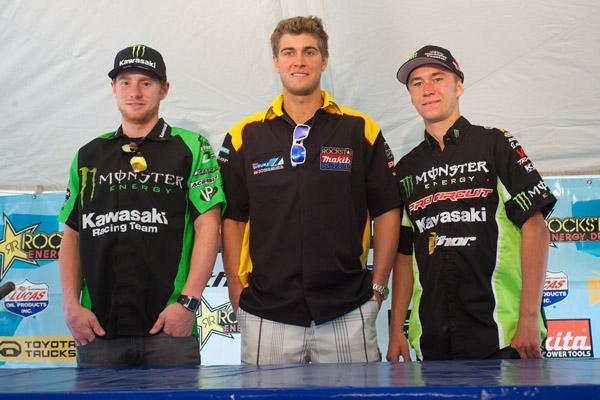 Team USA.
Photo: Andrew Fredrickson
The series' takes a weekend off before resuming for the stretch run. The next round is scheduled for August 27th at MX338 in Southwick, Massachusetts.
Lucas Oil AMA Pro Motocross Championship

Rockstar Energy Unadilla National
Unadilla Valley Sports Center - New Berlin, N.Y.
August 13, 2011

Round 9 of 12

450 Class (Moto Finish)
1.    Ryan Villopoto, Poulsbo, Wash., Kawasaki (1-1)
2.    Ryan Dungey, Belle Plaine, Minn., Suzuki (2-2)
3.    Justin Barcia, Monroe, N.Y., Honda (3-3)
4.    Chad Reed, Kurri Kurri, Australia, Honda (4-5)
5.    Mike Alessi, Victorville, Calif., KTM (7-4)
6.    Jake Weimer, Rupert, Idaho, Kawasaki (5-6)
7.    Justin Brayton, Fort Dodge, Iowa, Yamaha (8-7)
8.    Kyle Regal, Howell, Mich., Suzuki (10-9)
9.    Jimmy Albertson, San Diego, Calif., Yamaha (12-11)
10.    Jake Canada, Corona, Calif., Yamaha (11-14)

450 Class Championship Standings
1.    Ryan Villopoto, Poulsbo, Wash., Kawasaki - 391
2.    Ryan Dungey, Belle Plaine, Minn., Suzuki - 384
3.    Chad Reed, Kurri Kurri, Australia, Honda - 366
4.    Brett Metcalfe, Mannum, Australia, Suzuki - 262
5.    Mike Alessi, Victorville, Calif., KTM - 210
6.    Andrew Short, Colorado Springs, Colo., KTM - 196
7.    Kevin Windham, Baton Rouge, La., Honda - 193
8.    Jake Weimer, Rupert, Idaho, Kawasaki - 190
9.    Davi Millsaps, Murrieta, Calif., Yamaha - 173
10.    Tommy Hahn, Great Bend, Kan., Yamaha - 140

250 Class (Moto Finish)
1.    Dean Wilson, Glasgow, Scotland, Kawasaki (1-1)
2.    Blake Baggett, Grand Terrace, Calif., Kawasaki (2-3)
3.    Eli Tomac, Cortez, Colo., Honda (5-2)
4.    Kyle Cunningham, Aledo, Texas, Yamaha (8-4)
5.    Justin Bogle, Cushing, Okla., Honda (6-6)
6.    Marvin Musquin, La Reole, France, KTM (7-8)
7.    Martin Davalos, Quito, Ecudaor, Suzuki (14-5)
8.    Gareth Swanepoel, Johannesburg, South Africa, Yamaha (4-16)
9.    Alex Martin, Millville, Minn., Honda (10-10)
10.    Cole Seely, Newbury Park, Calif., Honda (9-11)

250 Class Championship Standings
1.    Dean Wilson, Glasgow, Scotland, Kawasaki - 396
2.    Blake Baggett, Grand Terrace, Calif., Kawasaki - 371
3.    Tyla Rattray, Durban, South Africa, Kawasaki - 353
4.    Kyle Cunningham, Aledo, Texas, Yamaha - 264
5.    Eli Tomac, Cortez, Colo., Honda - 239
6.    Gareth Swanepoel, Johannesburg, South Africa, Yamaha - 200
7.    Broc Tickle, Holly, Mich., Kawasaki - 195
8.    Justin Barcia, Monroe, N.Y., Honda - 181
9.    Martin Davalos, Quito, Ecuador, Suzuki - 175
10.    Darryn Durham, Butler, Pa., Honda - 148