Unadilla MX
New Berlin

,

NY
Unadilla Motocross
Lucas Oil AMA Pro Motocross Championship
Drive. It's an inherit trait that lies within all of us. It's what makes us get out of bed every morning. It's what makes us go that extra mile. Drive is what motivates Kevin Rookstool. It's what motivates him to race anywhere, any time. The famous moniker "Build it and they will come," is Rookstool's career summed up in a nutshell.
The privateer from southern Oregon grew up riding anything and everything, a philosophy he continues to abide by to this very day. Fresh off a career-best finish at Washougal, Rookstool took his talents to Los Angeles and X Games 17 to compete in the inaugural Moto X Enduro X. But Rookstool's journey doesn't end there. Over the next two months Rookstool will compete in everything from Endurocross to the outdoor nationals. A large feat, but one Rookstool is bred for.
Racer X: You competed in the inaugural Moto X Enduro X at X Games 17 this past weekend. What were your thoughts on the event?
Kevin Rookstool: I thought it was awesome. They did an awesome job with the track. I went out and felt good right off the bat. I just played it by ear and rode every lap, and just tried to keep it on two wheels and get good starts.
The start was definitely unique, and one that a lot of riders struggled with. What was your strategy for getting off the gate?
They had the starting gate on plywood, so it was really slick. I just hit it like a normal concrete start and I got some good jumps. I was feeling really good about it and it just worked out each time.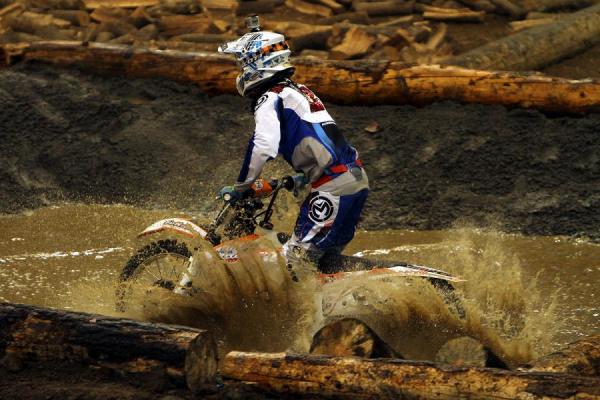 Rookstool competed in Moto X Enduro X at X Games 17.
Photo: BrownDogWilson
You won your heat race and were leading the main until you made a small mistake. Take us through what happened there.
I ripped a good start and I knew I had the speed because I had the fastest time in practice and I was third fastest on the hot lap. So I knew my speed was fine and I felt like I had a good jump, I was definitely confident off the start. I think I got a lap and a half in and was feeling good, and then I got squirrely on the logs before the big one and got a late jump on it and was probably six inches to low and it just stopped me. It kind of snowballed from there.
It was pretty frustrating because I felt good all night and to go out there and be leading and do that was pretty frustrating. But I'm happy, my goal was to go there and make the main event and I did that.
Let's back track a little to Washougal. You had your best finish of the season, 16th overall. Do you feel that you're progressing?
Yeah, for sure. That has been my goal for the last year, to take steps and progress each year, each race, and make steps to go forward. I felt like the speed was easily there. I'm working on getting in better shape, but I just screwed up the second moto. I should have gone 12-12 but I got passed with four corners to go on the last lap; I had so much sweat on the inside of my goggles. My speed was good, I felt comfortable, but I think I pushed a little too early. It's one of those deals where I'm stoked on it all and the progression, but I know there is so much more and it's killing me to get there.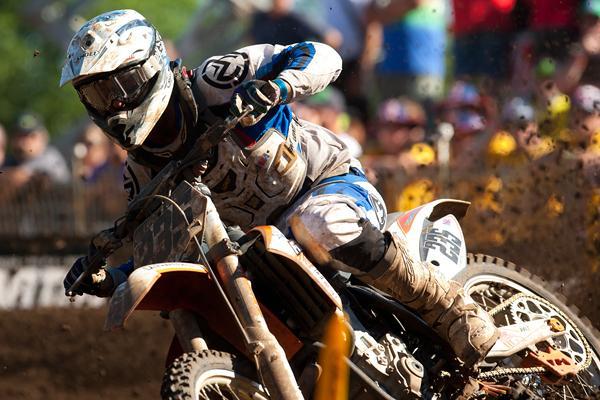 Rookstool had a career best 16th overall finish at Washougal.
Photo: Andrew Fredrickson
What does a result like this do for you—confidence wise—for the future?
Yeah, my confidence is definitely going up. I am getting more comfortable with that speed. It's hard taking so many baby steps, you just want to take these big leaps. As a privateer I'm pretty much doing it on my own so it definitely makes it tougher. I felt like I have been riding good all year, but we have been working on getting my setup right for outdoors. It was never a plan to even do them [Nationals]. But Alan, the guy I ride for and has the bikes, asked me at the Idaho WORCS race if I wanted to go ride the next five Nationals and I was like "Hell yeah." So from Hangtown and the following three weeks after that I rode on off-road suspension. Now we are starting to get it to where it is in the ballpark. But it has taken that long, so there is progression there that needs to come out, and it will, but it is a time-consuming deal.
You have raced the WORCS series the past couple of years. What made you decide to make the transition to a full-time outdoor motocross schedule?
I grew up racing moto and I still feel like I haven't proved what I know I can, so it's kind of been eating at me and I just love racing the tracks. I think the tracks are so much fun and I just love battling like that in tighter quarters.
You obviously have a lot going on competing in three different series this year. What's your schedule looking like for the rest of year?
I plan on mixing it up as of right now. I'm driving right now up to Idaho where I'm racing Friday and Saturday night at an Endurocross race. It's a pro purse race so I'm doing that to make some money. Then the next weekend is Evert Endurocross, and then the next weekend is a WORCS at Washougal so I'll race that since I will be up there. Then the following weekend I fly out to Indy to race Endurocross and then from there I fly to Montana to race a National Hare Scramble. Then after that I don't even know. [Laughs]
Any plans to race the last four Nationals?
Where trying to get in Steel City right now. I'm at a hard point right now with the Nationals, without the equipment and the resources being there. So we are just trying to juggle around everything right now.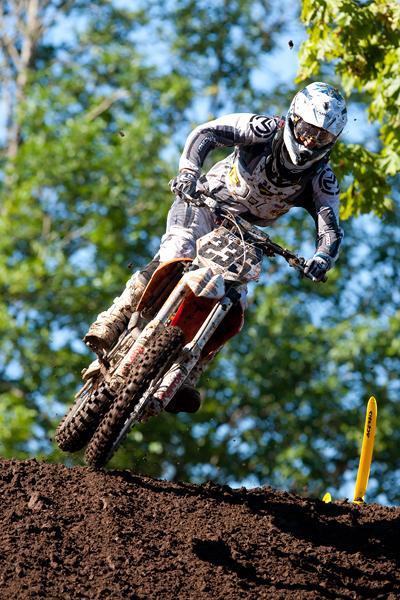 Rookstool is hoping to make his return to the Nationals at Steel City.
Photo: Andrew Fredrickson
How do you train for so many different types of racing?
I split it up. I go out and ride trails and courses out in the hills. I have to race or I don't get paid. I live off of my winnings. So it's like there are these races that pay and then there is an off-road race the next weekend that pays, and then my schedule is filled with all these paying events. So then I'm able to make a living, somewhat. I've always been known for being able to switch it up and I've kind of had to, to keep racing, you know [Laughs]. I've been doing this for a long time but people are finally starting to realize it, which is cool.
Do you have any plans to race Supercross in 2012?
It sounds like next year will be full outdoor nationals and Endurocross and then selected off-road events. In January, February and March there is some Indoor World Enduros over in Europe I'll be doing. So between those two disciplines and everything else it would probably be a little too crazy to try and do Supercross, unless I got some killer ride. But realistically and money wise, those are my plans as of right now.
Thanks, Kevin. Who would you like to thank for helping you out this season?
Carbon Raptors, Stillwell Performance, Fay Myers, KTM, No Toil, Posey Motors, Fastway, Flex Handlebars, TCX, Alexanderexhibits.com, Moose Racing, Shoie Helmets, Scott, LeoVince, Rekluse, Double D Racing, Rollic, GPR Stabilizers, Novik Gloves, TM Design Works, Motion Pro, GoPro, Maxxis, and my family and friends for letting me sleep on their couches and eat their food. [Laughs]