A couple weeks ago, I wrote 250 words about how great the Pro Circuit team is and how they're so dominant. Well, the same sort of thing is happening on the other side of the Atlantic ocean.
This past weekend, I travelled to Lommel for the Grand Prix of Belgium and it was there, in the endless beach sand and whoops over top of my head that I saw another team make history.
For the first time in it's history, the Red Bull KTM factory squad (MX1 riders Antonio Cairoli & Max Nagl, MX2 riders Jeffrey Herlings, Ken Roczen and Jeremy Van Horebeek) put every rider it employs on the podium. Cairoli dominated the MX1 class with 1-1 finishes, Nagl ended up third, Herlings went 1-1 in MX2 with Roczen and Van Horebeek right behind him.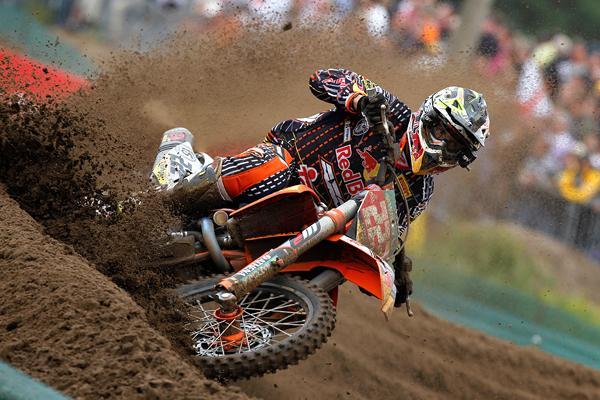 The once sand struggler, Antonio Cairoli had 1-1 finishes at Lommel.
Photo: Ray Archer
Cairoli is one of the very best riders in the world, there is no doubt about that. Watching him on Sunday, it was amazing for me to imagine the Italian at one time struggling in the sand as he told me after the race. Herlings, from Holland, is just 16 and has a bright future and Roczen, well what can you say about the German that hasn't been said already? Many wins and championships in his future, no doubt about that.
The orange wave over there in the GP's is slowly making its way over to America as well, don't look now but the American team is going to be a big factor next year with returning rider Marvin Musquin, Roczen is over here full-time and of course, rumors persist that they have landed Ryan Dungey. Add in the possible re-signing's of Andrew Short and Mike Alessi and you have a great team for the 2012 sx and mx seasons. One would think that KTM's streak of never making the podium on the big bike in supercross is really close to ending.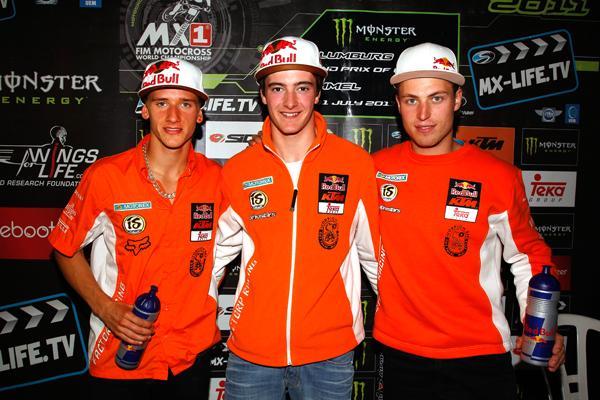 Roczen (2nd), Herlings (1st), Van Horebeek (3rd)
Photo: Ray Archer
Over there, it's the management team of Pit Bierer, Stefan Everts and Claudio De Carli (who runs the 450 team) that have made it happen. They are the place where every rider wants to go and much like Pro Circuit over here, they have the machines, the resources and the leadership that turns riders into winners.
In the sand of Lommel where so much can turn the wrong way in an instant (just ask Rui Goncalves), the orange team was as dominant as any team on either side of the Atlantic has ever been. You would have to go back to the Honda squads of the mid-90's (McGrath, Henry, Lamson) to find the last time one set of teammates were so good.
Hold on tight, the KTM tidal wave is heading to the American shores starting in 2012.