Many of the top riders in the game have a home away from home via a motorhome, which allows them to stay at the track all weekend and get away when needed—a big help at the nationals. Getting that rig to and from each event is a big part of a rider's program, and that's where the motorhome driver comes into play. To learn more, we chatted with Brett Metcalfe's driver, Scott Simon, who is none-to-shabby as a racer himself. He collected a few championships at Loretta Lynn's as an amateur, and also collected the Brazilian National MX Titles over the last two seasons. But he was looking for a change, and he got one with Metty this summer. Here's what life is like as the rider rig driver.
Racer X: Scott Simon, I remember you winning titles at Lorettas, and now you're part of Team Metcalfe. How did this come about?
Scott Simon: I was actually racing down in Brazil for the last two years, I won both outdoor championships down there in the 250 and 450 classes. I just got kind of burned out on the racing, I was burned out on all of the effort you have to put in for so little return, and I was burned out on all the injuries. I'm just into that stage of my life where I was looking to go down a different road. So I ended up talking to Brett, and he told me he was looking for a driver, so we worked out a deal and here we are. So far it's been awesome.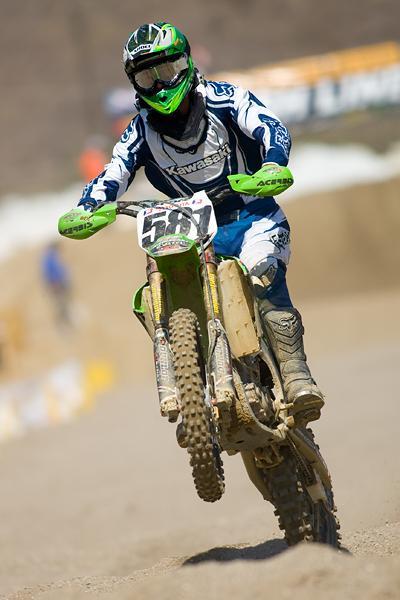 Simon is quite the racer himself, having gathered championships at Loretta Lynn's and the Brazilian Nationals.
Photo: Andrew Fredrickson
So you and Brett have been tight for a long time?
We knew each other, but it's not like we were best friends. I'm friends with his brother-in-law Shane Schaeffer. So I would go over his place and hang out, or go on road biking rides, whatever, but we weren't really hang out buddies much. I don't really know how it happened. It just all fell together! It sounded like fun to go to all the races, because I haven't gone to nationals like this since 2007.
Did you race the full national series back then?
I had only done like half of them when I was racing, so this is really good.
Explain the logistics of what you do.
Yeah, it's hard. You're not only driving the RV around the country, but you have to keep it cleaned and maintained. Then I handle the other stuff, I'm doing laundry, grocery shopping, all kinds of chores. I try to help out Brett and (wife) Sheena any way that I can, even in ways I'm probably not even expected to. And then I'm also the practice bike mechanic when we're on the road.
So explain that. You pull a van with this RV, and you have practice bikes in it?
Yeah, if we have a break, he may fly back home to California. But most of the time, he stays on the road with me and rides. So I'm working on the bikes. If he flies home, I will go home with him to work on his practice bikes in California. The way we will do it right now is, Brett and Sheena are flying home tomorrow (Sunday), and then I'm driving the bus to New York for Unadilla, and dropping it off at my buddies' house there. Then I'm flying back to California so Brett can ride and train out there for the next two weeks. Then we will fly back out to New York about a week before Unadilla, and then we'll go riding on the road. It's busy! I just keep the bike with me, and we have a lot of parts on us. But if we do need some extra parts, usually the factory truck is parked somewhere on the road, not too far away. But yeah, it's pretty gnarly, handling all of that and being in the right place at the right time.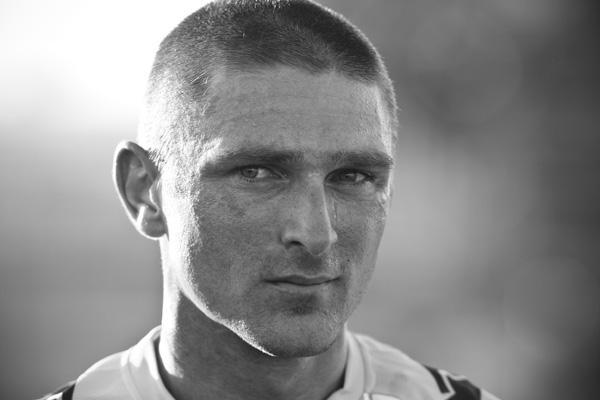 Simon and Metcalfe spend the majority of their summers on the road.
Photo: Simon Cudby
How do you find places to ride on the road?
Well for me, I was once an amateur and doing some of these pro nationals, and I was living on the road, so I know a lot of people with places to ride. So I've just been calling up some of my old buddies from my phone book and asking them if we can come! It's so cool working for Brett and his wife, because they're not stuck up. They're super down to earth, and they treat me like a friend, not like an employee. That definitely makes it easier.
When the season is over, are you actually going to miss it?
Yeah, Brett and I are working on a deal where he may take this bus to all the Supercrosses next year, so then I would be his driver there. But I'm also working on getting my CDL, and I've been talking to some of the teams about maybe driving a tream rig.
And you have a little more riding to do in Brazil?
Yeah, the team still wants me back there, because I have the number one plate, and that's really good for marketing and all. But I don't really know if I'll do it. I'm so out of shape right now. I mean, c'mon man, I'm a truck driver now!