Ryan Holliday and I go way back. We grew up racing against each other in PA's District 5, and although we both dreamed of someday becoming big professional factory racers, we also shared a similar backup plan: college, and then hopefully a job in the industry. Fast forward over fifteen years and Ryan is now the motocross supervisor for Kawasaki Team Green and I work for what I consider the best motocross magazine in the business. But hey, I'm a little biased.
Be that as it may, I've always regarded Ryan as one of the most knowledgeable bench racers in the sport, and he's currently finishing up the first leg of a lengthy road trip that started at Ponca City, Oklahoma, this week and will end in Cingoli, Italy, on August 14. I rang Ryan up today for this installment of our weekly Between the Motos, presented by Braking.
Racer X: So I emailed you last week and your vacation responder said you'd be out of the office until, like, October.
Ryan Holliday: [
Laughs
] Yeah, I'm actually going to the Junior World Championship event in Italy after Loretta's, so this is a pretty long trip.
Well, first things first – how's everything going so far for Team Green at Ponca?
It's going really well so far. Everybody has done really well and all of our guys have won motos, too. Everyone is also dealing with the heat well and staying safe.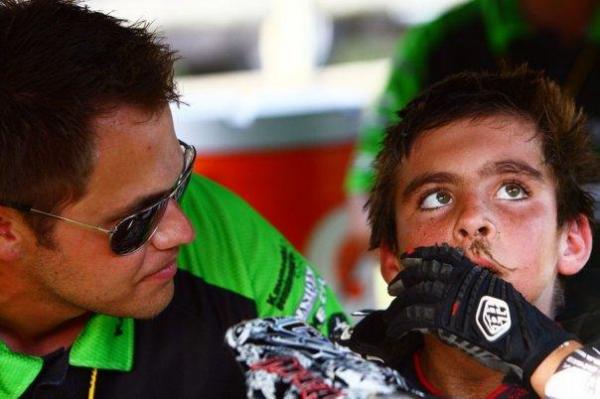 Holliday (left) is the motocross supervisor for Kawasaki Team Green.
How's the rider turnout this year compared to year's past?
It's actually pretty good this year. It's gone up from last year, I know that. I think Ponca is an event where people from this area of the country don't always go out to Loretta's, so this is the big race for them.
Every year it seems these races are adding classes, changing the names and rules, etc. How do you keep up with it all?
That's tough. The hardest thing is keeping up with all the different rules between the AMA, NMA, and the GNC…. Each one is different. We had one slip by us this year. We had [Adam] Cianciarulo signed up to ride the Schoolboy class on his Supermini out here, but we then come to find out that we couldn't do that, so that was definitely a bummer.
Who's some of the top expert riders out there?
So far Justin Bogle has won three out of the four motos, and then Jacob Hayes won a 450 Mod Pro moto. So those guys have been going 1-2 in two of the classes. One of our other riders, Dillan Epstein, he got second in 250 Stock Pro, so we're looking good. Hopefully we can squeak out a win or two.
How hot is it out there?
It's not that humid, but it's been over 100 degrees almost every day. It was 107 yesterday and it's going to be 106 today. It's good to get used to this before we head to Loretta's.
Speaking of Loretta's, who are some of your big guns going into next week?
I'm pretty confident with every one of our guys. I think every guy we have in every class has a shot to win. We have some really strong B riders this year with Justin Hill, Thomas Covington, Zach Bell…I think all three of those guys have a great shot to win a championship or two. Adam Cianciarulo will be the favorite in both Super Mini classes. We had some bad luck with him last year, so hopefully he can rebound.
Are these two weeks the most stressful of the year for you?
Probably. It's just the preparation that's tough. It's a lot, because you have different trucks and bikes going to different races. Coordinating everything is the biggest thing, plus we have two riders going to Italy for the Junior World Championship the week after Loretta's. We had to get that wrapped up before we came to these two big races. But now that all that stuff is out of the way it's up to the riders to take care of business out on the track.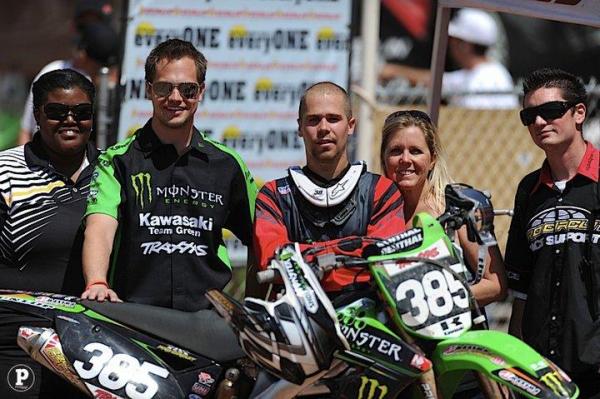 Holliday (second from right) and all the Kawasaki Team Green memebers will be at Loretta's next week.
Loretta Lynn's is celebrating its 30th Anniversary this year, and Kawasaki Team Green has been there since the very beginning. Do you guys have anything special planned for next week?
Yeah, it's Team Green's 30th anniversary, so we have a special apparel line that Kawasaki is selling through the dealers. At Loretta's we'll have a documentary-style short film that we're going to debut on Thursday night before the Craig Morgan concert. That is kind of our big night to celebrate the anniversary. The movie is going to be really cool and we're very excited for it. Beyond that we'll just do what we always do in Greenville—it's a big production for us and we try and set the standard and have the best presence at Loretta Lynn's. I think we'll succeed and we'll start looking forward to the next thirty years.
One rider that unfortunately won't be joining you guys in Tennessee is Brad Frace, who was seriously injured back in March at Oak Hill. How's his recovery going?
He's doing great. His surgery went really well and everything is healing great. He's got good mobility in his entire body and we're counting down the days to where he'll be up and walking. Considering the circumstances of his crash and how bad it really was, he's made unbelievable progress. We're fully behind him and we're supporting him in whatever he chooses in the future.
You mentioned that after Loretta's you're headed to Italy. Tell us more about that event.
Yeah, it's the FIM Junior Motocross World Championship, which is kind of like the Motocross of Nations for amateurs. They have three classes—65, 85 and 125—and Team Green has two riders representing the United States—Mark Worth and Chase Bell. I was assigned the position as team manager for the team, so I'll be going over to not only support our two Kawasaki riders, but also to support the entire team. It's a cool event. I've been to it before and I think it's very important for us to represent our country. Last year we won, so we're looking to repeat that performance and maybe start a little streak like Team USA has at the MXoN.
Good luck with it all, Ryan.
Thanks, Billy, I appreciate it.