Washougal MX Park
Washougal

,

WA
Washougal Motocross
Lucas Oil AMA Pro Motocross Championship
Last week I went on and on about the parity of competition at the top of this sport right now. This week, we're seeing how such close competition can change our perception of the races.
In motocross, we like to make sweeping judgments, and the sport cooperates when the racing is predictable. Let's go back to last week, when we described the McGrath, Carmichael and Stewart level of dominance. With these guys on their game, you could watch one race and pretty much figure out what was going to happen at the rest of them.
Sometimes we break it down with a simple word—speed—which is essentially the complete work of a racer. Speed may be one thing, but it requires a multitude of things—natural talent, desire, bike and bike setup, mental focus, strength, fitness, etc—to be complete. We know that speed, in motocross terms, isn't just measured on a radar gun. Neither is being "fast." It's something that carries over week-to-week. You don't see someone be 40th fastest one week and fastest the next. Normally. In the old era of MC, RC, and Bubba, you knew that if these guys were the fastest one weekend, they were probably going to be the fastest the next weekend.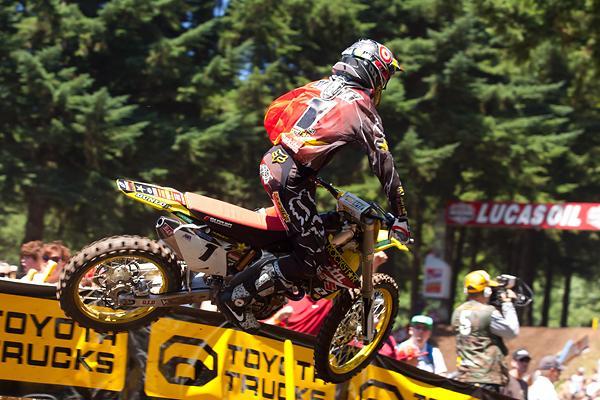 Can Dungey take over the points lead at Unadilla?
Photo: Andrew Fredrickson
And really, it wasn't just that way with these three. When I first became a fan of this sport as a kid, it didn't take me long to figure out that Rick Johnson was going to be the man to beat everytime he lined up. A generation before that, I think Bob Hannah was the same way.
So we have become programmed to think that way. See it once, you'll see it again the next week. It's this usual pattern that makes this 2011 season so darned hard to understand. It's not following the pattern!
Each time we make a sweeping judgment and finally think we have something figured out, it changes. Ryan Dungey was not the man in this tour, not at all, through the first two months. In fact, we had ourselves questioning his usually unquestionable fitness. At Hangtown, Chad Reed outlasted him in the second moto. Reed did it again late in the second moto at Budds Creek. Dungey pushed and pushed, but eventually just lost the pace—dramatically—during the late laps of those races. Dungey was getting tired! Reed is in better shape!
Then the second moto at RedBud comes along and Ryan Villopoto straight puts it to Dungey, pulls away from him, en route to a route. Villopoto is the fastest guy!
And then here is Dungey, running Villopoto down at Millville in the second moto—reeling him in from way back—then reeling him in again in the first moto at Washougal. And straight handling him in the second moto over the weekend. Suddenly Dungey is both fast enough and fit enough. Yes, the puzzle changes a bit since we're matching up three riders—sometimes it's Dungey versus Reed, sometimes it's Dungey versus Villopoto—but the outcome keeps changing.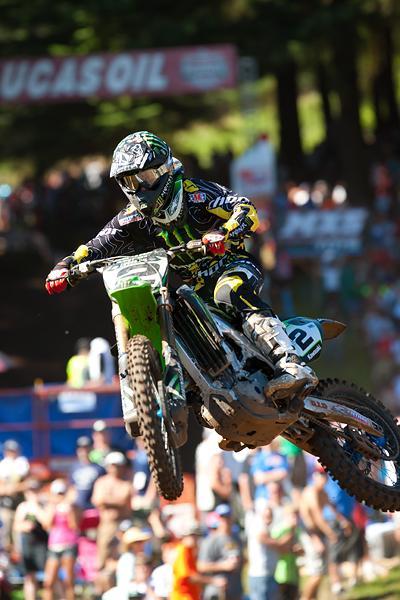 Villopoto has the red plate for the first time all year.
Photo: Andrew Fredrickson
It's just too close, in both classes. We thought maybe Tyla Rattray wasn't fast enough—but he's proven to be as fast as anyone. We thought Dungey wasn't as fit as Reed or as fast as Villopoto, but now he's proving to be the hottest property in the series.
In the post-race press conference at Washougal, I asked Dungey what changed between RedBud's second moto—when Villopoto worked him—and these last two races when he got RV back.
"Our speed, it's so close," he said. "RedBud was kind of an unfortunate deal, we did an adjustment before the moto, and no excuses, but we went the wrong way. It just wasn't jiving right, and he just took off. I don't know, I felt like today I had a good setup. It's not big things; it's little bits, and minor adjustments. It's amazing what one little change will make as far as making you comfortable out there."
For the second weekend in a row, Villopoto had a chance to make an excuse and blame lappers. He didn't take it at Millville, saying lappers held him up a bit, but that Dungey was "just the man to beat today." He didn't take that excuse at Washougal, either.
"I got held up by one lapped rider going into the whoops one time," said Villopoto. "I lost a little bit of time there, but I could hear that he [Dungey] was gaining a little bit here and there. Obviously I couldn't see him, but from what I could hear and where he was inching up, I think he had some better lines. We're all so close on speed that it comes down to whoever gets the right bike setup and picks the best lines."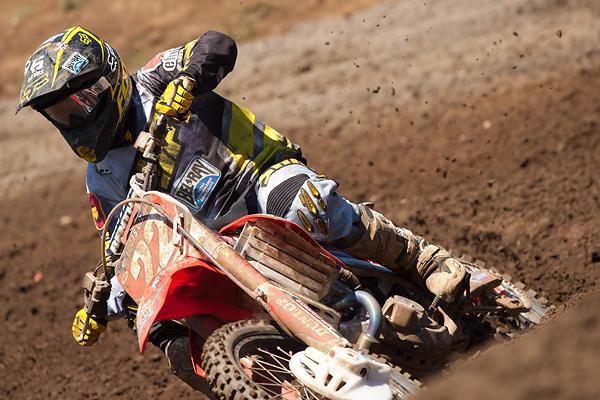 Can Reed bounce back from his worst result of the year at Unadilla?
Photo: Andrew Fredrickson
There you go. It changes week to week. We can't make a definitive judgment because one click on a shock or one new line through a section can swing the whole race another way. In this sense, the races seem more like other motorsports, where a bad tire choice or a setup issue can send anyone back a bit. Yeah, Jimmy Johnson may have won a bunch of NASCAR titles in a row, but you don't see him flirting with a perfect season, ever.
Hopefully, this is where we are now. We not only had four motos on live TV this weekend in the U.S., but we also had four motos on live TV in the U.S. where you did not know who was going to win. Sure hope this new pattern sticks around!
Now some other thoughts on 'Shougal
--- It's a good thing we were airing those 450 and 250 motos live back-to-back. Poor Trey Canard crashed in the second 450 moto and that brought out the red flag and a restart. It also slowed up the TV show significantly, and since these shows are formatted down to the second, so if you lose 10 minutes, it's almost impossible to get back. The moto restarted at the 23-minute mark (since Trey crashed seven minutes in) but the extra time taken to send the riders back around from the finish to the start, re rack 'em and drop the gate again put us way behind. Kudos to producer Chris Bond for finding ways to fill in space during that time break, and then to SPEED for letting us run the 450 show long. See, on SPEED, the 450 and 250 shows are supposed to exist as two separate one-hour shows, each with an ending and an opening. On the fly, they decided to scrap that and let the 450 show flow right into the 250s. By dropping the opener for the 250 show, we made up the extra time and our two-hour block ended on schedule. It looked seamless, but had the 250 show not have been coming up right after the 450s, I don't what would have happened—the 450 moto didn't even end until after the hour. Isn't live TV fun?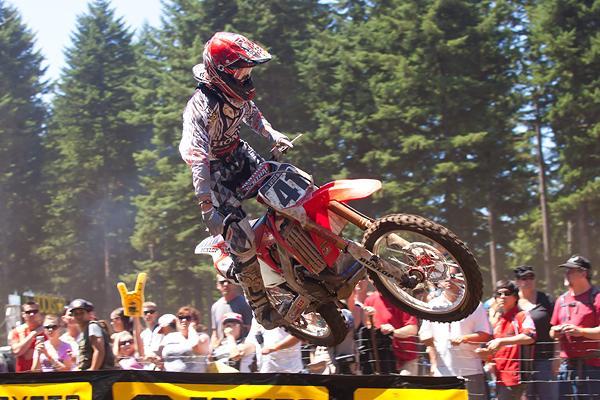 Luckily for Canard he did not damage the rod in his already broken femur.
Photo: Andrew Fredrickson
--- As for Canard, man, I'm just happy to hear he didn't do major damage. Dude is carrying a rod around in that leg (from a crash and femur break in Washougal, oddly, two years ago). If that sucker ever got busted up, you could be looking at catastrophic damage. Not the case, again, just like his previous femur break in April. I'm starting to wonder what material that rod is made of!
--- With Canard out, I'm wondering what goes on in camp American Honda Racing. Kevin Windham would have a full 27 days between Millville and Unadilla to rest and recuperate. Maybe this is just wishful thinking on the part of everyone who loves seeing K-Dub at the races (and that's just about everyone).
--- Dean Wilson is the man. I need to write this because he hasn't been able to say he's officially the man, as in an overall winner, yet, but that's only because of the two-moto format this sport has always run. Dean has actually won five motos this year. It's a shame that in motocross you can win five races and officially not have won anything. It's just circumstances and math—he's riding as well as anyone. And he's leading the points and it's not a stretch to say he's the title favorite at the moment. If he wins the title without an overall, who cares? He has five moto wins already. He's a winner.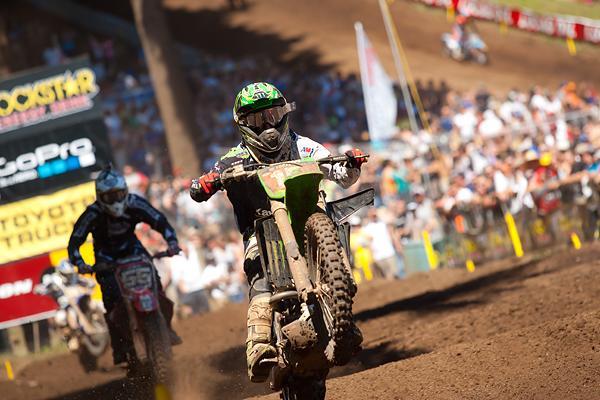 Dean Wilson holds the points lead in the 250 Class, but has yet to win an overall.
Photo: Andrew Fredrickson
--- Along with this new-found parity at the top of the MX food chain comes new-found truthfulness. No one is making excuses or playing mind games at the top. When Villopoto gets beat, he admits he got beat. When Reed gets beat or Dungey gets beat, they do the same. And the Pro Circuit boys who are ruling the 250 class are doing the same thing. And by the way, saying your bike setup or lines were bad is not an excuse, that's just the truth. Excuses are when you say something clearly wrong, like, you start right behind a guy and he pulls away and you say you would have won if you had a better start. Not hearing that this year. We've hit a high water mark for both racing parity and sportsmanship. Enjoy it while it lasts!