Washougal MX Park
Washougal

,

WA
Washougal Motocross
Lucas Oil AMA Pro Motocross Championship
Hailing from Carnation, Washington, Tommy Weeck felt right at home this weekend at Round 8 of the Lucas Oil AMA Pro Motocross Championship at Washougal. But don't let the hometown advantage trick you into believing that was the lone reason Tommy managed a great result. Did it help? Sure. Being in front of your hometown fans, being able to sleep in your own bed and being around the support of your family and friends would help any rider.
But let's rewind this disc. Weeck was a former Factory KTM amateur rider, had a ninth-place finish in the first moto at Pala last year and finished 21st overall in the 250 Class while only competing in five events. Shot in the pan? Don't think so. When given the chance, Weeck has proved he can compete at the top level. The problem is he hasn't had many chances.
All of that changed last weekend as Weeck blasted onto the radar of every team in the series with his sixth-place finish in moto one—which marked a career best. We caught up with Tommy this week to discuss his weekend, his future and much more for this edition of Insight.
Racer X: First and foremost, congratulations on a great weekend.
Tommy Weeck: Yeah, I was finally able to compete with some of the factory guys, so it was nice. I was finally able to feel like my old self again battling with all the kids from my era.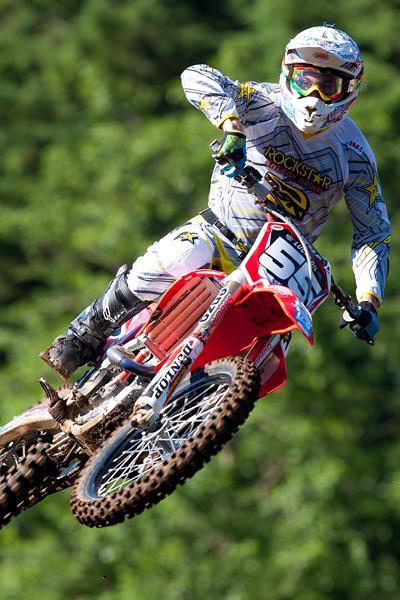 Weeck finished a career best sixth overall in moto one at Washougal.
Photo: Andrew Fredrickson
How did it feel to be in that position again, battling with the likes of Justin Barcia and Dean Wilson, some of the bigger factory names out there?
Honestly, it felt normal. Nothing about it felt unusual. It feels like that is where I belong. I know if I had the level of equipment every single weekend at that level, I know I would be able to be right there with those guys—battling, winning races possibly, getting up there on the podium and actually being a front runner. I know that I have the talent; I know I have the speed, and I know I have the work ethic. It felt normal to me to be up there. It didn't feel awkward. It's a whole different aspect when you have that level of a bike that can compete. You know those factory bikes aren't very slow. [Laughs]
[Laughs] Yeah, especially the ones that Mitch [Payton} is building.
Yeah, those green ones… they're rocket ships.
For the first 25-30 minutes you were right there. I think that you definitely showed you had the pace to run in the top-five.
Yeah, I hoped that I showed that. That was my goal. I don't get to do many races in the year, unfortunately. At Hangtown I only got to do five laps of the first moto before I was out of the race because my bike blew up. This race was pretty much all or nothing for me. I was going to let it hang out and let these people know that I want this, and that I want to be one of those guys up there.
You are a Washington native and the brother-in-law of one of the track owners (Ryan Huffman). Did that help you feel more comfortable—being on a track you are familiar with, being in front of your hometown fans?
Absolutely. My brother-in-law and the family, they all run an amazing facility. Everybody tries to say, "I've ridden so many laps on this track and that I'm living here and that's the reason why I did good." But in all honesty we had three race weekends and I got to do four days of practicing when no one was here. Other than that, in the last three years that is all I have ridden this track. I've grown up racing the track and it is something I have known for my entire life, but that's not why I was up there. It's not like I had that track just 100 percent wired. From amateur days to pro days it is a totally different track. You know they brought in sand and everything.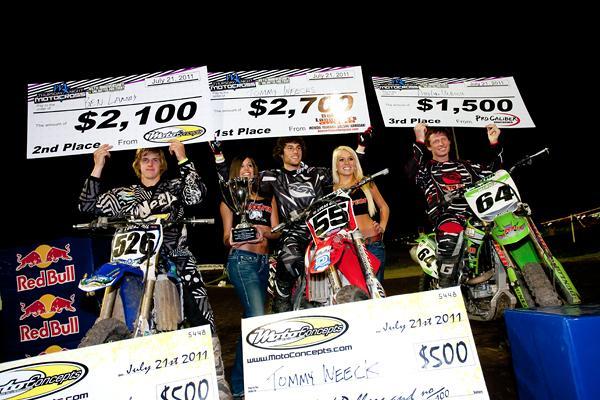 Weeck (center) began the weekend by winning at Portland International Raceway.
Photo: Andrew Fredrickson
You raced at Portland International Raceway on Thursday and came back from tenth to beat some tough competition, guys like Ben LaMay and Weston Peick, among others. How much confidence did that give you heading into the weekend?
It was a pretty cool thing. That is an awesome event that the PIR facility puts on, especially during the Washougal national. They coordinate it so that the privateers such as myself can make it up to that race. It's economical as well. It is not way out of our way. Everybody is here for the nationals and this gives everybody a chance to make a little extra money. Coming off that was definitely a confidence booster.
You haven't raced since Hangtown. What did you do to stay in race shape during that long layoff?
When I was in my amateur career I got to train with Ryno [Ryan Hughes] and I learned a lot from him. That is kind of what I have used over the last few years since I haven't been with him. I just take the knowledge that I did gain and kind of built my own program to what I feel I need to do. I'm definitely not the best trainer, but I get by on managing myself , making sure that I am feeling the right things. Getting the right massages, or getting the right workout, just kind of making sure I round all my bases. You know I work hard and the bottom line is I want it in this sport and I try my hardest at whatever it is. There isn't a day that goes by that I don't think about what I can do to better myself on a dirt bike.
The last time we talked—at the end of supercross season—you mentioned that Nate Adams at DEFT Family was helping you out. Is that still the case?
Yes, I'm still riding his bike and I want to thank that guy a ton for everything this year. I did have to get it fixed, but it is an amazing bike and it is a very competitive bike. I have put a lot into it on top of what he did and we've just made it even better. I think he is even going to race it next year for supercross.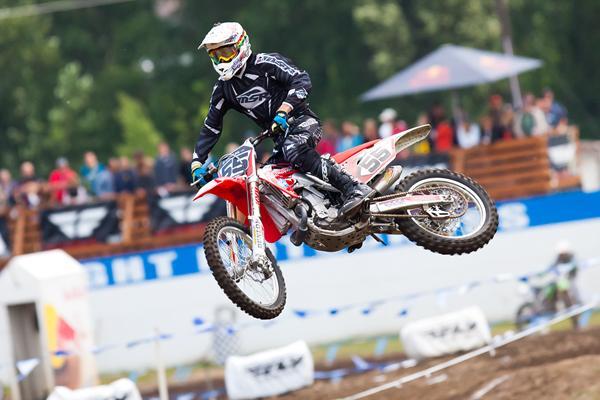 As of press time, Weeck will only be competing at Pala due to lack of funds.
Photo: Andrew Fredrickson
How much of a confidence boost was this for the future, knowing that you can run with the best in the 250 Class?
For me, it's not about just 'can.' I did it once, but I want to do it again. I want to be at Unadilla to back my results up. I know I can and if someone could give me the opportunity to prove anybody that questions that, it would be amazing. Like I said, I know I belong up there, but this definitely did boost my confidence to reassure myself that I know I can be there. I have known it for my entire career. I have been working and training just as hard to get there. I believe that everything happens for a reason and I just needed to learn more about myself before I could be put in one of those rides and actually handle it.
Last time we spoke you mentioned that you would be riding Hangtown, Washougal and Pala. Have those plans changed at all?
Nope. I just plan on finishing Pala. I think that is the only one I am going to be able to afford to get to unless I can get someone to step in and help me get to the other ones. As of right now my plan is to finish up at Pala and hopefully get another great result.
Take us through your post-race interview after the first moto. I saw a ton of other riders tweeting about it. I think everyone was pretty pumped on it.
It was pretty cool. I was definitely stoked to get the interview like that. I was kind of surprised that they pulled me over there considering I got sixth place. But for them to pull me over there like that and give me the chance to give a shout out to all the people that have been helping me out was awesome.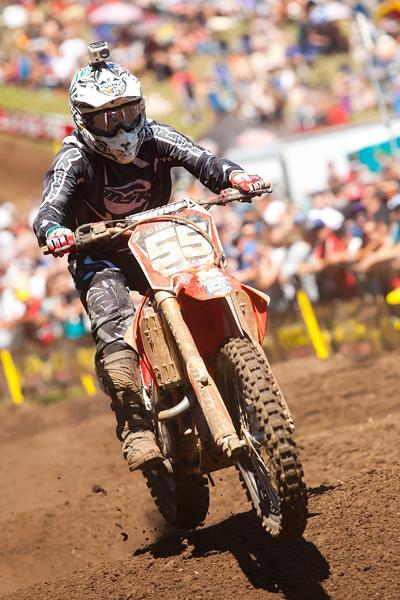 Weeck finished just outside the top-ten at Washougal. Going 6-19 for 11th overall.
Photo: Andrew Fredrickson
I think you opened a lot of eyes this weekend. Have you been in contact with any teams?
I haven't. I would like to get ahold of Erik Kehoe about filling in for Trey [Canard] though. [Laughs]
Who would you like to thank for helping you out this season?
I want to thank Motosport Hillsboro, DEFT Family, Pro Circuit, Dunlop, DT1 Filters, Fusion Graphix, Ryno Power, MSR, Spy, TCX and Shoei.