Washougal MX Park
Washougal

,

WA
Washougal Motocross
Lucas Oil AMA Pro Motocross Championship
We all know who won the races over the weekend, but The Moment focuses on one small snapshot of the race that had a big impact on the entire day. Here's a look at that moment from Washougal.
Trey Canard lost his entire season with a big crash in the second 450 moto from Washougal. It was a big bummer for Trey, his family and team, and all of his fans. And really, who isn't a Trey Canard fan? This is the classic case of bad things happening to good people.
Mike Alessi didn't lose his season at Washougal, but he did lose something very critical to him. He lost a start.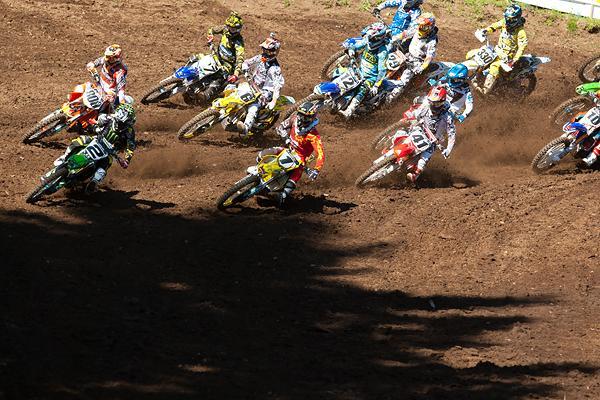 Alessi got the start he needed in the second moto, but a restart would hinder his chances at a podium.
Photo: Andrew Fredrickson
The once (and future?) Holeshot King has not even been part of a royal court on starts this season. He made an impact early in a few motos, but Mike is not longer consistently the fastest man out of the hole—even while back on a 450. Instead, he's had to grind out the solid finishes, and unfortunately for him, he's getting the type of results that are just one step away from really getting noticed. Yes, he's riding hard, but he just can't seem to get onto the podium.
In the second moto, though, Alessi snuck inside of Dungey in the second turn to steal the second spot. With Villopoto getting away, Alessi stood between Dungey, and Mike was set to give the defending class champ fits in trying to get around. Even if Dungey did get around, chances are Villopoto might have gotten away by the time RD made the move on MA. And Alessi was set to keep digging, because even finishing behind the Ryans would finally put him on the podium in a moto.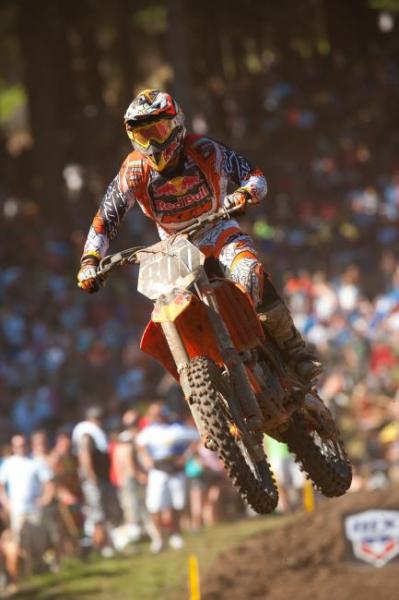 Will Alessi stand on the podium before the season is over?
Photo: Andrew Fredrickson
Then came the red flag and restart. Up front, things changed dramatically as Dungey edged out Villopoto, weathered a heavy storm from RV for the first two laps, and then pulled away. But the real loser in the restart deal turned out to be Alessi, who was nowhere to be seen off the start this time, and he had to go back into the grind-it-out mode. He never gave up, pushing all the way to the final corner. He trailed Justin Brayton, and they both closed on Chad Reed at the finish. Reed took fourth, Brayton fifth, and Alessi sixth. Alessi's 9-6 scores made this the worst weekend of the season for him, results wise, since he returned to the tour from a concussion at round three.
Twelve motos and no podiums yet for Mike, who is riding hard in every race. But he knows in order to keep getting better finishes, he needs get better starts—and keep them.