Washougal MX Park
Washougal

,

WA
Washougal Motocross
Lucas Oil AMA Pro Motocross Championship
Podium real estate has finally begun to open in the 450 class of the Lucas Oil AMA Pro Motocross Championship, with Trey Canard snagging a third last weekend in Minnesota, and now Rockstar Makita Suzuki's Brett Metcalfe taking third over the weekend in Washougal, Washington. We caught up to Metty on Saturday evening to get his take on the race for this week's Monday Conversation.
(And for post-race thoughts from 450 race winner Ryan Dungey, check out our interview with him on the Racer X Motocross show)
Racer X: Okay first podium of the year for you, but it seems like you've been getting closer and closer to this for awhile now.
Brett Metcalfe: Yeah I've actually been close to this right from the start of the year, I guess, but then I had some ups and downs. Now I think I'm consistently finding myself where I need to be or where I want to be.
In the second moto, Erin Bates had a report on TV where you told her your first moto was your best moto of the year.
It was definitely amongst it. If not the best, it was one of the best, but then the second moto topped it. Things are looking up, I'm getting more comfortable on the Suzook, my riding is back, my confidence is back, and we're moving along well.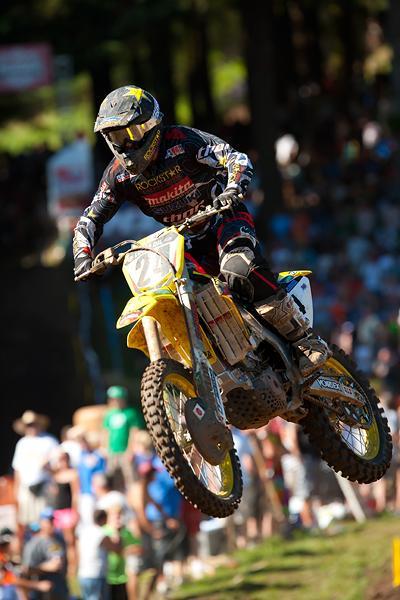 Metcalfe scored his first podium of the year at Washougal.
Photo: Andrew Fredrickson
So it's taken awhile here adjusting to the new bike and team, but was the injury from supercross the bigger issue?
Yeah. I think, coming into the season I didn't test properly, we talked about that a few weeks ago. When you come into the season with an injury and you're laboring a bit, you don't progress very quickly. It's one thing when you come back and you're strong and ready to roll, but that wasn't the case here so for me it took a little longer. It took a while to get up on the box, but it's good, knowing myself that I can do it. I think I've had the speed, but it was just a matter of being consistent. So we have that to work on now.
Talk about the track. You said in the press conference that it's not a track where you always did well.
Well, I didn't like it in the past. You can't ride this track over aggressive, you can't be radical with your style. And I think I used to ride that way! Over the years that had led to some big crashes here for me, but I've changed my style and my approach, I think mentally I'm a better rider. So that worked in my favor here. Also, I think it was a nice change to have a hard packed track. I mean, a lot of these races, it wasn't anything to do with the track, a lot of them have just had a lot of rain leading into them, and that led to some really soft tracks. It was good to be back on a hard packed track where a little bit of skill, throttle control and technique was involved.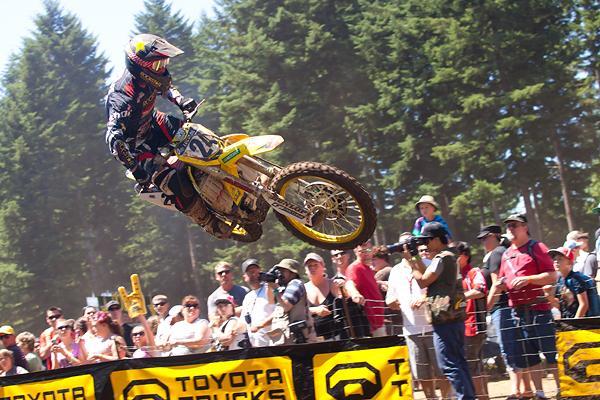 Metcalfe caught and passed Chad Reed in the second moto en route to a third place finish.
Photo: Andrew Fredrickson
Talk about fighting with Reed for third in the second moto. You were able to pull away. Did you expect him to stay on you the whole way?
Well, I wasn't really sure. Early on, I was behind him on the start, and he made a couple of moves and put a few guys in between us. I knew I was going to have to make moves quick or he was going to break away—and the two Ryans were already out front and they had already begun to break away, too. At that point I knew we were going to battle for third, and if I wanted it I had to go. He had a little gap, it wasn't much, and I was able to close it down after a few laps. So I knew I had the speed, I just needed to set something up. I don't know if he's laboring from last weekend, I don't know, but, he did what he would do. He rode a smart and calculated race and got a fourth, which is great for his championship hopes.
Your team has to be pumped, you put both 450s on the podium.
Oh they're stoked man. This is what they have wanted from me. The biggest thing is, they liked what they saw from me, not just the result, but they liked what they saw from me in my riding, I was being aggressive. They said they liked everything that they saw. I'm just happy to get it up there for these guys and for myself.