Spring Creek MX Park
Millville

,

MN
Spring Creek Motocross (Millville)
Lucas Oil AMA Pro Motocross Championship
Interviews by Steve Matthes and Jason Weigandt
Tyla Rattray, Monster Energy Pro Circuit Kawasaki, 2-1 for 1st overall in 250 class
It was definitely a good day for me. Having Dean there in the second moto made it tough, he was definitely giving it everything he had. And Dean rode great in the first race, I was there the whole race, but, yeah, I couldn't get past him. So it's definitely good to win, but I've still got some points to make up. It's definitely going to come down to the wire, it's probably not going to be decided until the second moto a Pala. And we're all on the same team, same bikes, and that makes it tough. But at the same time, I like it and it's fun. Mitch and all of the guys do a great job, they work really hard, and we're 1-2-3 in the championship.
This track was pretty brutal. The thing about this track is that there's no rest time. It takes a lot out of you. I always look forward to these types of tracks, and racing in the humidty. This is what I've grown up with in Africa, racing in the humidiry. But at the end of the second moto, my tank was pretty empty. So I'm enjoying it, but as you can see, anything can happen. Look what happened to Chad [Reed] today.
Dean Wilson, Monster Pro Circuit Kawasaki 1-2-2nd overall 250 class
We're doing alright, we're surviving and consistent. I just didn't have any energy that second moto. I was done after the first moto. Just lack of hydration, I don't think I drank enough water yesterday and I paid the price for it in that second moto. I feel like I'm riding good, I had the speed to win that second moto but not the fitness. Tyla (Rattray) is a pretty gnarly dude. It sucks that he's a gnarly dude but it keeps me on my toes.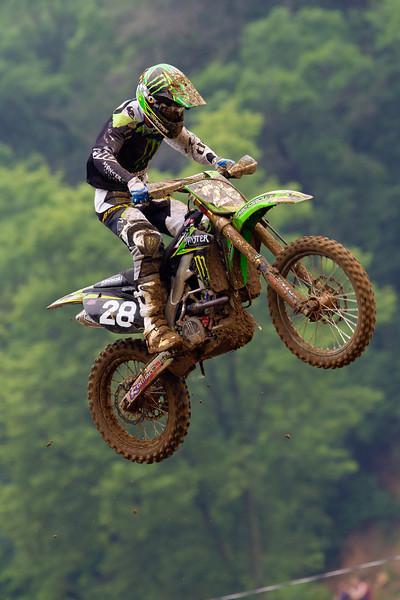 "Having Dean there in the second moto made it tough, he was definitely giving it everything he had." -Tyla Rattray
Photo: Brian Robinette
Trey Canard, American Honda Racing, 5-3 for 3rd overall in 450 Class
I was pretty happy with the day, I hadn't had a whole lot of time on the bike. I'm glad to come back, but I'm a little disappointed with getting beaten that bad. But I'm looking forward to the coming weeks and hopefully getting better and better.
Being in a championship position, it's weird, those guys are all fighting for points, and I've experienced that to some degree. I know every moto counts for those guys and they're really pushing it. And me being gone for awhile, I forgot how fast that pace is right off the bat. That was probably the biggest surprise of the day for me, but I feel like this is a good starting point.
Ryan Villopoto, Monster Energy Kawasaki, 3-2 for 2nd overall in 450 class
On the pass from Dungey: I came through the whoops and he got beside me, I kind of squared up the right-hander and got on it, but he carried more momentum through that right hander and it put him alongside me. We both jumped up there, normally I would have turned down, but he was there, and I couldn't. I was up in the powder and just tucked the front end and went down. I just let off a little too late. If I had let off earlier, I could have maybe been able to wait and turn down. There wasn't any contact. It was my fault.
Lappers played a little bit of an issue, but definitely he rode good. It was hot, too. He was the guy to beat that second moto, and really that's all I can say about it.
It's going to be a good race to the finish now, we just need to bring it every weekend, because I'm sure Ryan and Chad will.
Blake Baggett, Monster Energy Kawasaki, 3-3 for 3rd overall in 250 class
I'm okay with it considering how the day went. I could tell the track was going to be one-lined and hard to pass on, even in practice it was hard to get out of the main line and put in a fast lap, so I thought it would be like that in the motos. First moto I started like fifth or sixth, so that wasn't too bad. And it was hot! I was tired. Second moto I got a really bad start, maybe 21st or something, so I just tried to move forward. I could see my teammates were already out front and I needed points. So I just dug deep and tried to ride every line that people were not in. Some of it worked, some of it didn't, some of it was really slow. I tried to save some tearoffs because I knew that's pretty much what it was going to come down to, if you could see some guys at the end. It was definitely one of the most physically demanding tracks I've even ridden on. Not just how rough it was, but also just trying to keep the bike straight, it was always wanting to go left or right, or just stop. Then you had these sand holes, they were like sand pits, and that was on one side, then over on the other side you had these huge rocks coming up. Definitely kept you on your toes.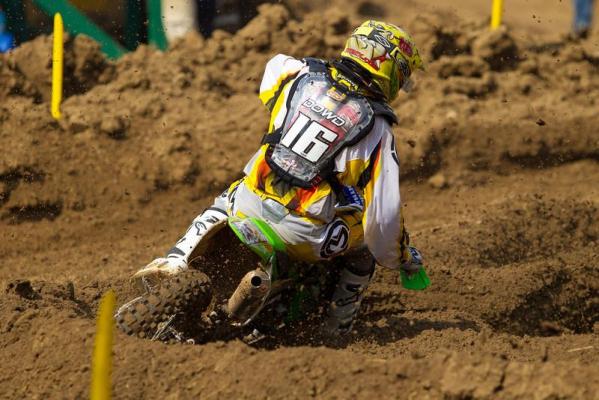 "I did have fun today, it was good and I got a few points." - John Dowd
Photo: Brian Robinette
John Dowd, Kawasaki 18-22- 22nd overall 450 class
I did have fun today, it was good and I got a few points. I wasn't sure if I could pull that off. Dang, I got tired, though! It was tough, it was hot and humid and this place is tough. That's always why I liked it in the past but in the past I always showed up in shape!
I didn't have a lot of prep coming in, I just rode a little bit. I rode the motos all the way through.
Of course you rode the motos the whole way through, you're John Dowd!
Well I made it. Barely though! I did a couple of local races but they are nothing like this, of course. I have some work to do to get ready for Southwick. I've always liked this track and raced my first pro national here in 1990.
Jimmy Albertson, Merge Racing Honda 10-11 11th overall 450 class
My day was pretty good, I qualified 11th and went 10-11 in the motos. I'm a firm believer that where you qualify for the motos is where your moto speed is. So I rode good, I was consistent and I scored the most points I've gotten all year, even though I know I only rode three races so far. It was good, I felt like my fitness was better than the last two, I felt like I was the one making the passes. I think we have a bit more work to do on our motor package but the suspension works great. I'm going to skip Washougal to do some testing and we'll be back at Unadilla.
Brett Metcalfe, Rockstar Makita Suzuki 6-5 6th overall 450 class
It was okay for me, I got a little hot out there. The first moto I was up there with a decent run and made a mistake and went down. I was too far back to catch up again. I was all by myself. In the second moto I didn't get a great start, made some moves really quick which is good for me because it usually takes me a little bit to get going and I got fifth.
It was so tough out there to make a pass, the mud was all pushed to the outside and I was stuck behind guys just going through tear-offs so I had to move out of the main line. And when I did that, I hit the soft stuff and went down.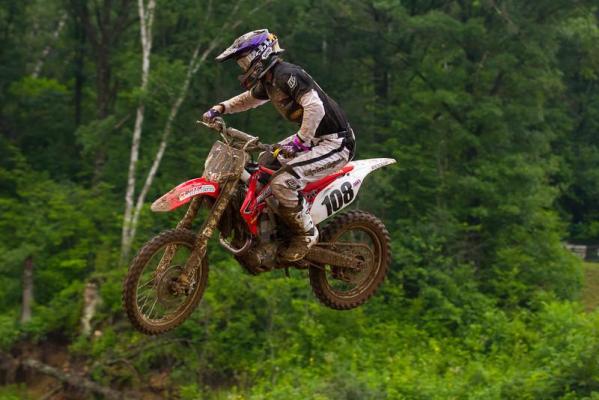 "I'm a firm believer that where you qualify for the motos is where your moto speed is." - Jimmy Albertson
Photo: Brian Robinette
Jessica Patterson, DNA Shred Stix/Star Racing Yamaha, 2-1 for 1st overall in WMX Class
It was gnarly out there, there were a lot of holes, straight edge bumps, sand and rocks. You just had to pick the best line and try to dodge everything. There were still some soft spots but considering how bad the rain was here yesterday, the track was great. In the first moto passed sixty-seven [Fiolek] going through the first set of whoops, and in the second set, I must have hit it wrong or something, and my bars went to the right, and it pulled my left shoulder out. I've had problems with it before. I was over there trying to get my shoulder back in, and everyone was like "What are you doing?" and I said "Trying to get my shoulder back in." They didn't believe me, but I really was! I got back in, and I got going again, and made another mistake after that, just worried about it too much and being timid. For the second moto, I had Eddie over at Asterisk tape it up good and I had more confidence in it for the second moto.
Ashley Fiolek, American Honda Racing, 1-2 for 2nd overall in WMX Class
It was pretty good, went 1-2 on the day, wasn't too bad. I was actually pretty surprised, the track turned out good with all the rain we got. Patterson rode great, I'm just happy to get out of here healthy. Today I got another good start, and it was actually pretty fun, getting out there with Patterson, we were battling a little bit. I've been working hard and I'm giving it my best. I'm happy I still have the points lead.