Spring Creek MX Park
Millville

,

MN
Spring Creek Motocross (Millville)
Lucas Oil AMA Pro Motocross Championship
Two things motocross fans rarely see: Chad Reed throwing it away huge, and Ryan Dungey making an aggressive pass for the lead.

Add another – and maybe the best yet – to the list of unforgettable Millville races.

The second half of the 2011 outdoor season launched with an instant classic.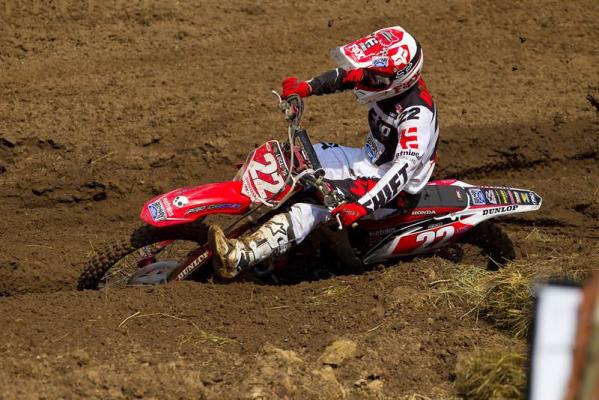 Reed charged to a 14th place finish after a horrific second moto crash.
Photo: Brian Robinette
Launched? No one expects the heart-stopping spectacle of Chad flying 35 feet up, jettisoning from his motorcycle and bicycling through the air to impact. Even when he crashes, even without his motorcycle, Reed can time the downside of the landing. Amazing. And lucky. The only fortunate part of Reed's epic flight was sliding in safe – relatively – on that downward slope of soft grass. Reed was so high in the air that Honda personnel and the 22 ground crew arrived on scene practically before he landed.

Shades of Ryan Villopoto's first moto crash at the previous round in Red Bud, it did not look good for Chad. No one expected Reed to remount.

At the other end of the spectrum – and towards the other end of the second moto – maybe the Minnesota faithful didn't so much expect Dungey to make the pass, as demand it.

Dungey had finished second – as he too often has this season, latching onto the rear fender of Villopoto, or more often Reed, without ever sticking a wheel in – nine times, including the first Millville moto when Reed was able to shake him. Riding a wave of spectator support all around the track in pursuit of Ryan Villopoto, the home-state favorite wouldn't settle for second this time. In the final moto, Dungey finally took the ground someone gave him – and with it, his second overall win of the season and fourth consecutive victory at Spring Creek.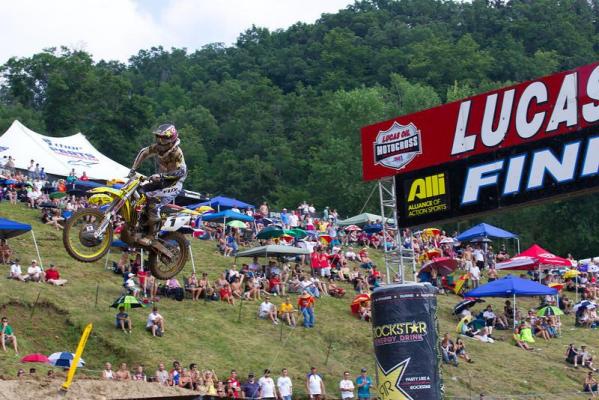 Dungey's second moto charge lead to his fourth consecutive victory at
Millville
.
Photo: Brian Robinette
Still, even on a day when the points leader's fortunes swung – winning the first moto going away, then making that early pass on Villopoto in the second moto to take control of the race just before losing control of his motorcycle – Reed retained the points lead. If Chad wasn't able to duplicate RV's feat of picking himself up from a brutal crash to charge all the way to the podium, his heroic 14th place ride for seven points might have saved his championship. Reed banged his levers straight, gassed it right around the concerns of Asterisk's Doc Bodnar and seat-jumped the uphill triple. He was on a mission, and no one who witnessed it could ever again doubt Chad's determination and resilience.

Just as with the pride of Belle Plaine, Ryan Dungey, cheers followed Australian Chad Reed all around the track as he fought his way back to a points-paying position.

Dungey made his fans happy, while Reed simply made fans.