Spring Creek MX Park
Millville

,

MN
Spring Creek Motocross (Millville)
Lucas Oil AMA Pro Motocross Championship
DC and Weege asked me to come up with a list for this column and I'm sure, right about now, they're wishing they never would have asked me to do anything. Because the list I really wanted to do is right here, the one that breaks it all down. This is the end-all and be-all of lists.
It is the top ten Canadians who have raced in the United States.
That's right. I'm Canadian. I like Canada. We've had quite a few fast guys over the years but most have stayed at home. Venturing down south and getting waxed is not always the most fun thing to do. However, these men below have taken that challenge and made the best of it, they've looked the mighty American riders in the eyes and dared to try their best. They've gone toe to toe, shoulders back with the best in the world and…oh forget it, I'm just going 'Rev-up' Bowyer on you now. Here's The List.
10.) Doug Hoover
One of the few racers to ever beat the Rollerball straight up back in the motherland, this Ontario native traveled south in the mid-80's for many years and earned some serious AMA finishes. Hoover, nicknamed "The Sweeper," was a top ten guy outdoors down south and in supercross was a fixture in the main events. Hoover probably could have had some better number but his schedule included the Canadian nationals and Ontario provincial races.
Number of AMA National Numbers- 4
9.) Blair Morgan
Maybe Morgan is too low here, maybe not. I'd take any argument you have and accept that I ranked Blair too low. Morgan never had any real solid series results in the USA because he had to concentrate on the Canadian series. Morgan did top ten the 250 national at Steel City in 2002, which was a solid result. He's well known to Americans because of his Sno-cross achievements that may overshadow his awesome motocross career up in Canada. A multi-time Canadian champion, Morgan raced some 125 SX races and placed well in those. He was also a member of the Canadian MXDN team that traveled down to Budds Creek, Maryland.
Number of AMA National Numbers- 4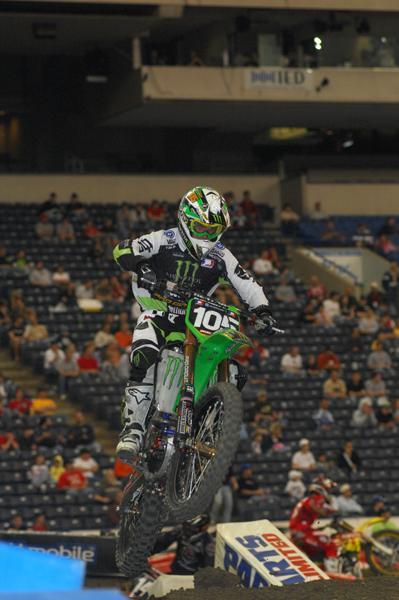 Darcy Lange riding for the mighty Pro Circuit team.
8.) Marco Dube
Playing George Harrison to JSR's John Lennon, Dube was a fast French Canadian who had a number of AMA national numbers but never, at least that I can remember, any real breakout rides. Dube did race extensively in the United States and raced all classes. A former Canadian National Champion, Dube's English wasn't as polished as Roy's early on but he overcame that to have a very good career in Canada and the USA.
Number of AMA National Numbers- 5
7.) Darrell Martens
This might be a somewhat controversial choice (if Canadians can actually get mad about a list like this). I put Martens this high because of how he did in one series. The 1992 500 nationals saw this Abbottsford, British Columbia native end up 12th in points for one of the top overall finishes of any Canadian ever. Martens never won a title up north but he was a victim of racing in the Rollerball years where many great riders never got a sniff of the top of the box. Martens 1992 year earned him his one and only AMA number of 67. There were also a few top tens in the 125 SX class as well in his career but like so many other Canucks, Martens never devoted an entire season to the USA. A talented rider who's lack of support and a program kept him from better things, Darrell did end up with Canadian national number 4 in 1989.
Number of AMA National Numbers- 1
6.) Jason Frenette
Politics kept the Red Deer, Alberta rider from racing the nationals in Canada so he concentrated on racing American SX and MX for about five years in the late 90's. A few finishes outside the top ten in 250 nationals and a whole bunch of 250 SX main events get Frenette sixth on the list. In the summer of 1996, Jason sat 12th in the points in the 250 nationals until breaking his thumb about halfway through the series. In '97, Frenette earned a fill-in spot on the Manchester Honda team alongside Damon Bradshaw but unfortunately for him it was on a slow CR125. Jason was a true character and someone that I traveled with extensively for a few years, I saw first-hand what he went through as a full privateer to travel the series and try to race with the world's best. And he did a fine job of it.
Number of AMA National Numbers- 3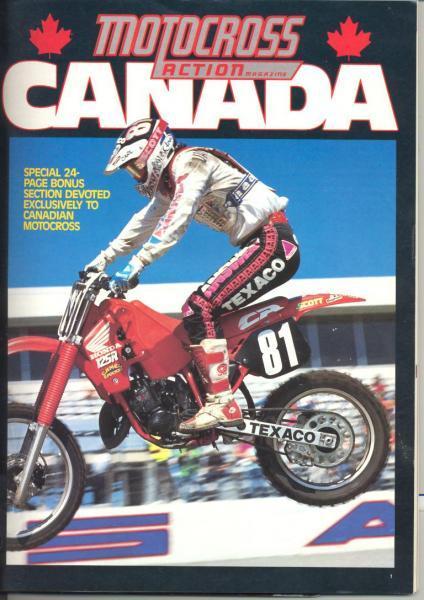 Carl Vaillancourt with his shiny new number on a CR125.
5. Doug Dehaan
Dougie D never quite accomplished in Canada what many thought he would have coming out of amateurs, but nevertheless had a solid career all over the world. Dehaan's low AMA number was #74 but like Carl Vaillancourt he had many top tens in 125 SX which don't count towardsa national number. Dehaan also joins a select few Canadians in having a legit ride in America as he rode for the Butler Brothers team for a few years. Dehaan also raced all over the world at a very high level and represented the maple leaf proudly.
Number of AMA National Numbers- 7
4.) Carl Vaillancourt
A great rider that never fully committed himself to racing full-time in America, Carl still had some great finishes over the years in the lower 48. A top ten rider in the 125 east sx class for a number of years, Vaillancourt made sure that he made it back to Canada for the complete series. A Canadian amateur phenom, he won many pro titles up home. Carl's low AMA number was #57 but again, that wasn't a true indicator of his speed down south. He ended up inside the top ten a couple of years in 125 SX. With many top tens inside the 250 and 500 nationals, Carl was a solid rider for years on both sides of the border.
Number of AMA National Numbers- 8
3.) Darcy Lange
The rider from Vancouver Island, British Columbia never really committed himself full-time to the big series, but Lange did get a spot on the powerful Pro Circuit team for the 2007 Lites East SX series and lost the title to his teammate Ben Townley by the slimmest of margins. Lange's real claim to fame other than that was being a multi-time Arenacross champion for Kawasaki. Besides that though, there was some good finishes here at there at a national or a supercross but as I was saying, Lange always concentrated on doing well at the smaller indoor races. Darcy attempted a few shots at Canadian moto but he always seemed to get hurt and couldn't put it together to win a title in his homeland. Some would say he should be right at the top of this list for his second in Lites SX East and multiple Arenacross titles but to me, he didn't do enough in the big class for as long as the top two guys.
Number of AMA National Numbers- 1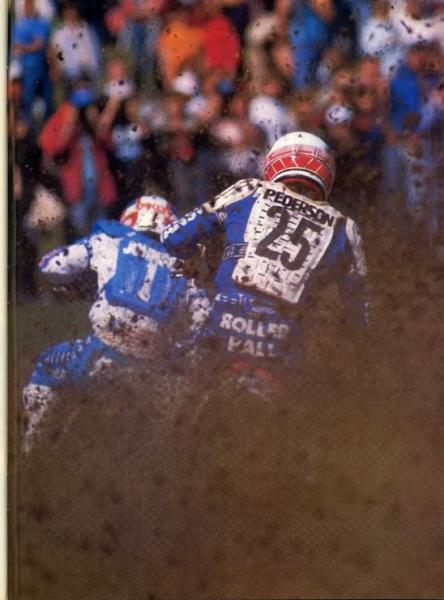 Rollerball chases after Rick Johnson in '87.
2.) Jean Sebastian Roy
The multi-time Canadian champion from Acton Vale, Quebec chose to race full-time down in America when Canada's sanctioning bodies were trying to figure things out. The man known as JSR  was a fixture inside the top ten many years both in supercross and outdoors in the U.S. A couple of top fives at Unadilla were the best for him and his low number in America was #21. Riding for Blackfoot Honda and Planet Honda as well as Jolly Rancher Suzuki, Roy was as friendly as they come and represented Canada well both down south and his numerous races all over Europe. In what might have been his best ride in American, Roy is remembered for chasing down and passing then SX and MX champion Jeff Emig at Englishtown only to fall with a few turns left and separate his shoulder.
Number of AMA National Numbers- 13
1.) Ross Pederson
Of the number one rider, there should be no doubt. The man nicknamed 'Rollerball' from Medicine Hat, Alberta dominated the moto scene up north for many years to the tune of twenty-six championships! The only thing left to do for Pederson was travel down south and try his hand. Earning national number 17 in '87, Pederson scored a couple of podiums in AMA nationals, many top fives and tons of top tens. Pederson was feared by many because he was built like a linebacker and engaged in some rough riding as he fought for every inch on the track. A third at Hangtown and Binghamton in 1987 as well as a great ride at the '84 250 USGP at Unadilla makes him an easy winner for Canucks racing down south.
Number of AMA National Numbers- 11
If you have a suggestion about someone I missed or want to chat about this list, email me at matthes@racerxonline.com