Spring Creek MX Park
Millville

,

MN
Spring Creek Motocross (Millville)
Lucas Oil AMA Pro Motocross Championship
We gave you former factory racer Ron Lechien's take on the second half of the 2011 Lucas Oil outdoor national series and now here is another ex-racer and a guy that's been around take on the series.
Larry Brooks is a former top privateer racer in the sport, multi-time Ultracross champion and is probably better known for his work as team manager of riders such as Jeremy McGrath, Chad Reed, James Stewart and Mike Alessi. Brooks has been there and done it all. Currently in between gigs, Brooks nevertheless has been paying close attention to the outdoor series and agreed to give us his take on what he thinks might happen in the second half of the series.
Chad Reed: My feeling is that is Chad (Reed) has control of the series, he's put himself in good positioning, finished every moto and won a lot of overalls. Winning overalls isn't necessarily going to win you a championship but doing well in each moto is. (Ryan) Villopoto is strong and I'm not sure if anyone is discounting how good he is. There are twelve motos left and that's a lot of racing to go. I think Chad is really smart and he's got a good stranglehold on it right now but with 14 points between them, the tides could turn quickly. I think Chad's riding a really good machine, I think it's exceptional and with Dungey's DNF going on, it's helped Reed out a ton. Not that Chad hasn't been riding well but in the races they've gone against each other, they've been pretty equal. It's this simple, you can't win championships when you DNF races.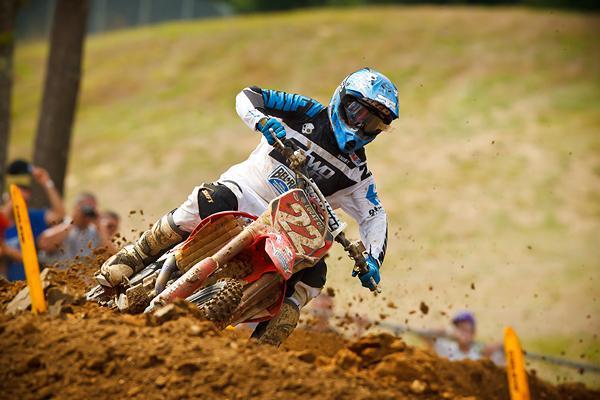 Reed holds the valuable red plate at the mid-way point in the series.
Photo: Simon Cudby
I think Reed's already been thinking about the points and the title. He wins when he can and if not he takes second or third. McGrath was the same way, he didn't go to the race every weekend thinking he was going to win, he was thinking championships. I think Chad is doing a really good job of that right now, he's doing the best he can on the day and if it's winning, great. If not, he just finishes well on the day. He's riding the best I've ever seen. And I mean I've seen him ride a lot.
I think Chad's riding great but the bike is helping him as well. He's at a level where he can ride a bit slower and do better because the bike is so good. That's given him a huge mental edge also. You can see how well his bike works and same with Kevin (Windham) who I think is doing better than he probably should be doing with the help of that bike. It's amazing to see and that bike is much better than anyone gives it credit in my opinion.
Ryan Villopoto: I think Villopoto is really, really fast straight up. I do think that all the guys are fairly even, it depends on who gets out front first. It doesn't seem any of them can suck the other up from behind. Looking at RV, I always considered him an outdoor guy and I'm sure he's at the level right now that he has been in the past. I know that he can go faster but I haven't seen it this year yet.
Ryan Dungey: Obviously, Millville favors Dungey, there's no doubt about it. I don't think any of these guys have any weaknesses. I think Chad's going to be fast at Southwick, he's always fast there from growing up in sand and living in Belgium that one year. I don't think there's a big advantage though in the tracks department. It's more or less and how the riders get off the line, staying out of trouble and no mechanical mistakes.
I don't think Dungey's silly season stuff is affecting him, they keep him in a bubble and he just focuses on his racing. It's got to make him feel good that people want him and if anything maybe give him a mental edge out there. It's not his speed, it's that DNF that's killing him.
He's always been tentative and never been aggressive or slammed anyone or anything like that. He's riding at the level that he's always been at. I don't see a difference really. Should he do it? Absolutely! Will he do it or has he ever done it? No. I don't see him changing that, it's the way he does business and he'll keep doing that the rest of his career.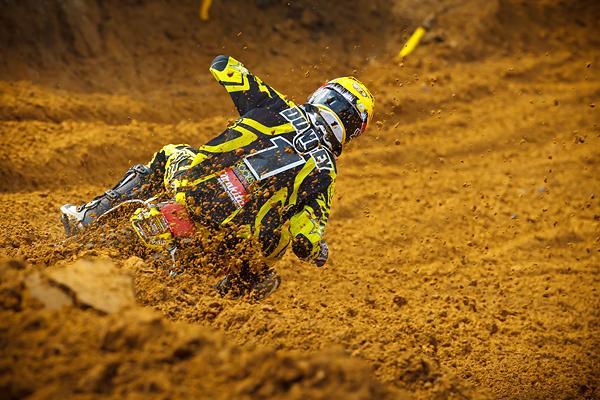 Can Dungey take advantage of home track conditions this weekend?
Photo: Simon Cudby
If I had to choose a rider right now, I'd still say this title is up for grabs between Chad and Villopoto. I'd say that Chad has the advantage right now but it's still so close and there's a long way to go. It's hard to give you a favorite. Those points can be eaten up in one first turn crash. I do think it's down to those two riders though.
250
Dean Wilson: I'm a big fan of Wilson, I like his style and everything about the kid. I don't even know him but I root for him a little bit. I like the way he rides and his demeanor but. I think that Wilson's advantage is his experience and he's using that. There's nothing that give you an advantage like having been there before. The little bit that Wilson has, he's using that on Baggett. It's honestly really cool to see. I would say that the week off helps Wilson a bit but I don't know really. If they both treat the week-off in the right way and work on what they need to, it may not favor one guy. Either rest their body or work their body a bit, depending on what they need to do.
Blake Baggett: Baggett is a bad dude. You don't even know how big my eyes were at the second moto at Hangtown. He showed me something that I haven't seen in a rider in a long, long time. Not since Ricky Carmichael have I seen a guy just eat them up like that. I think speed-wise and endurance-wise, Baggett's got an edge
Man, he's got speed in his back pocket and just yanks it out when needed. It's amazing. He just flows with the bike, keeps his speed up and just flows. He reminds me of a mini-Ron Lechien where he's just out there riding and is economical in his movements. I'm going to say Baggett for the title and even though I like Wilson and I guess would like to see him win. Baggett has the sheer speed on Dean even though Blake has had some weird things happen to him.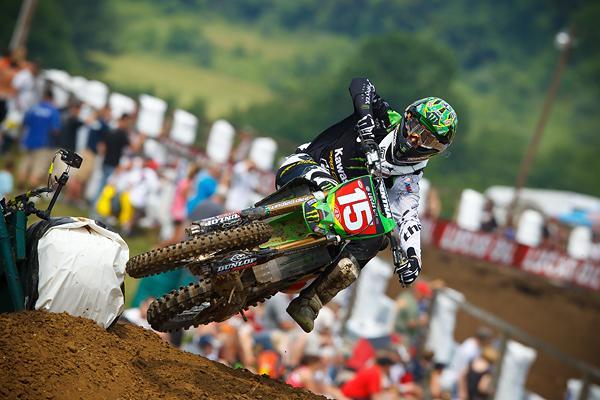 Baggett has the momentum, but Wilson has the red plate.
Photo: Simon Cudby
Tyla Rattray: I still think that Rattray is sitting in a good position. I think for some reason, he's losing something somewhere and I don't know if it's because he's a bigger guy or what. I haven't seen him up there on the starts lately like he has been and we've seen that with a guy like Tim Ferry. That 2007 title was his and as soon as he was the favorite, his starts went away. Starts are all upstairs- at least to me. You know that Rattray's bike is just as good as the two guys in front of him. I know Mitch's team is super strong but I don't know if they have the right person to break that mental block that's there. I like Tyla though; I like the robot in him- just hammer and hammer all day long. For the style and pizazz though, it's Wilson or Baggett over Rattray. I like watching him but he's like a train, it takes him a while to get up to speed and he doesn't have the sprinting speed of the other guys.