The first line of preparation for a race team actually starts years in advance with the R&D of a particular motorcycle. The bike Ryan Villopoto is racing right now has most likely been in the works for several years, and it's been through various stages of testing before it ever sees a race track. At this year's 2012 KX450F press introduction at RedBud, we sat down with Kawasaki R&D rider Travis Murphy for this edition of In Preparation.
Racer X: First off, Travis, give us some background about yourself.
Travis Murphy: I grew up in Washington state. My dad bought me my first motorcycle when I was three and I started racing at seven. I raced on a local level and did very well. I never really traveled to the big amateur races except for the World Minis in Vegas. I turned pro in 1999 and raced a few AMA nationals for the next couple years but never really had any good luck or finishes so I turned to the Canadian nationals and then the four-stroke nationals. I did have some good finishes in those series. With the help of Elaine Derrick I started doing moto schools and giving lessons up around my area and I really enjoyed doing that. My plan was to continue with that, until I got the opportunity to be a test rider at Kawasaki.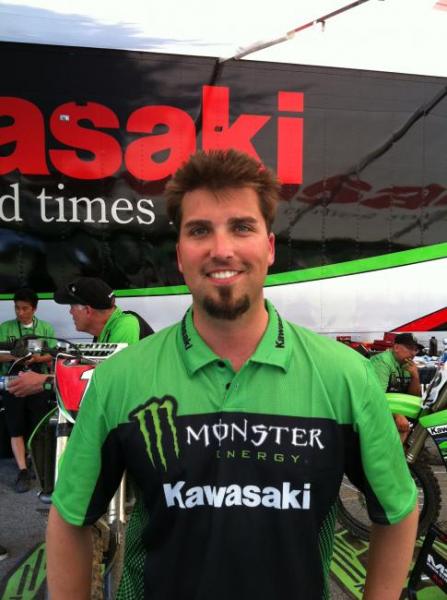 Murphy is a test rider for Kawasaki.
Photo: Bad Billy


How did the opportunity arise?
I got the inside scoop from Ross Maeda of Enzo. He was a sponsor when I was racing and is a great friend. He told me that Kawasaki was looking for a test rider and put in a good word for me. I got a phone call from Mike Fisher (testing supervisor at the time) and they flew me down to Cali to do a tryout and test some MX stuff and some ATV stuff. I went back home to Washington and got a call later from the HR department saying I was hired and when they needed me to start. It was an easy decision for me to say yes. I have been a test rider for them for about six years now.
How many other test riders are there?
The other main test rider for motocross is Brian Brown. He was a desert racer and a past Hare and Hound champion. We also have other riders for both evaluation and endurance testing of our other products.
Describe a typical day doing R&D on, let's say, a KX450F.
A typical day of testing the KX450F is like any other testing day--early mornings and late nights. [Laughs] For the majority of the time we have two riders on each side of things whether it be chassis or engine. We usually have our KMC R&D group and a group from KHI (Kawasaki Heavy Industries) consisting of riders, mechanics and engineers joining the tests as well. We will ride the bikes, give our comments and make adjustments. Then when the sun goes down, we load up and head back to Kawasaki. Then we have to wash and prep to get ready for the next day.
That doesn't sound too bad. What's the toughest part?
The toughest part of the job is being away from home so much. All of our R&D group at KMC spend most of our year living out of a bag and hotels.
Coolest part?
I get to travel all over the place and to Japan multiple times a year, so that's cool. Just being in the industry that I love so much, and to see the progression of each thing we test, whether it be KX, mules, Teryx (RUV's) or ATVs. To see something go from just an idea and drawings to a rough prototype through the stages until production is a pretty cool thing, especially if it's a product that comes out and the customers love it and we sell a lot of them.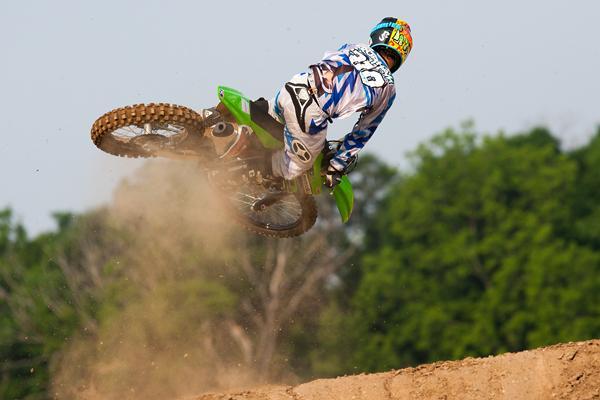 Shane Durham testing the 2012 Kawasaki at RedBud.
Photo: Andrew Fredrickson
What's the biggest misconception people have about R&D?
The thing that all of us in R&D hear is that we must have the best job in the world and get to play around all day. I agree that it's definitely awesome sometimes, but at the same time it is a job and we don't get to just play around. It's a very serious and stressful job. We have to try and make improvements on our Kawasaki products to make all of our current or future customers happy, and hopefully not get them angry or disappointed in our product. After a test, whether it is a single-day test or a several week test, we then have to sit down with our group and have meetings to talk about the positives and negatives. Then it moves to talks and meetings with KHI. Let's put it this way, if our meetings start just after lunchtime, it's rare that we make it home for normal dinnertime.
How far in advance are you working? For instance, are you testing the 2013 model at the moment? 2014?
Let's just say that we are currently working well into the future. I can't really give out that info, but I can say that we have some cool stuff in the works.
What's the hardest area of the bike to test?
I would say that the toughest part of the bike is the chassis. There is so much that goes into the chassis end of the bike, from suspension settings to frames, to linkages, to tires, etc….
How does it make you feel when you see a Kawasaki winning races and championships?
It feels great. To know that they are winning on a bike that we helped develop is definitely a cool feeling.