Buchanan, MI
RedBud Track 'n Trail
Lucas Oil AMA Pro Motocross Championship
Round six of the Lucas Oil AMA Motocross championships took place in Buchanan, Michigan this past weekend at the
RedBud
Track N Trail facility. In other words, it was time for ReeeeeeeeddddddBuuuuuuuuuuuuddddddddd!
I figured that since the track announcers loved it so much, I would use it here. If I never have to hear an exhausted rider meekly try to yell that into the microphone ever again, I'll be ok.
This is the event that some might say is the crown jewel of the motocross series.  July 4th weekend is not complete without a trip to RedBud for the national. It's as American as apple pie, bald eagles and complaining about the price of gas, dammit.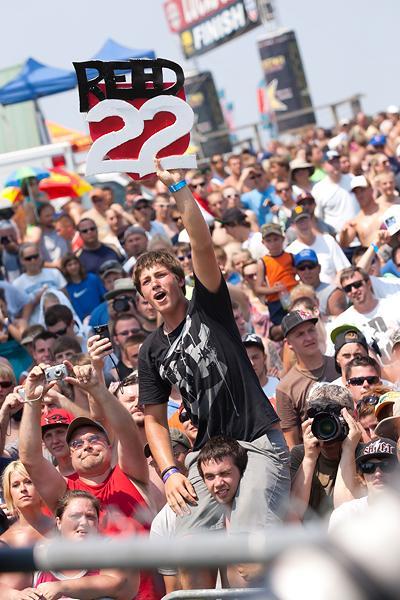 The atmosphere at RedBud is always euphoric.
Photo: Andrew Fredrickson
The track got a lot of water beforehand and the first practices were sloppy and poopy. Soon, though, the dirt started coming around and things got nice and juicy for the motos. The track at RedBud is one of the best on the circuit with some cool obstacles. I love what they've done there over the years with the big grass tabletop that says RedBud on the side of it as well as the signature jump, Larocco's Leap. They brought in video screens this year as well and that was sweet. If you want to see an old RedBud photo report to see what the place looked like way back, check out this report from 1983!
Before we get too far into this thing, a great day of racing was overshadowed by the news of local racer Josh Lichtel's passing away on Monday night from complications brought on by heat stroke he got in the first moto. There wasn't any talk at the track about what happened, no one really knew how serious it was. The weather was certainly hot but it wasn't the hottest day or anything like that and from what I understand, Josh fell late in the moto and was forced to kick his bike for a while. We all know what that does to you and no doubt that didn't help. I didn't know Josh at all but my thoughts go out to his family and friends.
Well Chad Reed did it again. The Two-Two won his fourth race out of six with solid 1-3 moto scores. Reed came out in the first moto and with Ryan Dungey breathing down his neck, laid down some great laps to take the win. It's the exact opposite thing he did last year when he couldn't hold off Dungey and Ryan went 1-1 on the day. Reed's 2011 is turning out to be pretty magical even if he didn't manage to win the SX title. Late in the race, Dungey railed the outside of a turn and for a brief glimmer, got by Reed but Chad shut the door on the champ.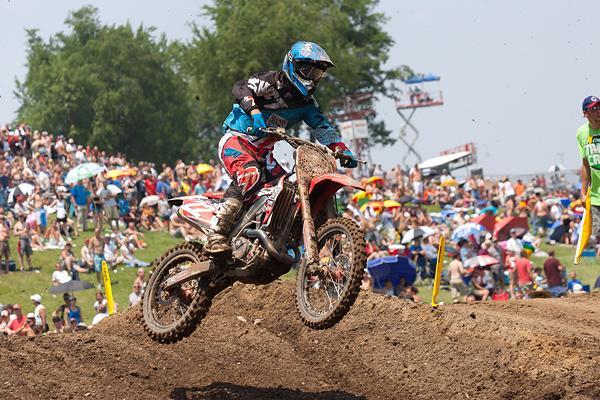 Reed took his fourth overall of the season at RedBud.
Photo: Andrew Fredrickson
With Dungey unable to make the pass and settling for second the other Ryan (Villopoto) was in a big crash early in the moto and was forced to come from way back with a bent up bike and no visor. The best he could do was a ninth. Second moto, RV got the holeshot and was gone. Dungey again got second and although you could say Reed might not have been the fastest guy on the day, guess what? He scored more points than anyone else and won.
Dungey has done just about everything possible to win races but win them. His Lakewood ride was great to see but he needs to lay it down, get a little aggressive with Reed if he hopes to get this title. They've split the motos so far 6-6 and it just always seems that Reed gets the better of Dungey when they're head to head- even going back to supercross.
I don't really know what it's like in Dungey's brain but I have to think that he's ready to crack and start punching walls soon. He's a nice guy, very proper but you don't get as many wins as he's gotten without some killer instinct and right now, when he looks up all he sees is the big 22 in front of him.
Ryan Villopoto just has no room for errors like he had in the first moto. With his poor start to the series, it gets harder and harder to overcome the simple things that happen to everyone over the course of a 24 moto outdoor series. Things like crashes, bike problems, etc, etc- RV's got to start getting a handle on this series. When he gets out front right away like he did first moto at High Point, first moto at Budds Creek, first moto at Lakewood and the second moto this weekend, he's gone. Like checked out, see ya'- wouldn't want to be ya'-- gone.
But so far, when he hasn't gotten the start and has to come through the pack, he struggles a bit (and when I say struggle, I mean Ryan Villopoto level of struggle) and can't do it. So if I was Reed or Dungey, I would pretty much do anything short of getting a Panzer tank to drop shells on him to make sure RV doesn't get out front early.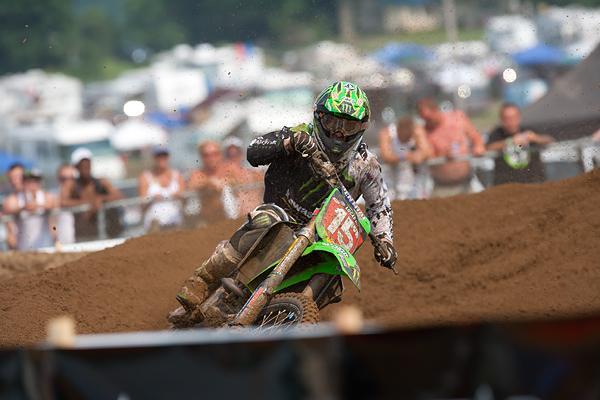 Wilson is still searching for his first overall of the season.
Photo: Andrew Fredrickson
Poor Dean Wilson, he's gone 1-3 three times this year and has yet to win an overall meanwhile Chad Reed has won two races with those scores. Wilson's gotten four straight second place finishes but has yet to win with that score either because Blake Baggett has won four straight motos! Oh well, he'll have to try and sooth himself by cuddling up to that red plate he holds signifying the championship points lead he has.
Still he has to be worried about this Baggett train that is a-rolling right now, I know I would be! Blake's got as much speed as anyone in the class and he really seems to be in shape right now as well. Not that Wilson or other teammate Tyla Rattray (who's starts seemed to disappear at the exact moment he got the points lead) aren't in shape but man, Baggett put together three laps in the first moto that were amazing. Like a Tour de France bicycle rider (or Kevin Bacon in that 80's bicycle movie), he just broke away from the pack in an impressive fashion.
I spoke to Dean for a while in the PC truck after the race and he was clearly frustrated as he sipped orange juice from the underside of the jug's lid (yes I'm serious). He just has to keep chugging along and try to find a way to stop his teammate from catching him in the standings. It's do-able and I'm thinking the week off came at a good time for Dean.
And if you're Blake Baggett, you just keep on keeping on. He's on a hell of a roll right now.
Silly season is getting into full swing right now and the big fish in the sea is Ryan Dungey who by all accounts, appears to be headed to KTM for next year and beyond. The big boss of racing at KTM, former GP winner Pit Beirer was at the race on the weekend and if you don't think he met with Dungey at some point, you're nuts. The thing that I couldn't figure out is how come, with everyone I talk to, going back to Suzuki isn't an option for the champ? A few years ago there was talk of Suzuki not having the money to sign someone like Dungey but according to those at Suzuki and others that worked there, money isn't an issue. Riders like Chad Reed, Tim Ferry and others have told me how awesome that bike is, many racers that Ryan races against seem to think his equipment is awesome.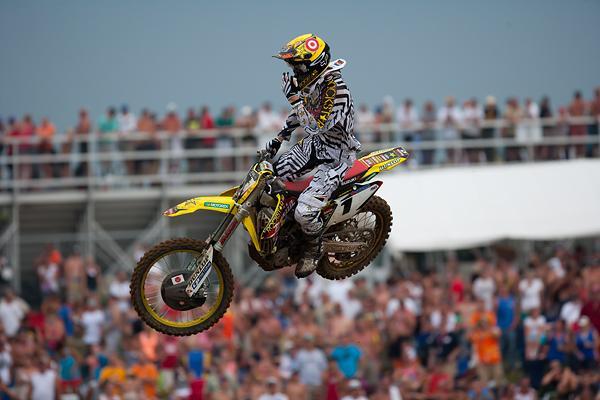 Dungey is the top free agent heading into 2012.
Photo: Andrew Fredrickson
He won a bunch of titles, the yellow crew brought him up throughout amateurs and everything seems like a natural fit to continue right? Well, I guess not. I spoke to Suzuki team manager Mike Webb and he wouldn't give much up to me on the record other than we'll see how everything goes. He did indicate to me though (without saying so) that Dungey wants out and they've in effect lost him for next year.
I think it just boils down to the fact he wants to work with his old team manager Roger DeCoster again (and to a lesser extent old motor guy Ian Harrison as well) and he'll go to the unproven (in the USA big bike class) KTM to get that combination back. It was weird to me that KTM has beaten the drum with "We love 350's, they are the best bike in the world and all our riders will race 350's except for Mike Alessi because we already tried that, it failed miserably and we don't want to listen to Tony anymore" but when I spoke to Pit, he definitely backed away from beating that drum again. I specifically asked Beirer about the 350 versus 450 thing and while he brought up the fact that GP hero Antonio Cairoli has won a ton of races on the bike, he also said that maybe for American racing, they need to look at other things. It was a surprising reverse course from the PR's at the beginning of season talking about the 350 and how good it is as well as from what Euro racing boss Stefan Everts told me at the Glen Helen USGP.
Then I heard from someone else that maybe KTM is working on a new 2012 ½ 450SXF with some new updates like EFI and other things specifically for Dungey who from what I hear, is balking a bit at the 350. Stay tuned to this whole thing, it's going to be interesting.
Another thing I heard from someone high, high up is that there is another "big fish" that's out there for Suzuki to get and I think, although his name wasn't mentioned- I have to think that it's James Stewart who I reported a few weeks back is trying to get out of his Yamaha contract and get on Suzuki's for next year. All in all, I'm told it will be "a couple weeks" until everything gets figured out.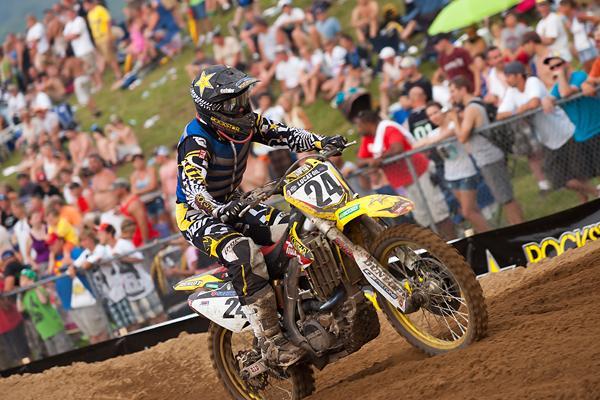 Metcalfe finished fourth overall at RedBud.
Photo: Andrew Fredrickson
Dungey's teammate Brett Metcalfe had a solid day on the track getting fourth overall and stepping forward more and more to be "the guy" after the top three. The thing that got some people talking was the fact that Brett wore a cool vest for the entire second moto that made him look like a reject on Baywatch. It seems that Metty forgot he had the vest on and forgot to take it off after the parade lap. I'm sure it was real cool for the first ten minutes or so but after that, it turned into a heat vest and Metcalfe told Weege he couldn't figure out why he was sweating so much! After the race there were some teams upset with the fact that Metcalfe wasn't punished at all for running the vest as it was covering up his name and number on his back which is an AMA rule. I guess the AMA did talk to Brett and asked him what was up and when they realized it was an accident, they just said don't do that again.
But to me, and I really like Brett and all, there should have been some sort of punishment imposed on Metcalfe. I'm not saying a DQ is in order but you just can't break the rules like that and have everyone just shrug their shoulders. Maybe a monetary fine or something, one position- anything. Try to go out there in a NASCAR race and have a number covered or a mandatory sticker not on the car, you'll be sure that you'll be hit with some sort of punishment. You have to bring a jersey to tech inspection for a reason and for the AMA to just say it was ok, to me, is not the way to handle it.
But anyways, good ride by Metty and maybe he's catching fire (well with a vest on again, he probably would!) and going to be a factor this second half of the season like he did last year.
Let's take a look at the results shall we?
250 Overall
1. Blake Baggett (1-1) Kaw- I found out Blake weighs 127 lbs. That's amazing.
2. Dean Wilson (2-2) Kaw
3. Tyla Rattray (5-3) Kaw- Like I said, his starts have gone bye-bye.
4. Kyle Cunningham (4-4) Yam- Well, well, well look who's figuring all this stuff out. Kyle is getting consistent and staying on two wheels. I'm so proud of him, I feel like me making fun of him for so long has paid off in spades. Tough love works!
5. Broc Tickle (7-5) Kaw
6. Wil Hahn (8-6) Hon- Great ride for Wilbur in his return from injury. He's been out a looooonnnggggg time. GEICO Honda needed this, their outdoor season is falling apart like the Titanic.
7. Ryan Sipes (3-14) Yam- Sipes rode strong for the second week in a row but also for the second week in a row, he had a bad "other" moto.
8. Martin Davalos (11-7) Suz
9. Cole Seely (9-10) Hon- I bet Cole celebrated his solid day with a Chipotle burrito.
10. Scott Champion (13-13) Hon- Good ride by Champion, he ended up 14th in qualifying, came around the second moto parade lap in 13th and went 13-13 on the day for his best national ever. And then he went home with Erin Normoyle. #winning
11. Travis Baker (12-15) Hon
12. Darryn Durham (6-34) Hon
13. Gareth Swanepoel (17-11) Yam
14. Malcolm Stewart (28-8) Suz- Mookie can't put two motos together but I suppose that's the mark of a first year kid figuring things out.
15. Nico Izzi (31-9) Hon
16. Les Smith (15-16) Suz- I think this was Les's last ride for the Rockstar Suzuki team and he hasn't had much a chance to get comfy on the bike. He's fast, let's give him some more shots Gowland!
17. Lance Vincent (10-33) Hon
18. Gannon Audette (14-18) Yam
19. Alex Martin (34-12) Hon
20. Joshua Clark (16-19) Hon- Happiest guy in the world for Clark's good result is BBMX's Dan Truman who picked Josh in his fantasy moto league. He actually goes around and pep talks these guys.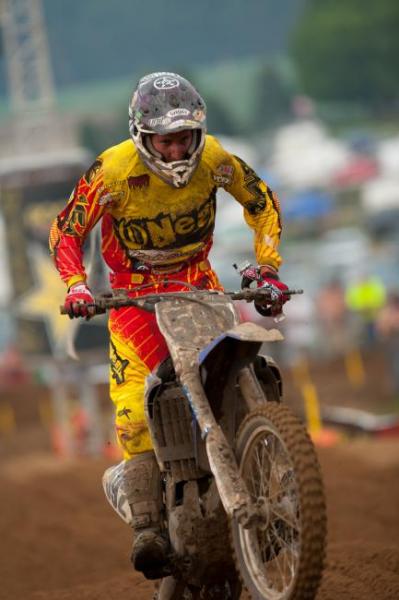 Jake Canada finished 18th overall in his first ride for Motoconcepts Yamaha.
Photo: Andrew Fredrickson
450 Overall
1. Chad Reed (1-3) Hon
2. Ryan Dungey (2-2) Suz
3. Ryan Villopoto (9-1) Kaw
4. Brett Metcalfe (4-5) Suz
5. Mike Alessi (8-4) KTM- Mike was frisky this week, good rides in both motos and like Villopoto, he came from a long way back in the first moto.
6. Justin Brayton (5-7) Yam- Good ride for Brayton who's never going to be considered an outdoor warrior. I think he broke up with his manfriend Heath as well, I haven't seen him at the track lately. I'll have to get to the bottom of this.
7. Andrew Short (6-8) KTM
8. Davi Millsaps (3-13) Yam- Great first moto for Davi but he twisted his knee second moto. JGR Yamaha was 3 and 5 in the first moto and owner Coy Gibbs celebrated by getting to the next level in Halo in the team lounge.
9. Kevin Windham (12-6) Hon
10. Christian Craig (10-10) Hon- Solid day for Craig.
11. Nick Wey (14-14) Yam- I thought Wey would do better on his home track to be honest and I'm sure he did as well.
12. Josh Grant (7-32) Hon- We talked about Josh on the wrap-up podcast, I wouldn't want to be in his shoes right now with a bad knee and an expiring contract.  
13. Jake Weimer (36-9) Kaw- Weimer was up there in the first moto before pulling into the mechanics area with what he thought was a bad motor. Turns out it was a rock in his rear brake pedal. It was too late to recoup his placing though.
14. Travis Sewell (13-17) Yam- A flying Sewell brother did well on his somewhat home track. Did you know that Travis wears FXR gear which is a Manitoba, Canada company who's owner I grew up racing with? Now you do.
15. Michael Byrne (40-11) Suz- Byrner broke a chain first moto and that sucks.
16. Tye Simmonds (17-15) KTM
17. Ben LaMay (16-16) Yam- Solid ride for the new guy over on Motoconcepts Yamaha.
18. Jake Canada (11-30) Yam- I'd say Jake, with minimal time on the Yamaha, backed up his solid Lakewood ride with an 11th in the first moto.
19. Tommy Hahn (39-12) Yam- Yeah sure, Tommy wished he would have done better but look at the bright side, the Motoconcepts Yamaha team had the back half of the top twenty covered! That sound you hear is owner Mike Genova trying to jam his head in a hot tub jet.
20. Jimmy Albertson (15-20) Hon- Top Jimmy didn't have the kind of second race back ride he wanted but on the bright side (I'm Dr Phil!) he did make a very funny Pulpmx TV video that will be out later this week.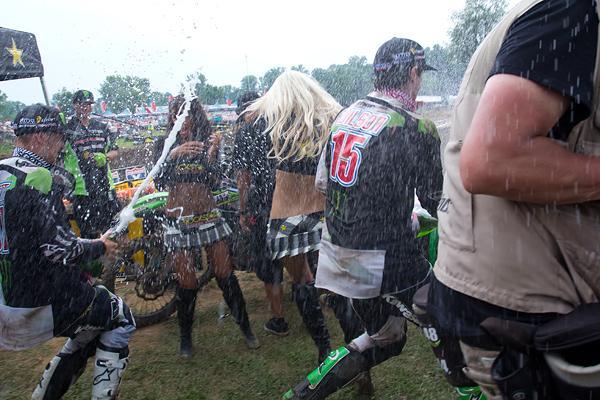 Pro Circuit celebrates yet another podium sweep.
Photo: Andrew Fredrickson
Kudos to MX Sports for the awesome stat package they put out each week, nice to see someone trying to help all of us fans get smarter. A few things that I noticed while perusing said stats on the airplane.
-Gareth Swanepoel has an average starting position of 18th (17.9 actually but who's counting?) and yet is eighth in the points. Good job right there because that starting position sucks.
-Justin Barcia has six(!!) holeshots this year and yet has very little to show for that incredible streak. Generally speaking, starts are a huge factor to how you do in a race (I know right, I'm a real Tony D) and it's amazing that Justin has done so poorly with it considering how fast he is.
-Andrew Short qualifies eleventh as an average but yet is seventh in the points so he's getting better once the gate drops which isn't surprising. By the way, he hasn't said anything to me but I get the sense that Short is getting frustrated big-time with this 350 in motocross. Just the little things he does and says to me indicates that he hopes these rumors of a 450 getting a revamping are true.
Thanks for reading, send me an email at matthes@racerxonline.com if you want to chat about this column or anything else for that matter.