RedBud MX
Buchanan

,

MI
RedBud Track 'n Trail
Lucas Oil AMA Pro Motocross Championship
10. TALE OF TWO TRACKS: After thunderstorms and heavy rain soaked Red Bud the two days before the race, there were puddles everywhere in the pits – but out on the actual Track and Trail, the deeply ripped soil hid much more moisture below the surface. Early morning heat began to dry the areas exposed to the sun, but slippery uncertain conditions were the order of the day... at least the first half of the day. Front-end washouts led to many crashes – Eli Tomac in practice and Justin Barcia, Ryan Villopoto in the first motos, and many more. It was no mud race, but the circuit was misleadingly slick, in spots, in several high-speed sections. Back in the switchbacks through the trees, though, there was no deception – the shaded ruts stayed moist and slimy, deep and dicey throughout the day. Wet track, dry track. Rinse and repeat.

9. UNCERTAIN TRACTION, UNEVEN RESULTS: Maybe it was the ever-changing track conditions, maybe it was the heat, maybe it was the holiday... for whatever reasons, the RedBud race results show dozens of uneven finishes. In the 450 class, start with Ryan Villopoto's unlikely 9-1 for third place overall and then work down the list: Mike Alessi's 8-4 for fifth isn't much of an anomaly, but there's Davi Millsaps taking advantage of a great start for a podium ride in the first moto only to plunge from eighth to 13th midway through the second moto with a twisted knee and wind up eighth overall. Just behind Millsaps was Kevin Windham, who had to ride from 35th place in the first moto to post a 12-6 after a much smoother second race. Windham's Team Honda teammate Josh Grant rode valiantly to a seventh in the first moto, then ran sixth for the first half of the second race before succumbing to the pain from his bad knee in the second moto. Grant dropped out with just three laps to go and was frustrated with a 7-32 score for 12th. Not to be outdone, Jake Weimer put his Kawasaki out front at the start of moto one and faded fairly gracefully back to a top five position. Alas, Weimer would then pull into the pits with a perceived engine problem that turned out to be a rock stuck in the brake pedal. He'd come back in the second moto for a top ten finish, but Weimer ended the day discontent, placing 13th with a 36-9. Butler Brothers rider Michael Byrne broke a chain in the first moto and was scored dead last, then came back to finish 11th in the second moto.

8. MOTOCONCEPTS MALAISE: In keeping with the theme above, the MotoConcepts team had yet a different look at RedBud – after a third personnel shift of the season. You can't get much further from offering Christophe Pourcel a high-profile contract to hiring a couple of journeymen privateers. Either effort could be applauded, but neither has delivered the desired result thus far. MotoConcepts brought in Pourcel for an abbreviated outdoor ride that produced a 7-11 first round and a 34-37 in the second. With Kyle Chisholm making the decision to step back with lingering supercross injuries, the team added Jake Canada and Ben Lemay for the RedBud round. LeMay – who'd finished 16th overall at both Freestone and Lakewood and 14th overall at Budds Creek – had been riding a Yamaha before picking up the MotoConcepts ride, and he went 16-16 for 17th overall. Canada – who'd just posted his strongest career ride at Lakewood with a ninth overall – was adapting to a new bike after campaigning a privateer Kawasaki. Canada managed 11th in the first moto. But a 30th in the second race dropped him to 18th overall, just behind Lemay. Still, the new additions did score just ahead of the MotoConcepts mainstay. Tommy Hahn had a miserable day, crashing out of the first moto and riding to a painful 12th in the second moto. That put MotoConcepts in 17th, 18th, and 19th for the day.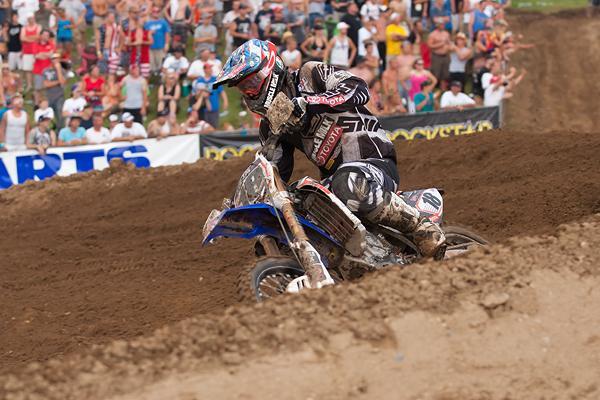 Millsaps had an up and down day at
RedBud
.
Photo: Andrew Fredrickson
7. BRAYTON TWICE AS GOOD THE SECOND TIME AROUND: RedBud went quite a bit better – three fourths better, to be sure – for the JGR Yamaha team. Davi Millsaps snatched the lead away from Jake Weimer early, and led for much of the first moto before winding up on the box in third. Unfortunately, Millsaps would tweak his knee midway through the second moto, severity unknown. Teammate Justin Brayton was also up in the mix in only his second week back with the tour. Brayton's 5-7 motos for sixth overall effectively halved his Lakewood results, where he went 14-10 for 10th overall.

6. BOX-VAN CHECK-IN: If last week was Jake Canada's privateer day in the sun, this week it was Scott Champion in the 250 class piloting his FMF-backed Honda to a career best 10th overall with 13-13 moto scores. Everybody's favorite privateer Darryn Durham had yet another hard-luck day when his results weren't matched by his speed. Durham raced hard to sixth in the first moto, but suffered a mechanical in the second. Durham's Eleven 10 Mods teammate Alex Martin dropped out after just four laps of the first moto, then came back to run 12th in the second moto.

5. COOL RIDE: Brett Metcalfe posted his strongest finish, a 4-5 fourth overall, since joining Team Suzuki with strong starts, solid rides, and a little extra insulation. Metty sparked a mild debate by "forgetting" that he left his cooling vest on when leaving the line for the second moto. Which is against the rules, of course, that dictate a rider's name and number be clearly visible on his back. There was probably a swing from performance advantage (when the vest was still cold) to decided disadvantage later in the moto (when the plastic began heating up and blocking the breeze). Nonetheless, Metcalfe was reportedly dealt the "don't to it again" admonishment penalty.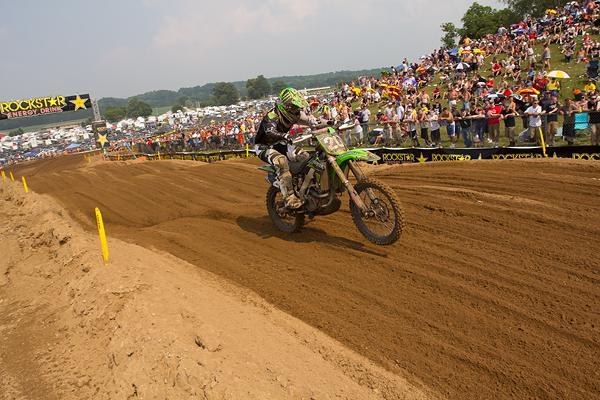 Is Tickle is starting to find his stride outdoors?
Photo: Andrew Fredrickson
4. BOYS IN BLUE: Almost lost in the shuffle of the Pro Circuit team's sprint to the front were the unswerving rides of DNA Yamaha's Ryan Sipes and Kyle Cunningham just a tick back. Sipes made a determined and rock-steady effort to hold off Blake Baggett and Dean Wilson in the first moto, intrepidly trying to hold onto a lead he'd inherited when early leader Justin Barcia went down. Shades of his solid 450 rides late last year, Sipes held his lines and kept his composure as first Baggett and then Wilson struggled to get by in the switchbacks through the trees. Though he eventually succumbed, Sipes held third until the end to secure his first moto podium of the season. Cunningham, meanwhile, finished just one spot back in fourth. In the second moto Cunningham would fare better, equaling his first moto result and just missing his second overall podium of the year with a 4-4 fourth. Sipes wound up 14th in the second moto and seventh overall. Cunningham moved into fifth in series points.

3. ODD MAN OUT: Broc Tickle did win a supercross championship for Mitch Payton. But outdoors, surprisingly, his results on the Pro Circuit bike aren't so much different – or better – than they were when he rode for the DNA team. Tickle finished seventh overall in the points chase last year, and following RedBud, he's just moved up from seventh to sixth in points. So far Tickle has only visited the podium once, for the first moto at Budds Creek. But while the newly crowned west coast indoor champ hasn't matched the speed of teammates Blake Baggett, Dean Wilson, and Tyla Rattray outdoors, he's also had to overcome more adversity. At the second round in Freestone, Tickle's bike broke and he carded a 39th place finish in the first moto. Then, three rounds later at Lakewood, a punctured radiator led to a 35th place finish in the second moto. It's not about the bike… except when it is. RedBud marked Tickle's third fifth place finish of the season, offset by ninth, 12th, and 15th place finishes at rounds one, two, and five.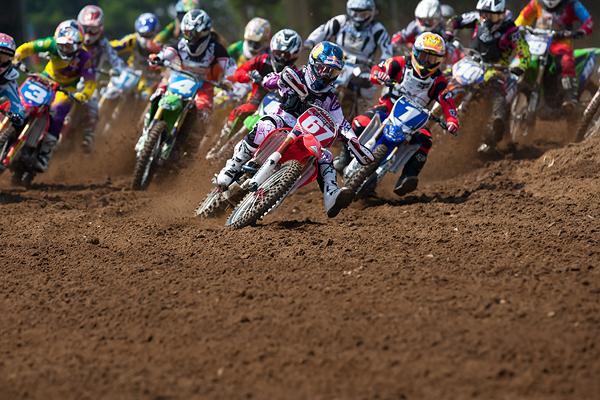 Fiolek stretched her points lead over Patterson at
RedBud
.
Photo: Andrew Fredrickson
2. TITLE CHASE TURNS: Michigan native Ashley Fiolek rose to the home-state challenge for a second successive year, outgunning title favorite Jessica Patterson in both Michigan motos to retain her hold on the points lead with the shorter WMX series also now halfway complete. One week after finishing runner-up to Patterson in both motos, Fiolek turned the tables by carding a 1-1 to Patterson's 2-2 finish to extend her lead to eight points with four rounds remaining in the women's series. Fiolek was nearly six seconds faster than Patterson in practice, then just half-a-second off of Patterson's race pace. Was Fiolek's speed hometown or newfound?

1. MUSICAL CHAIRS: As the first half of the schedule ends, the silly season begins in earnest. And the one man certain of having a seat when the music stops is Ryan Dungey. It's like a collage of images and sounds: Ryan Dungey's dad swapping stories with James Stewart Sr., and Roger DeCoster chatting up Ryan himself. Then Chad Reed talking about signing Dungey in the post-race press conference. Will RD go to his own semi under the Team TwoTwo banner? Will he go to KTM and accept a displacement disadvantage? Will he go to KTM and demand otherwise, and get it? Will he really leave Suzuki? Will James Stewart wind up riding a something new? Will the internet crack and break under the crushing weight of speculation?