RedBud MX
Buchanan

,

MI
RedBud Track 'n Trail
Lucas Oil AMA Pro Motocross Championship
While it may be teammate Darryn Durham on the privateer Eleven 10 Mods team that has gotten much of the attention, Alex Martin has quietly been putting in some good rides as well with a couple top ten overalls, and a sixth in moto two at High Point. Never having met Alex before, and knowing him only as Millville track owner John Martin's son, I realized that I had missed out – with his friendly and quietly determined personality Alex Martin is a pleasure to talk to. In the far corner of the Red Bud pro privateer pits, I tracked down the 21-year-old, currently 14th in the 250 Championship.
Racer X: Alex, let's begin with your thoughts on the outdoor series so far.
Alex Martin: Yeah, it's been pretty good, although I have had some ups and downs, it has been more ups – so that is good. I've put it in the top ten a couples times, and almost took a top-five finish in the second moto at High Point. That second moto ride was somewhat a turning point for me as far as confidence – it showed me that I could be up front with a good start. Overall things have been coming around pretty well for me, and things are looking up for the rest of the season.
Racer X Online recently conducted a poll on the site about who the most under-rated Lites rider was and you came in second place just behind your teammate Darryn Durham.
Yeah, I did get a chance to see that, and I thought that it was pretty cool! It would be pretty hard to finish ahead of Darryn in a poll like that because he is just killing it outdoors. I definitely would like to be getting some better starts, and do exactly what he is doing right now. That was very cool to see that poll like that because I do feel that I am often underrated – as well as the entire Eleven 10 Mods team. You read a lot about Pro Circuit/Monster Kawasaki, GEICO Honda, Star Yamaha, and Rockstar Suzuki – but they have been around for a while, and our team is relatively new. The guys behind this team are awesome; they work hard, and know what they are doing.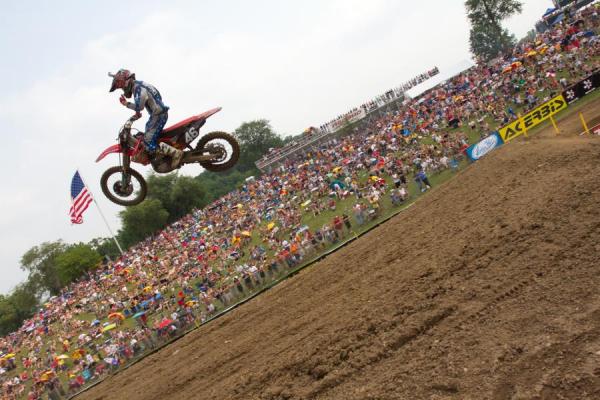 Martin currently sits 14th overall in points halfway through the season.
Photo: Andrew Fredrickson
Let's hear a bit more about the Eleven 10 Mods team that you're a part of.
Well, Chad Sanner at Eleven 10 Mods threw together a program that has really fit Darryn and I; it gets us to the races, and we have a very good bike under us. Darryn's dad, Chris, who is with PR2, has done an excellent job of getting us comfortable with our suspension set up. Overall, the bike package is good and has allowed us to be up front for the starts as you've seen with Darryn - and to be there at the end of the motos as well. Hopefully things will continue to keep coming around for us, and will be really good next year too!
You've ridden Hondas for a while now, right?
Yes. This is my third year as a pro - and that I've been riding Hondas. It's helped me by being on the same bike, especially in supercross since I know the bike so well and how it will react.
Speaking of supercross, you had a pretty solid season indoors this year.
It went pretty good. I learned a lot and improved my results.  So I was satisfied with it, but I had some pretty good crashes too – especially at Jacksonville where I went crazy in the whoops.
Alex, we touched in this a little bit earlier, but what do you feel that it will take you to get to that next step where you will be a consistent top-ten and potential top-five rider?
Right now I feel that it comes down to getting a good start. I know that my fitness is there, that second moto ride at High Point showed me that. It told me that I could run with these guys if I get a good start. Since then my mind-set has come around more, and I am thinking better, the way that I should have been thinking this whole time – that I can be closer to the front. I just need to get a good start, and be close to those guys in the beginning laps. Unless you are a multi-time champ, it is difficult to come from the back and slice through fifteen guys to get up front. A good start is critical in this series – along with the mental aspect. I've been really trying to work on both these things. You have to be very mentally strong, and believe that you should be up front. You are racing with the world's best motocross riders, but you cannot let that scare or intimidate you.
Very well said, Alex. Who would you like to thank?
I cannot give enough thanks to Chad Sanner at Eleven 10 Mods, Chris Durham at PR2 Suspension, FMF, Pro Taper, Rod's Power Sports, Husker Off-Road, Vortex Ignitions, Renegade Fuels, Von Zipper, and Zeta – those are the major ones. My personal sponsors are Shoei, Gaerne, and Fly Racing - Max Steffens at Fly has been awesome and helped me out a lot.