RedBud MX
Buchanan

,

MI
RedBud Track 'n Trail
Lucas Oil AMA Pro Motocross Championship
The contenders keep exchanging good motos and bad motos, the points remain close, and the Lucas Oil AMA Pro Motocross Championship heads into a mid-season break without a clear favorite.

This is what we love to see.

Last week Rockstar Makita Suzuki's Ryan Dungey won at Thunder Valley in Colorado, which gave the defending 450 class champion some temporary momentum in the series. It lasted but a week, as Chad Reed, who struggled in Colorado, bounced back to beat Dungey in the first moto at Saturday's Rockstar Energy Drink RedBud National in Michigan. That first-moto win proved huge, because Reed was able to take a third in moto two to win the overall for the weekend with 1-3 scores on his TwoTwo Motorsports Bel-Ray Racing Honda. Dungey went 2-2 for second overall, the second time in three races Reed edged Dungey with a first and a third over a pair of seconds. Meanwhile, Monster Energy Kawasaki's Ryan Villopoto crashed hard early in moto one and finished ninth, but came back with a strong moto win in the second race. His 9-1 scores made him third overall.

Pick a favorite out of those three riders? Impossible.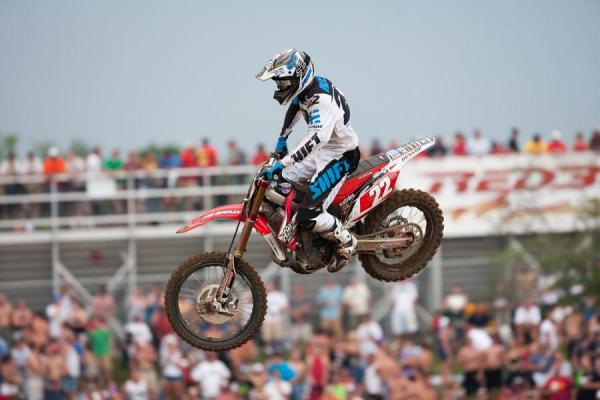 Chad Reed used 1-3 scores and smart riding to notch his fourth overall win in six races this summer.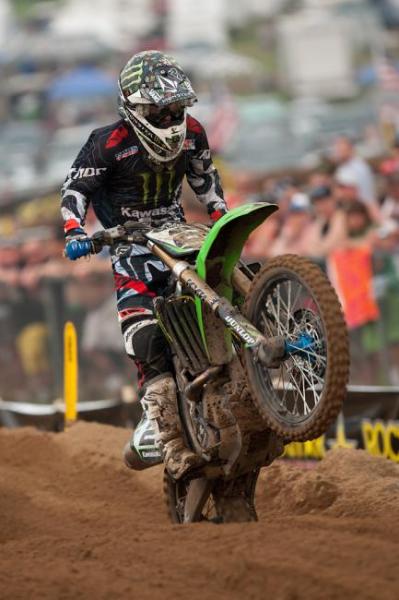 Villopoto crashed early in moto one and had to dig deep to come back to ninth. He still had enough left to take the win in moto two.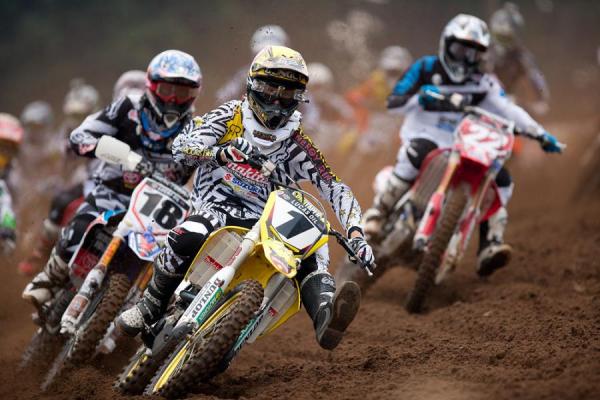 Ryan Dungey was consistent again with 2-2 scores, but he was edged for the overall, again.
Andrew Fredrickson photos
The 250 class experienced a change, but this one came because a rider matched his performance last week in Colorado. Monster Energy Pro Circuit Kawasaki's Blake Baggett proved he can win back-to-back by taking 1-1 scores to the RedBud overall win, his fourth win of the season, but his first back-to-back victories. While momentum is continually changing in the 450 class, the mo' is clearly on Baggett's side in the 250s. But he is not, however, the points leader, as his teammate Dean Wilson logged another consistent 2-2 day to hold onto his red plate. A third Monster Energy Pro Circuit Kawasaki rider, Tyla Rattray, went 5-3 for third overall and still sits second in points.

And perhaps the biggest swing took place in the Women's class, as Ashley Fiolek outdueled Jessica Patterson in both motos to go 1-1 on her American Honda Racing CRF250, relegating Patterson, who went 1-1 last week, to 2-2 scores. Fiolek still leads the DNA Shred Stix/Star Racing Yamaha rider Patterson in the standings.

In the first 450 moto, Monster Energy Kawasaki's Jake Weimer grabbed the holeshot, but Muscle Milk/Toyota's Davi Millsaps was quickly around him and into the lead. 'Saps led several laps, but at the halfway point Reed put his Honda around him, and Dungey quickly followed him through. Villopoto was way back after a lap one crash that also took down Tommy Hahn and Josh Lichtle. Hahn and Lichtle were unable to get back into the race. Villopooto was banged up, too, riding without a helmet visor, and eventually a rear fender or right-side panel. But he kept changing and eventually rallied to ninth.

Dungey kept the heat on Reed the entire way, and temporarily leaped past Reed on the final lap by taking an outside line through the sand whoops. But Reed stuck to the inside to edge Dungey at the exit of the corner, enough to get the lead back and hold it to the finish line. Millsaps took third.

In the second moto, Villopoto got a much better start—as in, the lead. Dungey got to the holeshot line first, but Villopoto held it on around the outside of the second turn, which set him up on the inside of turn three. He squeezed past Dungey and then logged some of the most aggressive laps of the day, opening up a gap and winning the moto handily.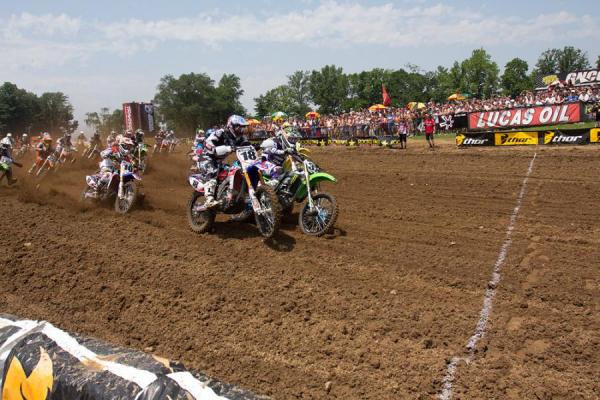 Weimer (32) and Millsaps (18) battle for the first moto holeshot.
Andrew Fredrickson photo
It was not enough to salvage the overall. Reed started third, but said he got held up when Dungey made a first-lap bobble, and then he made a mistake himself. Red Bull KTM's Mike Alessi pounced to move into third, pushing Reed to fourth. That was the end of Reed's bid for the moto win, as the veteran admitted that as soon as Alessi got him, he knew he would not be able to make a quick pass lost touch with the leaders. Reed eventually made the move, but the Ryans were gone, so he settled for a distant third, still enough to take the overall win.

"I got a good start (in Moto 2) and got into third," said Reed. "Dungey made some mistakes and I tried to get by, but then I made mistakes and Alessi passed me. At that point I knew I had to just settle down and be smart. I actually learned a lot today. I got my butt kicked last week, and we worked on suspension. Each time I went out on the track today, it was different. I learned a lot about my bike, and a lot about myself as a person about the decisions I need to make on race days. It's probably not a good idea to test during a race, but we learned a lot about the bike today."

"I felt good today," said Dungey. "It was just a little unfortunate. I wanted to run in contention with Villopoto, but I wasn't making it happen. Now we've got a week to work on things and get better. We'll just keep plugging away. At this point, points are valuable. I can't get stuck behind like that. I need to get up and go."

Dungey's teammate Brett Metcalfe put in his best performance so far this year to take fourth overall over Alessi.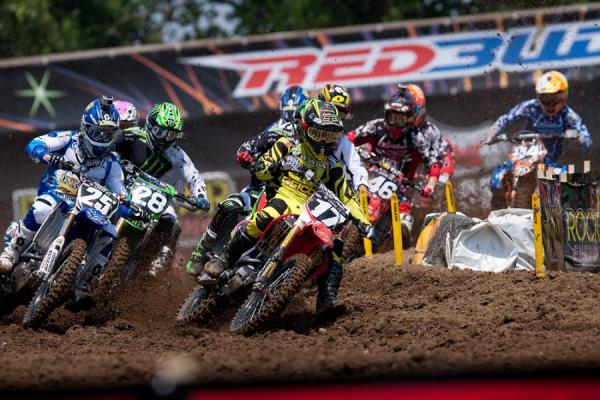 Barcia led early in the day, but crashes ended any chance of a moto win. Bike problems on the starting line of moto two prevented him from racing the second time out.
Andrew Fredrickson photo
In the 250s, GIECO Honda's Justin Barcia nailed the first-moto holeshot and set some blistering laps early. But he crashed hard on  the base of a jump a few laps in, handing the lead over to DNA Shred Stix Star Racing Yamaha's Ryan Sipes. Sipes held the point while Wilson tried holding off Baggett for second. Eventually, Baggett found some passing lines and made a move on Wilson for second, then tracked down Sipes and took the lead. He went unchallenged from there. Wilson passed Sipes in the sand whoops to take over second, Sipes held on for third. Rattray went down in turn two and charged from about last to get to fifth.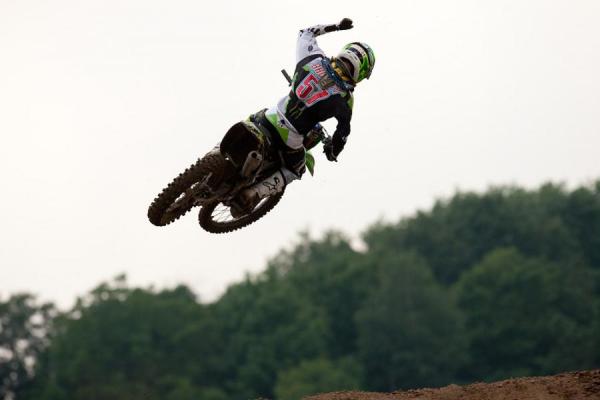 Baggett bagged his fourth win of the year.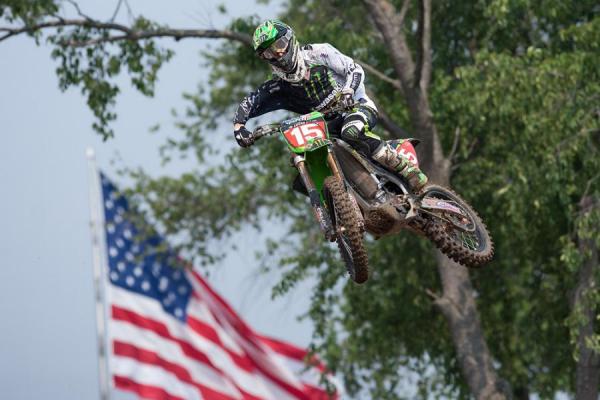 Dean Wilson was fast, but not as fast as Baggett.
Andrew Fredrickson photos
In moto two, GEICO Honda's Wil Hahn grabbed the holeshot in his return from injury, but before long Baggett and Wilson were around him. Wilson kept Baggett honest early, but at the halfway mark Baggett decided to drop the hammer, and logged unmatchable lap times. He pulled away for the win. Rattray had a better start this time and got to third, and at one point got within sight of Baggett and Wilson. But he made a few mistakes and let his young teammates pull back away.

"Going 1-1 is a pretty good day I'd say," said Baggett. "The championship is still really far out. Neither of my teammates has had a bad race yet, but if they do, I want to be there to capitalize. I just want to be there in the end, and if it happens, it happens. No matter what, I'm going to give it my all."

Kyle Cunningham was consistent with 4-4 scores and fourth overall, with the fourth Monster Energy Pro Circuit Kawasaki rider, Tickle, taking fifth overall.

After a weekend off, the series resumes at Spring Creek in Millville, Minnesota.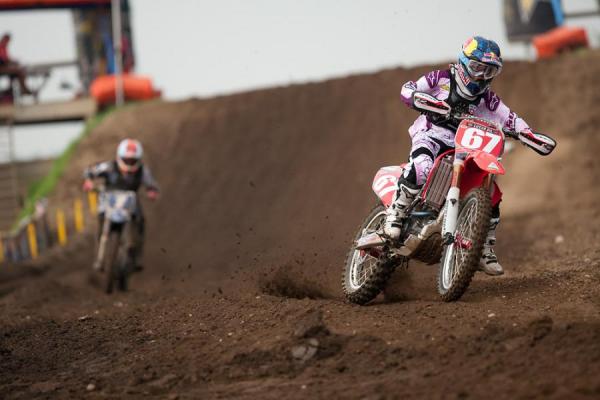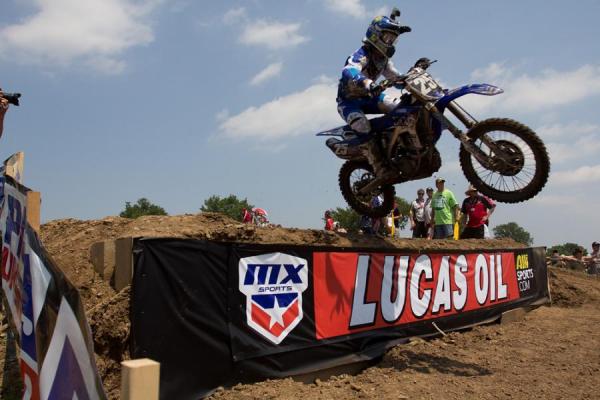 Ryan Sipes
led the first 250 moto for a few laps and finish up in third.
Andrew Fredrickson photos

Lucas Oil AMA Pro Motocross Championship
Rockstar Energy RedBud National
 - Buchanan, Mich.
July 2, 2011
Round 6 of 12


450 Class (Moto Finish)
1.    Chad Reed, Kurri Kurri, Australia, Honda (1-3)
2.    Ryan Dungey, Belle Plaine, Minn., Suzuki (2-2)
3.    Ryan Villopoto, Poulsbo, Wash., Kawasaki (9-1)
4.    Brett Metcalfe, Mannum, Australia, Suzuki (4-5)
5.    Mike Alessi, Victorville, Calif., KTM (8-4)
6.    Justin Brayton, Fort Dodge, Iowa, Yamaha (5-7)
7.    Andrew Short, Colorado Springs, Colo., KTM (6-8)
8.    Davi Millsaps, Murrieta, Calif., Yamaha (3-13)
9.    Kevin Windham, Baton Rouge, La., Honda (12-6)
10.    Christian Craig, El Cajon, Calif., Honda (10-10)
450 Class Championship Standings
1.    Chad Reed, Kurri Kurri, Australia, Honda - 268
2.    Ryan Villopoto, Poulsbo, Wash., Kawasaki - 252
3.    Ryan Dungey, Belle Plaine, Minn., Suzuki - 246
4.    Brett Metcalfe, Mannum, Australia, Suzuki - 178
5.    Davi Millsaps, Murrieta, Calif., Yamaha - 173
6.    Kevin Windham, Baton Rouge, La., Honda - 172
7.    Andrew Short, Colorado Springs, Colo., KTM - 130
8.    Christian Craig, El Cajon, Calif., Honda - 119
9.    Mike Alessi, Victorville, Calif., KTM - 115
10.    Jake Weimer, Rupert, Idaho, Kawasaki - 112

250 Class (Moto Finish)
1.    Blake Baggett, Grand Terrace, Calif., Kawasaki (1-1)
2.    Dean Wilson, Glasgow, Scotland, Kawasaki (2-2)
3.    Tyla Rattray, Durban, South Africa, Kawasaki (5-3)
4.    Kyle Cunningham, Aledo, Texas, Yamaha (4-4)
5.    Broc Tickle, Holly, Mich., Kawasaki (7-5)
6.    Wil Hahn, Wichita, Kan., Honda (8-6)
7.    Ryan Sipes, Louisville, Ky., Yamaha (3-14)
8.    Martin Davalos, Quito, Ecuador, Suzuki (11-7)
9.    Cole Seely, Newbury Park, Calif., Honda (9-10)
10.    Scott Champion, La Jolla, Calif., Honda (13-13)
250 Class Championship Standings
1.    Dean Wilson, Glasgow, Scotland, Kawasaki - 258
2.    Blake Baggett, Grand Terrace, Calif., Kawasaki - 244
3.    Tyla Rattray, Durban, South Africa, Kawasaki - 242
4.    Eli Tomac, Cortez, Colo., Honda - 176
5.    Kyle Cunningham, Aledo, Texas, Yamaha - 163
6.    Broc Tickle, Holly, Mich., Kawasaki - 143
7.    Justin Barcia, Ochlocknee, Ga., Honda - 137
8.    Gareth Swanepoel, Johannesburg, South Africa, Yamaha - 120
9.    Cole Seely, Newbury Park, Calif., Honda - 112
10.    Martin Davalos, Quito, Ecuador, Suzuki - 111

WMX Class (Moto Finish)
1.    Ashley Fiolek, St. Augustine, Fla., Honda (1-1)
2.    Jessica Patterson, Tallahassee, Fla., Yamaha (2-2)
3.    Tarah Gieger, Aguadilla, Puerto Rico., Honda (3-3)
4.    Vicki Golden, El Cajon, Calif., Kawasaki (4-4)
5.    Sayaka Kaneshiro, Osaka, Japan, Suzuki (6-6)
6.    Jacqueline Strong, Cottonwood, Ariz., KTM (5-7)
7.    Marissa Markelon, Bridgeport, Conn., Yamaha (9-5)
8.    Kasie Creson, Vallejo, Calif., Honda (8-8)
9.    Lindsey Palmer, Albuquerque, N.M., Honda (7-10)
10.    Jackie Ives, Visalia, Calif., Yamaha (10-11)

WMX Class Standings
1.    Ashley Fiolek, St. Augustine, Fla., Honda - 185
2.    Jessica Patterson, Tallahassee, Fla., Yamaha - 177
3.    Tarah Gieger, Aguadilla, Puerto Rico., Honda - 148
4.    Jacqueline Strong, Cottonwood, Ariz., KTM - 108
5.    Kasie Creson, Vallejo, Calif., Honda - 98
6.    Marissa Markelon, Bridgeport, Conn., Yamaha - 97
7.    Vicki Golden, El Cajon, Calif., Kawasaki - 95
8.    Sayaka Kaneshiro, Osaka, Japan, Suzuki - 83
9.    Lindsey Palmer, Albuquerque, N.M., Honda - 83
10.    Sara Price, Canyon Lake, Calif., Kawasaki - 79
11.    Alexah Pearson, Rocklin, Calif., KTM - 79