RedBud MX
Buchanan

,

MI
RedBud Track 'n Trail
Lucas Oil AMA Pro Motocross Championship
In a season where the three fastest riders in the game are pushing each other every weekend, it's never been harder to make a podium in the 450 class. A bunch of riders have been pushing hard and going fast, but a spot on the box isn't going to be easy to get. One such example is Motoconcepts Yamaha's Tommy Hahn, who has logged some solid rides this year, but hasn't yet been able to put it altogether. For this week's Between the Motos, we check in with Tommy to see how his season has been going.
Racer X Online: T Hahn, it's been an up and down couple of weeks.
Tommy Hahn: Yeah I know it's been rough, but we're figuring things out one thing at a time.
So are you bummed with the results this year or happy?
I am happy. I have been happy with the way I have rode all year, I just haven't got real good starts. I've been coming from way back to seventh every moto. I just needed to get some starts. I got a couple of good starts lately and got up there with the guys and now I know that's where I need to be.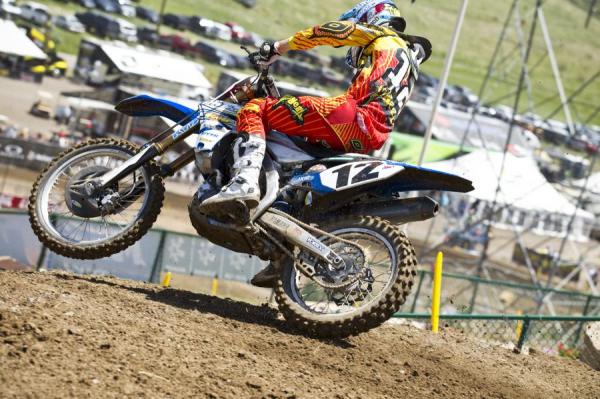 Hahn currently sits 11th in points, six behind Christian Craig.
Photo: Garth Milan
Earlier in the year, you thought you might have an advantage because you were working on outdoors pretty early, instead of focusing on supercross. Has that paid off for you?
Yes and no. I think I came in in shape and ready to go, but I need to get a little faster like raw speed and stuff. So I have been working on that and really just trying to work hard but not burn myself out.
How do you work on raw speed? That's like the ultimate question for every rider.
Sprints. Quality sprints basically. I do a couple of motos of sprinting. I don't want to give my whole program away because everyone will start doing it. I'm pretty much the gnarliest dude out there, so let's just leave it at that. (Laughs)
[Laughs] What happened at the first moto at Budds Creek? It looked like an easy crash but obviously it was not.
No, it actually was the easiest crash in the world. That is why I was so pissed that it could happen. It basically just tweaked some old injuries from Supercross. The doctors were worried about my spleen because I got the cross bar into my stomach and it actually made me throw up. So they were kind of worried about my spleen so better safe than sorry I guess.
When did you know that you would be okay to go for Colorado?
Well, I wanted to race the second moto at Budds, but they were talking about my spleen and stuff and I got kind of freaked out. I ended up bruising the cartilage in my ribs that I torn away from my ribs in Supercross. It didn't take much to tweak it. I was worried about the spleen so I went and got that checked out, it wasn't something that I couldn't ride with so I was ready to get back out there.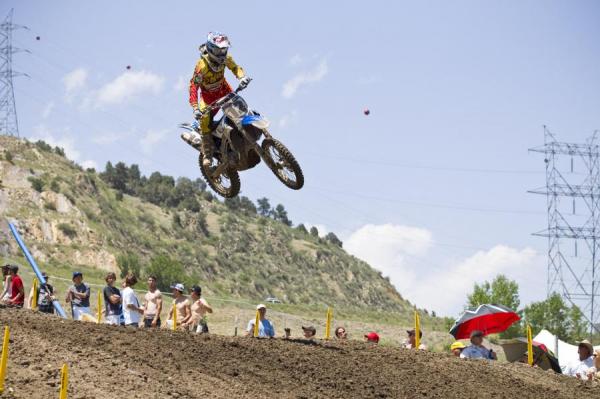 Hahn finished sixth overall at Thunder Valley, with 11-5 moto scores.
Photo: Garth Milan
You were in 38th early in Colorado because you went down on the start. What happened there?
I lined up on the very outside gate and took a gamble. I pretty much came from the very outside, sweeping across the start, and actually had about a top five start. I kind of chopped the throttle to make the turn a little bit better, as soon as I did that the front wheel dug into the ground and I went over the bars. And that was it, I took a bunch of people out with me and got up in 38
th
. It took forever to get my bike started and get everyone untangled.  I rode about four laps before I caught the first person and put on a charge until I saw the checkered flag.
Did you have anything left for the second moto with the altitude and pushing that hard in the first moto?
I didn't really feel the altitude. I haven't felt it the last couple of years. I feel like I adapt well to it.  I had plenty left for the second moto, I was able to get to fifth from about a 12th place start and I passed some really good guys to get up into fifth and pulled away a little bit. I kept my sights on Windham and just kept going after him. My fitness fells great and I feel that I can ride two motos hard and that's the goal.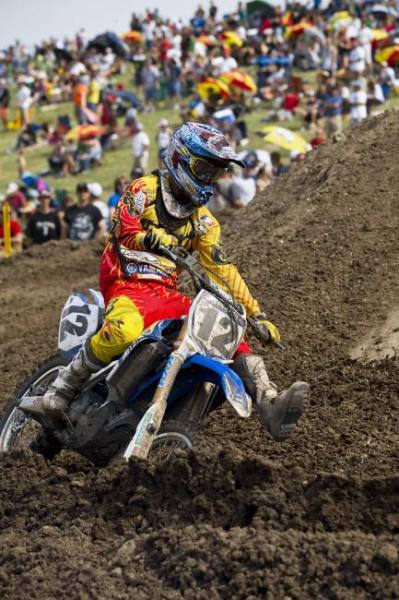 Can Hahn reach the podium before the year is up?
Photo: Garth Milan
The problem this year for anyone in the 450 class is that you have three guys up front pushing themselves to new limits. What becomes a realistic goal for you?
Those dudes are on another level right now. Besides Chad, the two Ryan's have been on the same bike for the past few years and they really know the bike and I think that helps a lot.  I think Chad has figured his bike out real well and he really likes it and that is huge too. I struggled at first with my bike because the Yamaha is different, than the rest of the bikes. Not better or worse it's just different. Once I learned out how to ride it the way it needs to be ridden, I have been doing a lot better.  I know what to expect and know what it's going to do now. I am not saying that is the only reason why they are going fast because they are always going fast. But I think that they are really familiar with their routine and they know what it is going to do so they have every confidence and they know exactly what is going to go on the whole race so they can ride however they want.
What are your goals results wise?
It is going to take a lot for me to get on the box. It is going to take a mistake from the first three for me to get on the box.  I am not happy unless I am top five and that is a realistic goal for me, obviously because I have been up there now the past couple races and actually finished fifth. That is something that I'm not going to be happy with until I'm up there consistently. I got it in me and it is just a matter of me putting it up there.