Lakewood, CO
Thunder Valley Motocross
Lucas Oil AMA Pro Motocross Championship
This week the circus known as the Lucas Oil AMA Motocross Championships set up its big top in Lakewood, Colorado for round five of the series. The Lakewood track is one that's great for viewing as well as nice and convenient to the city of Denver and oh yeah, it's a mile plus up from sea level, which makes it seem like the sun is not only closer to you but literally right behind your head cooking you slowly like a Thanksgiving Turkey.
The track at Lakewood is a pretty good one, it's not real challenging but the elevation and the heat make it a tough track. They don't go all bonkers with the sand (but don't get me wrong, there is a fair amount dropped onto it) everywhere and by the second moto, the track is pretty hard pack and has some serious ruts in the turns. I was happy to see that they left the MXDN track changes in when I showed up, the area behind the start adds some length and intrigue to the track and the triple step-up, while made a bit easier than it was at the MXDN, was a cool thing to see.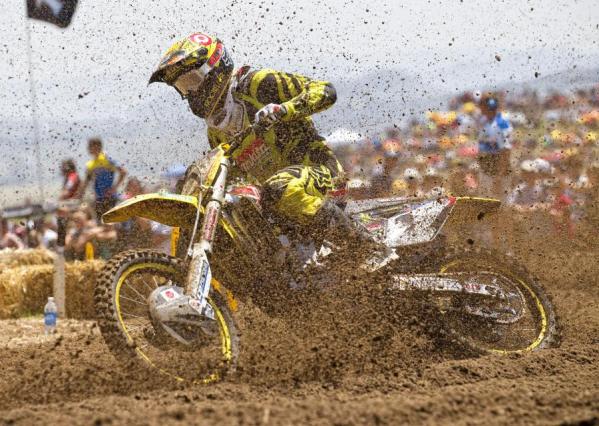 The wait is finally over for Dungey.
Photo: Garth Milan
The elevation makes it tough on the riders but it also taxes the machines as well. Early on when the teams first went there and had carburetors, there were a lot of issues with the jetting although most of the factory teams had it down pretty good. The next thing they found was that too much octane in the gas caused the fuel to boil or break down which caused the bikes to run poopy. The hot trick for a year or two was to just run pump gas, the cheapest kind, and the bikes would run pretty good. Nowadays with the EFI and the fuel a little better, the teams remap the machines to produce a bit more power and are pretty much good to go. The riders however, they still need to do their homework to do well at Lakewood.
Man, Ryan Dungey had done just about everything a man can do to win a race without actually winning a race. He's led races, he's been right behind the leaders, he's even had a bike problem one and a half stinking laps away from winning a national. In short, he's been right there but sort of like his supercross season, it's just out of reach of his fingertips. Well, not any more. In the first moto we saw The Dunge chase after Ryan Villopoto and get close, but not close enough to win. In the second moto, he passed early leader (and series points leader) Chad Reed and grabbed the lead.
But uh-oh, in second was Villopoto and he was on the move. This was a play that we had seen the ending of before right? Nope, Dungey held serve the rest of the moto and whatever Villopoto could get in the front half of the track, Dungey would get it right back in the second half. It was an interesting game of cat and mouse not unlike what Dungey and Reed did in Texas in the first moto. Every time a guy would charge, the leader had an answer for it. Great race by Dungey in going 2-1 for the win and it's got to help out his confidence which I refuse to believe wasn't shaken early on in the nationals.
And if you're Dungey, you have the big picture in mind of the championship so yeah, sure you'd like to make up points on RV but you did make up seven on the points leader and that's what's important. At least this is my theory anyways.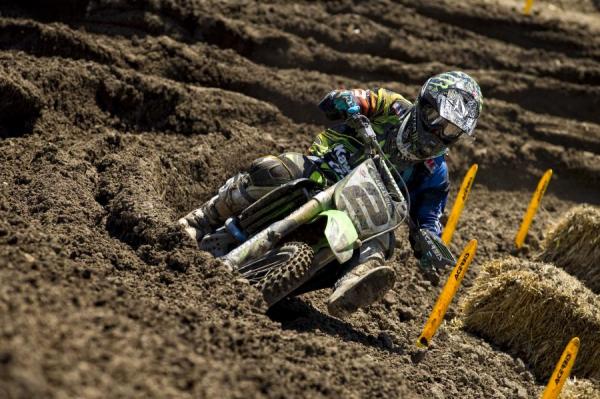 Villopoto won yet another first moto at Thunder Valley, but failed for the fifth time this season to win the second moto.
Photo: Garth Milan
Ryan Villopoto has now won three straight first motos which is great but the flip side to that is he has also lost five straight second motos going back to the start of the year. He's got nothing to be ashamed of this weekend, he rode great and Dungey rode a little greater. Both guys were so far ahead of everyone else in both motos, they should pat each other on the back (Ha! Fat chance of that). RV is fully recovered from the early season lack of testing/being sick malaise that he was in and is on the gas. There is really nothing to say about Dungey/Villopoto that hasn't been said, they are so close it's ridiculous. Whoever gets the start seems to be able to win.
I can't quite figure out Chad Reed right now. We saw him come out at the first rounds and light it up in taking some wins and last week at Budds Creek, he got soundly trounced in the first moto by the Ryan's. Then in an impressive turnaround, he comes out in the second moto, withstands an attack by Dungey the entire moto and wins the race. It's odd to see a guy get waxed that bad and come back to win the next race an hour later. Trust me, I saw it with Ricky Carmichael my entire career as a mechanic.
This weekend, at a track that he's never done that well at (even in his championship year on Suzuki, he struggled with his stomach problems and was out of the top three) he went 3-3, which seems ok but he was gapped pretty bad. So here's the riddle Batman…did he know that he didn't have a chance (like he told me about Budds first moto) and he backed it down to settle for a third? Or was he trying as hard as he can and those guys still worked him over? I will take the first one for $100 Alex because there's no way he gets beat by 43 seconds (first moto) and 1:03 (second moto) if he's trying his hardest.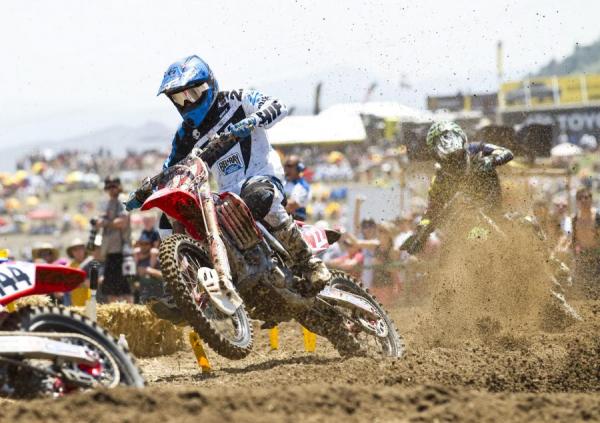 Thunder Valley marked the first time all season Chad Reed has not won at least one moto.
Photo: Garth Milan
Is there? See I would think that, with motocross being such a mental game and all, that Reedy wouldn't want the Ryan's to think that they have him covered and get confidence but then again, maybe Reed's backing it down to give the Ryan's confidence so that he is confident that they're overconfident. My brain hurts now thinking about all this.
Blake Baggett at Hangtown? Good. Blake Baggett at Texas? Bad. Blake Baggett at High Point? Good. Blake Baggett at Budds Creek? Bad. So as you can figure out, Lakewood was scheduled to be a good Blake Baggett race and that's exactly what it was. El Chupacabra sucked the life right out of the rest of the 250 class with a commanding 1-1 day to win his third race of the season.
Baggett was the man on this day and this weekend at RedBud, he's either going to win again and break this little streak or he's going to corkscrew himself into the ground because he'll be trying so hard to not have a bad race that he will. I guarantee you he knows his pattern so far this year and he's wondered why it's been happening.
I feel like the 250 class just saw Tyla Rattray's worst race of the year. A 5-5 day, coming back from bad starts is about the worst that's going to happen to the South African. Rattray lost the red plate signifying him holding the points lead but I'm sure he's not worried about it, he knows that he was off and I'd look for a strong race from him this weekend. He's down in Florida right now staying with Villopoto and Weimer so I predict he'll take his game to the next level.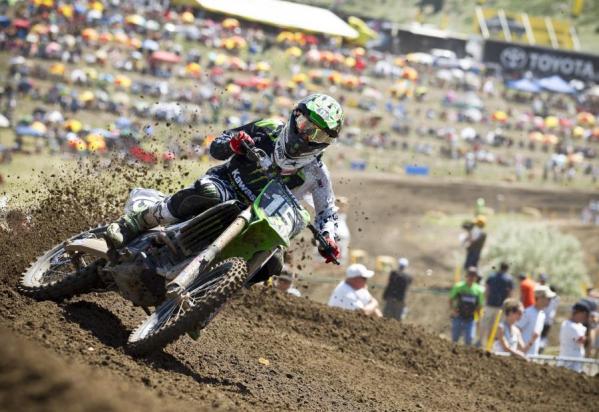 You're new 250 points leader, Dean Wilson.
Photo: Garth Milan
Amazing that Dean Wilson, like Ryan Dungey until this weekend, had not won a race this year. Wilson's done just about all a guy can do without getting a win but he does have the red plate which means he's the points leader.
And while I'm at this whole red plate thing, how much better is the outdoors in the whole red plate thing? Imagine if supercross moved it around like the outdoor guys do? We'd have all these different guys with the plate but nope, they just make the series champion run it the whole year and leave it at that. You would think that the sx guys, who are sanctioned by the FIM and seeing as how the FIM guys were the first to award the points leader the red plate, would want to see the supercross guys do it the way they do but nope. Maybe I'm just tired of answering tweets and emails from confused fans asking what the deal is with the red plate? Maybe I'm just bitter?
Anyways, Wilson. Yes, back to him. I predict that like Dungey did this weekend, Dean Wilson wins this weekend at RedBud. Stamp it.
How about Monster Pro Circuit Kawasaki winning every 250 national this year and having the top three guys in the points and really, truthfully having no one close to dethroning them? It's like in supercross Mitch Payton saw Eli Tomac come this close to winning the west and saw Justin Barcia win the east and he decided that enough was enough. Somewhere he found some extra HP's laying in the corner and decided to unleash them on the rest of the field.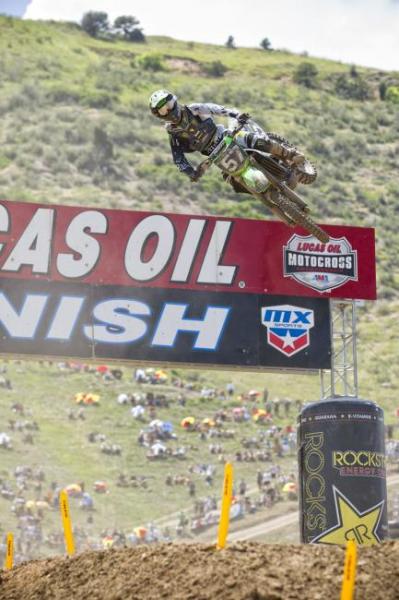 Baggett's win made it five in a row for PC.
Photo: Garth Milan
Pro Circuit is an advertiser over on Pulpmx.com and with each win, they send over a new banner at the top of the page trumpeting their victory. The only guy busier than Payton is the guy changing my banners every week with the new win!
Rumor was this weekend that Mitch Payton was close to re-upping with Kawasaki for the next five years to run their 250 program and as well, one of the stipulations was that the 450 factory team runs PC pipes on their team. This makes sense in the fact that FMF no longer has any badges on the factory teams bikes due to a conflict with Monster Energy and one would think that the factory 450 team would need a new exhaust company next year. I would think that whatever beefs there were between Kawasaki and Payton with the exhaust issue this year have been worked through and it's a win/win thing for both sides.
Darryn Durham continued his strong privateer season with a nice fourth overall. DD has actually not had results on paper that indicated how good he'd been riding this year. While running up front, he's crashed and had some bike problems here and there. At Lakewood, he nailed down two solid finishes and good for him. Rockstar Suzuki has taken notice and Durham test rode the bike this week with an eye of signing with them for 2012.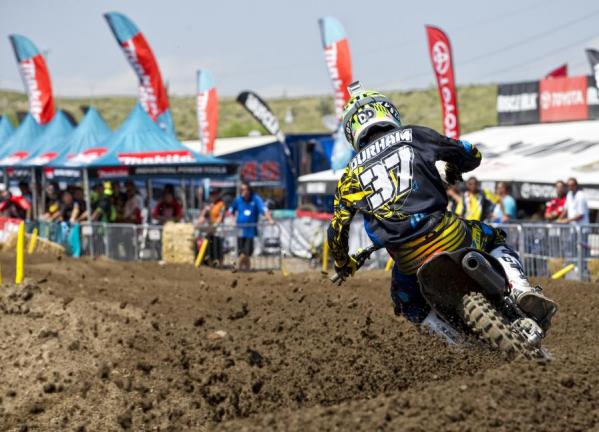 Durham continues to impress.
Photo: Garth Milan
Silly season is definitely rolling right now; pretty much we'll see where the big fish AKA Ryan Dungey lands. Suzuki would probably like to re-sign him for sure, KTM is going for him as is JGR. Two-Two Motorsports has had some conversations with Ryan as well to put him on a factory Honda (which Honda has reportedly promised) and out of his own truck. This would take some serious sponsors but if anyone could do it and bring them in, it would be Dungey and his new representative IMG who are massively connected with Fortune 500 companies.
Stuff I'm hearing that may or may not be true is that Valli Yamaha is talking to Josh Hansen (which I hear from someone that would know but seems strange to me because Hanny went after the team manager in Las Vegas late one night), Motoconcepts may switch bike brands, Mike Alessi is shopping around as every deal of his (clothing, OEM) is up, Wey will probably re-sign with the Valli guys, JGR may switch OEM's and generally a whole bunch of stuff will be rumored to go down and some of it might actually happen.
Andrew Short had his best race of the year at his home track (sort of) in his home state. I spoke to Shorty briefly before the day began and he was telling me how awesome Colorado is and how he likes to be home. It sort of reminded me of myself going on and on about Canada but then the whammy retort to dudes like myself and Shorty are "If you liked it so much, why did you move?" and after that, it's the sound of crickets.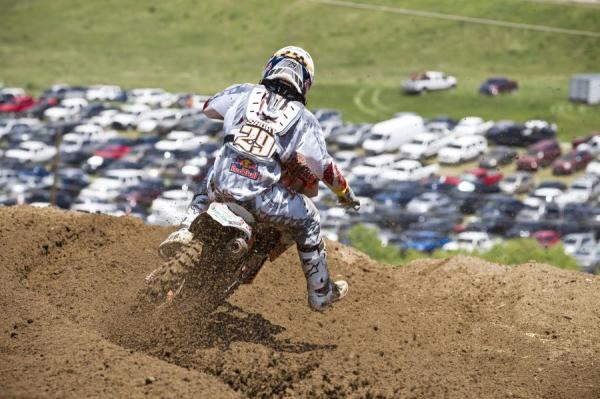 Short had his best race of 2011 in front of his home town fans.
Photo: Garth Milan
On the underpowered KTM 350, Short went 7-8 for fifth overall and it's about time something went his way, it's been a rough start for the blond warrior and it's hard to come down on Andrew with the stuff that's been going on at home with his newborn son Hudson who has had some problems with his eye. It was only a little while ago on this very track that Shorty had what might have been his greatest day in the sport when he rode for Team USA and won the MXDN.
Tommy Hahn had a great race in Colorado as he fell in the first turn in the first moto and was pretty far back before he got going. Hahn charged hard all moto and ended up in eleventh. His lap times were very good as he cut through the pack. Second moto, and here's where crap normally goes sideways for Hahn in 2011, he rode strong for a fifth. With the Pourcel thing going sideways, his teammate Kyle Chisholm still struggling to get back to where he was after a scary crash, team Motoconcepts Yamaha really needed this ride from T-Hahn.
A few years ago a guy named Sean Collier showed up at Lakewood and put it in the top ten and then promptly disappeared. In honor of Collier, Jake Canada did the same thing with a couple of great rides. Canada, who's not from Canada no matter how hard I try to make jokes about it every weekend in supercross, is usually a 250 guy who rides west coast supercross. But whatever it was that made him change his mind, it was a good idea because on the 450 Kawasaki, Canada made the top ten overall. He was solid both motos and a couple of guys in the managers tower with me thought he was a lapper before I informed them otherwise. Canada will get a national number out of this ride so he'll drop the #592. It would be cool if he got number 67 in honor of the year 1867 when Canada officially became a country. Oops, there I go again.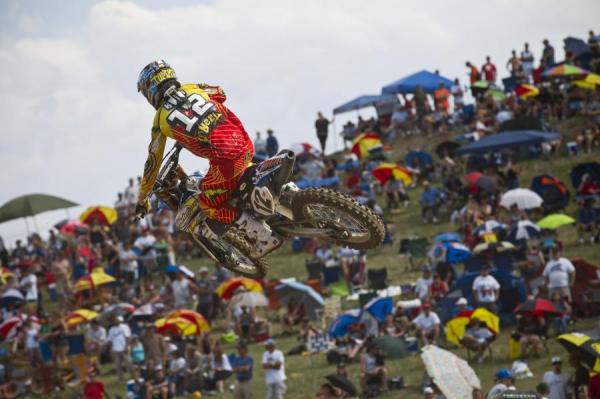 Thunder Valley marked the best race of 2011 for Tommy Hahn.
Photo; Garth Milan
Let's take a look at the results shall we?
250 Overall
1. Blake Baggett (1-1) Kaw
2. Dean Wilson (2-2) Kaw
3. Eli Tomac (3-3) Hon- Tomac is from Colorado but as he told me, he grew up 7 hours from Denver and never really raced or rode there. So there wasn't any sort of hometown advantage for Eli in him going 3-3 for third. Good ride for Eli, he needed it.
4. Darryn Durham (4-6) Hon
5. Tyla Rattray (5-5) Kaw
6. Ryan Sipes (15-4) Yam- Sipes made his return to the track and proved that he hadn't lost anything. If he keeps it on two wheels, he could eff up this title chase for the other dudes.
7. Malcolm Stewart (13-7) Suz- Mookie Fever! Catch it!
8. Travis Baker (10-10) Hon- Best ride of the year for Baker and it's good to see. T Bakes is a good dude who seems to be trying hard.
9. Justin Barcia (9-12) Hon- Barcia was better than a 9-12 but he crashed a few times.
10. Alex Martin (11-13) Hon- Another solid ride for Martin and the only other true privateer to make the top ten is teammate Durham. (Both on the Eleven10Mods team.) How many CRF250 motors do you think Eleven-10 has been flooded with from amateur mini dads in the last few weeks? 345? More?
11. Nick Paluzzi (14-11) Suz
12. Cole Seely (8-17) Hon
13. Nico Izzi (12-15) Hon
14. Gareth Swanepoel (6-21) Yam- Another good moto, bad moto from Swanepoel but still, he's been better than I thought he'd be.
15. Broc Tickle (7-35) Kaw
16. Kyle Cunningham (40-8) Yam- Cunningham had a spark plug problem with his bike in the first moto. Yeah, that's it. Spark plug.
17. Martin Davalos (36-9) Suz- Bad day for Davalos as crashes set him back.
18. Mathew Lemoine (17-14) Kaw- Ever since we had Lemoine on the Pulpmx Show, Matt has been struggling a bit. I hope he didn't go into a funk over being on the show.
19. Scott Champion (19-16) Hon
20. Gannon Audette (16-33) Yam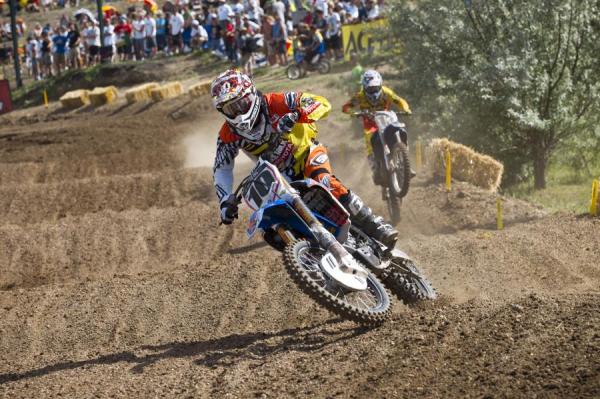 Justin Brayton finished 10th overall in his first race of 2011.
Photo: Garth Milan
450 Overall
1. Ryan Dungey (2-1) Suz
2. Ryan Villopoto (1-2) Kaw
3. Chad Reed (3-3) Hon
4. Kevin Windham (4-4) Hon- Solid day for the old guy and I thought he might even get Reed late in the second moto.
5. Andrew Short (7-8) KTM
6. Tommy Hahn (11-5) Yam
7. Brett Metcalfe (9-7) Suz- Metty rode pretty good, he probably wasn't happy with his results but he came from outside the top twenty both races.
8. Christian Craig (6-15) Hon-  Another good race from Baby Stingray, he came from 31st in the second moto to 15th.
9. Jake Canada (10-13) Kaw- Oh Canada indeed! Sorry…
10. Justin Brayton (14-10) Yam- Good comeback ride for Brayton. Last week Josh Grant got tenth in his first ride back and JB did the same. Nothing wrong with it.
11. Nick Wey (13-11) Yam
12. Jimmy Albertson (12-12) Hon- Top Jimmy is back! And we all thought Grant was coming back from a long time off, he raced the main at Anaheim 1, Jimmy didn't make it out of practice.
13. Ricky Dietrich (8-17) Yam
14. Mike Alessi (5-37) KTM
15. David Millsaps (24-6) Yam
16. Ben LaMay (15-14) Yam
17. Michael Byrne (22-9) Suz- Best moto of the year for Byrner.
18. Jake Weimer (19-16) Kaw- I saw Weimer after the day and commented that it wasn't good for him. He said it was a blur of crashes but the worst one was in the second practice.
19. Travis Sewell (17-20) Yam- A Flying Sewell brother again makes the top twenty.
20. Tye Hames (16-31) Hon
Josh Grant came back last week from a knee injury and rode good to get a tenth. This week he twisted his other knee in the first moto while in tenth and pulled out for the day. I hope it's not serious but it seems like it is. Josh needs a bit of good luck in the worst way.
Thanks for reading, send me an email to matthes@racerxonline.com if you want to chat about stuff.