Thunder Valley Motocross
Lakewood

,

CO
Thunder Valley Motocross
Lucas Oil AMA Pro Motocross Championship
Shane Schaefer from Schaefer built tracks helped work on The Thunder Valley track. A few sections had changed since last year's AMA National, most notably the new mechanic's area, which was made to accommodate the Motocross of Nations. In the past, the track hooked back onto the start after the finish line, but now it snaked back across the back of the start, similar to a supercross layout. The Lakewood track started out prepped up like many of the other national tracks this year—sand softened the soil and held the moisture in the early motos. It also led to deep ruts, and then later in the day that soil began to harden, so the ruts were treacherous. But you can't argue with the amount of lines that could be used to make passes.
Kevin Windham was back in action after saying he'd be out of action starting this weekend. "We just had too much fun," said Windham about his comeback, which could go on for, well, he's not sure how many more races yet. Honda had said all along they would be ready to host three bikes under their tent in case Josh Grant and Trey Canard both return, but they also provide a bike for Chad Reed, which could mean up to four CRF450Rs to prepare for a squad that only planned on having two riders in the first place. If everyone were to be racing, that would mean a lot of work for the crew, but they're not going to hold K-Dub out if he wants to race.
Then the good news of getting Windham back was offset by the bad news for Josh Grant, who crashed in practice and tweaked his knee, then popped the knee out in the first moto. It's not the same knee that was surgically repaired earlier this year. Grant is getting the knee looked at this week and we'll post more whenever further information is available.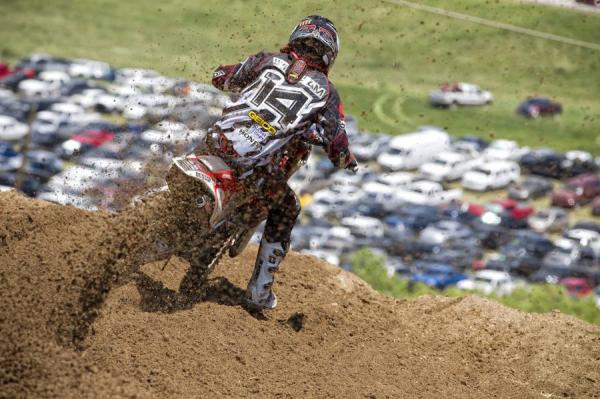 How long will Windham stay around for this summer?
Photo: Garth Milan
Several of the top 450 riders had a tough time logging two solid motos. Monster Energy Kawasaki's Jake Weimer crashed twice in the first moto and then went down in turn one of the second moto, resulting in 19-16 scores and 18th overall. It's been a tough summer like that for Weimer. When he crashed in the first race, Davi Millsaps ran into him, resulting in a broken front brake for Millsaps, who then had to pull into the pits for repairs. He ended up 24th in that moto and bounced back for sixth in moto two, giving him 15th overall. Millsaps, a Muscle Milk/Toyota JGR rider, also won the $500 Muscle Milk recovery award for making the biggest improvement in his first and second moto results.
Tommy Hahn also had a much better second moto than first on his MotoConcepts Yamaha. A first turn crash in moto one put him in 38th place early, and he charged back to 11th. In moto two he scored fifth to collect sixth overall. Meanwhile Red Bull KTM's Mike Alessi took fifth in moto one after a close battle with Windham, but crashed out in a pileup with Weston Peick and Kyle Chisholm in moto two. Chisholm, who is still recovering from a tough crash in supercross, didn't finish the race, and Peick finished 32nd.
Tough break for
Josh Grant
this weekend as he injured his other knee at
Thunder Valley
.
Photo: BrownDogWilson
In the 250 class, several riders had small mechanical glitches, including Kyle Cunningham, who DNFed moto one but came back for eighth in moto two. Martin Davalos also had a problem in the first moto, but the team fixed the bike and sent him back out several laps down. Davalos may be the first rider in history to do a mid-race interview with TV reporter Erin Bates and later reappear in the race! He finished 36th and came back for a ninth in moto two.
GEICO Powersports Honda rider Lance Vincent had brake troubles in the first 250 moto, but the rookie got a good start and turned in the ride of his life in moto two, battling Ryan Sipes and Dean Wilson hard for second. Then mechanical troubles set in again. Vincent's 22-36 scores did not at all show his true speed.
Davalos did a mid-race interview in moto one, and still finished 36th.
Photo: BrownDogWilson
Vincent is a replacement rider for the injury-riddled GEICO Honda team, but they will finally get one of their injured riders back in Wil Hahn, who should be racing at Red Bud. Blake Wharton attended the race but is still a long ways off from racing after multiple shoulder surgeries.
And no one has played the replacement-rider card better than South Carolina's Les Smith, who filled in for Justin Brayton at Muscle Milk/Toyota JGR for three races, and then picked up a spot at Rockstar Suzuki at Lakewood. Smith had never ridden a Suzuki until Saturday morning practice. He went 21-19 for 23rd overall. Smith is filling in for the injured Hunter Hewitt, who is filling in for the injured Ryan Morias. Meanwhile, Jason Anderson's bike sat idle for the weekend while Anderson was dealing with, according to team owner Bobby Hewitt, "personal issues."
Privateer Jimmy Albertson made his return from a knee injury that occurred at the very first practice at the very first supercross of the year this weekend. The number #108 Honda rider had more than respectable finishes of 12-12 for, yep, 12th overall. Last season Albertson went to Europe to race the MX1 GP's and he eventually returned home partway though that season when it wasn't working out. The season before that, Albertson rode for the Valli Yamaha team and ended the year tenth overall in the 450 class. Let's hope that the Merge Racing Honda rider can keep on getting solid results the rest of the this summer.
Jimmy Albertson
made his 2011 debut this past weekend.
Photo: BrownDogWilson
One rider that struggled at Lakewood is Motoconcepts Yamaha's Kyle Chisholm who is still recovering from his injuries suffered at the Houston Supercross. Chisholm badly bruised his lungs at that race and they aren't at capacity quite yet which made breathing at the over one mile elevation of Lakewood something that was tough to do. Chisholm knew it was going to be a tough day going in and pulled out shortly into moto one and didn't start the second race.
Maybe BTOSports.com/BBMX's Michael Byrne turned a corner with his strong 9th place finish in the second moto of the 450 class this weekend. Byrner travelled up to New Hampshire to get in some suspension testing with his sponsor Factory Connection before High Point and although that race was rough, Byrner was up there this weekend in the first moto before having to stop to get mud out of his rear brake. And like we were saying, the 9th place in the second moto was his best moto of the outdoors. Let's hope that upward trend continues for Byrner and his team.
A ride that mostly stuck to riding the 250 west SX series, Jake Canada, came out and rode what we believe was his first ever 450 national at Lakewood. Canada (who is not from Canada but California) had an amazing day as he went 10-13 for 9th overall and top privateer on the day. And with this great ride, Jake will probably get to drop one digit from his #592 for the 2012 season. Great ride for Canada!