Budds Creek Motocross Park
Mechanicsville

,

MD
Budds Creek Motocross
Lucas Oil AMA Pro Motocross Championship
1.) CAPTAIN AMERICA:
Motocross fans all over the world still talk about what
Ryan Villopoto
did at the 2007 Red Bull Motocross of Nations when he absolutely dominated the field—including all of the 450s—in his two motos for Team USA. In the history of the Nations, it was the single most impressive effort ever for a small-bore rider, and that includes Johnny O'Mara's historic win at the 1986 Motocross des Nations in Italy. If you were there (and a lot of people were), you know this was one of the best moments ever in American motocross.
2.) JEFF EMIG '92: When the 1992 AMA 125cc National Championship went down to the final motos, then-Yamaha factory rider Jeff Emig knew he had to pull out all the stops if he was going to beat Mike LaRocco for the title. With rain pouring down, Emig absolutely blitzed the track in the first moto, opening a remarkable 32-second lead in the first four laps (yes, eight seconds PER LAP). Meanwhile, Kawasaki's LaRocco got hung up on a tire marking a corner (remember when the tracks looked like that?) and snapped off his shifter, basically ruining his title hopes.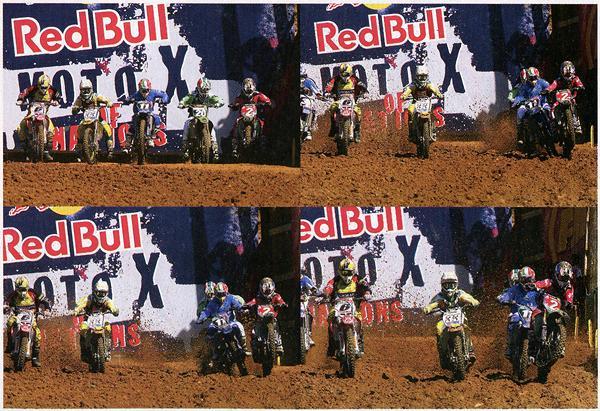 Villopoto dominated the field at the 2007 Red Bull Motocross of Nations.
Photo: Simon Cudby
3.) HENRY'S HILL:
It's not a great moment, but it was remarkable. Doug Henry was dicing with Jeremy McGrath for position at the end of the first 250 moto in 1995 when he held the throttle on too long coming up to the big hill in the middle of the track. He slid slightly off the back of the bike and could not shut off or reach the rear brake pedal, so he launched the Honda so high and so far that he landed in American motocross folklore—albeit with a broken back. Henry even jumped over the loudspeaker wire, as he went higher than the telephone polls! It was ugly. Now Henry's Hill is named after one of the toughest riders of all time.
4.) BUBBA SCRUB: Has any single move changed motocross so much since, oh, maybe Kent Howerton using the clutch on every shift? James Stewart's radical approach to jumping was so cool to see on Saturday afternoon in practice when he started showing it that every photographer, team manager, and spectator at Budds Creek was left in slack-jawed disbelief. Now every kid on an 80 uses the scrub to save time and look cool—just like James Stewart. Also, Stewart passed every rider in the 125 class in the second moto after crashing off the start, leading promoter Johnathan Beasley to remark, "I can't believe what I just saw!"
5.) WINDHAM'S WIN: In 1999 they held the last U.S. 250cc GP at Budds Creek. Attendance was sparse for both fans and riders, which led one European publication to quote Stefan Everts as saying "Americans are cowards" for not entering the GP. (He swears to this day that he didn't say that, and given some of the other questionable rhetoric we've seen in the years since, we believe him.) But it was enough to inspire Kevin Windham to show up and earn the one and only GP win of his career—and we're pretty sure it was the one and only GP he ever entered!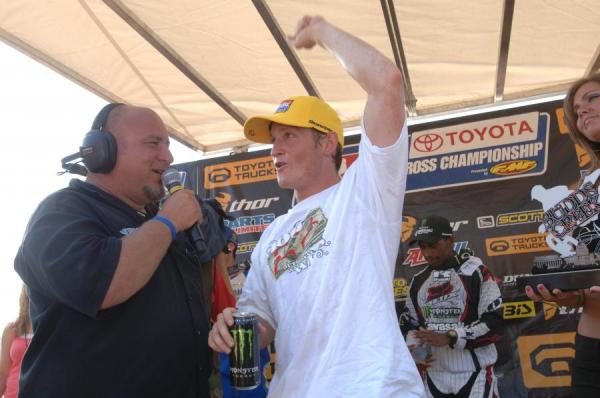 Carmichael celebrating his 100th AMA Motocross win at Budds Creek in 2007.
Photo: Carl Stone
6.) STEFAN'S TROPHY: This one was more funny than remarkable. When Stefan Everts won the 1993 U.S. 250cc Grand Prix, a mix-up at Budds Creek meant there was only a local-event trophy to hand him. Used to giant champagne bottles, flowered wreaths, and all kinds of gold and silver cups, Stefan took it in stride, but promoter Johnathan Beasley felt so bad that he eventually replaced the trophy with something much nicer.
7.) RICKY'S RAGE: When Ricky Carmichael lost the first moto of the 450 Class at the '07 Budds Creek National to James Stewart, he was incensed. Stewart held RC off the whole time, and when RC had a problem with his goggles, he made a point of riding close by the mechanics' area on the last lap, pulling his goggles off, and dumping them in a garbage can as he rode by. He then went out in the last moto and laid down the law, running Stewart down, forcing him into a mistake, and taking what turned out to be his one-hundredth AMA Motocross win. This time around he was greeted in the mechanics' area by Mike Gosselaar's pit board, which read simply "G.O.A.T."
8.) TWO STARTS: One of the strangest races of recent vintage was the 2009 Budds Creek National. After Chad Reed clinched the title in the 450 Class, the second 250 moto saw a bizarre moment when the 30-second girl made an executive decision and just turned the card sideways and walked off after seven seconds. A panicked pack slammed their bikes into gear and hit the rev limiter while a panicked AMA official tried to pull the girl out of the first turn. This all resulted in a restart, which did not make a certain Frenchman happy. But even as they lined back up, the rain kept falling, and the race was restarted in typhoon-like conditions. When it became obvious that one of two infield ponds was about to breech its levee, the red flag came out after 30 minutes, handing the overall win to Jake Weimer over Brett Metcalfe. It might have been Brett's first win too.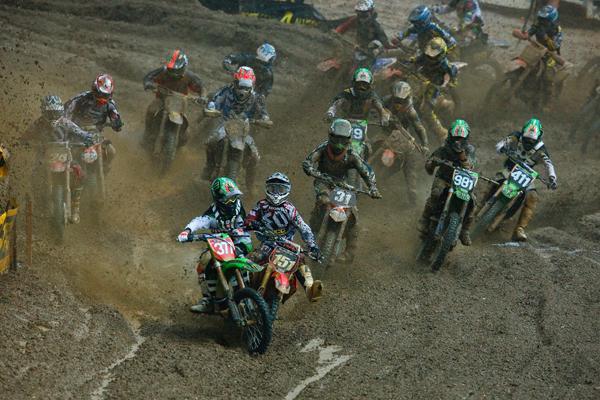 Let's just say that things were a bit muddy in 2009.
Photo: Simon Cudby
9.) RV GETS EVEN: Ryan Villopoto grew up in the shadow of Mike Alessi, watching the #800 win amateur title after amateur title from the front-row view of second place. But after winning his first national at High Point a couple weeks earlier, RV went into the '06 Budds Creek National feeling like it was time to turn the tables. And he did, in a big way, passing and slamming Alessi in a move that signaled a turn of the tables for these longtime rivals. RV has since won three AMA Motocross titles, a Lites SX title, and the 2011 Monster Energy AMA Supercross Championship.
10.) JMB's LAST HA-HA: The curtain fell on Jean-Michel Bayle's odd motocross journey at Budds Creek '92 when the enigmatic Frenchman rode his last AMA National. You could tell he simply wasn't into it, even though Team Honda needed his help—they needed him to help Jeff Stanton by getting between Stanton and Kawasaki's Mike Kiedrowski. Instead, Bayle slow-rode his CR500 through the last couple of laps, actually dropping something like 40 seconds while waiting for Kiedrowski to catch him! He let Mike by, and though it didn't affect the final rankings (Kiedrowski had Stanton covered), it was JMB's parting shot to a teammate who had become his fiercest rival.