Budds Creek Motocross Park
Mechanicsville

,

MD
Budds Creek Motocross
Lucas Oil AMA Pro Motocross Championship
Back in December, we put together a Racer X Illustrated magazine story about
Kevin Windham
, who we called the "The Most Interesting Man in Motocross" and riffed off of those Dos Equis commercials. Kevin's long career has made him a man of many stories, and he wrapped it all up by saying, "I do sometimes feel bad for the guys who had to quit early, and never got the benefit of the full cycle," he says.
Indeed, the luxury of a little extra time goes a long way toward judging someone more accurately. A decade ago, Windham was burned out on the sport, and had he stepped away for good, today's fans would have been left with a void they never even knew existed. Had Chad Reed really retired in 2008—as he claimed he would if he didn't get a good deal going—his reputation would be parked far short of where it is today. In the last three seasons, Reed has claimed an AMA Motocross title, and also a large swath of respect from the fans. Good thing he gave us a few extra years to make some judgments (Most common phrase of 2011: "Didn't used to be a Reed fan but he's really winning me over." Also, there were a ton of TwoTwo Motorsports shirts in the crowd this weekend. At least, until the High Point faithful started taking their shirts off, which seems to be a requirement at this track. But only for guys.)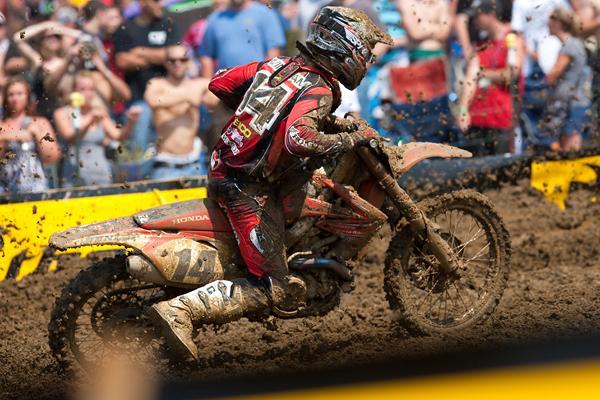 "The Most Interesting Man in Motocross" went 6-5 for sixth overall at High Point.
Photo: Andrew Fredrickson
Anyway, time helped everyone judge Reed differently. Similarly, the first two rounds of the Lucas Oil AMA Pro Motocross Championship didn't provide enough data for anyone to really, accurately know what was going on. That's why last week's Redux gave a positive/negative look at the field, because we just didn't know which way the next ten rounds would go. Who was for real? Who was about to turn it around? Who was about to head south?
High Point provided some clues. For example, we now know that Ryan Villopoto is indeed as bad of a bad dude as we thought he would be when the series began. Rounds one and two were strange for him, but in 14 days, RV2 went from a non-player for the win in Freestone to a full on playa at High Point. His first moto win demonstrated the kind of scary speed Villopoto can bring outdoors, and if you're anyone else who wants to win this title, it's going to be tough if RV brings it like that every week. And didn't he bring it every week like that in his 250 days? The second moto proved nothing because it was a slop-fest and Ryan was clearly trying to ride smart to win the overall. So further judgment must wait, but if RV brings it again at his favorite track, Budds Creek, we could be looking at the man for the rest of the season.
But we also know that the Reed of 2011 is not the Reed of 2010. Moto one was bad for him, and just like Matthes wrote in Observations, it looked a lot like Reed's High Point ride last year, where he came in carrying the red plate but ended it down in the dumps. But the 2011 Reed is more determined, and he came right back to win the second moto in the mud. Did it by being smart, too, as Mike Alessi had pulled a massive lead, and Reed seemed to know that pace couldn't last in those conditions. RV may have his speed back, but Reed is going to be one stubborn SOB to with that points lead.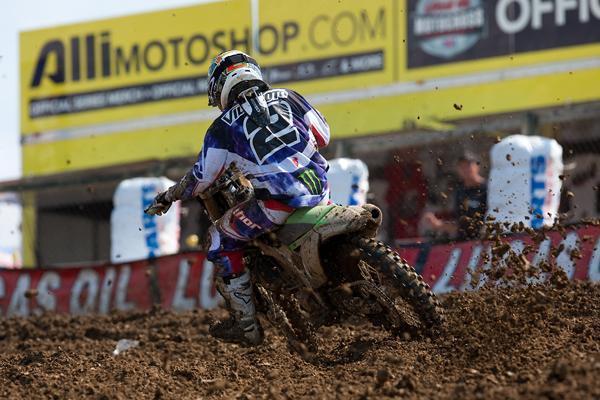 Villopoto rebounded at High Point, taking his first overall of the year.
Photo: Andrew Fredrickson
Oh and how about Alessi? After he crashed out at Hangtown, I was left thinking that perhaps the Alessi experiment was finally over and done. Seven pro seasons filled with sporadic wins, zero success in supercross and untimely injuries (and of course the requisite Alessi drama) don't really make for good leverage at contract time, and as Mike sat out Hangtown—probably the third or fourth "last best chance" for Mike—I was beginning to worry about his future.
Don't think so. Mike was in the mix at High Point, much more than his 4-4 would indicate. Over the years, I've had team managers tell me that, first and foremost, they're looking for two things in a rider: wins, or the potential for wins. Mike's starts are going to get him up front this summer, and it appears he may have the speed needed to snag a victory somewhere. With that, it will be okay in the 800 zipcode again. Then he can struggle in supercross next year and line up, once again, on a 450 outdoors at Hangtown 2012 with the "it's now or never for Mike" tagline running for the umpteenth time. I'm serious. I remember standing in the pits at Budds Creek interviewing Mike in 2007, he was barely cracking the top ten on a 450, and thinking his career was going nowhere. He rescued himself then and will rescue himself again.
I feel the need to write something about Ryan Dungey here, but he's the one guy we don't need to watch ride to know what we're going to get. The Dunge is going to consistently be there every week. Stamp it.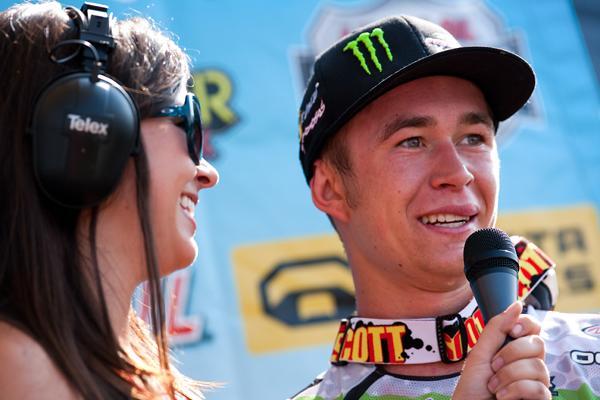 Baggett has won on both coasts.
Photo: Andrew Fredrickson
But what to make of Blake Baggett after two weeks? His blazing win at Hangtown and struggle after a crash at Freestone made this decision obvious. How many times have we seen a kid show other wordly speed at the opener only to crash into championship irrelevance shortly after? Well, apparently, that's not the case with Blake. He had Hangtown speed again at High Point, thus winning races on both coasts, in totally different conditions, with a bad race in between. That's the kind of stuff that tells you a rider is for real. After the race, he explained to us during an extensive interview on the Racer X Motocross Show that he is not surprised, because he was going fast in testing. He told us that, yes, he does wait until the halfway mark to drop the hammer. He'll also tell you how awesome his bike is, and he is training with Aldon Baker. So that's the rational side of the story. These are the facts that are supposed to make these late-race charges believable.
But that rules out one thing: YOU'RE NOT SUPPOSED TO BE ABLE TO DO THIS!
Listen, we've all heard enough "really need to get a good start" interviews to know that in motocross, you don't cruise in eighth halfway through the race thinking that everything will be okay. You're not supposed to be able to just mow riders down and make up multiple seconds per lap. "Oh, Blake trains with Aldon Baker, that's why he's so strong late in the race," is what I'm hearing. Yeah, well Tyla Rattray trains with Baker, too. Tyla is as strong and tough and fit as they come. And yet Baggett ran him down both times!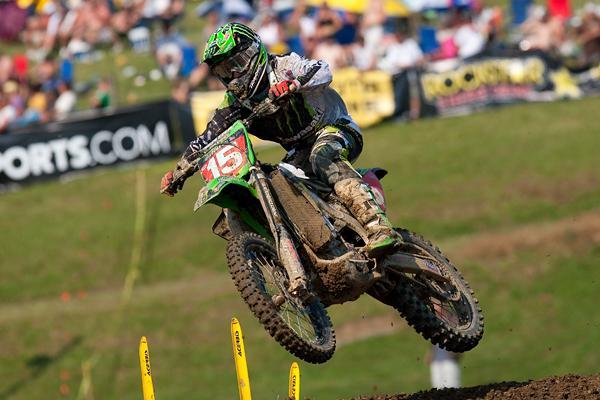 Wilson now trails teammate Tyla Rattray by two points.
Photo: Andrew Fredrickson
This isn't pure fitness here. Baggett is running with some alien-level, otherworldly speed the likes of which we haven't seen in this class since, well, maybe Villopoto? James Stewart? Ricky Carmichael, even? I guarantee you that even at his best last summer, Trey Canard wasn't thinking he could just go FOUR SECONDS A LAP faster than everyone else and go from eighth to first because he felt like it. Nor was Dungey the year before. Baggett's performances pretty much rendered Emig and me speechless in the TV truck. He even came back from a hard crash!
In the case of Baggett, we know he's for real, but maybe we need more than two wins to know if he's going to keep this up all year. Because what he's doing right now doesn't even make sense to me.
We didn't need High Point to tell us that Rattray and Wilson will be there. If Baggett slips at all, these guys are waiting to pounce. Wilson has to be bummed to have narrowly missed the overall at the first two, and then to crash while leading early in moto two at High Point. At the first few races, you're just glad to get points, but after awhile, you get sick of coming close but not getting the wins. But I'm going to go out on a limb here and call Wilson as my title favorite at the moment. I think he's just a tiny fraction faster than Rattray when he needs to be, and I'm just not sure what to make of the alien wearing number 57 yet. My brain is trained to tell me you can't just go as fast as Baggett is going every weekend. But my eyes would tell me otherwise (if they could talk).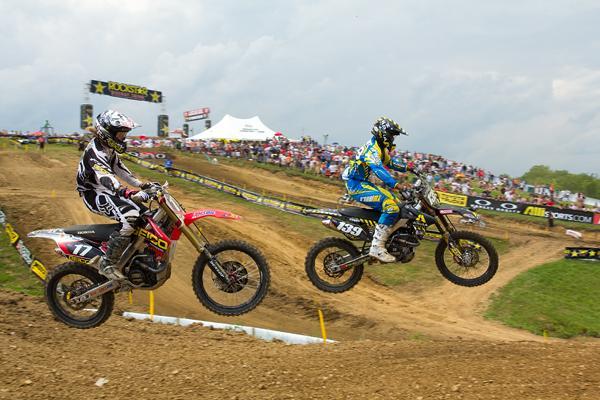 Barcia has been diagnosed with mono.
Photo: Andrew Fredrickson
What's up with the GEICO Honda guys? Eli Tomac is not logging the inspired performances we expected from him (after Vegas, stock was high on "Tomac will go 1-1 at Hangtown"). And Justin Barcia has now been diagnosed with mono, although he really doesn't want to miss races and is going to give Budds Creek a shot this weekend. Since JB17 did so well in supercross riding through an injury, he thinks he can do it again outdoors. Not sure it's going to work but you have to admire someone who wants to fight through this instead of just hit the lake for the summer.
Cole Seely rode well in the second moto on his Lucas Oil Troy Lee Honda. He's come a long way outdoors. Malcolm Stewart showed some consistency—a huge improvement for him. And for the love of all that is right, will someone give Darryn Durham a factory ride? I'm still puzzled why Star Racing let him go after his first pro season a few years back. What did I say before about wins or potential for wins? Yeah, DDT is on that "potential" list, and that will be good in negotiations. And well done for Chad Sanner, who runs the Eleven10 Mods team Durham rides for. I've known Chad for a long time and he's one of the good ones. Durham's ride against the odds to lead High Point mirrors that of Sanner, who deserves just as much credit for building a good bike and team from virtually nothing. About ten years ago, Sanner broke his back in a crash and was done with racing. Years later, he qualified for the Kenworthy's National, and that's all anyone could talk about in the local races in Pennsylvania. He's an inspiring guy, a mover and a shaker, and someone who is going places in this industry.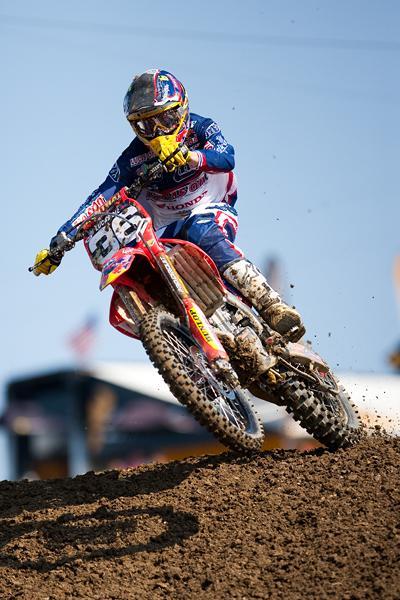 Seely has his best ride of the year at High Point.
Photo: Andrew Fredrickson
Bummer for Kyle Cunningham, who had a string of consistent rides going but missed his gate pick for moto two, leaving him with a bad start and an 11th-place finish. Durham had the same fate. Still, Cunningham has turned a page here and I expect to see him up front all summer. On the other hand, his poor teammate Ryan Sipes!
Finally, if anyone would have been judged wrong without the beauty of time, it's Davi Millsaps. This guy's career sure bounces up and down, for a few weeks he's an underachiever who doesn't try hard enough, the next time he's about to win races. With Davi, the reputation seems to rise and fall with the sun and moon. At the last three races, he's been darned good, and at High Point it had gotten to the point where he was trying to win the darned race. After taking third in moto one, you could tell in the second moto that he knew Dungey and Villopoto were behind him. He was pushing hard and going for the overall win. He crashed, yes, but that's okay when it comes from trying to win races. A year ago at Budds Creek, it was feared Davi's racing days were over. Six months ago, really, he was riding so badly that it seemed likely. Now he's back and, if not better than ever, at least as good as he's ever been. What does the future hold? We'll need more time to figure that one out.
Tell me what you think. Email me: jasonw@racerxonline.com