Mt. Morris, PA
High Point Raceway
Lucas Oil AMA Pro Motocross Championship
After a week off, the 2011 Lucas Oil AMA Pro Motocross series picked back up with round three at Mt Morris, Pennsylvania which is always a cool track with a lot of history. In fact, this was the 35
th
anniversary of the track's first AMA national! I've been going there since 1996 and there have been many a career highlights for me as a mechanic. Like the time that my rider Kelly Smith won the overall in the mud in 2000 or when
Tim Ferry
made the podium in 2003 (blasting
Chad Reed
off the track near the end of the race which began some troubles between those two) and of course, my rider (Ty Birdwell) had long DNF'd in 1997 in the mud when I stayed there in the mechanic's area to watch Damon Bradshaw pass Larry Ward up the uphill triple to secure the overall win on the #10 MHR Honda.
Good times indeed. There was also the time I slept in a box van on Saturday night and feared that the gates were going to get broken down and there was going to be mass looting. The people of West Virginia and Pennsylvania know how to party, let's leave it at that. Speaking of people, the attendance to me looked to be the best in years. After the race moved off its traditional Memorial Day date, the race suffered in terms of people coming out but like I said, big rebound this year. At least it looked like that to me.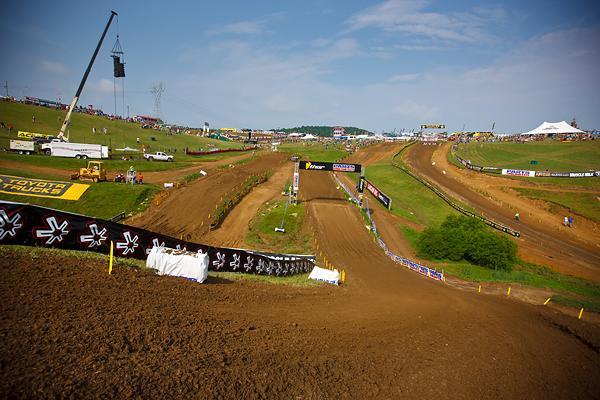 It was the 35th anniversary of High Point's first AMA national this past weekend.
Photo: Simon Cudby
There was some doubt after Texas (not much, but some) that Ryan Villopoto wouldn't rebound after a tough start to the year. He wasn't on pace with Ryan Dungey and Chad Reed at the first two rounds and in some respects, that was to be expected. He had put so much into winning the 2011 SX title that upon clinching it, his body just released all the stress and pressure of what had happened and RV got sick. His voice was practically gone in the week after the series and he got a late start in testing and preparing for the outdoors. Last year, we saw a similar thing happen with Ryan Dungey (although he only took one week to get going) and now this year it was RV's turn.
Well all those fears about RV not being "the guy" can be put away as he won this High Point race with a 1-2. His first moto performance was classic Ryan Villopoto. He holeshot and put the hammer down on everyone else in a tour de force performance that announced to everyone that he was back and in a big way. The second moto out, it was sloppy and crappy so he rode to a safe second to take the overall. Make no mistake about it though, RV is doing just fine.
I should've known he was feeling good when early on Saturday morning I asked him how he felt and Ryan replied "Better when I win today." He was joking I know but I'm sure he felt pretty confident and that's good to see when a dude backs it up.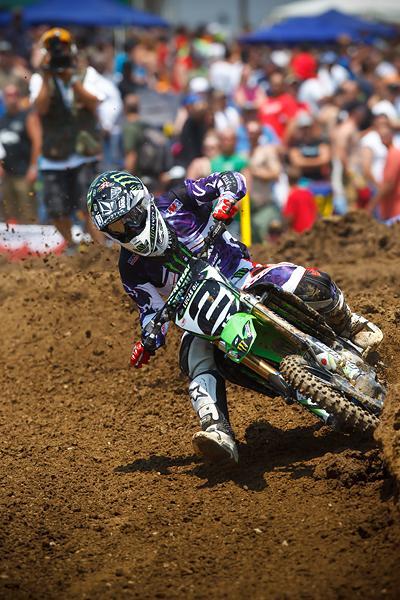 He's back.
Photo: Simon Cudby
Chad Reed had a so-so first moto and I have to admit, my mind wandered back to last year when this race marked the beginning of the wheels falling off of Reed's season. He didn't get a great start but he wasn't moving forward as fast as one would think the winner of the first two nationals would.  He said afterwards that he took a rock to the collarbone and that slowed him down somewhat as he rode to a very surprising (for him) fifth. The old Reed (well, I mean the old Reed of two weeks ago and not the old Reed who could never win outdoors like they used to say back in the day) returned in the second moto, and despite not having goggles for most of the race, he took the win to salvage some points on a day that didn't look good. Championships are decided on your bad days and if his 5-1 is a bad day, he'll take it.
Ryan Dungey went down a couple of times in the second moto but he still rode very well in coming from the back to get third. The Dunge has his work cut out for him as he comes from the back after his DNF in Texas but as RV just proved, it doesn't take many 1-2 moto scores before you're back in the game.  Ryan's visor broke on the line in the first moto and he was forced to ride with it sticking straight-up, I know it's not much and I doubt it mattered much but isn't that just indicative of how his year has gone. It's just the little things…
KTM's great 450 hope, Mike Alessi, made his return to racing at High Point and the 800 did better than I thought he would, to be honest. A hard shot to the head at Hangtown put Mike on the sidelines for a while and I wrote that I hoped he and his family were making the best decision for him health-wise in getting him back this weekend. And it appears that Alessi was feeling well as he was a bit over anxious on the start of the first moto and ripped the gate off! Somehow, the 800 slowed enough to get the gate off and still come around the first turn in fifth. From there he moved forward into third before getting penalized one spot for the infraction.
Unfortunately, the gate could not be resuscitated and was pronounced DOA.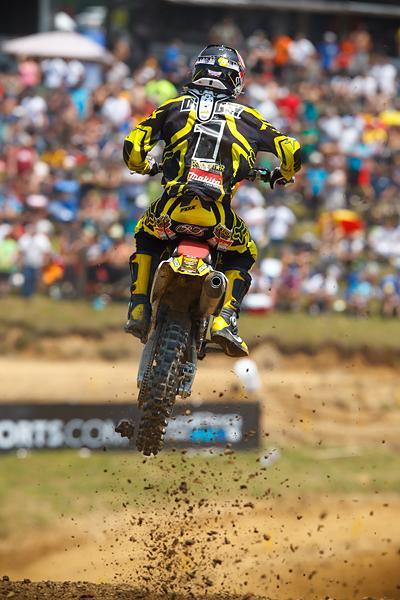 Dungey went 2-3 for second overall at High Point.
Photo: Simon Cudby
I thought Mike got off a little lucky as he was a bike length or so ahead of everyone when he went. The AMA could have dinged him five spots and I still would have been okay with that in mind. He caught a bit of a break in my opinion and in the second moto, Mike got into the lead by the third corner and checked out big-time! It was at one point a 20-second lead before he crashed. Still, he fought to a fourth in the muck and a 4-4 return for the 800 was a good showing.
Hmmm, maybe this Blake Baggett character is for real. BB Gun (as he's called) came out at Hangtown and laid it down and although he didn't win both motos, he probably should have. At Texas he was leading early when he ate poop and that affected him the rest of the day. This week at High Point, he turned it on about halfway through the first moto and took the win, second time out he didn't need to have any theatrics and just won outright from the start. Not even a crash could stop him. Blake Baggett is here, he's for real and he just might be the fastest man in the class.
I'm a fan of Tyla Rattray. There I said it. I cheer for him and I want him to do well. He's a former World Champion, a class guy and a professional through and through. If you wanted a guy for your team, Rattray would be the perfect rider. And he's very, very fast. Rattray finished second overall and took the points lead away from his teammate Dean Wilson (who took it away from the other teammate Baggett after Hangtown) and no matter what, Rattray will be there every weekend.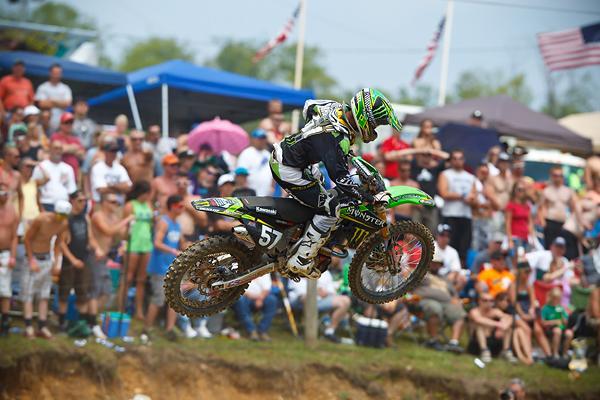 Baggett bounced back in a big way at High Point.
Photo: Simon Cudby
I bet Dean Wilson wishes he had about five seconds back when, while out front in moto 2, he lost the front end and went down. On a sloppy track, in first place and nothing but clear skies ahead of him (literally) Wilson was in prime position to win the second moto but just a tish too little traction did him in.
I don't know what has gotten into Davi Millsaps but I'm sure the JGR guys will take it. To me, never a motocross specialist, Davi has so far through three rounds been very, very impressive. At High Point, he chased and caught Reed in the first moto and with Alessi's penalty, got a third. Second moto he was right up there for most of the race (and he tossed his goggles early. Like, I think before the gate even dropped-early), crashed, and and would've/could've/should've finished 5th but with two laps to go he went down and ended up with a 9th. Still, another solid ride and his team manager Jeremy Albrecht told us that there has been some talk about a contract next year for Millsaps.
I know things haven't always been the smoothest over there between the JGR team and Millsaps. They just want to see more effort from Davi and Millsaps always seemed to be battling something or another. Before the season Davi made a smart decision in hiring Ezra Lusk to help him out. Lusk is a good guy, a former race winner and a bad-ass back in the day. He's also not one to take much shit and isn't there to make sandwiches and hold water bottles. I have to believe that if he thought Millsaps wasn't working as hard as he should be, he'd be gone back into the woods in Georgia. But he's stuck it out and I know in talking to him that he believes in Davi and now it seems that Davi's believing in himself.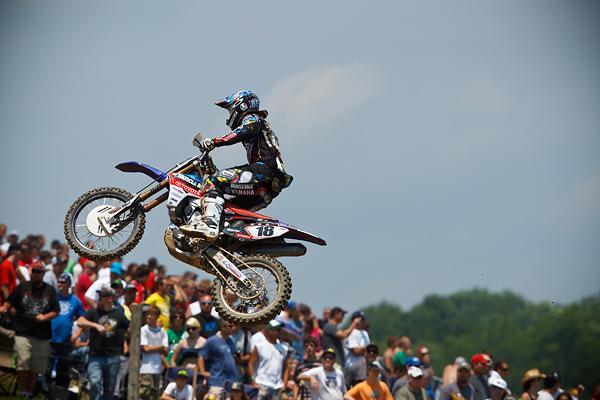 Millsaps seems to be putting the pieces together in 2011.
Photo: Simon Cudby
Funny scene before the second moto when Nick Wey decided to practice starts when the gate dropped for the parade lap. Because the track was so messy, Wey only wanted to do some starts but was then informed by the AMA that he had to finish his lap. So while 39 guys waited for him, Wey went out there high-fived fans did a few clickers, stalled his bike at one point and finally made it around and the moto could begin. Good times!
There are a couple of Swedish dudes doing the whole series with the help of MX Heaven, which is a moto camp for foreigners based in So Cal. Calle Aspegren and Fredrik Noren are probably the two top guys in Sweden and they decided they wanted to spend the summer racing the AMA nationals. That's pretty cool methinks, they are both on Hondas, one is #865 the other is #867, they look about the same and wear the same gear. So it's pretty hard to tell them apart from one another. They've been hovering around the 20th spot so far but this weekend in the second moto, Noren finished 12th for a season best result. All that racing around Yak carcasses in Sweden finally paid off!
Darryn Durham! Yeah! Timmy Ferry's favorite rider that he doesn't know led most of the first moto on his Eleven-10 Mods CRF250. That's right, as much of a privateer as you can get these days, and he did great. DDT got a bit tired and made some mistakes (he also got some mud stuck in his rear brake which didn't help things out) but his fourth is still strong. Second moto he missed his gate pick when he was late to the line and had to start on the far outside. Sucked to be him at that point.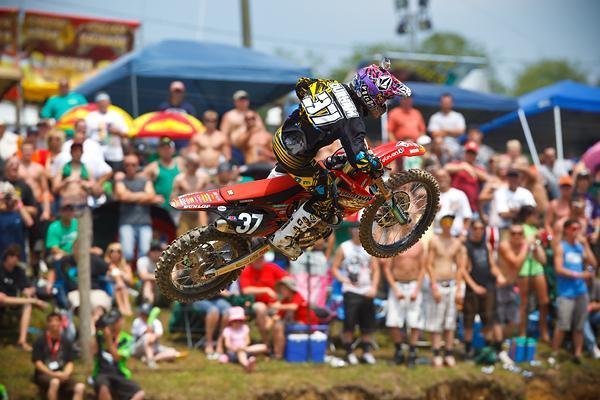 Durham lead the majority of moto 1 before succumbing to the pressure of the PC boys.
Photo: Simon Cudby
Still Durham has to be happy with his 4-14 day, if you have the speed to lead a national for 25 min, you have it to lead 35 minutes. Congrats to Darryn and his team for this cool effort.
Mt Morris always has some great break-out rides. Think Kevin Windham in 1994, Branden Jessemen in '98, Sheak in '96 and a few others. It's where miracles happen!
Lucas Oil AMA Pro Motocross Championship
High Point - Mt Morris, PA
250 Overall
1. Blake Baggett (1-1) Kaw
2. Tyla Rattray (3-2) Kaw
3. Eli Tomac (6-3) Hon- Still waiting for that ride from Tomac but I suppose a third overall without blistering speed is pretty darn good.
4. Dean Wilson (2-8) Kaw
5. Broc Tickle (10-4) Kaw- Tickle had a good second moto and he's the only one without a red plate this year on his team. Wonder if the others mock him?
6. Justin Barcia (8-7) Hon- Barcia was off all day and I think he crashed as well. I was in the GEICO truck before the day trying to convince Larocco to get a Twitter account and was checking out Barcia's hair. It's seriously big! Like Vince Neil on the Girls, Girls, Girls tour big.
7. Cole Seely (11-5) Hon- When I think of Seely I think of Chipotle (where he always seems to be on Twitter) and Southern California SX guy. So it's good to see him do well in the second moto when the track is all crappy.
8. Kyle Cunningham (5-11) Yam
9. Darryn Durham (4-14) Hon
10. Alex Martin (13-6) Hon- Great ride for Durham's teammate. A sixth is legit, look out world here comes Chad Sanner and his Eleven-10 Mods team taking over!
11. Malcolm Stewart (9-10) Suz- It's official, my Mookie Fever is cured. It's not that he's riding poorly or anything like that, he just looks like any other guy out there and to me, in SX, he was special.
12. Travis Baker (15-9) Hon
13. Nico Izzi (7-18) Hon
14. Nick Paluzzi (14-13) Suz- Nick was the top placing Rockstar Suzuki guy. All told the team went 14, 16 and 17. Last seen, Team Manager Dave Gowland was trying to fashion a noose out of the tent tarp.
15. Gareth Swanpoel (12-15) Yam- I thought a little GP-ish natural track was going to play right into the surprising so far Swanpoel's hands and even picked him in fantasy league but he had his worst race of the year.
16. Jason Anderson (16-12) Suz- Can't wait for Weege's pep talks to start taking effect. Bear Bryant he ain't.
17. Martin Davalos (17-16) Suz
18. Gannon Audette (18-17) Yam
19. Justin Sipes (40-19) Kaw- Hooray for Pooh! Sipes' brother Ryan was second in the first moto when he went down hard and banged his head. Ryan's having a terrible outdoors so far.
20. Lance Vincent (19-27) Hon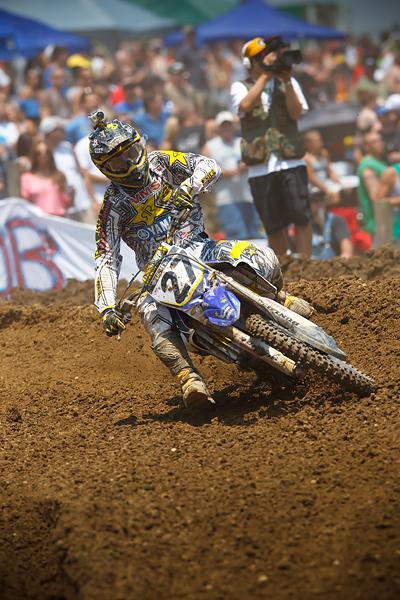 Nick Wey went 14-8 for 10th overall at High Point.
Photo: Simon Cudby
450 Overall
1. Ryan Villopoto (1-2) Kaw
2. Ryan Dungey ( 2-3) Suz
3. Chad Reed (5-1) Hon
4. Mike Alessi (4-4) KTM
5. Davi Millsaps (3-9) Yam
6. Kevin Windham (6-5) Hon- KW was up there in the first moto before dropping back a bit but hey, the most popular 6-5 moto scores in history.
7. Tommy Hahn (10-7) Yam- Hahn rode pretty well and he's getting better.
8. Brett Metcalfe (8-10) Suz- Metty had a great ride in the second moto when he came from way back. The only guy who was behind him was Jake Weimer.
9. Jake Weimer (7-11) Kaw-And Weimer rode great in coming from behind in the second moto in the mud. And in the first moto, he was right up there before he got sideways and shot off the track.
10. Nick Wey (14-8) Yam- Not surprisingly, Wey rode well in the mud. He's in the mafia y'know.
11. Ricky Dietrich (17-6) Yam- Very unlike RD in the first moto when he went from a top ten to way back. Sure he fell but he was still going backwards until he fell. When I asked him what was up with that he replied, "I don't know."
12. Andrew Short (11-14) KTM- Short was not happy after the race, he didn't even want to do an interview with me! That's pretty mad in Andrew's world.
13. Weston Peick (15-13) Kaw
14. Michael Byrne (12-16) Suz- Byrner hasn't been 100% happy with his bike and this week he's in New Hampshire where Factory Connection is to get his bike better. That's admirable as opposed to the guy that just goes back to Florida instead of working on his machine.
15. Christian Craig (9-21) Hon- Craig crashed a bunch in the second moto while he was higher.
16. Les Smith (13-19) Yam
17. Fredrik Noren (22-12) Hon- Swedish Power!
18. Tyler Bright (39-15) Hon- Bright rides for the JWR Honda team and rode 250 east in SX. In the second moto he was tenth for most of the way before dropping back a bit.
19. Tye Simmonds (19-18) KTM
20. Travis Sewell (16-38) Yam- The Flying Sewell Brothers made their return to the series and both got some good results.
Well the great Christophe Pourcel/Motoconcepts Yamaha union ended not with a bang, not with a ton of French curse words going back and forth but with a no-show. Pourcel went DNF-DNF  at Texas and this weekend at High Point, he simply didn't show up and the team had no choice but to let him go. Pourcel wasn't happy with the bike, didn't want to put in the work to test, was behind the 8-ball from the start due to his holding out for better rides and the whole thing just didn't work. Team owner Mike Genova was on the Pulpmx Show on Monday and said that after Hangtown he got a text from CP that he was sorry he didn't do that well, he's going to work on it and he'll do much better from here on out.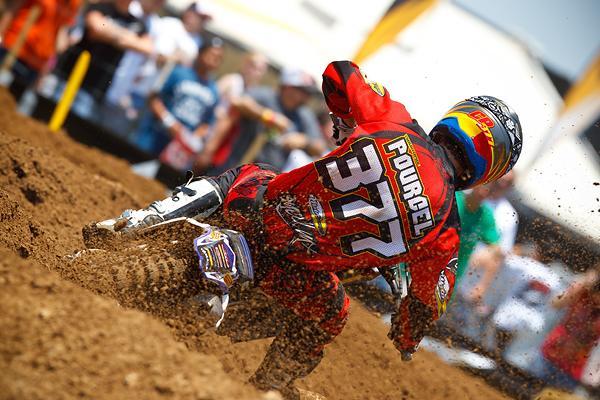 Pourcel and Motoconcepts have officially parted ways.
Photo: Simon Cudby
Then came Texas and that disaster and somewhere along the way, Pourcel grew disenchanted with the team and or bike. He went to Florida and the team failed to get a bike in time for him there (the team says that they wanted CP to stay in California and test and CP says, well he doesn't say anything because he hasn't replied to my request to talk to him) and he decided he didn't want to race High Point because he wasn't ready. So that's where we're at, certainly with CLS Kawasaki's Ben Townley deciding that maybe he's done racing, there's an opening on the French owned European team for Pourcel to jump into the GP's. I do know that there have been some talks about that but regardless of if it's in America, Europe, Canada or Kukamunga, Pourcel's not in good enough shape right now to race at the front of the pack. He needs to figure that part out and the rest will come.
In yet more coach/trainer news, the super team of Trey Canard and Tim Ferry has broken up but it wasn't an ugly breakup like the paragraph above. Canard's going to work with Ferry's old trainer at CTS based out of Colorado and Ferry's actually going to start test riding for the JSE Team. James Stewart obviously would like to get his bike set-up better and the team has hired Red Dog to try and develop some base settings for Stewart and team. Now clearly, Ferry (although still mega-fast in my eyes) is a click or two off of Stewart's speed but he'll be able to help get the team in the right direction. Maybe, just maybe, he can convince Stewie to take out those lead pipes that he has for front fork springs so that when he doesn't do every single obstacle perfectly, the bike won't react weird.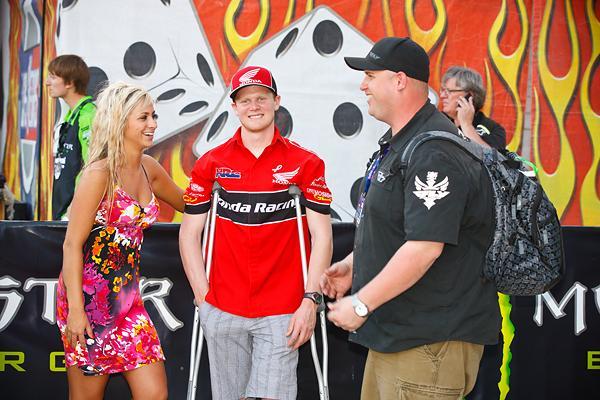 Canard and trainer Tim Ferry will no longer be training together.
Photo: Simon Cudby
Now I haven't really spoken to Ferry about this but I know that he was finding the role of coach to be a bit tedious. He loved working with Trey but he almost felt a bit guilty about getting paid for doing exactly what Trey wanted him to do- which was pass on his years of experience and knowledge. At the races, he felt a bit useless and he was away from his family so this testing job will be a bit more intense (also a bit more work!) and maybe he'll find what he's looking for in his post-greatness life.
Dean Golich, Ferry's trainer for years and now Canard's, is a great guy that knows plenty about getting the body ready for moto and I'm sure there will be times that Canard calls Ferry to ask him about this or that. Golich's company CTS (Carmichael Training Systems) works with the Toronto Maple Leafs as well to get them in shape for their constant missing of the NHL playoffs which is really awesome. Good job guys.
I'm not bitter at all.
Anyways, thanks for reading this week and if you have anything you want to share with me, email me at matthes@racerxonline.com and see you guys next week at Budds Creek!