High Point Raceway
Mt. Morris

,

PA
High Point Raceway
Lucas Oil AMA Pro Motocross Championship
No surprise here, but rain was a factor in the Rockstar Energy Drink High Point National. The forecast called for scattered showers, so the track crew, led by Marc Peters and Jeff Russell, left the track a touch drier than normal for the first motos, and they didn't rip it up as deep. "The track came around perfect a few laps into the first 250 moto," explained Peters, as by then the riders had dug beneath the dry top layer and found the moisture underneath. After that race, it was tempting to water, since the track was essentially disced up by the bikes, but Peters and Russell had a pretty good idea that the rain was coming, so the left the track dry and let the rain do its thing. A few minutes later, the storm came. The crew wanted to rework the track and push some of the mud off, but there wasn't any time since the races must start on time due to live TV. So the 450 riders were racing on whatever Mother Nature could dish out.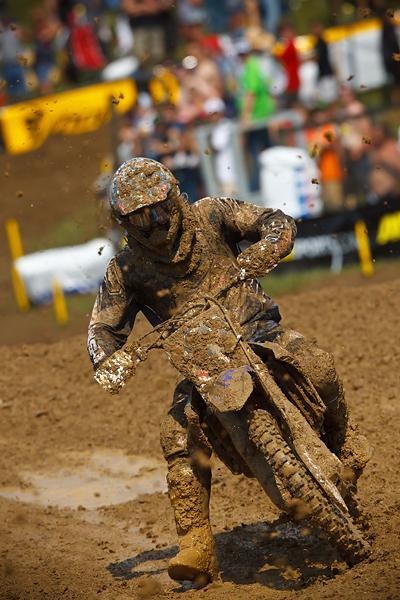 As Davi Millsaps can attest to, things got a little muddy in the second moto.
Photo: Simon Cudby
Chad Reed had trouble with some other natural terrain in the first 450 moto when a rock nailed him in the collarbone, which slowed him. He sported some ice on his shoulder between motos before going out and winning moto two in the mud.
Mike Alessi was back to racing at High Point, but fighting two different injuries. First, Mike received a concussion at Hangtown, and his father Tony explained that he had to go through 15 hours of neurological tests to be cleared by a doctor to race, and then also had to receive clearance from doctors at the track after every practice before he was given the green light. Mike was also dealing with a sore shoulder from a crash practicing at Zach Osborne's Club MX in South Carolina.
Alessi's shoulder held up and he made it to the motos, but his team manager Roger DeCoster said the rider next to him on the gate flinched in the first moto, and Mike dumped the clutch and charged right through the gate. He ended up breaking the gate and getting a bad start, but he passed a bunch of riders early to finish in third. He was then penalized one position and credited with fourth. Alessi led moto two early before a crash pushed him back. He finished fourth again.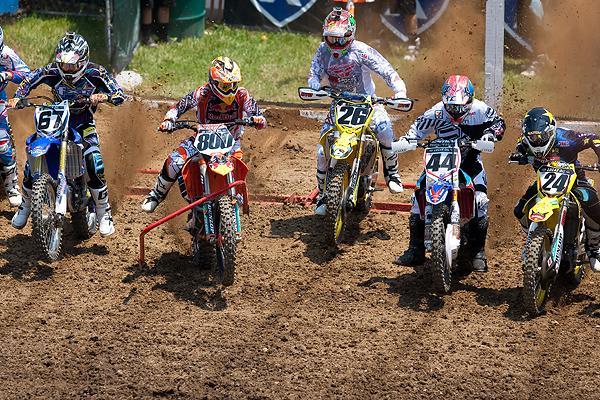 Alessi was docked a position in the first moto after jumping the starting gate.
Photo: Andrew Fredrickson
Pennsylvania privateer Ty Newcomb and Ohio veteran Jeff Gibson qualified for the 450 class on 250 two-strokes. Newcomb scored 31st overall on his YZ250, and Gibson scored 32nd on a KTM 250SX.
On the other end, privateer Austin Howell got a shot with Team Suzuki City but wasn't able to make the 40-rider field, taking 42nd overall in qualifying times. Austin will be racing with the team for the rest of the summer.
Darryn Durham made a big impact by leading the majority of the first 250 moto, but his brother Shane also rode well and grabbed 20th place (and a national championship point) in the moto, despite a late-race crash. Moto two was not as good for the Durham brothers, as Darryn's team elected to make a late clutch change between motos, and they were late getting to the starting gate for the race. Thus, Durham gave up his fourth gate pick for 39th. After a bad start, he went down in the second turn.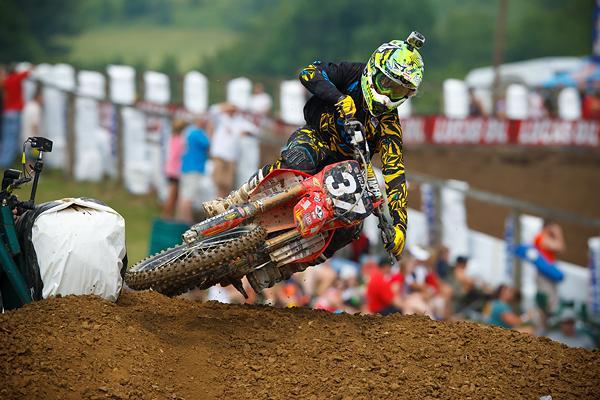 Durham lead for the majority of moto 1, before falling back to fourth.
Photo: Simon Cudby
Reports say that Durham had a few teams talking to him since his strong ride in the first moto of the season at Hangtown, including GEICO Honda and Valli Motorsports Rockstar Yamaha, but he has decided to stay with his ElevenTen Mods Morgantown Powersports Team. The team actually placed two riders in the top ten overall, with Durham's 4-14 placing ninth and Alex Martin's 13-6 taking tenth.
Durham wasn't the only one missing his gate, as Kyle Cunningham, who finished fifth in moto one, also missed his gate for moto two and had to take the last pick. Cunningham also had a bad start and finished 11th in moto two.
More bad luck for Cunningham's teammate Ryan Sipes. He was running second in the first 250 moto behind Durham when he crashed and suffered a concussion. At the moment, Sipes is expected to at least sit out of next weekend's race at Budds Creek.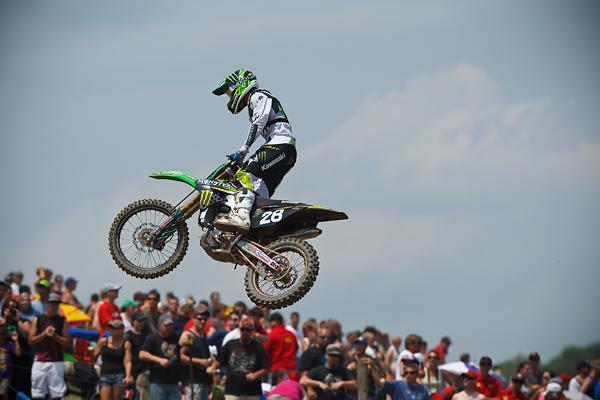 Rattray fell short of the overall, but walks away from High Point with the points lead.
Photo: Simon Cudby
In that muddy second 450 moto, two privateers logged great finishes, with Sweden's Fedrik Noren scoring 12th on his MX Heaven-backed Honda, and Jimmy Weinert Racing/South of the Boarder backed Tyler Bright finishing 15th.
Tyla Rattray won High Point last year but didn't feel as strong this time, saying he wasn't quite getting along with his suspension setup. His solid 3-2 scores kept him on the podium, though, and gave him the series' lead by two points over his teammate Dean Wilson. "Having the points lead doesn't matter that much right now," says Rattray. "When I won the world championship in Europe we switched the plate over probably four or five times. It's a long season."
Where was Christophe Pourcel? His Motoconcepts Yamaha team manager David Vuillemin said he was not able to get in touch with Pourcel at all between races, and wasn't even sure if he was coming to the race or not. So they built his bike and even brought it through tech inspection just in case he showed up. Pourcel never did.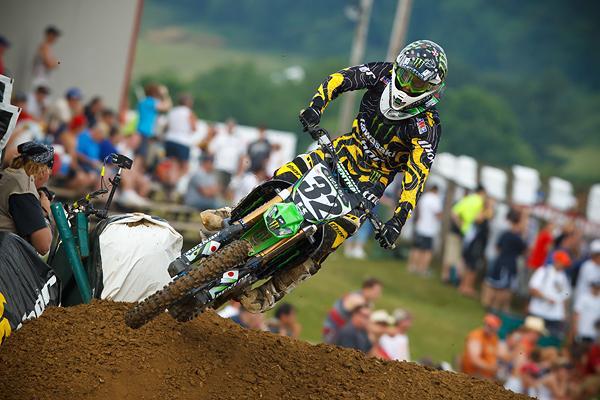 Weimer rode much better than his ninth overall would indicate.
Photo: Simon Cudby
Jake Weimer's 7-11 scores for ninth overall don't indicate how well he rode. He was fifth for most of the first moto until he crashed while battling with Chad Reed. In the second moto, he crashed early and fell back to 38th, battling his way back to 11th in the mud.
Similarly, Dean Wilson's second-moto ride may have gone unnoticed in the results, but he saved major championship points that may loom large at the end of the season. On the first lap of moto two, Wilson crashed leading, and found himself way back. He clawed his way back for eighth.