Yesterday we had the privilege of attending the U.S. press introduction of the 2012 KX450F at the legendary RedBud Track 'N Trail in Buchanan, Michigan. Racer X photographer Andrew Fredrickson and I loaded up the Toyota Tundra, and we invited local privateer Shane Durham along to do the majority of the riding on the new bike. Shane is a local pro who has a pretty extensive background in testing as his father, Chris, owns PR2 Suspension, and Shane currently works full-time for Chad Sanner at Eleven10Mods. And aside from his mechanical knowledge, Shane can also ride pretty well—he's scored a top five at Loretta Lynn's in the 450 A class and rode two nationals last year earning national number 83 in the process. Unfortunately like so many other privateers today, he doesn't have any backing from a particular manufacturer, which allowed him to offer his true, unbiased opinions of the bike.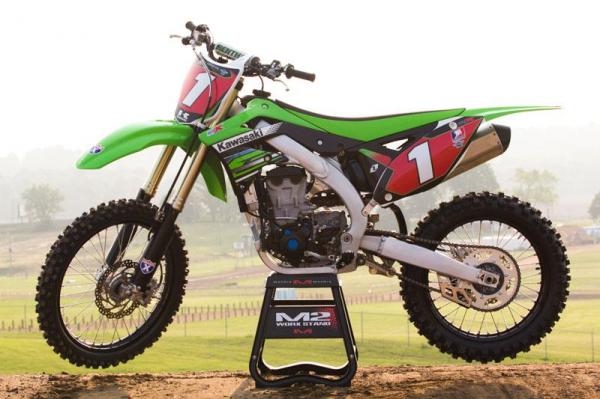 This is what Villopoto will defend his AMA Supercross championship on in 2012.
Photo: Andrew Fredrickson
The 2012 Kawasaki KX450F is pretty much all-new from the ground up and it appears that the main goal for this Kawasaki was rider adjustability. From the handlebars to the footpegs to the ignition mapping, you can tweak and tune this machine with relative ease.
One of the coolest features is the "Launch Control Mode" button—the first of its kind on a production MX bike—that is mounted on the handlebars adjacent to the kill switch. You activate the button prior to the gate drop and it alters the ignition timing in both first and second gear to help reduce wheel spin and increase traction off the start. Yesterday Shane did several starts using the Launch Control Mode and found that it works almost like a holeshot device. "I dumped the clutch and was wide open and the bike didn't wheelie," he said. However, this is the one feature that Shane said could hinder you. "At a lot of tracks, you could run second-gear all the way to the first turn. So with the power retarded by using this button, that can actually hurt you on a start, because this mode isn't deactivated until you hit third gear. " We both agreed that this is something you definitely wouldn't be sure of until you utilize it in a racing situation.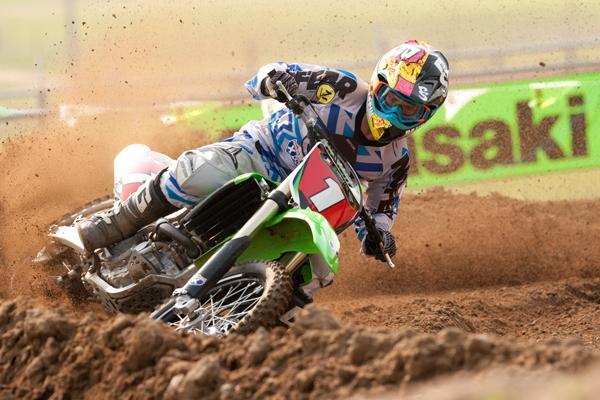 It didn't take long for Shane to feel completely comfortable on the bike.
Photo: Andrew Fredrickson

The next major change is Kawasaki's Digital Fuel Injection system, which has the capability to be adjusted from one moto or track to the next. For any of you who race, you all know how much a track can change throughout the course of the day, so the KX450F comes with pre-programmed ignition maps which can be swapped without the use of a computer. All you do is change a small wire coupler located in front of the gas tank—which literally takes seconds—and you're ready to go. Aside from the standard setting coupler, the 2012 KX450F comes with two extra couplers mapped for both hard and soft conditions. To take it a step farther, you can also purchase a KX FI Calibration Kit for your computer and program your own ignition in between updating your Facebook status.
Adjustability-wise, the new KX offers two footpeg positions to choose from, which is another first of its kind on a production motocross bike. Aside from stock, the other position moves the footpegs five millimeters lower for taller riders. (Too bad they didn't have this when Larry Ward rode for the team.) The triple clamps also offer the ability to mount your handlebars in four different locations. The suspension got a few minor refinements, but they still offer the Diamond-Like Carbon (DLC) coating on the fork tubes—the only OEM to offer that as standard equipment.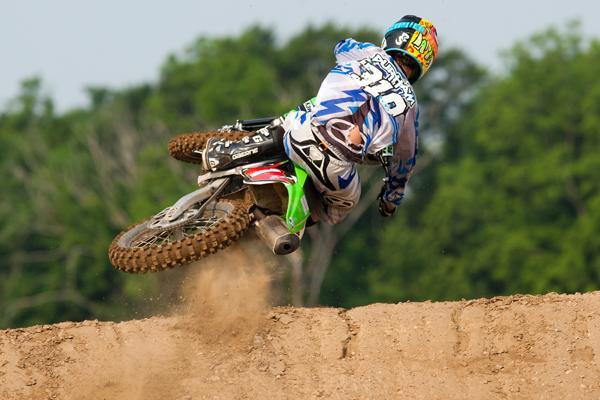 How light and nimble does the new KX450F feel? Well, here Shane drags a footpeg while scrubbing the RedBud finish line tabletop.
Photo: Andrew Fredrickson
I could ramble on about all the changes and refinements all day long, but what was the bike like on the track?
Former factory Kawasaki rider Jeff Emig was on hand, and he's been aboard the KX450F since its inception, so I asked him what he thinks is the single, biggest improvement from the 2011 KX450F to 2012. "I'd say the lighter, slimmer feel of the chassis," Jeff said without hesitation. "I know four millimeters doesn't sound like much, but they shaved that much off the main frame and it makes a huge difference. This bike turns a lot better than last year's bike, that's for sure."
Emig wasn't the only rider who raved about the lighter, slimmer feel. I overhead a majority of the editors talking about the improved ergonomics.
Our test rider agreed with the handling, but also came away very impressed with the engine, as did I. In fact, I was able to jump the infamous LaRocco's Leap a couple times on this bike—not too shabby for a washed-up A rider on a box-stock 450, eh?
Speaking of LaRocco's Leap, here's some Kawasaki Flash Trivia. We all heard the story of how LaRocco's Leap first got its name—Mike LaRocco was the first to clear the massive jump on a Kawasaki KX125—but when? Email the year to letters@racerxonline.com and we'll hook one lucky winner up with a Racer X swag pack as well as a Ryan Villopoto die cast collectable toy courtesy of NewRay toys. Good luck!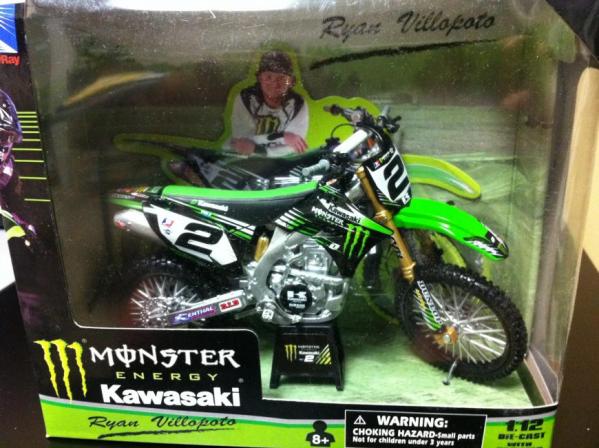 What impressed our test rider Shane Durham the most? Everything. "I really can't believe how good this bike is in stock form," he said. "Within a few laps I was jumping everything on the track. On the third lap I jumped LaRocco's Leap. I felt super comfortable almost immediately."
Shane also played around testing all three ignition mapping couplers and found a noticeable difference in each that he feels can really benefit riders of all skill levels. When you get to a track, in practice you may see deep, soft loam but by the end of the day you're dealing with rough, choppy hard-pack. You may see an instance where you're using all three couplers in one day.
Suspension-wise, we had to play with the clickers a little bit and drop the forks down, but that's all it took for Shane to feel fast and comfortable. "The DLC coating helps the forks a lot. That's a pretty important thing and it's cool that Kawasaki offers it stock."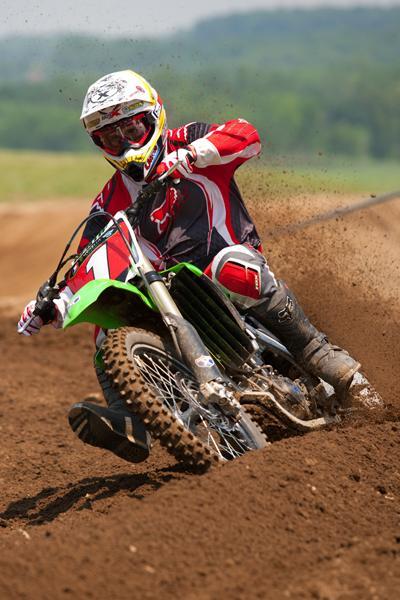 Bad Billy was most impressed by the handling of the new Kawasaki.
Photo: Andrew Fredrickson
To sum things up, this bike can be taken off the showroom floor and after a few minor adjustments it's race-ready, regardless if you're a novice or a seasoned vet.
This bike will be available in a couple weeks, so get to your local Kawasaki dealership to reserve yours today. And be sure to check out our Racer X Films from the intro.
2012 Kawasaki KX450F Specifications
Displacement: 449cc
Transmission: Five-speed
Front suspension: 48mm inverted, Kayabe AOS with DLC coated sliders, 22-position compression and 20-position rebound dampening adjustment/12.4 in.
Rear suspension: UNI-TRAK linkage system and Kayaba shock with 50mm piston, 22-position low-speed and stepless high-speed compression dampening, 22-position rebound dampening and full adjustable spring preload/12.4 in.
Curb weight: 249.1 lbs.
Fuel capacity: 1.64 gal.
MSRP: $8,399