By Pat Schutte
In motocross, Red Bud is synonymous with Independence Day Weekend, but this coming Memorial Day Weekend, May 28-29, RedBud will open its doors to an entirely new form of off-road motorsport. The Traxxas TORC Series, presented by AMSOIL, kicks off its 2011 competition season on the famous track in Michigan.
One of the racers intimately familiar with the famous rolling hills, clay loam and, of course, intensely loyal fan base of RedBud is TORC Series co-founder and PRO 4 class racer, Rick "RJ" Johnson. RJ's battles during the 1980s with the likes of Johnny O'Mara, David Bailey, Ron Lechien and Jeff Ward were the stuff of legend at RedBud. The former factory Yamaha and Honda racer won at RedBud multiple times, en route to overall MX National 250 class championships in 1984 (Yamaha), '86 (Honda) and '87 (Honda) and 500cc class championships in 1987 and '88 with Honda.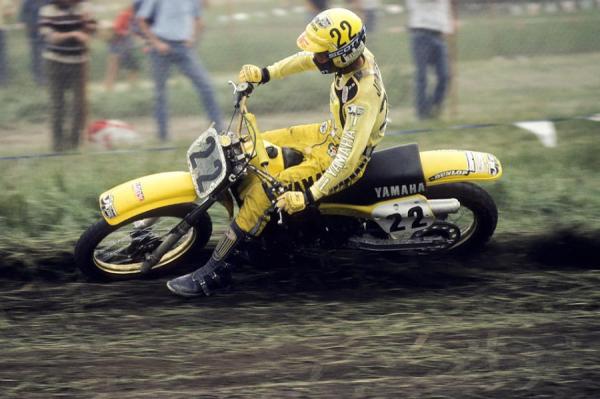 Johnson on the "yellow" Yamaha in 1982.
Though Johnson wasn't one of the first motocross/supercross racers to make the transition to off-road Baja-style racing, he certainly charted the course for modern MXers into the white-hot world of short course truck racing – including Jeremy McGrath, Brian Deegan and Carey Hart. Racing RedBud's TORC opener for the Menzies/Ram/Mopar team, Johnson – the 2010 TORC PRO 2 champion – moves to the PRO 4 class to battle the likes of Johnny Greaves, Scott Douglas, Jeff Kincaid and Rob MacCachren (short course off-road names akin to Villopoto, Reed, Stewart & Dungey).
Rolling into RedBud next week, Johnson's pumped to return as a racer for the first time in more than 20 years to the track that he lists as one of his favorites to race on the outdoor national circuit. Here's RJ's take on racing it in a truck!
Racer X Online: Racing your Menzies/Ram/Mopar PRO 4 truck at RedBud…how cool is that?
Rick Johnson: Just to go back to RedBud is going to be a treat. I spent almost every birthday from when I was 17 until I was into my 20s at RedBud. (RJ's birthday is July 6th). I had some great successes there on motorcycles. And knowing how well the Ritchies take care of the track for motocross, how they pay meticulous attention to detail, I think the TORC race is going to be an unbelievable event.


RJ returns to
RedBud
this weekend for the Traxxas TORC Series.
Photo: Courtesy of Ricky Johnson
What kind of memories do you have from your MX days at RedBud?
In 1986, when I went to Honda (from Yamaha), I ended up third in the first moto behind Johnny O'Mara and David Bailey. And then between motos we made some changes to the bike and I was able to win the second moto. So yeah, that was one of the best battles I had there.
Which riders were some of your best MX battles with over the years at RedBud?
I had another awesome championship battle with Ronnie Lechien in 1984. I raced with Jeff Ward in '85, but he was in a class of his own and beat me pretty solidly. In 1985 and '86 I had Ward, Lechien, Bailey and O'Mara. Then '87 and '88 I had some awesome back and forth battles with Jeff Ward.
What is it about RedBud that will make for some great short course off-road racing?
The terrain and the dirt. We're in the Midwest with unbelievable clay, which will make for great traction and allow the track to hold up. It'll also get rough, like it does for the motocross event. Then the other thing that'll make for a great TORC event is the topography, the rolling hills, trees and spectator areas. All-in-all, nature has just created a great place to race off-road. And finally, USAC and the Ritchie family are going to put together an event that's going to be win/win.
Have you heard much about the track layout? What parts of the MX National track they're using?
I've talked to Jeff Nordstrom (USAC/TORC track builder) and I've also talked to Kevin Miller (USAC President) and, though they're not going to use a lot of the motocross track because of the design for motorcycle racing and the limited width for trucks, we will cross back and forth over it and hit a number of recognizable features to RedBud motocross fans.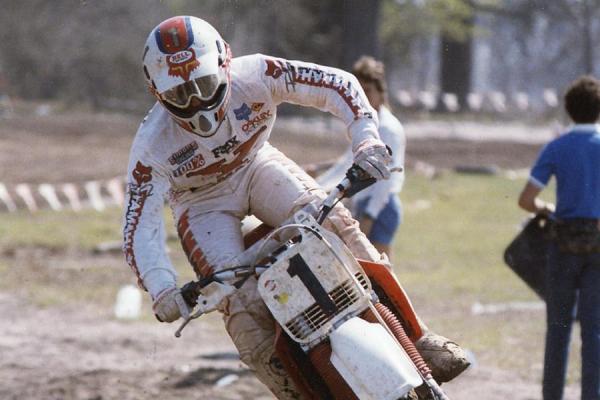 RJ wearing the #1 plate in 1985.

So in terms of air time, the motocross fans attending the May 28-29 event at RedBud can expect to see the trucks in the air often?
It's going to have some awesome jumps, big swooping berms – everything's just going to be on a bigger scale for the trucks and buggies.
Which could you run a TORC RedBud lap fast on/in…your dirt bike or PRO 4 truck?
I could post a faster time in my truck, if it's on a short track – just because of the horsepower and flat turns (not bermed). It would be close, but you can go faster in a PRO 4.
Even faster than if you had some sort of Service Honda-built colossal 500cc two-stroke desert racer?
The area where it'll get you is the flatter corners. If you can't lean the bike into the corner, like in big rut and have to slide it around – I think that's what's going to get you.
There's some guys here in Michigan that slide pretty well around flat corners – thinking names like Bart Markel, Jay Springsteen, Scotty Parker and, more recently, Bryan Smith and Henry Wiles. Think a flat tracker might have a better shot at running down a PRO 4 truck at RedBud?
It'd be close! There are a handful of names you could pull out of that scene in Michigan that are really fast and would have a shot at it for sure.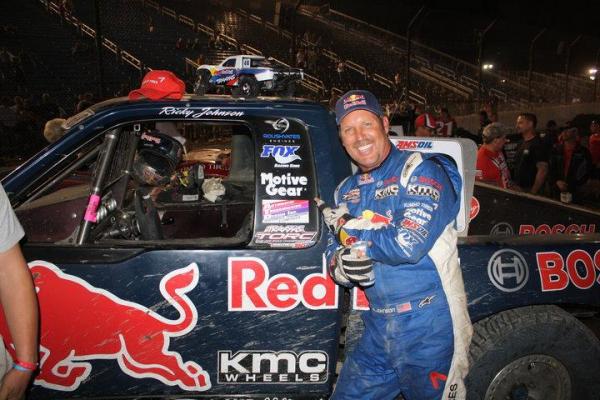 Johnson is into a new kind of racing these days.
Photo: Courtesy of Ricky Johnson
Let's say an MX fan is on the fence about coming out next weekend. What would you tell them that'd change their mind?
I have not met a person in any kind of racing, whether it'd be stock cars, supercross, motocross, road racing, Formula One – any kind of racing – that didn't come to a TORC short course event and leave a big fan.
Will the fact that you've got experience on the RedBud terrain – on your dirt bike - give you any advantage over the other TORC drivers?
I might be familiar with the layout, but we're all starting out fresh.
What about the RedBud faithful having your back?
Not only did I enjoy going there, because it was a tough race on a rough track and it was always hot and humid, the Michigan fans were always good to me. Whether it was the Silverdome or RedBud, I always seemed to be right behind their local favorites, (Alan) King, the Bigelows (Kreg, Kirk, Kris & Kip) or (Jeff) Stanton. All the Michigan Mafia guys!
Thanks, RJ. And good luck next weekend at the TORC Series opener at ReeeedddBuudddd!
Thanks. Look forward to seeing a lot of motocross fans out there.