Seth Rarick #672 raced his first Pro National last weekend in Hangtown and although he didn't get great results, he felt positive about the weekend and looks forward to the rest of the series. Hailing from upstate New York, Rarick now rides for the Jimmy Weinert Racing team and has been training down at their new facility called South of the Border, located in South Carolina. Known for training like Rocky Balboa, "Sethjo" as his friends call him, is one of the most positive, focused, and dedicated riders coming into the pro ranks. We caught up with him to see how his first National went and what is in store for the rest of the series for this weeks Privateer Profile.
Racer X: Seth! You made the fast 40 in your first pro race ever! How was your day?
Seth Rarick: It went pretty well, I was able to get a decent qualifying time for being in the non-seeded practice and the first moto was alright but I crashed in that one. The second moto was better finishing 24th, I really need to be in the top 20 but I'll make improvements from here. For my first race, I'll take it.
Were you nervous being that it was you first National?
To be honest I would be more nervous for a local race, I never got nervous all weekend cause I just went in with the attitude that it's just like any other race. Of course, it was much rougher and the guys are a lot faster, but I never let it bother me at all and I need to keep that mentality all season long.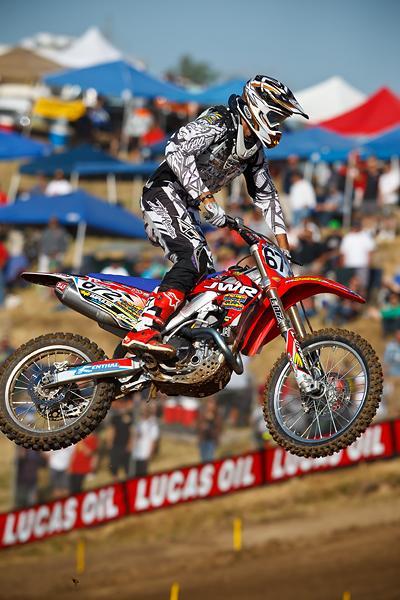 Rarick finished 27th overall in the 450 class in his first career national at
Hangtown
.
Photo: Simon Cudby
Most people in New England have heard of you or watched you race, but the rest of the world probably hasn't heard of you. Fill them in on your background and where you're from.
I'm 19 years old from Clarksville, New York, I grew up racing some local stuff in New York and also a lot of NESC races in New England. I did Loretta's for a few years and in '09, I did most of the amateur nationals in the B class and had some top 10 finishes at Texas and Loretta's. My amateur career was hampered by injuries, though, and I never won any major titles or anything but through hard work I know I can get where I need to be.
You have a really good reputation for training really hard. Are you still on the ball with that? What's a normal week like for you?
Yeah I mean I get to do something I love everyday and I don't want that to end so I give it everything I have. I know if I wasn't doing this, I'd be mixing concrete for my dad and this beats that by a long shot. Now that the season has started, a normal weekday is just doing my motos and either running or some circuit training in the gym afterwards. We have to be creative with our workouts since we are living on the road right now.
You're driving to all the races! How does that work out? Do you have other people with you?
Well I'm driving to most of them. Right now it is me, my teammates Tyler Bright and Taylor Futrell, all of our mechanics and my dad. We have been riding in California since Vegas and now we'll head to Texas on Wednesday. After that it will be easier, because we will be back at South of the Border so we can ride and train more regularly during the week. High Point and Budd's Creek are not nearly as far as we came for these first races so that makes it easier.
That's a lot of people traveling together! What do you guys travel in, a semi?
No, we are in a motor home, and I promise you it is packed! There is absolutely no spare room and it gets frustrating at times but it's definitely worth it. We've been fortunate enough to have some places to stay and work on bikes out here so that has made it much easier.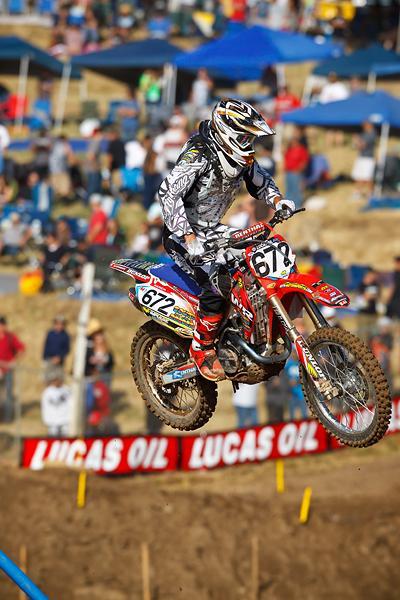 Rarick is riding for the Jimmy Weinert Racing team this summer.
Photo: Simon Cudby
How is it riding for Weinert's team? What kind of support are you getting? Bikes, expenses, mechanic, or doing most of it on your own dime?
It's pretty cool getting a chance to ride for Jammer and South of the Border. We have everything we need at the facility, multiple tracks, a gym, a garage where the mechanics work. It's an excellent opportunity. We each have a practice bike, race bike, and a mechanic to take care of them. The traveling expenses are somewhat split but all I can say is I wouldn't be here without them!
That sounds like a great deal for someone just coming into the pro ranks! What are your goals for this weekend in Texas?
I just want to improve week by week. You have to crawl before you can walk and I'm always trying to get better. I hear Texas gets hot, but I'm looking forward to the challenge and I should be top 20.
How did you feel at the end of the second moto at Hangtown? Were you spent or still charging?
I got really bad cramps in my left arm for some reason. The last 10 minutes I couldn't even pull the clutch in cause my arm was basically locked. My heart rate and breathing was fine it was just the muscle cramping issue. I should of scored points in that moto if it wasn't for that, but I learned a lot and I'll try to prevent it from happening next time.
So what's the plan for the rest of the season?
Right now I'm signed up for all 12 rounds so if all goes to plan I'll be at all of them. I want to get a top 10 by the end of the year and get a good national number for next year. After this outdoor season, I'm really looking forward to preparing for supercross.
That sounds good to me! What track are you looking forward to racing the most this year?
Without a doubt Unadilla and Southwick! They are both home tracks for me, even though I've only raced the Unadilla pro track once at the regional last year. I've raced the amateur track a million times and know the dirt well. I've also raced at Southwick countless amount of times and I feel I have an advantage there. Plus all my family and friends will be at those two so that will help!
Well I hope you have a successful rookie year! Is there anyone you'd like to thank?
I'd definitely like to thank Jimmy Weinert and Ryan Schafer from South of the Border. I can't thank those guys enough and without them I wouldn't be here. Also my dad for everything he has done over the years. Adams Performance, Litz Racing, ICW, Renthal, Liquid Performance, IMS, Fly Racing, Mantis United, Eks Brand, Works Connection, Yoshimura, Rekluse, Impulse Graphics, Mountain Motorsports, my mechanic Ian Hamilton, and anyone I forgot thanks a lot!