Sam Boyd Stadium
Las Vegas

,

NV
Las Vegas
Monster Energy AMA Supercross Championship

In a season as competitive as this, everyone has become well versed in the AMA Supercross point's structure. In case you're not, here it is:


1.) 25
2.) 22
3.) 20
4.) 18
5.) 16
6.) 15
7.) 14
8.) 13
9.) 12
10.) 11
11.) 10
12.) 9
13.) 8
14.) 7
15.) 6
16.) 5
17.) 4
18.) 3
19.) 2
20.) 1
Championship Tie Breakers: Most wins, followed by most seconds, most thirds, etc.
We know this well, as this season's chase has witnessed 20ths and 7ths and 9ths and 18ths that somehow became significant factors in the standings. At Jacksonville, for example, James Stewart took 18th, but made up three points on Villopoto while being carried out of the stadium on a backboard!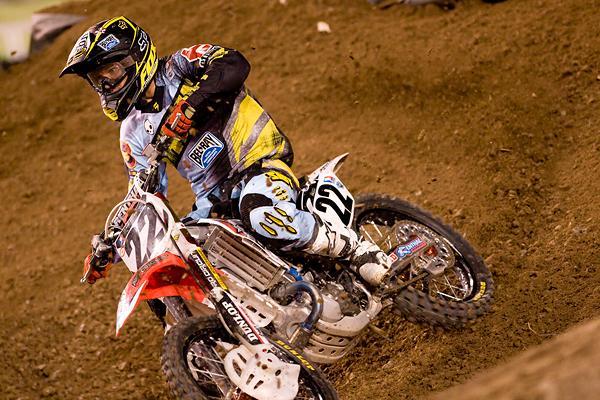 Reed needs a win in Vegas and some help from RV to capture his third career SX title.
Photo: Matt Pavelek
So we know the point structure. With it we know the keys to this weekend's Monster Energy Supercross Championship finale in Las Vegas.
If Chad Reed, second in points, wins the race and scores the maximum 25 points, he needs Ryan Villopoto to finish sixth or worse to win the title. If Villopoto finishes fifth and Reed wins, they tie in points and Villopoto wins the championship on a tie-breaker (most wins, and he would have six of those compared to Reed's two).
Ryan Dungey is 12 points back. To win the title, he would of course benefit greatly from winning the race, and would then need Villopoto to finish ninth or worse (he would tie Villopoto if Villopoto finished eighth, and then lose that race-win tie breaker). Dungey's okay if Reed finishes the race in second, because they would tie in points, and Dungey would get the nod because he would then have two wins to Reed's one.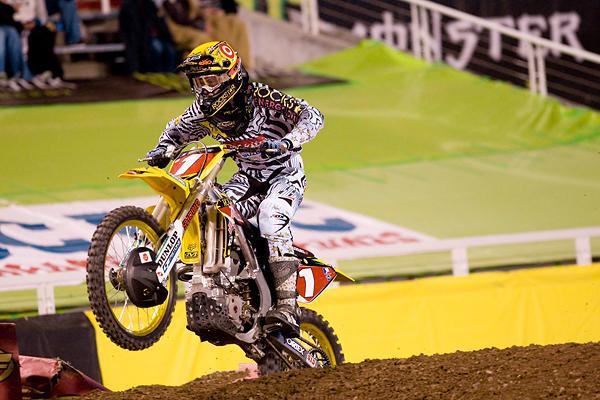 Dungey needs a win and help from both Reed and RV. A pretty tall order.
Photo: Matt Pavelek
But these are just the basics, and in this crazy season, it could get more complicated. For example if Reed finishes second in the race, he would need Villopoto to finish ninth. If Villopoto is struck by lighting (in the same place, twice) and doesn't make the main event, Reed would then need an 11th-place finish to overcome Villopoto in the standings. But he would still need to out-point Dungey, who is only three markers behind him.
And James Stewart does still hold a mathematical shot at the championship at just 23 points down. Stewart, though, must win the race and hope Villopoto finishes 20th or worse (if they tied in points, the both have six wins, but Villopoto would then edge Stewart with three second-place finishes to Stewart's two). And even if disaster struck for Villopoto, Stewart would need similar misfortune for Reed and Dungey. Put a dollar bet on this and you could make more money than Stewart if he won the championship.
The East Lites math is easy. Justin Barcia needs to finish 15th or better if Dean Wilson wins the race (both have three wins on the season so Wilson could win a tie-breaker with win number four). If Barcia fails to make the main, Wilson would need to finish second or first in the race to win the title.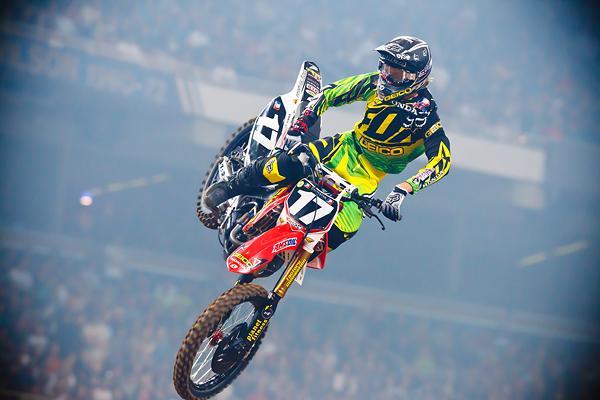 Barcia needs to finish inside the top-15 to capture his first career SX Lites title.
Photo: Simon Cudby
In Lites West, Broc Tickle holds just a two-point lead over Eli Tomac. It's very much a "whoever beats who in the race wins the title" scenario. If either rider wins the race, he wins the title. If either rider finishes ahead of the other rider within the top five, he wins the title. Tomac may be two points back, but he holds a key tie breaker with two wins against Tickle's one, so if he finishes second and Tickle takes third, they tie, and Tomac wins the tie breaker. Tickle's points advantage comes into play if they finish outside of the top five—for example, if they finish sixth and seventh. In that case Tomac would only make up one point and finish second in the standings.
Josh Hansen sits 14 points behind Tickle, and if he wins the race, would need Tickle to finish 10th and Tomac to finish 8th to win the crown. A tie for the points lead works for Hansen, who has three wins already and holds the tiebreaker. Oddly enough, no one understands that tie-breaker rule better than Hansen, who actually tied in points with Grant Langston for the 2005 SX Lites East Championship, and lost it on a tie-breaker!