Sam Boyd Stadium
Las Vegas

,

NV
Las Vegas
Monster Energy AMA Supercross Championship

10. Conditions:
Okay, chances are it's not going to rain or snow in Las Vegas, so scratch that oddity from mixing up this dramatic season. But racing in the desert brings its own challenge: the hardest, slickest dirt on the tour, and dry air that will have the riders suffering from cottonmouth by the halfway point. This has been a year littered with minor front-end washouts changing races. Front tires will have some trouble getting traction on this surface.
9. Track: And Vegas always brings the most unique track on the circuit, with a long run outside of the building, the big ski-jump on the way back in, and the longest lap times of the season.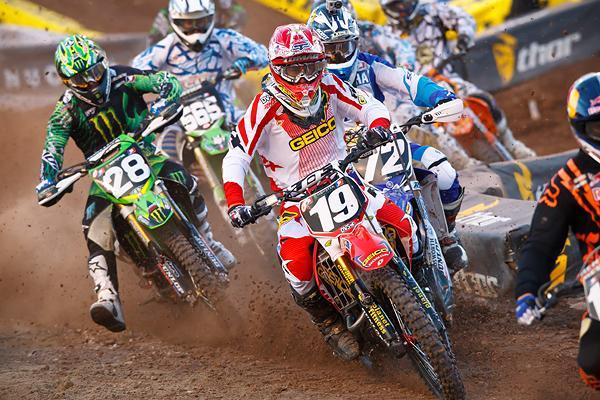 Tomac and the rest of the Lites class will do battle in Vegas.
Photo: Simon Cudby
8. Heats as Mains: Confused over the Lites format on Saturday night? After opening ceremonies, each coast will line up for their final main event of the season. This is normally when we'd see six-lap Lites heat races, but on this night, they're full 15-lap main events, with the champion crowned at the end of each. So for the first time ever, riders are racing for all the marbles as soon as they hit the track—no heat races to learn the track. This is particularly tricky in Las Vegas, as the track is usually heavily over watered early to maintain some moisture through the night. Last year's Lites heats looked like mud races. Now they're going to be main events with championships hanging in the balance.
7. Shootout Motivation: Once those double Lites mains are complete, we'll see SX Class heats and a pair of LCQs (those Lites mains also send the top nine in each race to the East West Shootout, with the rest of the Lites pack meeting for an LCQ for the last two spots). By the time the shootout rolls around, though, where will the top riders be, mentally? If you just lost a title in heart-breaking fashion, lining up for the 10-lap shootout will be hard. If you just won a title, you'd rather be partying in the parking lot. Also, there isn't a brand-new truck or huge cash bonus on the line this year for the shootout winner. So this could be the chance for an underdog who just wants to win for the sake of winning.
6. West Spoilers: Things are still tight in West Lites between Tomac and Tickle. Look at our Bench Racing Ammo for an exact guide on how the points work. And in this class, you still have to worry about spoilers in the mix. Cole Seely has proven he can win, Kyle Cunningham finished fourth on a 450 here last year, and of course Josh Hansen is in mathematical contention, but is more realistically in the spoiler position.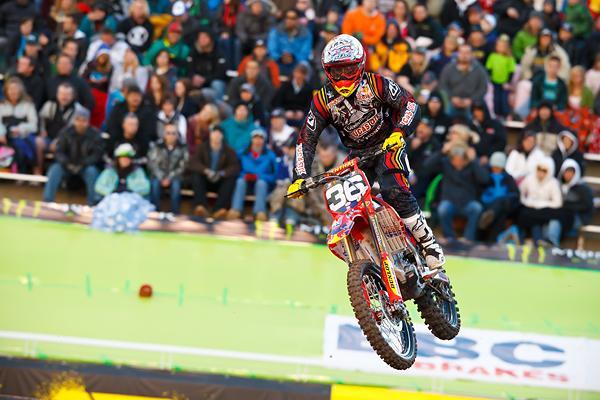 With two wins in his pocket already this year don't be surprised to see Cole Seely play the spoiler role at Vegas.
Photo: Simon Cudby
5. Who Else is There?: It's a little different in the SX Class. If Ryan Villopoto finishes fifth or better, he's your new supercross champion. There aren't five riders on the gate who have proven they can straight beat Ryan on pure speed. Trey Canard is out. Next in line in points sits Andrew Short and Kevin Windham, but certainly they don't have a reason to log the race of their lives and suddenly whip Villopoto straight up. If Ryan does his deal, he's safe.
4. The Takeout: But what if someone forced the issue? Then it gets interesting.
3. Pressure: And of course most of these scenarios are only based on math. The night air is going to be thick with championship pressure, and that makes people do strange things. In 1992, Damon Bradshaw won two races in a row heading into the finale to snag the points lead. He had it. Until the pressure got to him and he lost it. You never know.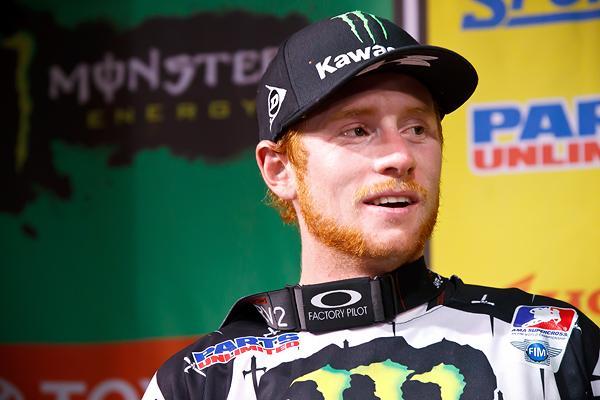 The pressure lies in Villopoto's corner.
Photo: Simon Cudby
2. One Last Drama: And if we're talking about math, just go and have a look at the numbers from this season. This year more than ever, a top contender finishing out of the top five seems possibile.
1. Villopoto: Ultimately, it all rests on his shoulders. But broad shoulders, they are. Last weekend's clutch performance in Salt Lake City proves Ryan can handle the big moment, if his previous wins at the Motocross des Nations or big triumphs and title on a Lites bike don't prove it, either. All eyes will be on him this weekend, but he's proven that he can handle it.