Rice-eccles Stadium
Salt Lake City

,

UT
Salt Lake City
Monster Energy AMA Supercross Championship
After fifteen races where just about everything that could happen, did happen, this year's Monster Energy Supercross Championship may have come down to 20 laps in Salt Lake City. Ryan Villopoto came out on top, and now he controls the series with a nine-point lead heading into the series' finale this weekend in Las Vegas. After the race, we found him in his motorhome and asked him about what may turn out to be the most important race of the season.
Racer X Online: I'm going to say that as far as clutch rides go, that was the supercross equivalent to hitting a big three pointer late in the game. Obviously everything was on the line out there, and you knew this, and I'm sure the other riders knew this.
Ryan Villopoto: Yeah, I know, it was the most important win, for sure. Out of any of the wins so far, this was the one that was most critical, so now we can go into Vegas a little more relaxed. But we still need to finish good, and if a win presents itself, I'm going to take it.
The last few races things weren't going as well…
Well, since Jacksonville, you know, it's been kind of rocky, and I know people have been saying "What's wrong" or whatever. The weekends haven't been going that well for me, and it's nice to turn things around with a win, just to show everyone again. People tend to forget, you know? Even with five wins, they forget that I've won five times. So it was good to get another win. It's nice.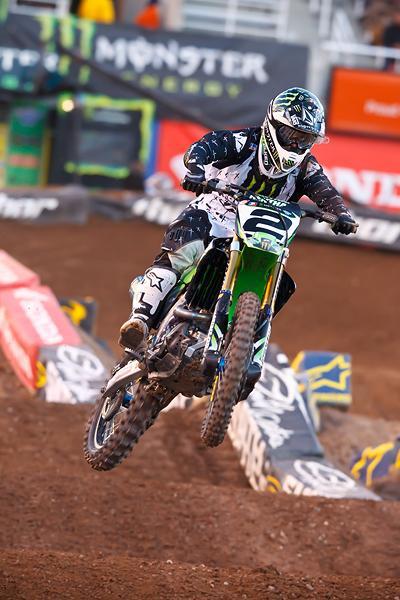 Villopoto got back on track at Salt Lake City.
Photo: Simon Cudby
After the race in Seattle, you said you wanted to get one more win before the year was up. You were not just backing in and getting points.
Well, that's the easiest way to—our main goal is the win the championship, and the best way to do that is to minimize your mistakes on the bad weekends and winning races when you can. So if you can win the race, we're going to try to win the race.
So for the races since Jacksonville up until now, were you really riding differently, or was it just circumstances, bad starts, whatever?
No, I mean, the riding, myself, I wasn't riding very well. I took a blow not qualifying at Jacksonville, and going from a 27 or 26 point lead or whatever and losing all of that.
It makes an impact?
Yeah for sure. So then I'm building myself back up, believing that you can win and ride up there with those guys. It takes a little bit to get that back.
Take us through this race. Got a decent start, you were behind Brayton in fourth.
I got around Brayton, and then, I was thinking I can't fall into a pace behind Chad. I had to put in a push to get around him. He's a guy where you can get stuck in his lines or his pace. I was able to get around Chad. Obviously James knew what was going on, he heard the crowd, things like that. He went down, and then I saw him out of the corner of my eye when he went down the second time. So I knew after that I didn't have to worry about James coming back anymore. It was just Chad.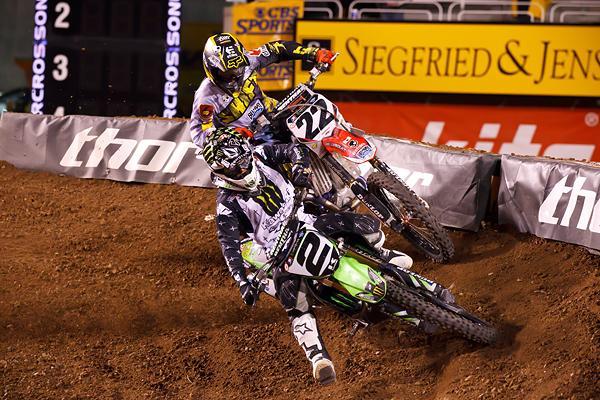 Did this pass seal the championship for Villopoto?
Photo: Simon Cudby
After that, where you trying to manage the race up front, or was it an all out blitz?
No, it was managing it, because the track was pretty slick, and you would hit the lappers in clusters, so there was some cat and mouse, I'd pull away a hair, he'd catch up a little bit. It was tough.
Did the word clutch come to mind? Did you feel that these last few laps were more critical than maybe any others this year, or where you just riding?
I was just riding and trying to be consistent. I knew my fitness is the best of any of those, guys, I believe it is, so I was just trying to be consistent.
So in your mind, it was just a race.
Yeah, it was a race for sure, it was close, but I wasn't just balls-out wide open. I was maintaining. I started jumping through the whoops, it was safer to go blitz, triple triple, I just did that and counted the laps down.
When you were up to second, where you going after James?
My main goal was Chad, because at that time he was the closest guy, points wise. Then if I got into second, at that time, I could try to put in a push to James. But I don't want to push too hard, ride over my head and go down. That's not really the goal, the goal was to get to Chad, then we work on James, and we see what happens.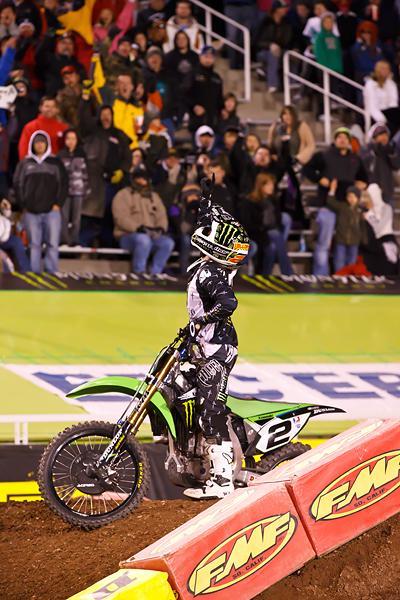 Glory.
Photo: Simon Cudby