Rice-eccles Stadium
Salt Lake City

,

UT
Salt Lake City
Monster Energy AMA Supercross Championship
Chad Reed knew what was on the line on Saturday night in Salt Lake City. He knew he needed to repass Ryan Villopoto and get the win to improve his shot at the championship heading into this weekends finale in Las Vegas. He couldn't make it happen, though, and he was understandably disappointed after the race. We chatted for a few minutes to get his take.
Racer X Online: How was the race?
Chad Reed: The race was okay. The start was hectic, crazy, I felt like a ping pong ball, not a big fan of those first turns, but what do you do, I got through it clean. I'm just disappointed that I felt that I just didn't ride aggressive enough, and I rode kind of tight up front in the beginning. Ryan put some good laps in. I had to regroup, and once I regrouped, I was fine, I started catching him. But I was too inconsistent in the whoops. One lap I was down the right side, next time I was down the left, next time I was down the middle. I was just searching. When I committed, and rode it the way I'm supposed to ride it, I killed them and they were super easy. I just didn't do that for enough of the laps.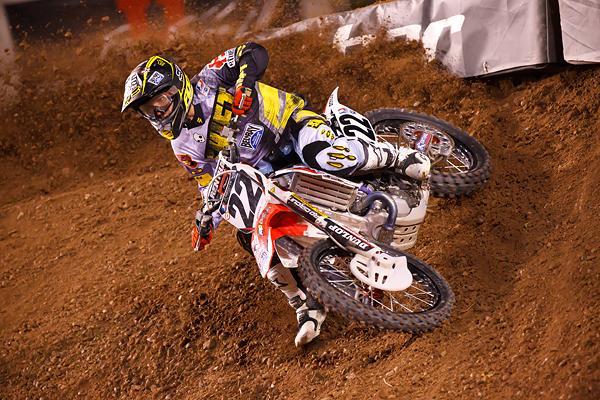 Reed needed a win at Salt Lake City, but had to settle for second behind Ryan Villopoto.
Photo: Simon Cudby
Is there any science to why you got faster through there on the last few laps, or was that just all out, championship on the line stuff?
No, I was going all out the whole time. I was trying to get after it, it wasn't like I was out there riding at 80 percent or anything, I just felt like I was making some mistakes and riding tight at the beginning. Once I loosened up a little bit and I picked a line that was working in the whoops, I tried to get after it.
Lot's of talk about what parts you're now running from Trey Canard's bike. What changes are there?
Um, I don't think there's a lot from Trey's bike. His bike is sitting over there at the Honda truck right now.
So you're on your bike, not his?
Yeah, it has my numbers on it, my name and everything.
Well, for one, we know you switched to a hydraulic clutch. Was that a risk to change that late in the game, or did you know it would not be a problem?
I mean, it's always risky. You look at things and kind of see if it's going to be okay, and I've been around this along time, and when I was given the opportunity, I talked to some people I really respect—Mitch and Bones from PC, the Honda guys, and my guys. We picked it apart and figured out the pros and cons. I felt that it was my decision 100 percent, and I went in with an open mind. I allowed myself to ride their stuff and see what was better and what was different. I immediately liked some of their stuff, so I went down that road.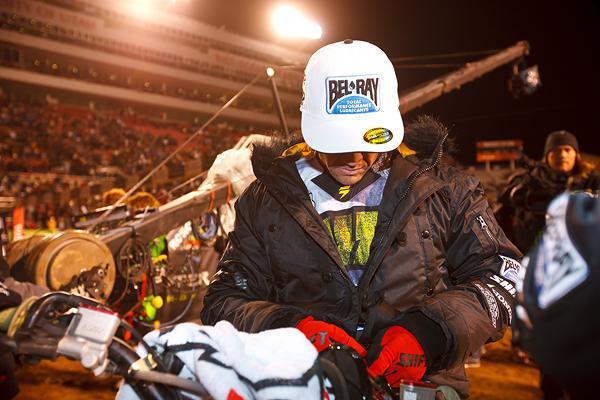 Reed was obviously disappointed with his second place finish.
Photo: Simon Cudby
So by the time you got here, you felt it wasn't a risk?
I had been riding some of their parts since Monday after Seattle. And I burnt up some clutches doing those starts, I just did start after start. I have no experience with a hydraulic clutch, and immediately I had a great feeling. I was excited the have the opportunity. But it's always one thing to test and ride and be at home in your own environment, but when you get into race conditions….it was actually pretty funny. In the heat race, I went over the finish line on the first lap and I went to adjust it. And for those of you that know, you can't adjust a hydraulic clutch, the feel never changes so there's no need to adjust it. But I had this moment in race mode, and I totally reached for it, and I was like "You idiot, there's nothing there!" And I was okay after that.
So any strategy from here on out to Vegas?
Just do your deal and enjoy it. We're nine down, so it's going to take him finishing outside of the top five and me getting a win, and honestly I feel like that's a longshot. Ryan rides great at that track. So, I gave up a lot tonight, and I know that, and that's why I'm bummed. I'm disappointed. But I'm not beat, we'll come out next week and come out swinging and try to win the race. I can only control my own destiny, and whatever happens outside of that happens.