Edward Jones Dome
St. Louis

,

MO
St. Louis
Monster Energy AMA Supercross Championship
James Stewart was not only overdue for a win, but the Monster Energy AMA Supercross tour was overdue for a race where someone actually led most of the laps, all of the main contenders stayed upright, no one took anyone else down, and some sanity overcame what has been an insane series. But don't worry. Three races still remain, and with the championship fight tighter than ever, chances are the series will return to its normal setup--which is completely abnormal things happening over and over—next weekend. But this night was reserved as a moment for Stewart. And as he reflected on everything that has happened over the last two months since he's won a race, he couldn't stand up to it all anymore. So he started crying on the podium.

"All of the things that have been taking place over this season," he said. "It just finally overcame me. And then I looked over at my dad, and I know he wanted to cry. I just couldn't hold it back anymore."

Since his last win on February 5th in Anaheim, Stewart has been through several big crashes, a few run ins with Chad Reed, the changeover in team management with the apparent dismissal of Larry Brooks, and even an arrest. Getting back to victory lane was big, and Stewart ranked this up there with any other win he's ever had.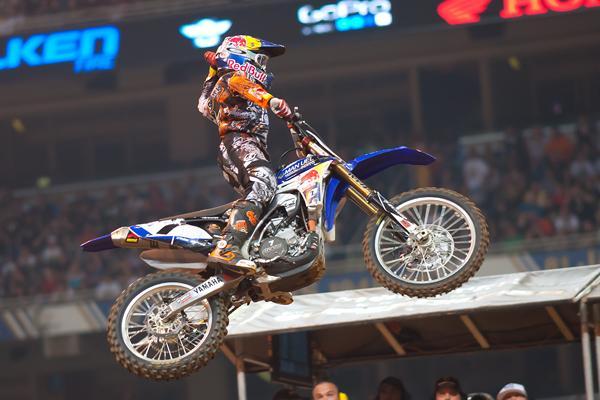 Stewart was exceptionally emotional after returning to victory lane for the first time in over two months.
Andrew Fredrickson photo
As emotional as his win was, the actual race was free of such drama. Dodge Motorsports Hart and Huntington's Ivan Tedesco grabbed the Nuclear Cowboyz Holeshot, with Ryan Dungey and Stewart right behind. Stewart got inside of Dungey on lap one, then went after Tedesco and grabbed the lead. Dungey battled a bit with Tedesco before getting to second. Then Stewart busted out a triple-triple jump combination in the final rhythm lane, bringing his lap time into the 47 range. Before long he had nearly a four second lead on Dungey.

"I was saving that triple-triple in my back pocket in case I needed it," said Stewart. "Then I was just like "Man, things have already gone so bad for me lately, I might as well just give it a shot!'"

Ryan Villopoto and Chad Reed were running one-two in points coming into the race, but they didn't start as well as Dungey or Stewart. Villopoto, in fact, wheelied out of the gate and found himself way back, but some smart moves through the first few corners put him up front. Reed and Villopoto were next up to challenge Tedesco for third. Tedesco, who is suffering from a torn ACL, tweaked his knee on the fourth lap, and Reed and Villopoto got by. Villopoto was pressuring Reed for third, then Reed landed on a set of tuff blocks that had been kicked out on the track by another rider, and his TwoTwo Motorsports Bel-Ray Racing Honda got stuck. Villopoto sailed past.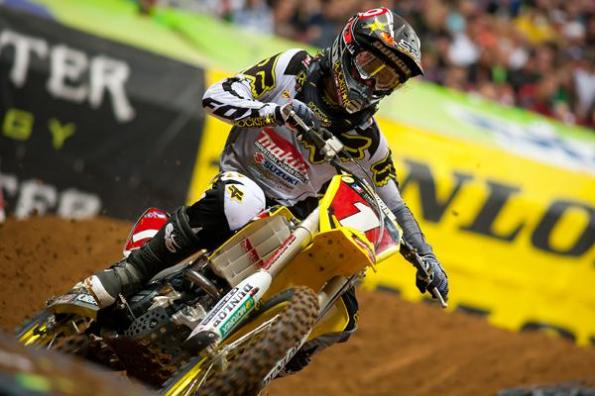 Dungey never let Stewart get too far away, but couldn't get the gap down under three seconds, either.
Andrew Fredrickson photo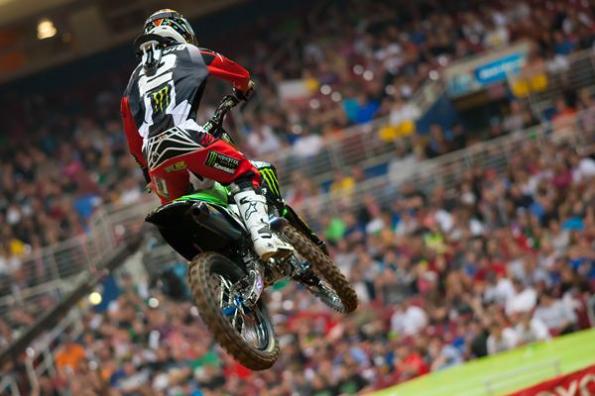 Villopoto didn't quite have the speed to catch Dungey or Stewart after a bad start.
Andrew Fredrickson photo
Dungey gave the triple-triple a shot and cleared it, and from that point on he matched Stewart's lap times. He couldn't quite close in, though, and Villopoto similarly could not make headway on Dungey. Reed fell back, and eventually last week's race winner Trey Canard, who started the race in 15th, closed in. But Reed dug deep to hold on to fourth.
Stewart slowed slightly on the last lap, and he took his San Manuel Red Bull Yamaha to the win by three seconds over Dungey's Rockstar Makita Suzuki. Villopoto's Monster Energy Kawasaki's Villopoto took third, Reed and Honda's Canard rounded out the top five.

"It was good to get a second," said Dungey. "I kept pretty close to James, but I knew once he made the pass on Tedesco I was going to have to get Ivan quick. Then he [Stewart] stated doing the triple-triple really early. I told myself I would do it if I felt comfortable, and I did it."
"Once I started doing the triple-triple there was nothing I could do to close the gap on Ryan," said Villopoto. "We were all just doing the same thing. I wanted to catch him, but, at the same time, I still have five points."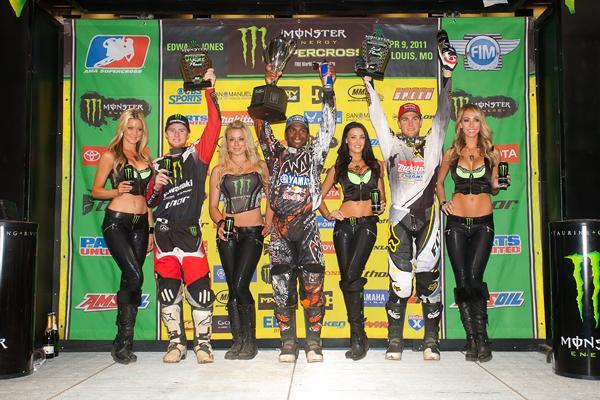 GEICO Honda's Kevin Windham had a big crash in practice, but he dug deep in the main to collect sixth. Muscle Milk/Toyota JGR's Davi Millsaps was seventh, and Tedesco took eighth. Austin Stroupe was fast all day on his Valli Yamaha and took ninth, with Red Bull KTM's Andrew Short rounding out the top ten.

The points are tight leaving tonight's race in St. Louis, with Villopoto leading Dungey by five points, Reed by three more, Stewart sitting 16 points out of the lead, and Canard back by just 20 from the lead. With points that tight, expect the drama to be back next weekend in Seattle. In St. Louis, things were more straightforward.

They're more straightforward in the Lites East Region, as well, with Justin Barcia collecting his third win of the series and extending his points lead to 20 with just one race to go. It wasn't easy, though. Blake Baggett grabbed the holeshot on his Monster Energy Pro Circuit Kawasaki, but Barcia went wide in the second turn and used the momentum to blast through the whoops and take the lead. DNA Shred Stix Star Racing Yamaha's Ryan Sipes then made a quick pass on Baggett and went after Barcia, while Dean Wilson, winner of the previous two races, couldn't get going after a bad start.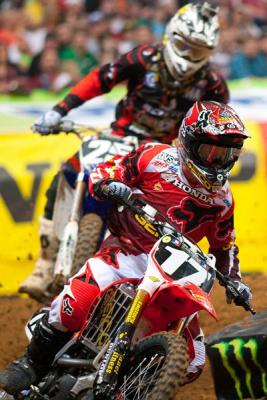 Barcia dealt with heavy early pressure from Sipes and even lost the lead for a moment. He got it right back though and held strong to the finish.
Andrew Fredrickson photo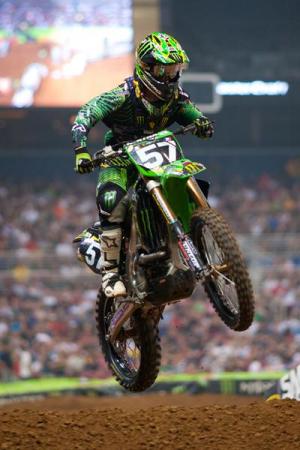 Baggett found his groove in the second half and went after Sipes for second, but he could not make it happen and ended up third.
Andrew Fredrickson photo
Sipes pressured Barcia and then made the pass for the lead. Barcia immediately answered back with a pass of his own. Sipes stayed close, but then a few mistakes dropped him off of Barcia's wheel and instead into the clutches of Baggett. Baggett stalked Sipes, and Sipes rode the inside lines to hold him off. Baggett got side-by-side with Sipes several times but was never able to pull the trigger on a pass, and then Sipes eventually found his groove again. Barcia kept pulling away, and Sipes never yielded to Baggett's pressure, holding on for second. Baggett took third, Wilson was fourth, and Blake Wharton was fifth.

Look for television coverage of the race on CBS for the SX class at noon EST, and Lites coverage at 6 p.m. EST on SPEED. And stay with RacerXOnline.com for news, scoops and analysis from St. Louis all week long.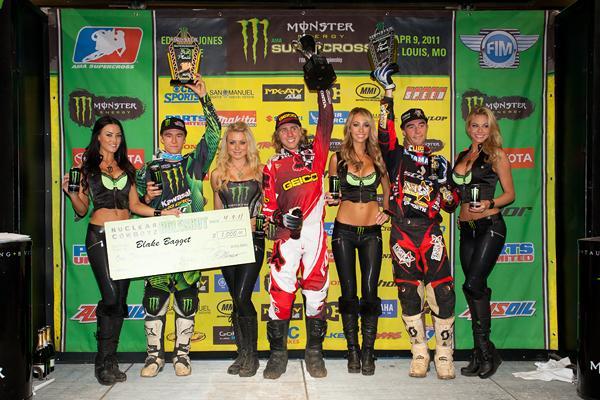 The Lites podium.
Andrew Fredrickson photo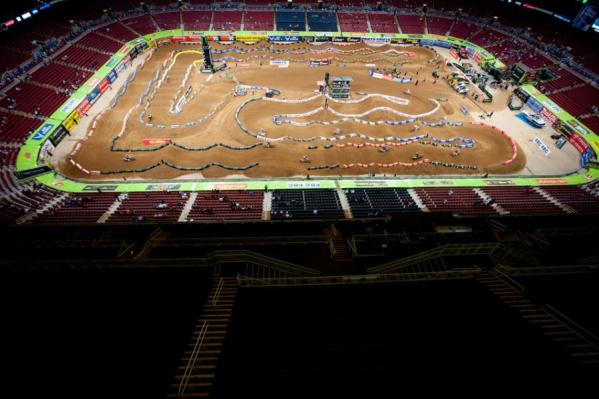 The track.
Fredrickson photo
SX Class Results:
1. J. Stewart
2. R. Dungey
3. R. Villopoto
4. C. Reed
5. T. Canard
6. K. Windham
7. D. Millsaps
8. I. Tedesco
9. A. Stroupe
10. A. Short
11. T. Hahn
12. C. Blose
13. N. Wey
14. K. Regal
15. M. Byrne
16. B. Kiniry
17. M. Alessi
18. T. Simmonds
19. F. Iziord
20. W. Peick
Lites Results
1. J. Barcia
2. R.  Sipes
3. B. Baggett
4. D .Wilson
5. B. Wharton
6. G. Audette
7. H. Hewitt
8. L. Vincent
9. L. Smith
10. T. Futrell
11. D. Durham
12. M. Lemoine
13. B. Ripple
14. T. Bright
15. L. Kilbarger
15. R. Sipes
16.J. Sipes
17.  H. Clements
18. K. McCabe
19. N. Myers
20. J. Anderson
Supercross Class Season Standings
1.     Ryan Villopoto, Poulsbo, Wash., Kawasaki – 275
2.     Ryan Dungey, Belle Plaine, Minn., Suzuki – 270
3.     Chad Reed, Tampa, Fla., Honda – 267
4.     James Stewart, Haines City, Fla., Yamaha – 259
5.     Trey Canard, Shawnee, Okla., Honda – 255
6.     Andrew Short, Smithville, Texas, KTM – 185
7.     Kevin Windham, Centreville, Miss., Honda – 165
8.     Davi Millsaps, Carlsbad, Calif., Yamaha – 143
9.     Justin Brayton, Cornelius, N.C, Yamaha – 141
10.  Ivan Tedesco, Murrieta, Calif., Kawasaki – 114

Eastern Regional Supercross Lites Class Season Standings
1.     Justin Barcia, Ochlocknee, Ga., Honda – 185
2.     Dean Wilson, Menifee, Calif., Kawasaki – 165
3.     Ryan Sipes, Vine Grove, Ky., Yamaha – 141
4.     Blake Baggett, Grand Terrace, Calif., Kawasaki – 134
5.     Blake Wharton, Pilot Point, Texas, Honda – 125
6.     Matt Lemoine, Collinsville, Texas, Kawasaki – 105
7.     P.J. Larsen, Murrieta, Calif., KTM – 80
8.     Malcolm Stewart, Haines City, Fla., Suzuki – 73
9.     Lance Vincent, Youngsville, La., Honda – 69
10.  Hunter Hewitt, Pilot Point, Texas, Suzuki – 67