Ryan Villopoto – Monster Energy Kawasaki—Third Place, SX Class

It was alright. I kind of Evel Kneiveled off the start and did a huge wheelie. Me and Stewart were side-by-side and I was just trying to edge him out. I wheelied. So I had to come from behind. The track, once all three of us started jumping that triple-triple by the finish, it seemed like we were all doing the same thing. I was trying to catch Dungey, but it was just hard to make up time. I was closer at the beginning, but then I was still behind Chad. I wasn't able to get around Chad right away, and that's how Dungey got that gap.

Did you see those tough blocks that Chad landed on?
Yeah I did, but I wouldn't have hit them, I was tripling at that point so I would have went over them.

When Dungey was out ahead of you in the second half of the race, where you trying to go catch him, or where you just riding your own race?
I mean, I was wanting to catch him, but I wasn't going to risk crashing. That would have been worse. It was only two points if we stayed there, and crashing would have been worse if I had went down.

So the points do run through your mind?
Yeah.

It's your home race next week and the last time you raced there, you won your first career supercross. Is there any advantage at all for you there?
I'm sure there are a lot of fans who are looking forward to seeing me up there. So that's going to be cool. As far as the dirt, someone asked me today if they've put new dirt in there since I last raced, and I don't know. So I'm not sure. That's not a big deal. But I know the dirt there is usually like an outdoor track. Once it gets all soft and rutty, it's like an outdoor…and you know I like that.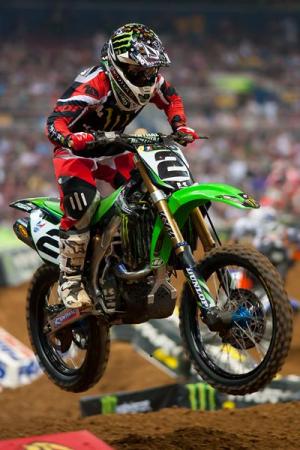 RV has gotten the consistency back after a few tough weekends.
Fredrickson photo
Ivan Tedesco – Dodge Motorsports Hart and Huntington – Eighth Place, SX Class

I'm happy for the situation I'm in. I've torn my ACL so I'm just trying to get through it. I tweaked my knee on the fourth lap, and just did the best I could after that. I nailed both of my starts, the heat felt good, and the main, I did the best I could. I've had a lot of nagging injuries, so I haven't been able to train as much during the week as I would like to. I'm just in survival mode right now. I hate to say it, but I really just looking forward to next year—I'll be getting surgery after Vegas.

Tommy Hahn – Motoconcepts Yamaha – Eleventh Place, SX Class

The result doesn't show it but I rode 10 times better than I did in Dallas. I got eleventh here, but I crashed in the first turn. My riding was good, but it just took me until the main event to get there. In the heat race, I got a good start and just kind of locked up. I rode a lot better in the main. So, I can't be bummed on myself because I rode so much better than I did last week, so I'm making progress. And really, I'm just trying to stay healthy and be ready for the outdoors.

Seems like you're riding better since you came back.
I think I'm riding in more control. I was going for it too much before I got hurt, and I was just wadding myself up. I think I'm riding more calm. I took the time off that I needed, I healed, and then I kept on training and just kept getting stronger. With my brother hurt, he's been home with me and he has been pushing my quite a bit. I've started to take parts of his program, and that seems to be working for me, because what I was doing before wasn't working. I rode outdoors last week a little, and I'll continue to do some outdoors so I'll come in ready.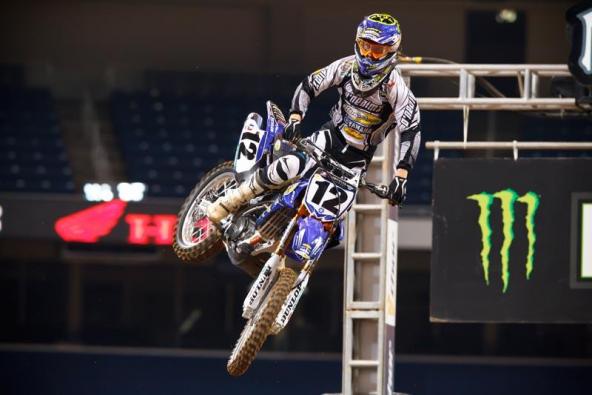 While the points leaders are staying focused on the indoors, T Hahn is preparing for the outdoors.
Cudby photo
Gannon Audette—DNA Shred Stix Star Racing Yamaha—Sixth Place, Lites Class

Three weeks ago I got a seventh, then I got an eight, and now I got a sixth. It's been getting better, I'm keeping it on two wheels, so that's helped. So now we just have Vegas and then we have outdoors. I got off to a good holeshot in the main, I think I was about fourth. I made a few small mistakes, went back to eighth. But I rode a smart race and kept it on two wheels.

So the big difference for the last few races has just basically been keeping it on two wheels?
Yeah basically, especially those first few laps. You have to be safe. Then you have to dig down deep. I've been trying to work on the consistency.

How steep has the learning curve been to learn supercross in your first season?
Yeah, it's pretty tough, coming from amateurs. But it's cool, too. You have to be on top of your game the whole time.

Ryan Dungey – Rockstar Makita Suzuki—Second Place, SX Class

Overall it was good. Track was a lot softer than normal, so we had to make some changes in practice. We made some good changes before the heat race, and we were able to get a good start, which was key. I got the holeshot and put down good laps, and got a heat race win. And that was definitely helpful to have a good gate pick. In the main event, going into the first turn it was a real tight squeeze and I was able to get into second behind Ivan. James was able to make a pass on me and Ivan. Toughest part of the track was the triple-triple in the rhythm lane. James started doing it right out of the box, and he was putting a lot of time on me there. I told myself if I was comfortable I would do it, and thankfully everything went well. It really helped lower the lap times, and we were able to stick right there pretty close to James. We just tried to manage it, be as smooth and consistent as we could.

When James got past you at the beginning, it looked like you maybe could have gotten really aggressive and tried to slice underneath him. But you didn't do it. Are you just looking at these races as 20 laps, and not trying to change everything in one corner or section?
Yeah, with James, once he got by, I tried to make an attempt to get back by him, but then he got around Ivan, and I knew I would have to get around Ivan quick or he was going to get a gap on me. But I just really tried to be consistent.

You said you made changes. Was the track a lot different than what you expected?
I don't think we chased it, but I think it's just that, every track this year, even when we thought it would be tacky, it ended up being more hard packed. This was actually the first time we were dealing with really soft dirt, and things getting rutted throughout the day. But even then we didn't have to make huge changes, just a few clickers here and there, and those little tiny changes helped in the long run.

Five points down. Do you think about that or do you just take things race by race?
Well, obviously you do need to know about the points and be consistent, and think about the big picture. But really we're just trying to do the best we can at each individual race, and just keep putting ourselves in a good position each week. Realistically, we know where we stand in the championship, but if you start thinking about the end result and what you want—which is the championship—you end up skipping steps along the way, and that's not what you want. So we just try to put ourselves in the best position each race, do our best in each race, and take it from there.

Mike LaRocco—Team Manager, GEICO Powersports Honda—Justin Barcia, first Lites class, Blake Wharton fifth Lites class, Kevin Windham, Sixth SX Class

We had a good night. In the Lites class we got done what we needed to get done, which was pick up a few more points, which is good for Barcia, it will take some of the pressure off of him heading into Vegas. And Wharton, he's had a couple podiums going but he ended up fifth. That's okay. So overall a good night for the Lites guys.

For Kevin, I wouldn't say he's happy with his sixth, but he's part of that second tier right now, so really sixth isn't a bad place to end up.

Kevin had a pretty nasty getoff in practice. Was that a factor at all?
[Laughs] Um, just the frank and beans! If you know what I'm saying. That's all, so otherwise he's all right.