Edward Jones Dome
St. Louis

,

MO
St. Louis
Monster Energy AMA Supercross Championship
It's been a busy week here at the shared office space of Racer X Online and MX Sports. The Monster Energy AMA Supercross tour is absolutely humming on full song, and the Lucas Oil AMA Pro Motocross Championship is sneaking up on us quickly, so there's a lot going on....
So much so that I missed a very important message from my friend Christina Denny of Rock River Yamaha earlier in the week. It was an update on one of her riders, Jarred Browne, who crashed hard in practice at Dallas last Saturday afternoon. Christina wanted me to help spread the word that Jarred suffered a broken collarbone and a broken kneecap, as well as a dislocated wrist. He had surgery on his collarbone in Dallas before heading back home to California several days later. Browne could be back by June, and he will be riding for Rock River Yamaha in the remaining rounds of the outdoor series ... but I blew mentioning that due to a clerical error (my lovely, amazing daughter Sloane spilled a Juicy Juice on my iPhone), and I apologize to Jarred's fans and the whole team. By the way, Christina stuck around to assist him and his family while he was recovering. Well done, Christina, as always.
All of the other guys below have a lot to say about how well the AMA Supercross battle is coming together, so I will leave the SX talk to them (I was on both DMXS Radio and the Pulp MX Show this week, so I'm all bench-raced-out there). But I will be watching the races on Sunday on both CBS (noon) and SPEED (6 p.m.) to see what the next crazy move/crash/win/hot 30-second girl looks like. You can also follow all the action from the afternoon and evening, as well as all of the live timing and scoring, at Racer X Online's Thor RaceCenter beginning tomorrow morning.
I want to start looking ahead to the outdoors, first over in Europe. The 2011 FIM Motocross World Championships kick off this weekend from Bulgaria, on the Sevlievo circuit. The favorites in both classes feature some very fast KTM riders. In MX1 (450), Tony Cairoli will be going for another world title, and he will no doubt be chased by teammate Max Nagl, as well as Suzuki pilots Clement DeSalle and Steve Ramon, among others. Unfortunately, Ben Townley will not make the start of the opener as he still recovers from a training injury.
In the MX2 class, KTM will lead with uber-teens Ken Roczen and Jeffrey Herlings, with chase from British Kawasaki riders Tommy Searle and Max Anstie, plus young Americans Zach Osborne and Michael Leib. (And in case you missed it, earlier this week we did up our list of the 10 best American GP riders of all time. Check it out.)
And check out Michael Leib's blog from Bulgaria—#170 will be on a Husqvarna when the MX2 Grand Prix tour kicks off this weekend from Bulgaria. Unfortunately, Leib has been dealing with an injury the last couple of weeks, but he's looking at it as a blessing in disguise--he got to spend two weeks resting after working hard all winter long. Check out his blog right here.
Something else on the GPs: If you look closely, you will see these three names from 1980's final 250cc rankings:
1. Georges Jobé (Suzuki)
2. Kees van der Ven (Maico)
3. Dimitar Ranguelov (Husqvarna)
What's cool is that Ranguelov is the greatest motocross rider in the history if Bulgaria.... Actually, he's the only one we've ever actually heard of!

Bulgaria's Dimitar Ranguelov finished third in the 1980 250cc Grand Prix standings.
If you're a fan of the GPs, you can follow the action all weekend long (yes, they still race on Sundays over there) on the new
www.mx-life.tv
online channel. There's a lot of free content, and the races themselves on Sunday are a small fee. The season pass (which I purchased today) is a little over $50 if my euros-to-dollars mental calculator is up to date.
Meanwhile, here in the States, the stadium motocross season is winding down—four rounds to go, which means eighty laps to decide the AMA Supercross Championship—just as another summer of outdoor motocross begins its approach. All over the country, riders are starting to stretch out on the bigger tracks, including former world champions Christophe Pourcel and Marvin Musquin, both of whom missed the SX season and will be back beginning at Hangtown on May 21. Our contributor Browndog Wilson has been keeping an eye out for motocross practice out west and offered this gallery of people getting ready: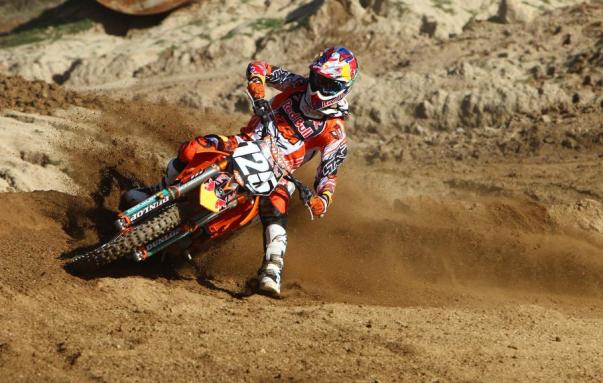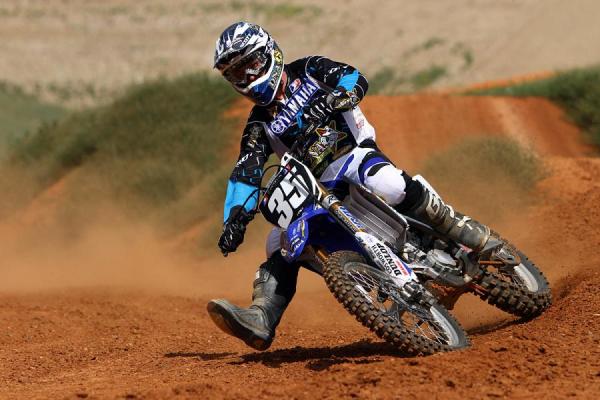 Marvin Musquin (top) and
Kyle Cunningham
testing for the upcoming Lucas Oil AMA Pro Motocross Championship.
Photos: Chris Ganz
And the amateur season is getting up and running locally as well. Unfortunately, there were a few hiccups with the weather all last week before the Steel City opener, causing the cancellation of Saturday practice, which it difficult to figure out what to do for Sunday's race. In that area of Southwestern Pennsylvania, springs are everywhere this time of year (maybe that's why they are called springs) and the track was too soft for the big tractors to do much grooming without making matters worse. The younger, smaller riders in the mini classes paid a price in the deep ruts, and for that, everyone next door and at Bellco in Steel City wishes to offer their apologies. The track will be 100 percent for next weekend's Area Qualifier—weather-permitting—and it should be a much better start to the famous track's local racing season.
And finally, there's been a LOT of action on Capitol Hill as the motorcycle industry has been heard by our U.S. Senators and Congressmen, which is no surprise given the ongoing efforts to repeal the Lead Law by the AMA, the MIC, Cobra's Sean Hilbert, and MX Sports' own Tim Cotter... Of course, our whole government could be shut down by the time you read this, but they will be up and running again before you know it. So PLEASE make sure that you contact your representatives and tell them how important it is that they exempt motorcycles and ATVs from the CPSIA, which is the Consumer Product Safety Improvement Act. It's easy to do, if you just follow this link.
Let's start with Ping:
All I keep thinking about from last weekend's race is what would have happened to James if Chad hadn't been there to slow him down.... Bubbles swapped to the right, his foot came off the peg, and he was laid out on his seat with the throttle twisted when he slammed into Chad. Without that contact, he would have been thrown into the stadium seating like "Macho Man" Randy Savage tossing "Hacksaw" Jim Duggan out of the ring. (I honestly have no idea who those guys are—they just came up when I Googled WWF. But you get the point. That could have been a season-ender for James.)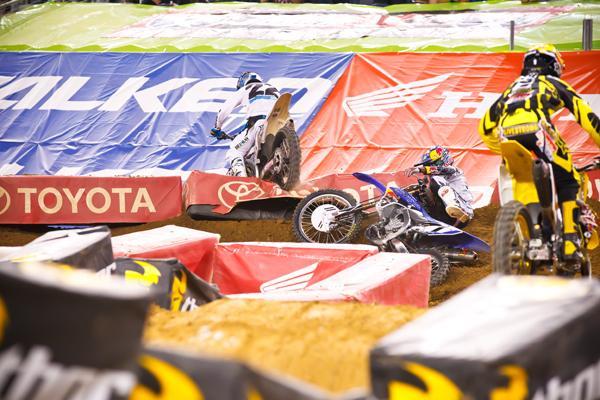 This isn't the first time these come have come together.
Photo: Simon Cudby
Speaking of season-enders, my bro Eazy just wrote up a nice little piece regarding the savage animal that is the Epstein-Barr virus. It's pretty stinkin' funny and definitely worth a read—although this one gets an Adult Language Advisory, so be prepared. Earmuffs!
The Two-Stroke World Championships were pretty much dominated by Austin Howell last weekend. He went 1-1 on a YZ250 that his uncle, Willy Amaradio, built for him. Doug Dubach, Ryan Hughes, Bobby Garrison, and Dennis Stapleton were also among the top five. If you are wondering why Ryno didn't win, it wasn't because he forgot to unlock his hips. He rode a YZ144 built by the guys at Yamaha with GYTR parts and, as fun as it was to ride, it was tough to compete with a bunch of 250s. You know what would have been awesome? A 125 class. Or a 150 class if it makes more sense. Just my opinion.

Austin Howell went 1-1 on a YZ250 at the Two-Stroke World Championships.
Photo: Chris Ganz
Saw this recently and thought the smoke-blowing crowd would get a kick out of it. I'd like to make it clear that I love motorcycles, whether two or four cycles. I have one of each and I like them both.
Is anybody else getting psyched out of their minds for the nationals this summer? Imagin taking all the riders currently involved in one of the most competitive seasons ever (Reed, Villopoto, Dungey, Stewart, Canard, maybe Kevin Windham) and then adding in Christophe Pourcel. You think that guy won't be at the front? He is going to be on a mission.
Add in Mike Alessi, who is going back to the 450 and could potentially run up front, Brett Metcalfe, who was murdering it last year on a GEICO Honda and will be back in the saddle, and any other rider who decides to step it up for the summer edition of what we have now in SX and you have an incredible twelve rounds of racing. I don't mean to jump ahead when we still have great racing going on, but it's going to be here before we know it.

Veteran Ryan Hughes was out at the Two Stroke World Championships last weekend.
Photo: Chris Ganz
Want to see how good #800 looks with 100 more cc? Check out this video from Thursday afternoon at Glen Helen by our own Matty Fran.
You will also notice another very fast and smooth-looking KTM in that video, wearing the #125. It's Marvin Musquin, the absent-since-Bercy two-time world motocross champ who moved here to lead the orangemen in the 250 Class. Only recently back on the bike, Marvin looks good and smooth already, and with six more weeks to get ready, he could pull a JMB at Hangtown (meaning: win the first AMA National he ever entered). Hey, didn't Eli Tomac do that just last year?
Who comes up with state slogans? This weekend the racing takes place in the "Show Me State." Really? That's the best we could do for a state slogan? Well, it's still better than "Oklahoma is OK." Sorry, Trey, but that is totally not winning.
Okay, let me pass the turkey to Steve Matthes....
Dallas was amazing for a number of reasons, from the Barcia-Wilson battles to Stewart and Reed colliding to Alessi grabbing the holeshot and Trey Canard winning going away. That's three wins for the 41. Even if his series ended today, he's been fantastic and exceeded most expectations. Stewart's got three as well but the man with five wins is back into the lead, and that would be none other than Ryan Villopoto.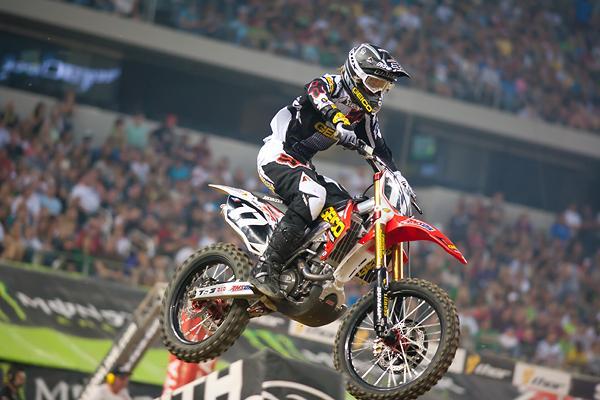 Barcia still holds the lead for the Lites East title.
Photo: Andrew Fredrickson
I have no idea what's going to happen this weekend but St. Louis is always a good race. The dirt is great, the track layout usually brings it, and the racers know they've got to make something happen. If you have to look at who's setting themselves up for the title, I think it's a safe call to say Canard and Stewart are facing long odds. They are a bit out of reach of the top three, and they have to hope that RV, Dungey, and Reed make mistakes to allow them to catch up.
Wouldn't it be amazing if Reed or Dungey pulled this thing off? RV's been, week-in and week-out, the fastest over twenty laps but Dungey and Reed are consistently toward the front every week. Jeff Stanton won the 1990 Camel Supercross title the same way, gathering only three wins along the way.
You know what is a good sign that you're iconic? When there is a corner named after you at a national track. So it's with that knowledge that famed photographer Paul Buckley must be an icon, because the "Buckley Berm" at the 'Wick is one of the things everyone knows. Did you also know Paul has been going through his archives for a while and posting the best ones up for sale? Decorate your garage, your man-cave, or in my case, my dining room with images of all the legends over at www.buckleyphotos.com.
You can bid on some at his eBay store or order prints in all sorts of different sizes on the site and browse through black-and-white and color shots of different tracks and racers from the decades of Paul going to the races.
Check out a few of his images in this thread!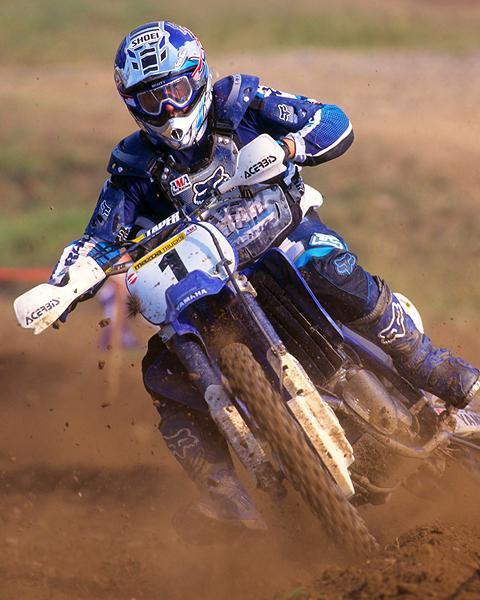 Paul Buckley snapped this classic photo of Doug Henry at the Dilla in 1999.
Photo: Paul Buckley
I did a post-race Dallas SX podcast with Ping and Weege and we even got DC away from the planning of the upcoming nationals to join us for a bit. After listening to him, I got a tweet from a guy that says DC is the smartest man in motocross. Apparently Ping, Weege, and I were not projecting the same kind of smart thinking that DC did. You can hear it here.
I also called Tim Ferry to get his take on working with Trey Canard as well as his thoughts on the entire SX series. I try to keep the worshipping to a minimum on the show. It's just one guy who's been there/done that opinion on the series. Check that out right here.
Also on last week's Pulpmx Show presented by BTOSports.com, we had Ezra Lusk on to give us his take on working with JGR's Davi Millsaps, and I always like talking to Lusk. Yogi is one of the classiest guys around and is very modest about his career and accomplishments. He's also pretty smart when it comes to racing and what you need to do to be a top guy. Right now, it's not working with Millsaps but from what Yogi was saying, Davi's putting in the work and soon enough, with Millsaps' talent the work will pay off. It has to, right? I know that JGR, Lusk, and Davi are all working together to get that 18 up into the top five every week.
Speaking of the Pulpmx Show, do you listen? Do you think it would be cool to sit in on a show and offer up your opinions on all things moto? Well here's your chance! Thanks to all of our sponsors, we're able to fly someone to Las Vegas, give them a hotel room and a rental car for three days and two nights, and sit in on a recording of the show as myself and Kenny Watson pontificate about the sport of SX. All you have to do is follow the rules right here.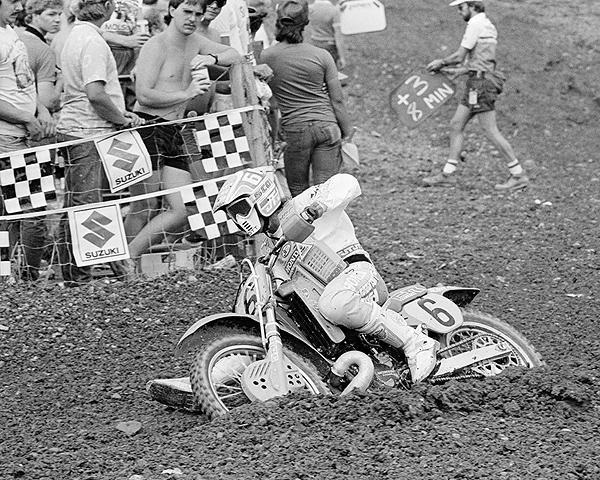 Another classic Buckley photo. This one of David Bailey.
Photo: Paul Buckley
We've already gotten about a dozen entries and it's going to be so hard to make up our minds. We'll have the finalists on the show as well and let the listeners help us pick a winner! Contest closes May 5, so start typing.
That's it for me. I'll be right there with the rest of you people this weekend glued to the live timing hoping to God it doesn't lock up!
And now over to Jason Weigandt...
Nothing from Uncle Lord Alfred this week on supercross—the GPs open this weekend in Bulgaria, and he is very excited about that, but also very scared of any travel through Eastern Europe. He usually dons some sort of disguise, fake passport and ID when traveling through there. Not sure why, really. He also won't send out any telegrams for fear of being traced. Regardless, I'm sure he'll be out there somewhere cheering for Tommy Searle.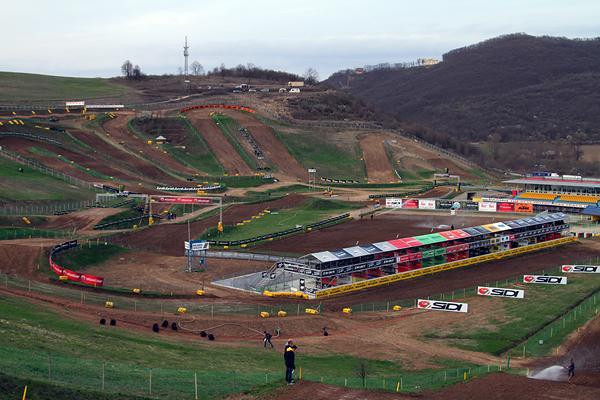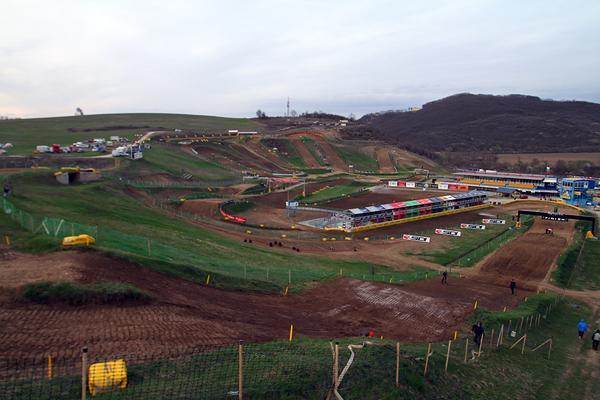 Here's a preview of the track in Sevlievo, Bulgaria, from one of our friends at Moto (UK).
Photos: Ben Johnson
So I'll weigh in on Monster Energy Supercross, which is as good as it has ever, ever been. The last few weeks on our Bench Racing Ammo segment, I've gone through the old AMA records books to determine just how well 2011 holds up, statistically, to history. Last week we determined it has been nearly thirty years since a series has produced at least five race winners and three points leaders, and this week we ran through the rookie stats of Ryan Villopoto, Ryan Dungey, and Trey Canard. Each has won multiple races in their first seasons in the big class, and we've never had three straight seasons where a rookie was able to do so. Never.
Of course, this always begs the controversy. Are Dungey and Canard not true rookies because they raced a few 450 races before they moved up full-time? I say they are true rookies. My rookie meter goes back to the anticipation of Anaheim 1. At that point, before a rider has raced a full season in the class, no one is sure what to expect, and you will hear plenty of questions to reflect that. In 2010 we had a ton of "How do you think Dungey will do?" talk, and this year we heard the same questions for Canard. People asked because no one really knew what to expect, because they had never been through a full off-season testing the bigger bike, they had never gone 17 rounds, they had never dealt with the increased pressure and attention of the big class, and in Canard's case, he had never ridden full-time for the factory Honda team. That's a lot of changes and a lot of unknowns. A few races on a 450 in a part-time deal is not the same.
For proof, we've seen quite a few part-timers do extremely well in brief big-class forays. I remember the Factory Connection Honda (now GEICO Powersports) giving 125-class riders Michael Byrne and Travis Preston a shot on big bikes, and they rode to solid top-five finishes. But when they moved into the pressure of full-time factory deals in the big class, the results never really improved beyond that. It was a different world once they were no longer guests in the class.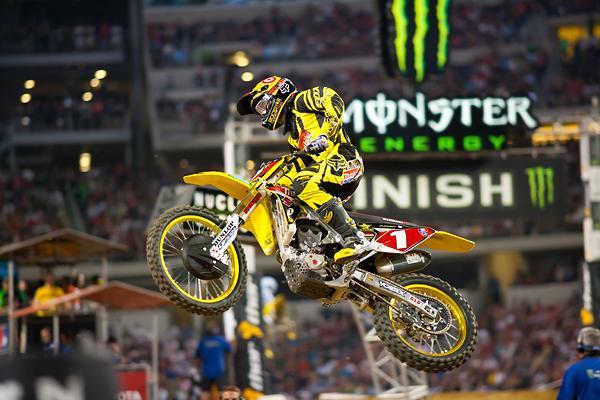 Dungey had one of the best rookie seasons of all-time last year.
Photo: Andrew Fredrickson
On the opposite end, Jeremy McGrath was hard-pressed to get a top five when he tried his hand on a 250 in 1992. But in '93, as a full-time 250 rider for Team Honda, he dominated the whole season, won a record ten races and the championship. It's just different when you're full time, and that's why we all bench-race about it before their first full season. This is when it really starts to matter.
This season has been crazy and unpredictable, which scares me a little bit. See, Saint Louis always produces crazy racing, even in a boring year, so I'm fearing the only thing that 2011 can do to keep the surprise train rolling is to produce a snoozer in the place where the action usually reaches a peak. Remember Jeff Emig's breakthrough 1996 win here that ended McGrath's perfect season. Or the Canard/Villopoto Lites showdown in 2008, the '07 takeout exchange between Stewart and Reed (which led to Ricky Carmichael's last-ever SX win) or the wildest of the wild, the 2006 race in which both Carmichael and Stewart crashed out. And of course we have last year. For Villopoto's sake, we won't get into details.
Let's see if this place can deliver the goods again. And remember, this is not the final round of the Lites tour any longer, both the east and west races go down to Vegas this year, and then their main events are followed by the East/West Shootout. Confused? We'll set up a primer on how it all works next week.
Okay, some random notes:
Jean-Michel Bayle has always marched to the beat of his own drummer. The Frenchman left many world titles on the table to come to America in 1989 to race the AMA circuit, then left many titles on the table here to go road racing in 1992. He has since raced MotoGP, endurance cars, rally cars, and now he's going to become a professional sailor. According to Jerome Faraill of Premiermotocross.com, JMB is entered in the Solitaire du Figaro sailing race, a very famous french competition where entrants sails solo. JMB and his girlfriend, Alexia, have created a charity as well that coincides with the race. Check it out right here. Bon voyage, Jean-Michel!
There's another good virtual motorcycle racing magazine out and it features the work of our friends Adam Wheeler and Steve Cox, among others. It's called On-Track Off-Road, and you can find it right here.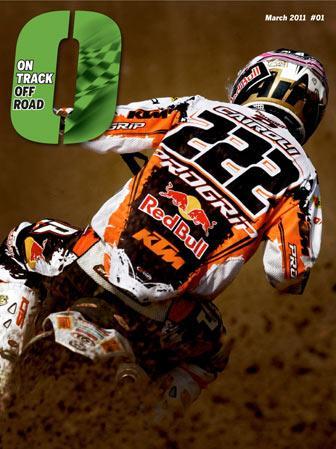 If the name Dr. Ting sounds familiar, it's because he's worked on quite a few motocross stars over the years as an orthopedic surgeon. But his name is in the news right now for a different reason: Dr. Ting once worked with Barry Bonds, the embattled baseball player now in a federal trial over whether or not he lied about using steroids while hitting more home runs (that means over the fence, Simon) than anyone in baseball history. Here's more on the current drama.
More developments in the Bonds case with Dr. Ting.
There's a feature in the next issue of Racer X Illustrated about Jeremy McGrath and friends going on an epic ride down into Mexico called "Baja Bonanza." There's another rider coming up, and here's a preview video of what looks like an awesome adventure.
Although it's been played out often over the last two weeks, there's still more details coming out of James Stewart's arrest in Florida. Here's an overview of the case from the Orlando Sentinel.
Our friend in Europe Geoff Meyer put together a comprehensive preview of the opening round of the FIM World Championship tour in Bulgaria this weekend for his site, MXLarge.com.
It's not too early to start looking forward to the Hangtown National opener in six weeks. Check out this clip from the super-muddy 1975 Hangtown National, which was held at the old Plymouth, California site:
HERE
.
The AMA will be conducting an AMA Family Capitol Hill Climb on Thursday, May 26, at the nation's capital in Washington, D.C. The event will promote the future of youth dirt bike and ATV riding, and scores of young riders and their families are expected to attended. The day will begin with a press event introducing the winner of a video contest to focus attention on the plight of children and families impacted by the CPSIA. Following a screening of the winning "Kids Just Want To Ride!" video, all attendees will have the opportunity to meet with their congressional representatives to urge support for the Kids Just Want to Ride Act.
For more information about the the Kids Just Want to Ride Act, the AMA Family Capitol Hill Climb and the Kids Just Want To Ride! video contest, go to
AmericanMotorcyclist.com
.
Remember those old photos of Scott Summers, the multi-time GNCC #1, lifting his big XR600 Honda motorcycle? Check out this little clip that my friend Dean Alan Druce sent over, called the Crossfit (CRF450R) Brasil Workout: Check it out HERE.
Our Virtual Trainer Tim Crytser was definitely impressed!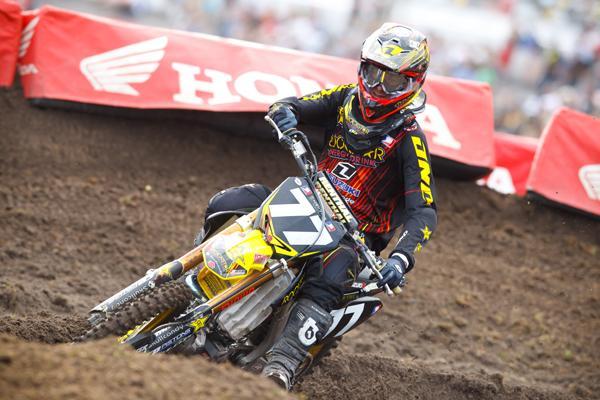 Help support Ian on April 30th.
Photo: Simon Cudby
Finally, there will be a bicycle ride in New York to help raise money for Ian Trettel, who sustained a head injury during practice at the Daytona Supercross. The scenic ride will be 24 miles along the coast and back through the village of Westhampton Beach. There will also be an abbreviated loop of 6.4 miles. The cost is $50 and 100% of the proceeds will go to the Ian Trettel Foundation. Also, if you participate in the cycling ride, you will get a discount at Long Island Motocross track on April 30. It will be $20 and that money will go straight to the Ian Trettel Foundation as well. Visit www.islandmotocross.com for more track info. All Participants will get a IT77 Tee Shirt.
Where:
Cupsogue Park
906 Dune Road
Westhampton Bch, NY 11978-2945
When:
April 30th at 9:00am
For more information, contact:
That's it, but it's a lot. Thanks for reading Racerhead. See you at the races.